A Drafting Table Or Easel? What's Best For Artists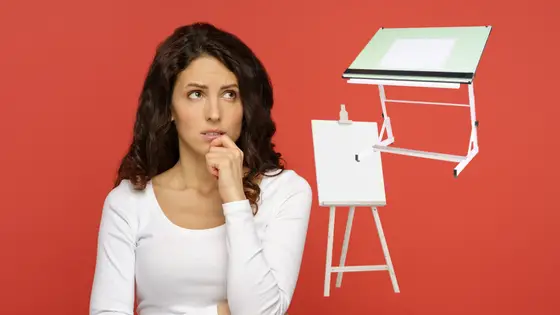 When deciding on the best option between a drafting table or easel for artists, it's important to consider their benefits and drawbacks.
A drafting table provides an ideal working surface with plenty of storage compartments and adjustable angles and you can place them on a table or desk, making them perfect for tasks like sketching, drawing, and painting. On the other hand, an easel provides a sturdy, stationary surface for painting and is best suited to tasks like oil paintings or large-scale canvases.
Personally, I prefer the third option and that is to use a desktop easel. A desktop easel provides me the benefits of an easel with the stability to work at an angle on a normal desk or table. And the beauty is, I made it myself using materials I already had in my garage.
In this post, I will discuss the pros and cons of each to help you decide what is best for you.
The argument for desktop easels and drafting tables
As you are considering the pros and cons of painting on an art easel or table, I have put together a comprehensive list of both based on my personal experience (over 40 years) of creating art using both an easel and a drafting table.
Reasons to use easel instead of a drafting table
Painting on an easel or table has never been easier with all the options available to artists these days, just a simple search online shows countless drafting tables for sale that can be delivered to your door within a day or less.
But do you need an easel to paint? The simple answer is no, there are lots of alternatives to an easel for painters but if an easel is what you want then ask why you want an easel.
If you are looking to use an easel is it because of tradition where you believe a real artist uses an easel or because you like the look or the idea of an easel? Below I have listed some more reasons why you should consider an easel over a drafting table:
Portability
The easel is the most portable painting setup, allowing you to take it with you when traveling for plein air painting or on vacation.
Size – An easel can accommodate larger canvases than a drafting table, making it ideal for big works of art.
Price – While professional-grade drafting tables are expensive, there are many affordable easels you can buy. I even managed to pick up a display easel for $15 new the other week. Mont Marte has so many cheap options available even though the brand I purchased was made by Born. Compare that to the $500 easel I have been using for over 25 years that is a bargain.
Can work on a vertical plane 
If you work in a more painterly style where the canvas is perpendicular to the floor, an easel allows you to work on a vertical plane which can simulate working on a wall either standing up or sitting down. This leads to less muscle strains.
Less strain on your shoulders and neck, no hunching over 
When you are painting on an easel, the canvas is held securely in place and your body weight is evenly distributed. This means you don't have to hunch over while painting – making it easier to work for long periods of time. You can also adjust the angle of the easel by raising or lowering the rear third leg for a tripod easel or the angle and height settings on a French easel or studio easel.
This also helps with a freedom of movement.
Freedom of movement 
Freedom of movement is another advantage of using an easel for painting and drawing. You can easily move around the painting, adjusting and adding in detail without having to adjust yourself or the canvas, as you do when using a drafting table. This also allows you to stand back and view your work as you progress.
Easier to stand back and view your art in progress from a distance 
One of the main benefits to using an easel for painting is that it allows you to stand back and view your work in progress from a distance. This helps you get a better perspective on how your painting or drawing looks as a whole, rather than focusing on smaller details. I always tell artists that they should step back and away from a canvas or drawing every now and then and see what it looks like from a distance as this helps you see if you're making any mistakes.
Easels require a good lighting set up – overhead lighting 
As it is harder to change your painting location, especially with a large studio easel it is important to have a good lighting setup. Overhead lighting is ideal as it allows you to paint without shadows and helps you see exactly what is going on.
An easel works great with almost every size canvas or drawing board 
Whether you're painting a large canvas or something much smaller, an easel can accommodate it. You can also use a drafting table to hold your canvas but the easel allows you to move around and makes it easier to access all angles of your painting.
Even when I was broke and using a thin tripod easel, I was still able to place some large stretched canvases on the easel (supported by a chair on either end).
Easels come in many sizes that can support heavy or light canvases
An easel can come in any size and able to support the heaviest of canvases. My studio easel is quite large and can support anything while my cheap tripod easel is rated to support up to 20 pounds of weight which is more than enough. It comes down to each artist's studio designs, whether there is space for one.
Small easels and French easels can be folded up and taken with you to paint 'plein air' 
Not all easels are massive or heavy, some are actually quite portable such as the small or French easel. This type of easel is perfect for painting on location and can be folded up when not in use to save space. In fact, these types of easels were specifically designed to work outside and became very popular among Impressionist artists who loved to paint plein air.
Work with acrylic paint and oil paint mess
If you think you will be working with large acrylic paints and oil paints on canvas then an easel would be best for you. I find working upright works best for this style of painting while working with watercolor paint is more comfortable on a flat painting or drawing surface such as a drawing table.
Lots of DIY alternatives to commercial easels such as a chair 
If you just don't have any money to spend, you can do what I did for many years and that is to use a chair. Simply put your painting board across the top of a chair, raise it up to the desired height and you've got yourself an improvised easel!
Easel I use
I use an easel very similar to this one and these days they are much more affordable. Have a look around to see what size and shape best suits your needs and studio space or room space.
Reasons to use a drafting table instead of an easel
If you are looking to get the most for your money, then a drafting computer table might be the better option as they can usually be quickly adjusted to different angles and heights while being reasonably priced and available in most office supply and art supply stores or online and they don't always need to be large.
When it comes to drafting tables, they provide a stable surface that's adjustable at various angles so they are great for tasks that require precision such as sketching or drawing. Below are many more reasons why you should use a drafting table instead of an easel:
With a drafting table you can rest your elbows which can provide more stability 
With a drafting table you can rest your elbows which can provide more stability, control, and comfort when painting.
The surface of a drafting table is usually made from wood which gives it a much smoother and rigid feel compared to working on an easel which may have a hollow backing. Also, the rigid surface will help you keep your work in place so that your painting won't be smudged or ruined by accidental knocks.
Work closer to the substrate (art surface) when using a drafting table.
This will help you to use the right amount of pressure when painting or drawing, which is essential for getting the desired results.
When using an easel, it can be difficult to get into a comfortable position as you are often working from above and constantly adjusting your body posture. With a drafting table, you can sit or stand for greater comfort, and still be able to access the canvas.
For one, I love a drafting table when I need to draw or use alcohol markers as it feels more natural to work at a desk like top.
Suitable for small projects and making studies
A drafting table features a slanted surface, though not as steeply as an easel would be, and provides ample storage space for storing your supplies and painting materials.
Smaller form factor and requires a small workspace 
A drafting table is ideal for those who don't have a lot of space to work with. It's more compact than an easel and requires less storage space when not in use.
You can also use it for a laptop work space if needed (which is what i do).
Cheaper to buy and set up 
Drafting tables can be significantly cheaper than studio easels, making them the more cost-effective solution for artists on a budget.
For large scale painting, however, an easel is often preferred by most artists.
Can be repurposed as a tablet display stand 
 In addition to the workspace it provides, a drafting table can also be used as a stand for holding tablets while painting digitally or watching instructional videos or digital reference images.
Works well with lamps and small lights for lighting reference or painting 
With its flat surface and adjustable lamp arm, a drafting table is ideal for setting up small lamps to provide light when painting or drawing from reference materials. As some drafting tables come with some kind of built-in lighting source, this is another way to save money by not having to buy additional lighting equipment.
Can be tilted at all angles to suit your needs 
Some drafting tables come with adjustable legs and arms that can be angled in different positions to suit your painting or drawing needs. This is ideal for those who prefer a more relaxed stance while they work, as well as allowing you to adjust your sitting position if needed.
My suggestion – Drafting table for artists
This drafting table by SD Studio Designs is as close to what I own as a drafting table. Mine is out of date but the look, function and storage compartments is similar to what I have. What I love is that it has lots of storage compartments and you can angle the desktop so that it can suit your needs and also lay flat so that you can use it as a drawing desk or office desk.
Why you should use a desktop easel instead of a drafting table or easel
As I stated in the introduction, I think you should consider a third option if you are unsure about whether to use a drafting table or easel. The third option is a best of both worlds option that I personally love as it allows me to work from my office desk, dinner table or even outside in a park or in my yard and all I need is a reasonable flat and sturdy surface – the desktop easel.
A desktop easel embodies all the best points from both an easel and a drafting table.
The great thing about a desktop easel is that you can go out and buy one from most art supplies and even office supply chains that stock art supplies or you can go down the DIY tabletop easel for painting route.
They have small compartments for storing materials while allowing you to angle a canvas or drawing pad and you can place them on desks, tables or other flat surfaces.
I have made lots of DIY tabletop easels for painting by simply fixing a flat wooden board to an angle backing. I have even placed the backboard up against a wall and that has done the trick.
You can go out and build your own DIY tabletop easel for painting as there are lots of plans online and on YouTube that can assist.
Can you use a drafting computer table instead?
Sure you can use a drafting computer table instead of a standard drafting table, however this option is not as ideal for painting. This would be more suitable for sketching and drawing.
When it comes to easels and drafting tables, the choice comes down to personal preference. I suggest if you do come across a drafting computer table, that you sit down on at the demonstration table and go through the motions of drawing and painting at one.
What is a no-no for some artists is a perfect solution for others.
As you can see from the image below, drafting computer tables can be appropriated by artists with a little hack here and there.
Drafting Table or Easel – Wrap up 
Remember – Do what is comfortable to you  
If you are looking to save some money, a drafting computer table might be the right option for you. On the other hand, if painting is your passion, an easel would be more suitable. And lastly there are DIY tabletop easels for painting which can give you both comfort and affordability in one package.
Ultimately it is up to you as an artist to decide which option is best for your needs. Although a drafting computer table and easel have their own pros and cons, the most important factor is that it should suit your comfort level. Therefore choose what works for you and make sure to enjoy creating beautiful art.
But if you want to know what my recommendation is, if you are going to work on stretched canvas paintings and have the space, get an easel. If you are going to be doing more paper based drawings, sketches, pastels and charcoal or even digital work then get a drafting table followed by a desktop easel.
Latest Posts
Joseph Colella is a frustrated artist with over 40 years experience making art (who moonlights as a certified Business Analyst with over 20 years of experience in tech). While he holds a Diploma in Information Technology, in true wasted talent style he spent years trying to get into various Art degrees from the Accademia di Belle Arti (Napoli), and failed to get into the Bachelor of Arts (Fine Arts) at the University of Western Sydney. His goal is to attend the Julian Ashton School of Art at The Rocks Sydney when he retires from full time work. In his spare time, he writes for the this blog, WastedTalentInc, where he shares practical advice on art, making art, and art materials. Joseph's art has been sold to collectors all over the world from the USA, Europe and Australasia. He is a trusted source for reliable art and copyright/fair use advice and is committed to helping his readers make informed decisions about making them a better artist.
He also loves all things watches (ok it's an addiction) so show him some love and visit his other website https://expertdivewatch.com