9 Best Easel for Toddlers: Top Picks From Artist/Teacher Parents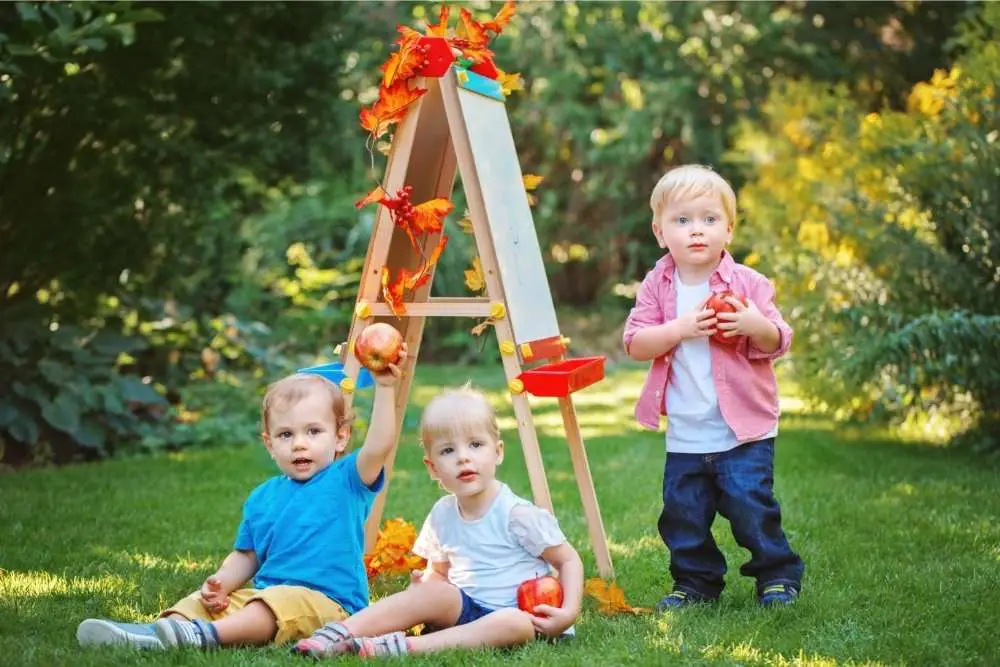 Introducing your toddler to the world of art can be an exciting and fulfilling experience. Easels provide a fun and interactive way for little ones to explore their creativity through drawing and painting. We had two of our own kids grow up to love art and I think a driving factor was that we got them to use easels as part of the creative process. With an artist dad and a mom who is a preschool/childcare teacher, we put both our heads together to choose the best easel for toddlers. We took into consideration several factors, including materials, safety, adjustability and fun.
Easels for toddlers typically fall into two categories: chalkboard and whiteboard surfaces.
A chalkboard surface allows your child to use traditional chalk, while a whiteboard surface is ideal for dry erase markers.
Some easels also feature a paper roll to encourage painting with watercolors or finger paints. Materials, such as wood or plastic, should be sturdy, easy to clean, and non-toxic.
When purchasing an easel for your toddler, it's necessary to consider its stability, adjustability, and ease of storage. Look for a design with a stable base to prevent tipping while in use, and adjustable height so the easel can grow with your child. A lightweight, foldable easel makes setup and storage a breeze.
Keeping these factors in mind, we've researched and tested a variety of easels to help you find one that will foster your toddler's artistic development and make creative sessions enjoyable for both of you.
Best Easel for Toddlers
We've gathered our top picks for the best easels for toddlers based on my years of experience as an artist and my wife's 20 years plus experience in childcare centres and preschools – she has worked with all brands and designs.
Our choices foster creativity and spark that artistic imagination. These easels are sturdy, safe, and designed with little ones in mind, providing easy-to-use features and vibrant colors. Let's dive into this must-have collection for your budding artist.
This Hape Art Easel is not only the best easel for toddlers but an excellent addition to any toddler's creative space, thanks to its diverse features and ease of use.
Pros
Double-sided with chalkboard, magnetic whiteboard, and paper roll
Adjustable height for versatility
Comes with paint pots and holders
Cons
Assembly instructions can be difficult
Paper roll size and replacement cost
Might be short for older kids
Safety
With fixed hinges and large plastic screws and screw covers this easel will not be closing on tiny fingers and the chance of it being a choke hazard are low. The timber edges are also slightly rounded which will minimize the risk of cuts if your little one accidentally falls into one of the edges.
We recently tried out the Award Winning Hape All-in-One Wooden Kid's Art Easel and were impressed with its functionality. This easel stands out from others due to its double-sided design that offers both a chalkboard and magnetic whiteboard. On top of that, it also has a refillable paper roll, which makes it easy to switch between different art mediums.
The adjustable height of this easel is a major advantage, catering to children of various ages and sizes. We loved that it grows with your child, ensuring the easel lasts for years to come. Additionally, the color-coded, sealable paint pots keep things tidy and add a touch of creativity to your toddler's art space.
We did encounter some challenges while assembling the easel, mainly because the instructions were somewhat confusing. However, once set up, it proved to be a solid and durable art station. One thing to note is the short paper roll and the expense of replacing it, but this could be easily remedied by using alternative paper sources. Finally, while the height does adjust, older kids might find it on the shorter side.
Overall, the Hape All-in-One Wooden Kid's Art Easel is an engaging art tool that'll enable your toddler to explore their creativity. Despite some minor drawbacks, the pros certainly outweigh the cons, and we would recommend the Hape Art Easel as the best easel for toddlers to any parent seeking a versatile art station for their child.
We highly recommend this easel as the second best easel for toddlers for its versatility, durability, and ability to spark creativity in young artists.
Pros
Sturdy wooden frame with adjustable height
Two-sided art station for dry erase and chalkboard
Easy to assemble and fold for storage
Cons
Chalkboard surface can be difficult to write on
Paper roll, paint, and brushes not included
Assembly instructions can be slightly confusing
Safety
While the hinges are not fixed there is a bar on each side preventing the easel from shutting flat on tiny fingers without the help of mom or dad loosening the nuts on each end. Speaking of nuts, we found these to be a little on the smaller side compared to the Hape all-in one model. The screws were also quite small but recessed into the timber so they are hard for kids to get loose.
We love the Melissa & Doug Deluxe Standing Art Easel for its ability to inspire creativity in children ages 3 and up. With a bi-fold wooden frame and two different art surfaces—a dry erase board and a chalkboard—it gives children different ways to experiment and express themselves.
Our experience with this easel showed us that the durable construction holds up well over time, even with multiple children using it simultaneously. Since it's height adjustable, the easel can grow with your child, ensuring long-lasting enjoyment.
Although the chalkboard surface may be difficult to write on at first, it should improve over time. We would like to mention that this easel does not come with a paper roll, paint, or brushes, but they can be purchased separately. We found the assembly instructions to be slightly confusing, but once assembled, the easel is a great addition to any child's creative space.
Overall, the Melissa & Doug Deluxe Standing Art Easel is a fantastic investment in your child's artistic growth and a must-have for encouraging screen-free playtime. So go ahead, bring out the inner artist in your child and watch their creativity soar with this wonderful easel.
This Mojitodon Easel for Kids is our third best easel for toddlers and a great choice for nurturing creativity in toddlers, with its versatile and practical features.
Pros
360° Double-sided Magnetic Art Easel
Safe, Durable, and Portable
Easy to Assemble and Adjust
Cons
May be small for some children
Potential difficulty in flipping the board
Pricey compared to other easels
Safety
The Mojitodon Easel had no obvious safety issues that needed to address. It is made of all plastic and thick plastic at that. No sharp edges or tiny screws. I would keep an eye on the extra products supplied such as the markers and magnetic pieces if your toddler is the type to mouth everything.
We tried out the Mojitodon Easel for Kids and found that its 360° double-sided magnetic art easel really encourages children to explore different forms of art. The whiteboard allows for watercolor painting, while the magnetic dry erase board is perfect for practicing calligraphy and learning new skills. Having a rotatable easel ensured that kids can quickly switch between activities.
The easel's high-quality PP material made us feel comfortable about its durability and safety. We were able to easily carry it outdoors for activities like sketching in parks or even spending some time at the beach. This portability makes it even more appealing for families on the go.
Assembling the easel turned out to be simple, thanks to the detailed instructions at the bottom of the carton. Including plastic screws and nuts also proved useful for enhancing a child's hands-on skills. The height of the easel can be adjusted according to a child's growth, making it a long-lasting solution for their artistic needs.
However, we noticed the size of the easel might be a bit small for some kids. They might struggle flipping the board over, and considering its price, there are more affordable easels on the market. Nonetheless, its features still make it a worthwhile option, and it would make a perfect gift for children who love to draw and paint.
This tabletop easel is our fourth best easel for toddlers and an excellent choice for creative toddlers because it offers versatility and safety in one package. As a tabletop easel, I found this to be the best tabletop easel for toddlers. Find out why below.
Pros
Tabletop and standing options
Magnetic whiteboard and chalkboard
Safe and portable
Cons
Limited height
Thin boards
Stand lacking stability
Safety
The accessories were the main concern area when it came to safety. I would make sure your toddler can't swallow any of the magnetic letters and chalks. I would sit close to them while using these products. As for the easel itself, it is made of plastic and while some edges are rounded there are some sides that can be a little sharp for smaller fingers. You also need to ensure the legs are placed properly into the base as they can make the entire easel collapse if not done properly.
We recently had the chance to try out the AyeKu Easel for Kids and found it to be a quality product for nurturing a child's artistic talents. The easel's adaptability, offering both tabletop and standing options, ensures kids can use it comfortably in various settings. The included magnetic whiteboard and chalkboard further extend the easel's versatility, providing multiple surfaces to practice on.
While the easel is safe, durable, and portable – perfect for taking out to parks or beaches – it's not without its drawbacks. One major concern stems from the easel's limited height, which could make it less suitable for older or taller toddlers. Additionally, the boards themselves are somewhat thin, which might lead to damage after prolonged use.
Moreover, the stand may be prone to instability as it doesn't have a locking mechanism, making it easier for young artists to unintentionally knock it down. It's necessary to take extra care when using the easel to minimize potential accidents.
Despite these shortcomings, we believe the AyeKu Easel for Kids is still a valuable tool for honing a child's passion for art. Its user-friendly design, coupled with its engaging features, make it a worthy investment for parents looking to nourish their toddlers' creativity.
The Blue Squid Art Easel is a fantastic choice for encouraging young artists to explore their creativity.
Pros
3-in-1 design with magnetic chalkboard, dry erase marker and board, and refillable art paper roll
Adjustable height to accommodate your little artist of varying ages
Over 100 accessories included, offering endless creative possibilities
Cons
Assembly is required
May take up considerable space when in use
Some users report difficulty with marker erasure
Safety
Another great little easel and it shares the same sort of safety concerns as the previous easels regarding accessories, sharp edges and small nuts and the cord on the apron.
We were thoroughly impressed by the adjustable and versatile nature of this easel. It caters to children of all ages, making it a durable and valuable investment. The 3-in-1 design is perfect for keeping children engaged and stimulated as they switch between the magnetic chalkboard, dry erase board, and refillable paper roll.
Moreover, this easel comes with a generous bundle of over 100 accessories, such as an apron, paints, brushes, chalk, markers, eraser, magnetic numbers, letters, and animals. All these items grant ample opportunities for kids to experiment and discover their artistic talents.
On the downside, the Blue Squid Art Easel does require assembly – but it comes with simple, step-by-step instructions to facilitate the process. Once assembled, it folds flat for easy storage, but be aware that the easel might occupy a significant space while in use.
Another minor issue we encountered is that some markers may not easily erase from the whiteboard. Nonetheless, this inconvenience hardly detracts from the exceptional quality and value the Blue Squid Art Easel for Kids provides.
In summary, the Blue Squid Art Easel for Kids is an extraordinary and adaptable easel option for young artists. It's worth considering if you're looking to inspire creativity and artistic expression in children.
We believe this easel provides a fun and interactive drawing experience for young artists.
Pros
3-in-1 easel with double magnetic sides and refillable paper roll
Adjustable height for children of various ages
Comes with 100+ accessories
Cons
May require parental supervision for stability
Assembly required
Could be difficult to contact the seller for support
Safety
Another great little easel and it shares the same sort of safety concerns as the previous easels regarding accessories, sharp edges and small nuts and the cord on the apron.
We just used the JHTOPJH Art Easel for Kids and admired its multifunctional design. With double magnetic sides and a refillable paper roll, this easel offers endless possibilities for our little ones to draw, paint, and write. The variety of tools and accessories included, such as aprons and magnetic letters, encourages creativity and makes this easel a fun way to pass the time with family.
The adjustable height feature allows children of different ages to enjoy the easel together. We appreciate that this easel can be raised or lowered between 40.5″ and 45″, and even accompany your child as they grow. Despite its adaptability, the easel maintains a compact design and looks great in any playroom.
Although the JHTOPJH Art Easel is sturdy and durable, we recommend parental supervision to ensure stability while children create their artwork. In addition, assembling the easel can be a bit of a process, but it's a one-time effort that leads to many hours of entertainment. Lastly, while we didn't experience any issues with the product ourselves, we noticed it could be difficult to get in touch with the seller for support.
In summary, the JHTOPJH Art Easel is a necessary addition to any toddler's creative space. Its unique features and numerous accessories make it a versatile and engaging product that can grow with your child. We recommend this easel, but remind users to be mindful of stability and potentially needing assistance with assembly.
This FUNLIO easel is a fantastic investment for young artists, offering many features that promote creativity and adaptability.
Pros
Anti-warping board and erasable frame
Good quality, stable, and durable
3-level height adjustable
Cons
Storage bins may not fit perfectly
Markers might be dried out
Chalk could be difficult to erase
Safety
This easel shares the same safety concerns as the previous easels regarding accessories, sharp edges and small nuts and the cord on the apron. Additionally I had some concerns that the easel could fold flat onto fingers if not screwed properly and if the square tray is not fixed in properly. Make sure this is not removed.
We love the FUNLIO Art Easel because it's designed to keep up with our little artists' growth. Its adjustable height ensures that it stays relevant as children get taller, while the anti-warping board and erasable frame maintain the easel's longevity. The dampproof coating on the board and water-based paint on the frame make it easy for parents to clean, allowing kids to explore their creativity without worry.
The easel's stability is impressive – its triangular structure offers a sturdy base, and the New Zealand pine wood is both smooth and burr-free. Our artists can focus on their masterpieces without fear of it toppling over. Plus, the included storage tray and bags make it a breeze to keep the workspace organized.
However, there are a few things we should mention. Some customers have noted that the storage bins don't fit perfectly, and the markers provided might be dried out. Additionally, the chalk may prove difficult to erase, requiring a damp cloth for a cleaner surface.
Despite these minor drawbacks, FUNLIO Art Easel remains a valuable addition to any toddler's creative space. With its ability to prevent dampness and warping, we feel confident about its durability. With features that promote artistic growth and easily adjustable height, this easel is definitely worth considering.
This easel is a versatile and convenient choice for hobbyists and professionals alike.
Pros
Lightweight and durable aluminum material
Adjustable height from 17 to 66 inches
Stable design with good canvas support
Cons
Requires careful leg adjustment for optimal sturdiness
Locking devices may be initially stiff
Tray attachment could be improved
Safety
I would provide this easel for the toddler who is about to move up in age into the pre-schooler group. It is less visually appealing for the younger kids but it's great for older ones. While the only small choke hazards can come from screws, these are well fixed and hard to move around for an adult let alone a toddler. It can be pushed to fall on its side if you have an overzealous artist but it is quite light.
We recently incorporated the RRFTOK Aluminum Metal Tripod Easel into our artistic endeavors and found it to be an excellent addition. This metal tripod easel is lightweight, easy to transport, and simple to set up – perfect for artists who need a portable solution for their painting projects. Additionally, its adjustable height feature allows us to comfortably use it as both a floor-standing and tabletop easel.
Since it is made from aluminum, this easel is built to last, giving us confidence that it will withstand many painting sessions in various locations. However, we noticed that adjusting the legs evenly is key to achieving maximum stability. A solid setup requires proper planning to avoid any wobbliness, which can be mastered with practice.
Another detail we observed is that the locking devices used to secure the canvas may be a bit stiff initially. But, with regular use, they will likely loosen up, providing a smoother experience. We also noticed that attaching the tray could be a bit challenging, but once in place, it serves its purpose well.
Overall, the RRFTOK Aluminum Metal Tripod Easel delivers both convenience and functionality to artists of all skill levels. With a few minor adjustments, we believe it is a vital addition to any artist's toolkit.
This easel is a highly recommended investment for your toddler's artistic growth and creativity.
Pros
Adjustable height and functionality
Variety of art supplies included
Durable and easy to assemble
Cons
Smaller than expected for some users
Lower panel may fall off easily
Film removal difficulty
Safety
Well, this easel was great until I loosened the small wheel holding the flat panel upright and then it flipped all the way to one side. Had a child been on the other end they could have received a whack on the face. Don't get me wrong, its safe you just need to make sure everything is nice and tight.
We've had the pleasure of using the QZMTOY Kids Art Easel and have found it to be a versatile and engaging tool for our little one. The adjustable height feature is particularly useful as it accommodates growth, enabling the easel to grow alongside our child. With both a whiteboard and chalkboard, as well as diverse art supplies, our child is never short of options and creativity.
The easel is made of sturdy and high-quality material that is not easily deformed. It is simple to assemble and store away when not in use. This makes it a great addition to our playroom without taking up too much space. The easel helps our child develop fine motor skills and artistic abilities, which is a big win for us.
However, there are a few drawbacks we noticed. The easel is smaller than expected for some users, which may be a concern if you're looking for a larger option. The lower panel can fall off easily, so it's important to be mindful of this when assembling and adjusting the easel. Moreover, removing the protective film can be difficult, so make sure to take your time and gently dismantle it.
Despite these minor issues, we believe the QZMTOY Kids Art Easel is a necessary investment for any parent who wants to foster their child's creative expression and development. With its adjustable features, variety of art supplies, and durability, it is a worthwhile addition to any playroom.
Benefits of easel painting for toddlers
There are lots of benefits of easel painting for toddlers, from supporting their cognitive and physical development through to assisting in the development of motor skills, hand-eye co-ordination and more. Below I have listed a few additional benefits:
Motor Skills Development
Easel painting can help toddlers develop their fine motor skills. This involves holding the paintbrush, dipping it in the paint, and making controlled movements on the easel. It also supports hand-eye coordination.
Creativity and Imagination
Painting on an easel allows toddlers to express themselves creatively. They can experiment with different colors and shapes, developing their imagination and creativity.
Spatial Awareness
Understanding how to control the paintbrush to create images on a vertical surface helps enhance spatial awareness. Toddlers can understand the concept of size (big or small brush strokes), direction (up and down, side to side), and location (top, bottom, middle).
Cognitive Development
Mixing colors and creating images can enhance cognitive development by teaching cause and effect, problem-solving, and decision-making skills.
Language Development
Discussing their artwork with adults or peers can help toddlers develop their language skills. They can learn new words and phrases related to colors, shapes, and actions.
Confidence and Self-Esteem
When toddlers create something on their own, it can boost their confidence and self-esteem. They can feel proud of their creations and even more so when their work is appreciated.
Social-Emotional Development
Easel painting can also be a calming activity that allows toddlers to express their emotions. Furthermore, group painting activities can promote cooperation and sharing, critical components of social-emotional development.
Independence
Using an easel can also promote independence in toddlers. They can choose their own colors and decide what to paint, fostering their sense of autonomy. When you add extras such as magnetic letters and numbers, dry-erase markers and such, your toddler can start using their easel as an all-in-one creation station.
Remember, the process of creating is more important than the end product, especially for young children. So, provide a supportive and fun environment for your toddler to explore easel painting.
Buying Guide
Looking for the best easel for toddlers might seem a bit overwhelming with all the choices available. Worry not, we've got some helpful pointers to make the decision easier!
Stability and Safety
Safety should be our top priority when choosing an easel for our little artists. Pick a model with a sturdy, well-balanced construction that can withstand their adventurous play. Non-slip rubber feet and rounded edges can provide additional safety measures.
Height-Adjustable Design
We want an easel that can grow along with our child, adapting to their changing needs. A product with adjustable height settings will enable them to use it comfortably both now and in the future.
Easy Clean-Up
Mess is a major part of most art projects, but we need to pick an easel that makes clean-up simple. Boards that are easy to wipe clean and a built-in storage space for art supplies are helpful features.
Durable Materials
Investing in a high-quality easel made of durable materials like solid wood or metal ensures it can handle our toddlers' rough usage. It's vital to remember that quality shouldn't be compromised for a lower price.
To make the choice more manageable, consider the following comparison table to evaluate different products:
| Feature | Importance |
| --- | --- |
| Stability and safety | High |
| Height-adjustable | High |
| Easy clean-up | Medium |
| Durable materials | High |
We hope this buying guide for the best easel for toddlers will assist you in selecting the top easel for your young creative minds!
Latest Posts
Joseph Colella is a frustrated artist with over 40 years experience making art (who moonlights as a certified Business Analyst with over 20 years of experience in tech). While he holds a Diploma in Information Technology, in true wasted talent style he spent years trying to get into various Art degrees from the Accademia di Belle Arti (Napoli), and failed to get into the Bachelor of Arts (Fine Arts) at the University of Western Sydney. His goal is to attend the Julian Ashton School of Art at The Rocks Sydney when he retires from full time work. In his spare time, he writes for the this blog, WastedTalentInc, where he shares practical advice on art, making art, and art materials. Joseph's art has been sold to collectors all over the world from the USA, Europe and Australasia. He is a trusted source for reliable art and copyright/fair use advice and is committed to helping his readers make informed decisions about making them a better artist.
He also loves all things watches (ok it's an addiction) so show him some love and visit his other website https://expertdivewatch.com