Best Drafting Chair For Artists To Save Your Back (Affordable)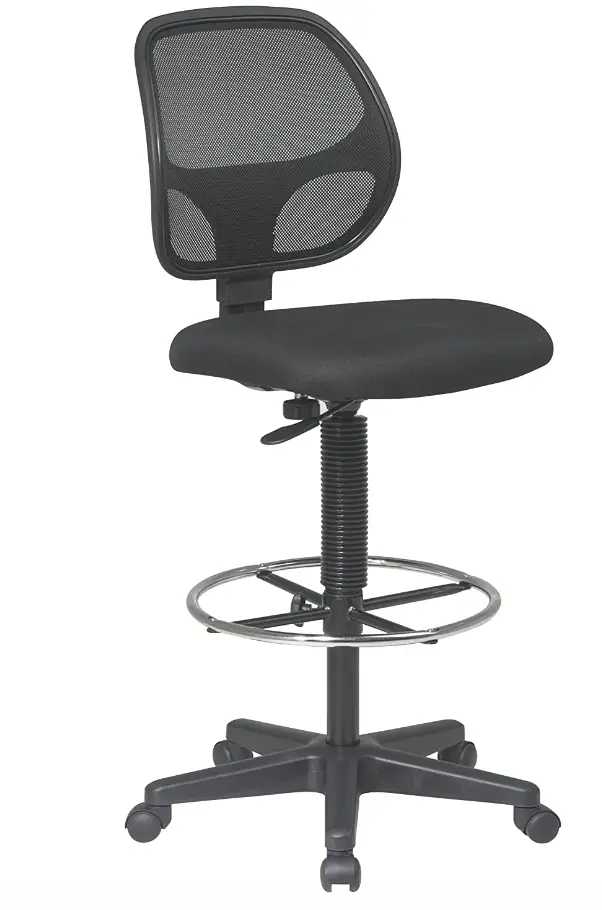 I find as I get older, I can no longer sit on a box or old wooden chair and create wonderful art without getting up with a massive amount of back pain. And with the high cost of living these days, we can't just go out and buy the most expensive drafting chair around so it needs to be affordable as well. Which is why I started researching for the best drafting chair for artists as I needed to save my back and do it on a budget. I had lots of friends and artists suggest expensive Scandinavian chairs that cost more than my car so be careful who you ask as they may convince you to over-spend.
If you suffer from back pain and you're an artist you should consider a suitable drafting chair and also read these ergonomic tips.
Drafting chairs and draft stools have quickly become a popular ergonomic solution to use in the modern art studio and workspace. Perfect for standing desks or elevated workbenches, these chairs not only meet height requirements, but they provide the support your back and limbs need when working long hours.
Originally drafting chairs were almost exclusively used by architects, draughtsmen and engineers. But, as more and more artists are moving to digital art and making the conversion to standing desks, drafting chairs are becoming a much needed asset to productive work. 
The best drafting chair for artists will support your back, and promote a healthier and safer posture whilst you work. Using one of these chairs should help to eliminate the aches and pains we experience from sitting down over long periods of time. But instead of just recommending any old chair for artists I will also use my own personal experience and those of my artist friends to see not only what are the best drafting chair for artists but also a good artist chair with back support, a digital artist chair and the best chair for miniature painting.
The Best Drafting Chair for Artists is..
4.6/5 Stars
Dimensions: 23 x 26 x 50.25 inches
While it is called an office chair, this is a great all-rounder drafting chair that you can use in the studio or at a desk. The Office Star drafting chair is one of the top rated products in this category, and comes at a relatively low price when I compare it to what was available at Staples and other office furniture stores where the prices started at $159 and went all the way up to over $2000 for a Herman Miller chair. Not only that, everyone wanted to sell me a gaming chair like a DXRacer which is exactly what I DID not want as an artist. Those are designed for someone to sit back, not forward for long periods of time.
This chair features a heavy duty nylon base, and dual-wheel casters means that the chair will move easily across carpeted flooring. It is lightweight which is not a bad thing, it is easy to move around on while still seated.
While my studio space has concrete flooring, I tried it upstairs in my office space which is carpeted and it still works a treat. In addition, this drafting chair features a breathable screen back, which follows the natural "S" curvature shape of our spines which provides natural support. I live in a hot area and having the breathable back helped me stay cool in summer. The fact that the back is breathable, flexible and adjustable and the height is also adjustable which allows me to keep my feet flat on the ground means this is the best artist chair with back support.
You can also choose whether you'd like the seat covering to be fabric or vinyl – the material preference is completely up to your personal choice. However, if you will be sitting down for longer periods of time, it's better to opt for a fabric seat covering. 
There are no armrests attached to this chair, which is perfect if you'll need free movement of your arms – such as drawing or working with designs.
I will also add that this chair is also suitable for artists working long hours on miniature painting where you may be hunched over a desk or easel for long hours.
Pros 
Available in two different material finishes 
Adjustable footrest and backrest 
360 degree rotation 
Built-in lumbar support
Suitable for all heights 
Cons 
Not the comfiest seat after hours of working 
No lock on wheels – caution needing when moving on wooden/tile flooring 
No armrests – not needed if you're an artist though
---
4/5 Stars
Dimensions: 25.2 Depth x 25.2 Width x 37.4 Height inches
You would think that a drafting chair suitable for an artist is just as suitable for a digital artist then think again. If you observe most digital artists in action, they all sit on smaller drafting chairs and not on large gamer or YouTuber chairs. A digital artist chair needs to have all the same criteria as an artist chair but because a digital artist is working at a desk rather than at an easel they require something closer to a traditional office chair, and they need a chair with arms.
Digital artists are mostly working with a mouse, track pad or a stylus/pencil connected to a tablet or Wacom tablet. When I work digitally, I find myself working more like when I am in the office rather than the studio.
Boasting a breathable mesh fabric and a padded seat, the FelixKing drafting chair provides a comfortable sitting experience. The generously padded seat uses a waterfall design to not only provide comfort, but also encourage blood circulation. 
Pros:
Breathable backrest
High resilient mesh fabric
Padded seat 
Armrests for support when typing, can also flip 90 degrees upwards
One-touch lift 
Easy glide wheels across carpeted floors
360 degree rotation 
Cons:
This chair actually has very little cons but from my research the following two came up a bit.
Chair tilts backwards, but does not lock into place at 120 degrees which is fine for most people
Some people complain about the material against bare skin (a little odd I know)
FelixKing Office Desk Chairs, Ergonomic PC Desk Chair with Wheels, Adjustable Lumbar Support and Height, Swivel Computer Chair with Flip-up Armrests, Ergo Mesh Backrest for Working (Black)
[ Three-point Revision ] Thickened base plate supports the high stability of the chair. No longer an outer wrapped backrest mesh, not easy to wear. The last updated is curved back structure design, more three-dimensional and stylish.
[ Multi-Function ] The height of the chair can be adjusted according to demand. It also features 360 degree rotation. With the feature of 30 degrees of recline and structure of distributing the pressure-resistant, it can reduce your body's pressure.
[ Comfortable Surface ] The FelixKing ergonomic chair uses high-density natural sponge, soft cushions and breathable mesh, suitable for sitting and working for more than 10 hours, cool and comfortable.
[ Ergonomic Design ] The adjustable high back chair adopts an ergonomic S-curve design. Use soft, breathable mesh. Reduce user fatigue, suitable for sedentary sitting.
[ Convenient Storage ] 90° Adjustable flip-up arms can place the chair under the desk to save space. Suitable for office, room, study and living room.
---
---
Best Drafting Chair for Artists Buyer's Guide
When you're looking at getting a drafting chair for art work you need to pick function and form over style. It is an important addition to help you maintain a healthy balance between sitting and standing. Most artists can spend anything from 8 to 16 hours a day drawing, not realizing the damage they are doing to their back. 
And with all the drafting chair options out there, you can easily become overwhelmed by the vast number of drafting chairs on the market, each boasting their own unique features, but it's important you find a chair that meets your own specific requirements. 
Here are the most important features to consider when purchasing a drafting chair:
Artist Chair with Back Support (Backrest)
When it comes to drawing chairs, drafting chairs and the like, armrests, backrests are completely down to your own personal preference. Some people gravitate towards backless designs, so they can force themselves to maintain an upright posture each time they're at their desk.
However, if you find your mid body tends to get tired quickly and you'd prefer some extra support, choosing an artist chair with back support is definitely the way to go. 
If you do opt for a backrest, make sure you pick one that has an "S" shape to it. A "S" shaped chair back gently follows the contours of our spines, providing natural support that won't put any unnecessary strain on our backs. An added bonus is tilt adjustment, this will allow you to lean back often which is perfect for stretching throughout the day. 
You will not get this option with a drafting stool which is the main issue why I did not go ahead with a drafting stool even though I found a couple of good options within my price range.
Comfortable Seats
When purchasing a drawing chair, the most important criteria you'll want to consider is the comfort level of the seat. The seat needs to be able to properly support your legs, arms and back to not only promote a healthy posture, but to ensure that there is an adequate circulation of blood flow.
Having a comfortable seat that supports you is vital as your feet won't be touching the ground when seated at a drawing chair. Additionally, having an adequate circulation flow can help you to not only work longer, but healthier. 
The most common and comfortable seat design is the "waterfall". This is where the front edge of the seat usually curves down, following the way our legs naturally gravitate downwards. 
Comfort 
You might think that having a comfortable seat will be the only level of comfort you will need to look for when purchasing a drafting chair, but that is not the case. Getting the best out of your chair's comfort can factor in several different features. 
For instance, have you considered the material of the chair you pick? Most people find that mesh-panelling is a better choice if you plan on sitting down for longer periods of time. However, faux leather can feel better if you will only be sitting down for short bouts of time. 
Another aspect to consider is the size of the seat itself. A smaller chair might be more practical, but a larger seat makes for a larger surface to sit on, and enables you to be able to move around more.
Additionally, being able to feel a chair's frame when you're sitting down isn't a good sign, so choosing a chair with more padding will make for a more comfortable sitting arrangement. 
Footrests 
Footrests are a critical feature of drawing chairs as we are elevated off the ground. Therefore it is important to have a foot rest so your feet don't dangle, which will add pressure to your inner thighs. 
An added bonus is an adjustable footrest, so when you adjust the drawing chair to your height preference, you can adjust the footrest to the right height for you. 
Armrest/No Armrest
To armrest or not to armrest? That is the question. 
Deciding whether or not you want to purchase a drawing chair with an added arm rest is completely up to you. When considering this feature, think about what type of job you'll be using the drawing chair for. 
If you will be using a keyboard often, an armrest is a great addition to help support your arms whilst you type. However, if your work is more practical such as drafting design work or working with physical objects such as charts and blueprints, an armrest will only get in your way.
Durability 
It's important to consider durability when you're purchasing a drafting chair, especially as you'll probably be using it very frequently.
Look out for heavy duty nylon bases, and strong metal cylinders that prop the chair up. It's also worth noting that you should opt for a hydraulic lift.
Although it'll wear out over time, replacement lifts are easily purchasable and can be installed. In addition, make sure the quality of the wheels is up to standard, as faulty wheels are a potential accident waiting to happen. 
Budget
When it comes to purchasing the very best, our finances often get in the way. However, when looking at getting yourself a drawing chair, it's worth spending a little extra money to ensure that it will last you. For instance, a chair with a metal frame may be more expensive than a plastic chair, but it'll most likely last longer. 
Additionally, one of the main selling points of a drawing chair is the support, so it's not worth getting a poorly fitted chair that will sacrifice your posture. This will only affect you in the long term as it can lead to chronic injuries. 
So it's better to pick a drafting chair you can afford based on your needs, versus purchasing the cheapest drafting chair you can find. 
Frequently Asked Questions 
What Does Ergonomic Mean?
You've probably seen this word thrown around a lot when researching drawing chairs, but what exactly does it mean? 
An ergonomic design ensures comfort and proper posture throughout the day. It refers to human engineering (or biotechnology) used in the design that focuses on increasing office productivity and minimizing any injuries sustained from sitting for hours on end.
Unfortunately, the word 'ergonomic' is a trending term which is used in the industry a lot, even if the product doesn't feature an ergonomic design. 
Ultimately, when you see the phrase 'ergonomic' when looking at a drafting chair, it's referring to the comfortability of the design. Also the design should promote proper posture which will increase productivity and diminish pain/strain when working.
Can I Use a Drafting Chair with Regular Desk Heights?
Typically drafting chairs can be lowered to fit a regular working desk, but as they are designed for taller working spaces they may not function as expected when set to a lowered height.
For instance, if you're using a drafting chair at a lower level the footrest function can be redundant, as you can support your feet on the ground. 
Some chairs do not reach lower heights, so be sure to check the product specifications and reviews before purchasing a drafting chair for a lower height. 
What is Lumbar Support?
Lumbar support can refer to anything that provides support to the lumbar region (otherwise known as the lower back) of the body. Most ergonomic chairs will promote lumbar support, however if you find that you are experiencing any pain in your lower back, it could mean that your backrest is set too high, too low or too deep.
Latest Posts
Joseph Colella is a frustrated artist with over 40 years experience making art (who moonlights as a certified Business Analyst with over 20 years of experience in tech). While he holds a Diploma in Information Technology, in true wasted talent style he spent years trying to get into various Art degrees from the Accademia di Belle Arti (Napoli), and failed to get into the Bachelor of Arts (Fine Arts) at the University of Western Sydney. His goal is to attend the Julian Ashton School of Art at The Rocks Sydney when he retires from full time work. In his spare time, he writes for the this blog, WastedTalentInc, where he shares practical advice on art, making art, and art materials. Joseph's art has been sold to collectors all over the world from the USA, Europe and Australasia. He is a trusted source for reliable art and copyright/fair use advice and is committed to helping his readers make informed decisions about making them a better artist.
He also loves all things watches (ok it's an addiction) so show him some love and visit his other website https://expertdivewatch.com