Best Watercolor Pens to help you create beautiful art!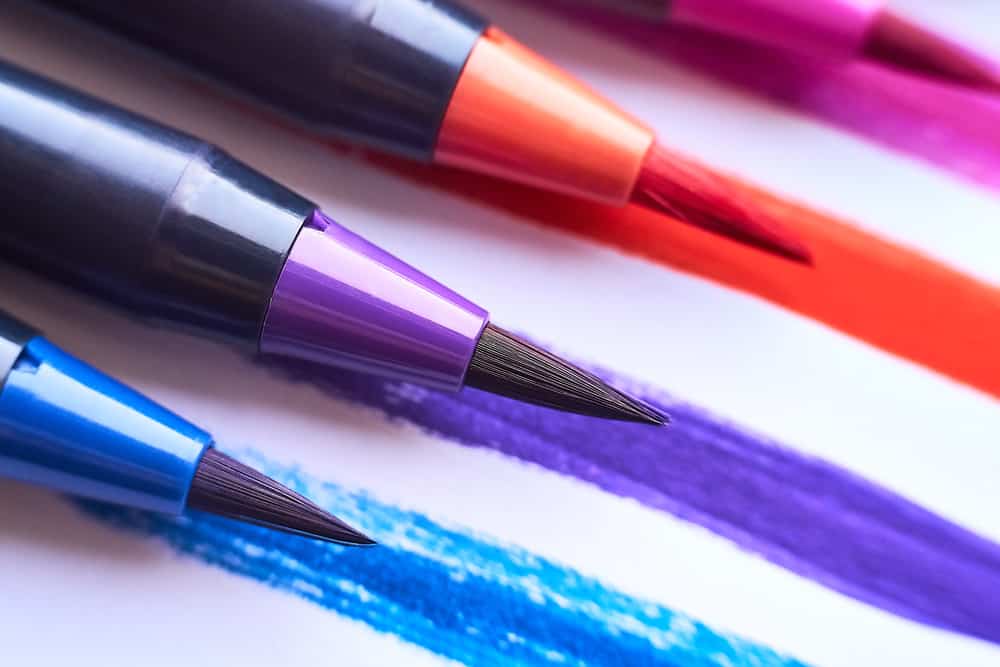 Watercolor pens are an artist's convenient dream. These pens hold both the watercolor paint and a brush at the same time. Ideal for experts and beginners alike, watercolor pens are a fun and mess-free way to get creative.
But what happens when you need to find a watercolor pen set that has enough colors at a high quality?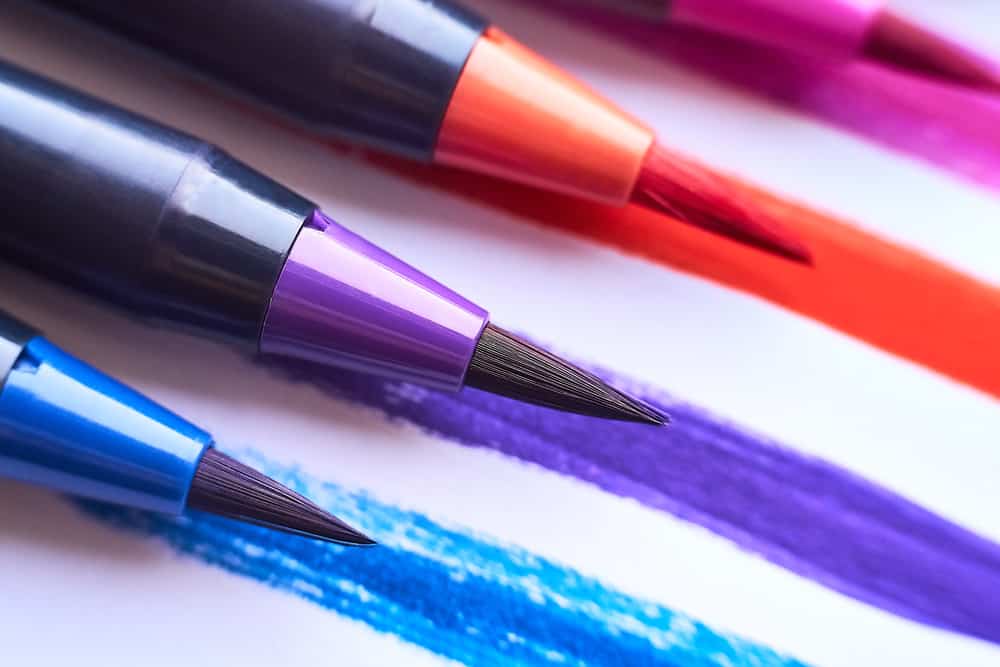 The last thing you want is a bunch of watercolor pens that don't produce enough color or produce too much color that they work more like pens. Nor do you want watercolor pens with stiff or uneven brush tips that make your art look messy and unprofessional.
If you're looking for the best watercolor pens set for your specific need, I've got you covered. I have found the best watercolor pens for beginners and experts alike, ranging from uber convenient sets to sets with a multitude of colors. Let's get started!
---
Best Watercolor Pens Reviews
If you're looking for an all-rounder watercolor pen set, you should try this Arteza product. Featuring 24 pens, it's easy to find your ideal color by mixing and experimenting.
The quality of the paint itself is of premium quality, which acts in the same way as regular watercolor paint. With a hint of water, you can achieve a fainter wash. Without water, the colors are bolder. 
The brush tips are made of nylon brush hairs, which is essentially a pen version of high-quality paint brushes. This material allows for flexibility and precision with the tapered point to perfect those thin strokes.
Not only is this great for creating precise pieces of art, but this is also ideal for calligraphy. These pens work best on watercolor paper as well as other materials of your choice if you want to experiment with different textures, such as dried leaves or salt on paper. 
This paint is non-toxic and ACMI-certified which is a priority for safety. These pens are water-based which is the easiest to clean – ideal for little ones who have a habit of making a mess with paint! 
Pros:
Easy to use – Premium paint and brush quality
Flexible brush tip – Nylon bristles allow for precision and flexibility to create any shape without damaging the brush
Beginners and children friendly – Suitable for beginners and children due to no-mess cleaning
Cons:
No water brush pen – Despite the picture, a water brush pen is not included (for blending purposes)
ARTEZA Real Brush Pens, 24 Watercolor Markers for Watercolor Painting, Drawing, and Calligraphy, Flexible Nylon Brush Tips, Ideal Drawing Pens for Artists, Journalists, and Beginners
Premium Quality Pens: Our Arteza watercolor brush pens come in a pack of 24 diverse colors, providing richer shades and more flexible nylon tips than many higher-priced brands. Perfect for smooth writing and vibrant drawing, these watercolor pens ensure excellent quality for your artistic endeavors.
Multiple Creative Uses: Whether you want to create delicate watercolor effects, engage in dry-brush painting, sketching, coloring, calligraphy, or more, these watercolor brush pens allow for endless creative possibilities. Their versatility makes these drawing markers an excellent tool for various artistic and journaling needs.
Precision Control: With Arteza calligraphy brush pens, enjoy precision control for creating light pastel washes, subtle shading, and gradients. These paint markers ensure a smooth and consistent ink flow, making them ideal for meticulous detailing and precision in all your artworks.
Versatile Gift: These coloring pens are not just tools, but a gateway to creativity. Suitable for artists of all levels and suitable for a variety of applications from drawing to journaling, Arteza calligraphy markers serve as an inspiring gift that can help unleash the creative potential in everyone.
Crafted by Artists, for Artists: At Arteza, we are passionate about providing quality art supplies accessible to all. Whether you're an experienced artist or a beginner, our coloring markers are designed to enhance your creativity and bring your artistic vision to life.
---
Whether you're a complete newbie or just getting started with your painting endeavors, finding the ideal watercolor brush set that provides enough range for you to practice with can be tough. That's where this Emooqi brush set comes in! 
With 36 premium-quality colors, beginners are provided with virtually every color they could possibly need to experiment with different techniques.
Don't be put off if you're an advanced artist – anybody of any skill level can use these pens!
The brushes are made of durable nylon hairs which allow for a range of strokes – from precise sketching to large ombré strokes – without destroying the original condition of the brush tip. 
This set comes with a handy water brush pen, which is a clear pen used to blend out the paints to create a watercolor paint fade. The pens come in a handy portable box to keep them all safe and organized. The paints are MSDS certified and non-toxic, so are safe for children to use. 
Pros:
Cons:
Watercolor Brush Pens, Emooqi 36 Colors for Real , Includes 2 Blending Brushes & 8 Watercolor Paper, for Artists and Beginner Painters to Colouring Books, Calligraphy, Drawing
【36 Colors Sealed Water Painting Pen】Emooqi 36 Colors Watercolor pens comes with portable organized box. The brush tip moist all the time without worrying about it drying out next use. Simply cover your pen cap after use.
【Flexible Real Brush Tips】Each tip is made of soft and durable high quality nylon hairs with feature durable tips that retains its original condition even when used multiple times, Flexible nylon paint brush tips allowing you to freely sketch out the lines and create colour washes, gradients, ombre effects or simply layer to experience a deep, intense colourful result.
【Multi-Application】You can have a lot of fun creating different effects, like coloring, illustrating, painting, sketching, and Blending and doodling. Simply adjust the amount of pressure you put on the pen to smoothly transition from thin lines to broad strokes, you can also play around with the angle at which you hold the pen.
【Safe Use】The brush pens are made from non - toxic odorless water-based highly pigmented ink.You can use it safely.
【After-sale Service】:If you have any questions about this watercolor markers, please contact us as soon as possible. We will solve it for you within 24 hours. Emooqi is committed to providing customers with satisfactory solutions.
---
Where experts and advanced artists may find some watercolor pen sets too simple or not of the highest quality for their skills, they would benefit most from this Poétic set. These are artist-grade watercolor pens that can create an array of beautiful artwork – from delicate landscapes to intricate portraits. 
Made from high-quality nylon brush hairs, the brush tip is flexible to create a variety of strokes whilst firm enough to maintain its original structure.
These pens are equipped with a Patented Plasma Finish treatment, which prevents the paint from leaking or dripping during or after use. This evenly distributes the paint amongst the brush tips to prevent pesky streak marks. The set also comes with a water brush pen to help with blending. 
The standout feature for this watercolor pen set is the refillable design. Once the pens run out of paint, users can simply buy more from the Poétique store to refill the pens they have already. Both useful for the environment and saves money from buying a completely new set! 
Pros:
Artist-grade quality – Designed with expertise and precision in mind 
High-quality paint – No leaking or dripping, and an even distribution of paint amongst the brush tips to prevent streaks
Refillable design – Buy your most-used paints on the store to refill in the pens you already have
Cons:
Tips dry at first – Upon first use, the tips will require some water and work to get the paint running smoothly 
Poétique Refillable Watercolor Brush Pens 48 - Professional Watercolor Markers with Flexible Brush Tips, High Pigment Count, Real Brush Pens for Artists Coloring, Painting, Drawing and Calligraphy
[Flexible Brush Tips& Good Ink Flow]: Made from Japanese Imported Top Grade nylon brush hairs, the brush tips are springy, firm and durable, allowing them switch between wonderfully fat strokes and thin lines without hesitation. With unique Patented Plasma Finish Treatment, the brush tip dispenses ink consistently without streaking or pooling.
[Accurate colors&Non-Toxic Ink]: Poétique concentrates on delivering premium quality watercolor brush pens with accurate color, the Delta-E of each pen is less than 0.7 (30% higher than industrial standard). And each pen is certified in a toxicological evaluation by ACMI to insure it is non-toxic.
[High-pigment Count& Great Dissolvability]: German Imported Top Grade watercolor ink, the pigment count is remarkably high and hence the colors produced are very saturated and attractive. The pigments mix effortlessly even without the use of blender marker. You can simply use a wet brush to mix the inks effortlessly.
[Refillable Design&High Seal Cap]: Are you still worry about the pens were dried out when you receive them? Poétique real brush pens have passed the 95kPa pressure differential test which means no leakage any more. And refillable design makes it possible to be last for a long time (Replacements and inks are sold separately in our store).
[Warranty]: Poétique provides maximum customer satisfaction. Just a call, 100% money back guaranteed. If you meet the problem of any dry/damage in some colors, give us a call, a new replacement will be on the way immediately.
---
For artists who like to travel, or for those who like to paint in coffee shops or outside, paying for a case that can hold all of your watercolor pens can be an unnecessary expense.
This product is the most convenient on our list, as the standout feature is the handy protective case that keeps all of the watercolor pens safe. You can arrange the pens to find the color you need easily. 
This set comes with a watercolor paper pad and a refillable brush pen. The refillable brush pen is most ideal if you happen to run out of your favorite paint because you can simply order the specific paint(s) on their store without having to spend unnecessary money on the entire set again. This refillable brush pen can also be used as a water brush pen to help with blending.
These are non-toxic paints that are suitable for children to use – especially as they are water-based and can be washed away from clothing and skin easily! 
Pros:
Convenient – Comes with a handy durable protective case 
Value for money – Watercolor paper pad, refillable brush pen, and protective case included
Non-toxic – Children-friendly and easy to clean
Cons:
Best for beginners – Experts won't benefit from this set as much as beginners and children
Artist Watercolor Brush Pens Set of 26 Vibrant Markers with Bonus 1 Water Brush Pen 25 Colors Flexible Nylon Tips Paper Pad & Carry Case Non-Toxic Safe & Fun Watercolors
COMPLETE WATERCOLOR BRUSH PENS SET - includes 25 vibrant watercolor pens with Flexible Nylon Tips, a Refillable Brush Pen, a 12-sheet Drawing Pad & Protective Carry Case. Unleash your creativity with these 100% non-toxic brush pens.
CREATE DIFFERENT EFFECTS - these vibrant, rich color watercolor markers can be used in a variety of ways, like dry brush painting without water (Calligraphy, Sketching & Coloring) or Layering and Blending with water.
NON-TOXIC - This vibrant watercolor brush set is 100% non-toxic for maximum reassurance. So, if you find yourself with young children, you can have peace of mind these brush pens won't cause harm.
WASHABLE - It's no secret watercolor painting can be messy! But, as each water brush pen is easily washable from clothes and skin, they're guaranteed not to cause stubborn stains.
365-DAY, 100% MONEY BACK PROMISE - While we're 100% confident you'll love this versatile alternative to watercolor pencils, if you are not satisfied, contact us, and we will refund your money.
---
Sometimes, 20 or 30-piece watercolor pen sets just don't offer enough color range. That's where this impressive product comes in. With 50 colors and 4 blending pens, it's possible to say that pretty much every color can be created with this watercolor pen set. 
The nylon brush tips are as flexible as they are durable, which allows for artists to make a variety of strokes and movements without damaging the original shape of the brush tip.
The standout feature of this set is the 4 blending pens – two of which are in the regular medium size, one is for precise detail, and the last is for blending and washing large areas. Super convenient and money-saving! 
This watercolor pen set comes with a handy tutorial pad, a 7-part beginners video tutorial series, and a sample postcard – making it ideal for beginners and experts alike. 
Pros:
Huge color range – 50 different color options
Blending pens – Four blending pens in three different sizes to create intricate pieces of art
Tutorials for beginners – Tutorial pad and 7-part video tutorial series for beginners to experiment with skill and technique
Cons:
No color name – No names to the colors, so you will have to make a swatch reference
Sale
54 Watercolor Pens Set | Including 15 Page Pad & Online Video Tutorial Series | 4 Blending Brushes & 50 Unique Colors | Real Brush Pens | Easily Blendable, Vivid, Smooth | Professional Art Supplies
INDIVIDUALLY NAMED & NUMBERED REAL BRUSH TIP WATERCOLOR PENS - flexible handmade paint brush tips. Conveniently numbered to help you keep track of colors and ideal for swatching.
REVOLUTIONARY 7 PART VIDEO TUTORIAL SERIES - Highly structured learning system to build fundamental watercolor painting techniques and develop your skills fast. Access your watercolor lessons online and get painting and progressing FAST! Details are included on the back of the box and pad.
PROFESSIONAL ARTISTS TUTORIAL PAD - including sample artwork postcard. Printed on exceptional quality Dutch, cold pressed, acid free, 300gsm artists watercolor paper. Pad includes 15 pages, 3 blank pages for practice and 12 art templates to go with the online video tutorials, 2 copies of each design. INCLUDED inside every set behind the pens.
EFFORTLESS BLENDING ON WATERCOLOR PAPER, ULTRA VIVID WATER BASED PAINT - Bright artists pigments that blend easily with one another and with water.
50 COLORS & 4 BLENDING AQUA BRUSHES - Vivid artists pigments with good lightfastness and superior blendability. Quality transparency for glazing, layering and all of your other favorite watercolor techniques. 4 portable aquapens to keep you painting on the go, unscrew the opposite way from normal, fill with water and you're ready to get painting.
---
Buyer's Guide
Watercolor Pens Described
Watercolor pens are an all-in-one tool that features a pen-like brush that produces paint. The pint is water-based and can be used either dry to create a bold version of the color or with a touch of water to create a watercolor effect. 
These tools were designed with complete convenience in mind. Instead of artists having to bring a watercolor paint set with multiple brushes and tissues everywhere they go, watercolor pens are equipped with everything you need – just add water! This means they are the easiest to store and carry around in a case. Perfect for creating art on the go. 
How Watercolor Pens Work
The way watercolor pens work is simple: inside the pen is a component that holds the paint, which then comes out of the tip of the "pen", which is made of tightly-formed nylon brush hairs.
Nylon is a popular choice for paint brushes due to its durability and ability to work well with a variety of paints. The tightly-formed structure of the hairs allows for flexibility like a regular brush, but without the brush tip breaking out of its original shape. This means that artists can say goodbye to awkward streaks of no paint! 
Watercolor pens work in the same way as regular watercolor paints. They can be mixed with more or less water and can be combined with other colors to create the ideal shade. Some watercolor pen kits come with a water brush pen, which is a great way to seamlessly blend paint. 
Who Can Use Watercolor Pens
There isn't a rulebook that states who can and cannot use watercolor pens. Sure, experts and advanced artists who have experience with watercolor will find these pens really convenient and simple to use.
These pens are also great for beginners and children alike as they provide a simple way to get to grips with different skills and techniques with watercolor. If they wish to advance to watercolor paints and brushes, they will have established the skills from using the watercolor pens!
The best part about watercolor pens is that they are a great gift for children, not because of how much fun the kids can have, but because of the no-mess and easy-to-clean features. Water-based watercolor pens need only to be wiped away with water and tissue from skin, clothing, and furniture – a life-saver for parents. 
Oil-Based vs Water-Based
The majority of watercolor pens are water-based because of the convenience of cleaning. These pens are designed to be low-maintenance and mess-free, which is why water-based pens are generally preferred over oil-based pens. Water-based pens have a fast drying time and are the most eco-friendly option because of the non-toxic formula. 
Experts may benefit more from oil-based watercolor pens. These are less common than water-based pens because of the long drying time and the vibrancy of colors.
Some might find it harder to create a watercolor effect with oil-based pens because of the intense pigments, but those looking for intensity would benefit from oil-based products.
Despite the long drying time, oil-based pens are the most durable and can be used on a larger range of surfaces than just watercolor paper. 
Factors To Consider When Buying Watercolor Pens
Color Range
Of course, the color range is possibly the most important feature to look for when choosing a watercolor pen set. Most sets tend to have between 20 and 30 colors, but there are others available that have around 50 colors. 
You should consider your budget and how much you intend to use your set. If you just want to experiment with the pens to try out new skills and techniques, you won't need a large set with 50 colors.
If you want to create lots of artwork and you want to get even more creative with mixing colors, you should opt for a set with more color pens. 
On the other hand, if you know exactly what colors you're going to use in your art, you don't have to waste unnecessary products or money on 50-piece sets if you're only going to use half of the colors. 
Toxicity
Whilst people can assume water-based products are non-toxic, you should always prioritize the toxicity levels of the watercolor pens you're looking at before buying them. This is especially the case if you have children who are likely to get the paint on their skin and clothes.
Fortunately, water-based watercolor pens are easy to remove from skin, clothing, and furniture, but it's better to be on the safe side. 
Non-toxic pens will also be more odorless, which will ultimately make the painting experience more enjoyable. 
Extras
If you're wanting to make the most of your money, you should look at watercolor pens that come in a set with accessories. These accessories include a protective case, watercolor paper, and a water brush pen. 
Protective cases are there to keep your pens safe – which is a godsend for children who have a habit of losing objects. Most watercolor pen sets come with some pages of watercolor paper, which is very handy for creating your own swatches and practicing techniques. Water brush pens work to blend paint to create a distinctive watercolor effect. 
Some of these water brush pens are also refillable, which is a great accessory for those who run out of their favorite colors. Companies will often sell separate inks online, so you don't have to waste money on buying the set all over again for the sake of one color. It's also better for the environment!
Frequently Asked Questions
How long do watercolor pens last? 
It mostly depends on how often you use the watercolor pens. The longest time watercolor pens will last is up to 2 years, but this is with minimal use.
If you use your watercolor pens daily, they are likely to run out much faster. As watercolor paints are stretched out with the use of water, watercolor pens will often last much longer than you would assume from a regular felt-tip pen. 
Can you dip Arteza pens in water? 
Arteza watercolor pens can be dipped in water! A small amount of water will be enough to activate the paint to come through the brush.
The more water you use, the fainter the paint will be. The less water you use, the bolder the paint will be. They work in the same way as regular watercolor paints! 
You can experiment with dipping just the tip of the brush or the whole of the brush into the water for seconds at a time to determine the right consistency. 
Are Arteza pens good? 
Arteza's watercolor pens are some of the best watercolor pens on the market. With high-quality paint and nylon brush materials, Arteza has created an ideal tool for artists of any skill level.
I recommend the Arteza 24 Watercolor Pens because they tick every box: from the non-toxic and easy-to-clean paint to the quality of the nylon brush tips. 
How do watercolor pens work? 
Watercolor pens work in the same way as regular watercolor paints and paint brushes – just all in the same product.
The pen tip is made of durable and flexible nylon brush hairs which, when activated with water, produce the paint.
The longer you dip the brush tip into the water, the fainter the watercolor paint will be. 
Joseph Colella is a frustrated artist with over 40 years experience making art (who moonlights as a certified Business Analyst with over 20 years of experience in tech). While he holds a Diploma in Information Technology, in true wasted talent style he spent years trying to get into various Art degrees from the Accademia di Belle Arti (Napoli), and failed to get into the Bachelor of Arts (Fine Arts) at the University of Western Sydney. His goal is to attend the Julian Ashton School of Art at The Rocks Sydney when he retires from full time work. In his spare time, he writes for the this blog, WastedTalentInc, where he shares practical advice on art, making art, and art materials. Joseph's art has been sold to collectors all over the world from the USA, Europe and Australasia. He is a trusted source for reliable art and copyright/fair use advice and is committed to helping his readers make informed decisions about making them a better artist.
He also loves all things watches (ok it's an addiction) so show him some love and visit his other website https://expertdivewatch.com