The Best Easel Alternatives That Don't Cost A Fortune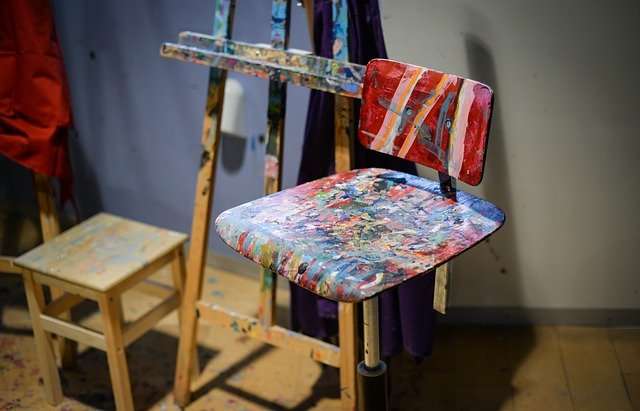 If you're an artist, you know that having an easel is a must. But if you're on a budget, buying an easel can be expensive. Luckily, there are plenty of easel alternatives that don't cost a fortune. In this blog post, we'll explore some of the best easel alternatives out there. So whether you're a beginner or a professional artist, keep reading for some great ideas!
Are There Affordable Easel Alternatives?
A well-made easel is an important tool for serious artists from beginners to professionals. Quality easels can easily cost hundreds of dollars and can be expensive, especially for students or beginning artists on a budget. Luckily, there are many easel alternatives available that won't cost much.
Easel alternatives can be made from a variety of materials and often common objects can be made to work as an easel. You may even find you like easel alternatives over manufactured easels. 
Easel Alternatives and Size
Easels come in a range of sizes to accommodate small and very large canvases alike. It is important to have the right size easel for the canvases you work with. A small 11″ x 14″ canvas will not fit right on a large or smaller easel. This can cause problems while you are painting. Many people may have more than one easel if they work with several different sizes of canvases. When I look for an easel I make sure that it will securely hold the size of canvases I primarily work with.
Using alternative easels like chairs or other found items can be a little challenging if the size does not work for your canvases. There may not be adjustments to make it work. Having said that, there are many options for easel alternatives so if one does not work for your needs you can use something that does. 
Popular Easel Alternatives
While there are many manufactured easels that are designed to work well with artistic canvases, sometimes budget may be a constraint or you may simply want a creative alternative to manufactured easels. You may find your style of artworks better anyways with an easel alternative. It is worth exploring the many options for an alternative easel to find one that suits your needs perfectly.
Ladder – Used ladders are common objects that people have used for an easel. Attaching a piece of wood or cardboard to the ladder will provide a backing to put a canvas on. Simple mounting bars to rest the canvas on can be attached to the backing. This can be a very inexpensive easel if you already have a ladder.
Walls – This is perhaps one of the least expensive easel alternatives. Simply find a wall that can be cleaned or can be used specifically for artwork. Secure a canvas to the wall with tape or temporary adhesive. Now you have a quick and inexpensive "easel". To keep the wall clean a cloth or paper backing can be tacked to the wall with the canvas on top of that. Also, a bench can be placed against the wall to use the wall as a backing for a canvas while sitting on the bench.
Camera tripods – For a little more traditional looking easel alternative, a camera tripod can be fitted with a mount for a canvas. They are inexpensive and can be bought at garage sales and stores. With a few parts added to hold a canvas in place, a camera tripod makes a good easel alternative.
Hand built easels – Hand built easels can be an easel alternative that won't cost much. They can be made from wood, metal, and other materials that can be bought at lumber retailers. Scrap wood may be found at various places and it might be free or inexpensive. You can use video tutorials or a purchased plan to learn how to construct your own easel. This is a rewarding project that can save some money as well.
Chairs – A chair can make a good easel that does not cost a lot. Simply put canvases in the seat of the chair and you can sit opposite of the setup while you work. Though it is not ideal, it can work as a cheap easel alternative, and chairs are commonly found everywhere.
Tables – Another alternative to easels is using a table. This can be done by placing the canvas on the tabletop and working from there. This is not the ideal easel, but it can work in a pinch, and tables are also commonly found in most households.
Cardboard easels – You can create easels out of cardboard or cardboard boxes that are both sturdy and cheap. This is a great easel alternative for those who do not have the time or money to put into something more permanent. I even have a video (from Frugal Studio) below showing how to make your own cardboard easel.
Different Easel Styles
There are many easel styles that can give you ideas on easel alternatives you can make or buy. Some styles of easel are compact and portable while other large easels are made to stay in one place. Your easel style should match the type of artwork you make. Some popular easel styles include:
H-frame – The H-frame easel is a basic easel style that is popular for its durability and stability.
A-frame – The A-frame easel is a popular easel style for painters who want a compact and portable easel.
Convertible (hybrid) – The convertible easel is a popular easel style for artists who want the versatility of both an A-frame and H-frame easel.
Portable – Portable easels are a popular easel style for artists who want to be able to take their easel with them.
Kids easels – If you have kids, then you likely already have easels in the house. These can be used by adults as well and are perfect for those who want a more temporary easel solution.
Each easel style has its own advantages and disadvantages, so it is important to choose the easel style that is right for you.
Are easels worth it?
Easels are not a necessity for painting, but they can be very helpful. Easels make it easier to see your work surface and they can help you keep your hands free while you work. If you do a lot of painting, an easel can be worth the investment.
While I never needed an easel I found their value in that I can park a canvas or board onto something that is located in a usual workspace.
This gives me the ability to view the progress of the artwork, walk away and come back when needed, and continue working without disrupting another workspace or needing to tidy the space before I can start work again.
An easel also allows you to work standing up or sitting down, you can usually resize easels to suit your height or preferred method of painting.
As a time saver, I find easels invaluable. As a tool to help me function, they are worth the expense.
The Best Easel Alternatives That Don't Cost A Fortune – Wrap up!
Whether you're a professional artist or an amateur just starting out, having the right tools is essential. And if you're on a budget, that can be tough. Luckily, there are plenty of affordable easel alternatives available. In this blog post, we explored some of the best options for artists looking for an affordable way to get started.
So what are you waiting for? Share this post with your friends and start exploring all the different ways to paint and create beautiful art!
Sources
Cover Image by Rudy and Peter Skitterians from Pixabay
Latest Posts
Joseph Colella is a frustrated artist with over 40 years experience making art (who moonlights as a certified Business Analyst with over 20 years of experience in tech). While he holds a Diploma in Information Technology, in true wasted talent style he spent years trying to get into various Art degrees from the Accademia di Belle Arti (Napoli), and failed to get into the Bachelor of Arts (Fine Arts) at the University of Western Sydney. His goal is to attend the Julian Ashton School of Art at The Rocks Sydney when he retires from full time work. In his spare time, he writes for the this blog, WastedTalentInc, where he shares practical advice on art, making art, and art materials. Joseph's art has been sold to collectors all over the world from the USA, Europe and Australasia. He is a trusted source for reliable art and copyright/fair use advice and is committed to helping his readers make informed decisions about making them a better artist.
He also loves all things watches (ok it's an addiction) so show him some love and visit his other website https://expertdivewatch.com