Can I Sell Art Prints On Etsy? Easy With The Latest Artist's Guide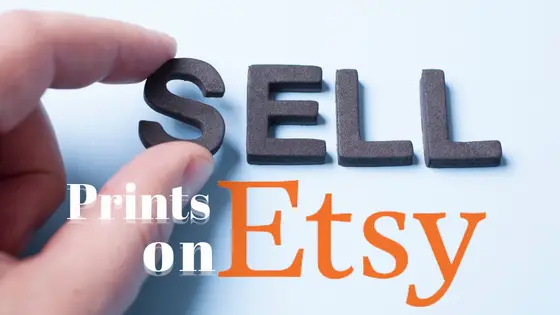 Are you an artist looking to increase the sales of your artwork by selling art prints on Etsy? As someone who has casually sold on the Etsy platform for several years and as someone who has asked themselves "Can I sell art prints on Etsy?" I can say yes you can and it is easy. I'm here to share my experience and provide a few insights that may help make this process easier. In general, Etsy is a great place to sell art prints due to its large customer base and user-friendly search features and focuses on selling original art and prints based on artists like you and me instead of professional print companies that sell tacky art prints.
It's also easy to set up shop on Etsy: just upload high-quality images of your work, create descriptions, determine shipping fees, and start listing items.
Selling art prints on Etsy really doesn't get much simpler than that. That being said, it's important to keep in mind that there are some key considerations when selling art prints online – otherwise, you could jeopardize the quality of your product or worse yet, face legal action for copyright infringement (more on this later). Let's take a look at a few things you should be aware of before setting up your store, learn how much you can make, what the fees are and how to make sure your Etsy store is a success.
Know Your Copyright Laws When it Comes To Selling Art On Etsy
When selling art prints on Etsy (or any other e-commerce platform), it's crucial to know the copyright laws in your area. Copyright infringement occurs when the artwork is reproduced without the permission of the original creator – meaning if you're selling prints of another artist's work without their consent then you could be liable for damages.
Before listing any artwork make sure that either you own all rights or you have obtained written authorization from the copyright holder.
Additionally, make sure not to use images without proper attribution as this can result in similar repercussions.
Things get a little curly when you're creating collages of other art so read up on this article I wrote earlier on the topic. And when you're done read the following posts related to Fair Use, Copyright, and the like.
I have also written a more in-depth guide for artists selling paintings on Etsy which also applies to artists selling art prints on Etsy.
Set Up Quality Assurance Procedures
No matter how well-thought-out your listings are, poor craftsmanship can still tarnish their overall appearance – so if you want to be successful with art print sales then quality control will be key. Also define and let buyers know your returns policy, shipping lead times, and contact details. Sell to people the same way you wish to be sold to and treated as a customer.
Trust me, you get this wrong and your business will go bust before you give it a chance. I have taken a loss on some items just to ensure my reputation wasn't affected and this has led to way more sales than a few dollars lost here and there on some silly mistakes.
Make sure each item meets your standards before sending them out; inspect each one thoroughly for color accuracy, print clarity, and other minor defects such as smudges or tears that may affect visuals negatively. Doing so will ensure customers get exactly what they paid for and won't leave disappointed reviews about your products.
Choose The Right Materials For Your Artwork
Not all materials used to produce artwork are created equal; some may provide better colors or sharper images than others depending on what type of project it is (e.g., giclée prints versus screen printing). Try different options until you find one that works best for both budget and aesthetics – just remember not to skimp out too much as lower-quality materials can often appear duller than more expensive alternatives.
By following these steps and doing research into copyright law and quality assurance procedures, artists can easily sell art prints on Etsy with confidence. With a few simple steps like these, you'll be able to protect yourself legally while making sure each piece looks its best before shipping off those orders.
Is It Legal To Sell Fan Art? How To Sell Fan Art Legally
How To Get Permission To Sell Fan Art
Remember to scan the image at the right resolution and decide if you want to sell Giclee prints or normal art prints using a home printer. I have a guide linked here you should look at.
How To Digitize Artwork For Printing As A Giclee Print Like A Boss
Now you are sure you have the legal rights to the images used in the prints and you have the right materials, you need to self-publish the art prints.
How make prints of your art
There are a few ways you can make prints of your art to sell on Etsy. I went down the path of self-printing at home on an inkjet printer and once I made a reasonable income and I saw that there was a demand for my prints I invested in a small Giclee printer (which is just a fancy inkjet printer anyway).
You can also get prints made in bulk by third-party print-on-demand (POD) printing businesses but they may have a minimum order quantity (MOQ) that may not make sense. I know from personal experience as I still have a few boxes of unsold prints that I thought would be popular but weren't.
One inexpensive way is to make your prints at Staples or a similar company that will print off as many or as few as you need with the trade-off being the quality is not the best but you can adjust the price of your prints to make up for it.
You can also bulk-order Giclee prints but these are quite expensive and I doubt you will see a return on your investment if you go down this path. I will not recommend it.
How to Self-Publish Your Own Art Prints on Etsy
Assuming you have steps 1 to 3 done and you have a few samples printed off and ready to sell, let's look at steps 4 and onwards.
1. Create an Etsy shop, or link to your existing one.
2. Set up a listing for each print you want to sell and fill out the relevant information such as size, material, and cost per unit.
3. Upload your images in the highest resolution possible so they look great when printed out at their maximum size.
4. Make sure to include in your listing all the available print sizes, finishes, and frames (if applicable).
5. Set up an automated payment system such as Paypal or Stripe so buyers can pay you quickly and securely. Etsy can handle payments for you so don't stress too much here, you just need to have the accounts set up to receive the payments from Etsy once they clear.
6. Promote your prints through social media and other channels to ensure maximum visibility and reach potential customers.
7. Make sure to package your prints securely and include any additional information such as a thank you note or care instructions if needed.
8. Once the prints are shipped, keep track of them with shipping tracking codes so you can make sure they arrive safely to their destination. Keep your buyers in the loop along the entire process and treat them kindly if they are rude. You can always block them as buyers later.
9. Finally, don't forget to collect reviews from buyers so you can build up your shop's reputation. Reviews help to boost your visibility in the Etsy search rankings, which can result in more sales.
And remember it takes time to do this right and you will make mistakes at the start, just make sure you learn from them and don't expect the customer to pay for your own mistakes.
Is it worth selling art prints on Etsy?
Starting an online store for handmade arts and crafts, vintage goods, or any other products has never been easier than with Etsy. With its user-friendly interface and features like payment protection and marketing tools built into the platform, it's no wonder why so many people choose to sell on this popular marketplace.
The cost of doing business is a little cheaper on Etsy with an estimated 12% in charges from listing fees and final sale fees than eBay and much cheaper than Amazon but more expensive than having your own website but the trade-off is that it is like a shopping mall, you pay that little extra for the existing foot traffic who may just walk into your online store and buy something.
How much can you make selling prints on Etsy?
You can expect to make a good profit margin on art prints on Etsy. On my retail price of $10 prints that were produced at home, I was banking $8 profit on each one sold. To make it clearer to you, I was able to turn $2 into $8. I would sell about 20 prints a week and I was not even marketing my shop or prints that much.
If I was to do it again these days, I would run a blog that pushed my Etsy shop hard and focus all my sales on my own products rather than affiliate products.
Based on this, an Etsy store with consistent sales and a wide range of popular prints and items can earn $1,000 or more if it is treated as a full-time activity.
Do you need a license to sell art on Etsy?
Generally speaking no you do not need a license to sell art on Etsy. In some cases, it can depend on the item you are selling, or what country, city, state or local government area you live in.
Can I Sell Art Prints On Etsy – Wrap up!
If you have an artistic flair and can make artworks that translate into stunning prints, then Etsy can be a great place to sell your art. Just remember to start small and build up your shop over time as you become more experienced and determine what sells and what doesn't.
Also, one thing I forgot to mention is to make sure to take advantage of Etsy's advertising tools and social media presence to draw in customers.
In the end, it can really come down to your personal preference and the amount of effort you want to put into selling art prints on Etsy. I sold on Etsy for a long while along with eBay. I found both had their benefits and issues.
These days I no longer sell any of my art as I am focused on teaching via this website and making art for my own enjoyment, but the basics of selling art prints online have not changed.
Latest Posts
Joseph Colella is a frustrated artist with over 40 years experience making art (who moonlights as a certified Business Analyst with over 20 years of experience in tech). While he holds a Diploma in Information Technology, in true wasted talent style he spent years trying to get into various Art degrees from the Accademia di Belle Arti (Napoli), and failed to get into the Bachelor of Arts (Fine Arts) at the University of Western Sydney. His goal is to attend the Julian Ashton School of Art at The Rocks Sydney when he retires from full time work. In his spare time, he writes for the this blog, WastedTalentInc, where he shares practical advice on art, making art, and art materials. Joseph's art has been sold to collectors all over the world from the USA, Europe and Australasia. He is a trusted source for reliable art and copyright/fair use advice and is committed to helping his readers make informed decisions about making them a better artist.
He also loves all things watches (ok it's an addiction) so show him some love and visit his other website https://expertdivewatch.com