Should Art Prints Be Matted? Does It Matter? Explained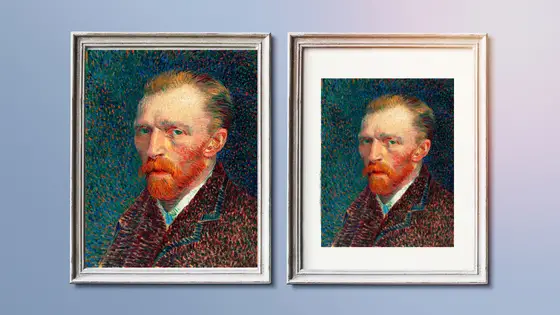 Should art prints be matted or does it actually not matter? Matting art prints is a personal choice but I have found over the years that matting art prints is a great way to make your artwork look more polished and presentable when framing or displaying.
Matting art prints also helps protect the print from dust, moisture, and sticking to the glass framing over time. When matting art prints, make sure to use archival-grade mat boards – these are acid-free and will keep your artwork safe for years to come.
Also, try to use colors that complement the art such as whites or off-whites rather than anything too bold such as colored matting may take away from the print itself.
Consider choosing a thickness of mat board that will give the artwork just enough depth so it stands out but doesn't overpower it either. If you plan on selling your work with mats included, consider offering different options so buyers can choose what works best for them. For example, you might offer pre-cut mats in various sizes along with instructions on how they can be trimmed down if necessary.
I have also found that there are a couple of attributes that you need to factor in when deciding whether to mat an art frame or not. Let me go through these below.
What's the size of your piece?
If you have a large art print then it's important to consider the weight and size of the mat board when selecting one. A thicker mat will add more bulk and weight, so make sure that your frame can handle it. I don't know about you but I find that smaller art prints always need to be matted and there is a size when one is just not needed.
My rule of thumb is any art print that is around 40 inches tall (about 1m) does not require matting, anything smaller than that should have matting.
Matting will also increase the overall size of the frame needed as it adds up to at least a few extra inches around the edges. This will result in additional framing costs and space the art print will take up on a wall.
Smaller art prints need that additional size to give them a bit more presence on the wall while larger art prints do not need it.
What medium is your art print?
Is it a paper print, canvas, or something else? This will also determine if any matting is necessary. A canvas art print can stand alone without a mat and will look great while paper art prints may need some additional protection against fingerprints and dust.
Paper art prints should always be matted under a certain size as I have already mentioned and canvas prints should never be matted no matter how big or small they are.
Where will you hang your art print?
Is it in a brightly lit room? Depending on the environment, you may need to order your art print framed with special glazing and backing materials that will be more resistant to dust and glare.
Is It Next To Other Matted Art Prints?
Also, if all the existing art prints or artworks on the wall have matting then the latest one should also be matted. Do not mix and match where you have some art prints with matting and others without, it just looks disorderly and makes the wall seem uneasy on the eyes.
Let's compare an image with matting and without matting
A matted art print creates a frame for itself and allows the viewer to focus on the artwork, as opposed to being distracted by the wall around it. Matting also allows more space between your art print and other pieces of art, creating a cohesive look.
The following 2 images show what the same art print would look like when matted and when unmatted. My personal preference, especially if the art print is framed with a thin frame is to always go for matting for paper based art prints that are less that 40 inches (1m) tall.
Unmatted Art Print Example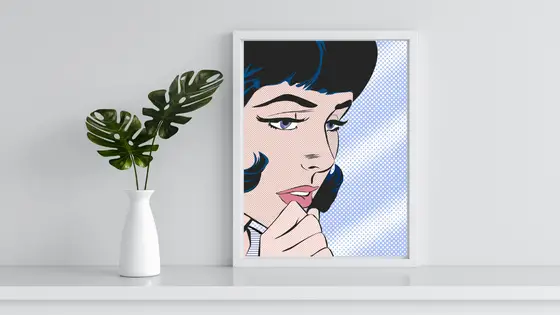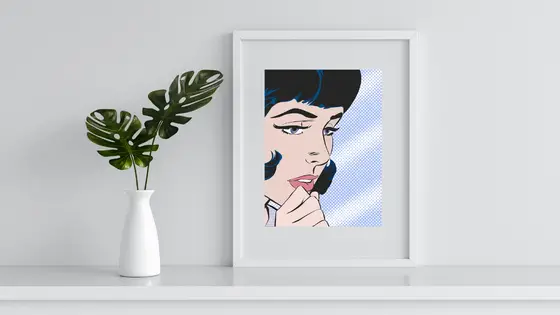 Should Art Prints Be Matted? Wrap up!
Should art prints be matted? I hope this article answers your question and highlights other things you should consider such as the size of the art print, materials and where it will hang. Matting art prints is one of many steps you can take in order to ensure your artwork looks as beautiful and professional as possible.
Latest Posts
Joseph Colella is a frustrated artist with over 40 years experience making art (who moonlights as a certified Business Analyst with over 20 years of experience in tech). While he holds a Diploma in Information Technology, in true wasted talent style he spent years trying to get into various Art degrees from the Accademia di Belle Arti (Napoli), and failed to get into the Bachelor of Arts (Fine Arts) at the University of Western Sydney. His goal is to attend the Julian Ashton School of Art at The Rocks Sydney when he retires from full time work. In his spare time, he writes for the this blog, WastedTalentInc, where he shares practical advice on art, making art, and art materials. Joseph's art has been sold to collectors all over the world from the USA, Europe and Australasia. He is a trusted source for reliable art and copyright/fair use advice and is committed to helping his readers make informed decisions about making them a better artist.
He also loves all things watches (ok it's an addiction) so show him some love and visit his other website https://expertdivewatch.com