The type of paintings that sell best on Etsy are watercolors of pets and animals in the sub $50 price range with an average size of 8×10 inches. With dogs being the most popular.
The sales figures, customer ratings and popularity were monitored over the first 4 months of the year and the results are roughly always the same.
Additionally, watercolors of whales, orcas, dolphins and birds are also very popular with an average of 3000+ customer reviews as a proxy for sales.
Noting that not each sale will receive a customer review so the numbers sold will most likely be 3 to 4 times higher.
Between $50-$100 per painting, the sales are approximately half those in the sub $50 range with an average of 1500 reviews as a proxy for sales.
Paintings over $100 sell about half as much as the $50-$100 range, with most generating under 1000 reviews as a proxy for sales.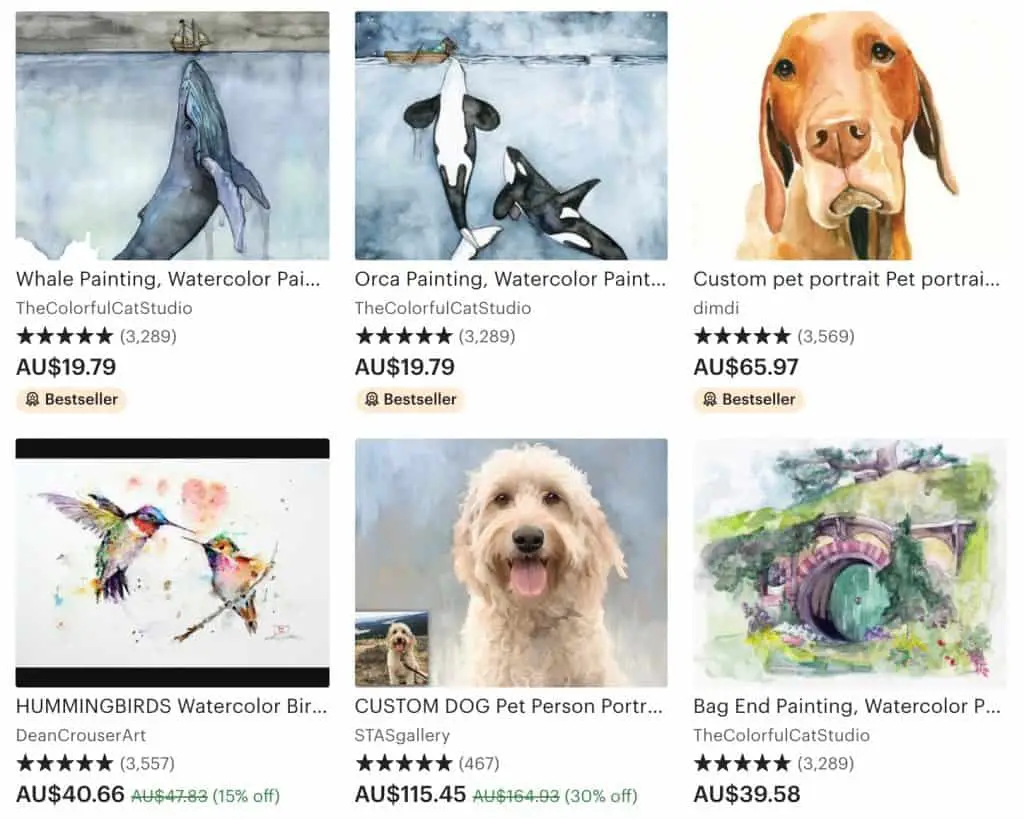 ---
When I first started selling paintings and prints on Etsy, I wanted to know what type of paintings sell best on Etsy. It was the same type of analysis I usually did on eBay.
That is, I would look at all the sold items in the search box and then see what sold best.
Easy right? Wrong.
So how did I do this?
Etsy does not provide an easy way to research sold items and it actually takes a fair amount of research based on individual sellers, keywords and Etsy stores.
If you do not care about selling paintings and want to know just what sells in general on Etsy then the quickest and simplest thing you can do is just go on the Etsy.com landing page and scroll down a little.
You will see a section called Popular Right Now. See the image below, I have circled the heading.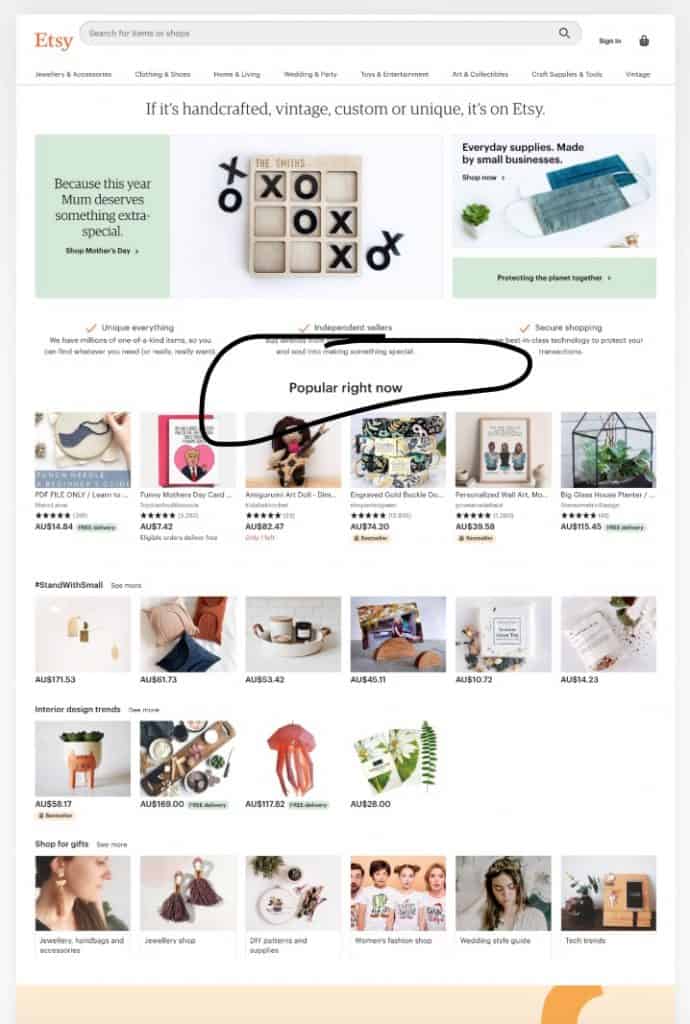 ---
This will give you a quick snapshot as to what is selling right now on Etsy and it does not seem to be promoted products. Below is a sample of what a promoted listing looks like.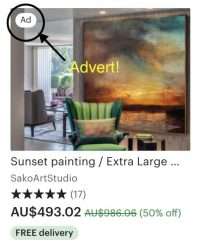 ---
If you wish to drill down by popular category and then item type then you will need to click on the 'See more' for each category.
Alternatively, if you have a specific category and because you are on my Art blog I will assume you are looking to sell your own art, paintings or artsy things; then you will need to keep reading.
Why bother reading on if you have the answer?
There's that old saying " Give a man a fish, and you'll feed him for a day. Teach a man to fish, and you've fed him for a lifetime."
There will come a time when you will want to know what else sells on Etsy and you will most likely not have a simple answer from a Google result.
Likewise the answer I have just provided you my become outdated as trends in retail and online sales change over the years. This will require you to do some of your own research.
Additionally, you may want to search for sales numbers or trends on a specific art niche.
How to perform a Detailed Search for popular items on Etsy
First you have to look at all the categories and listings related to paintings and do manual research and calculations based on location, reviews, painting type etc.
Find and select/edit any criteria or filters that applies to you, such as where you wish to ship to if you want to restrict where you want your sales to happen.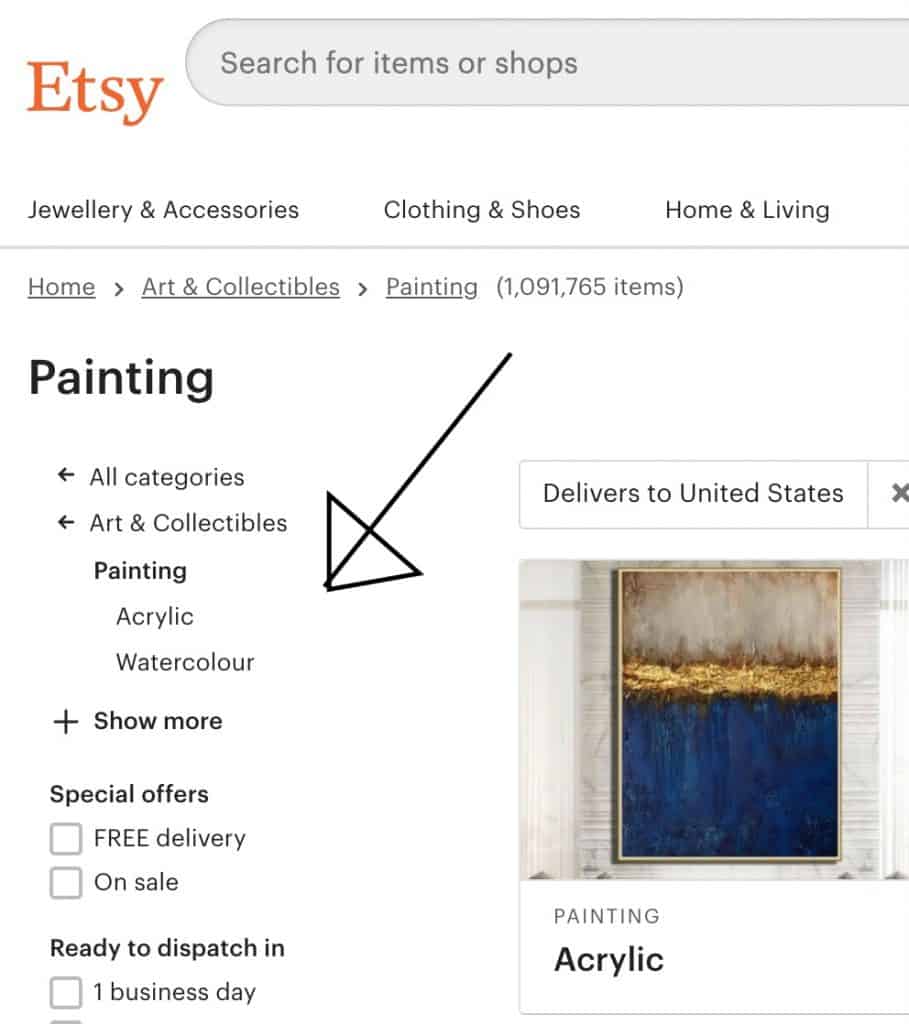 ---
Etsy will auto-refresh the search results as you change each criteria.
Then you have to wash out all the listings that are promoted (Ads) which can be very tricky as they look like normal listings.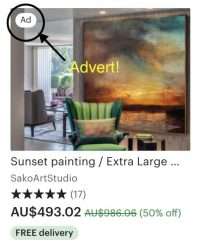 ---
And then you see the little Bestseller tag below the listing. Which for some reason does not appear on all listings!

That is pretty much it! You will be shown sample art from popular sellers within the category you selected and within your applied filters.
What you should do next is study the quality of art being sold, the sizes available for sale and see if they are worth the effort.
It was and still is, way easier on a platform like eBay but since we want to sell on Etsy we need to learn how to research other items we wish to sell.
Other Posts You May Like