When To Use Art Hashtags on Instagram, you will be surprised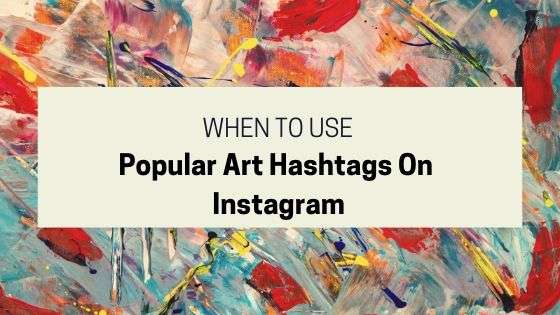 Make your art stand out on Instagram. Popular art hashtags help with discoverability on Instagram. Learn which 30 top art hashtags to use on Instagram plus we go deep into each one.
This article was going to be originally be called "What are the 30 best art hashtags to use on Instagram". I bet you didn't know that Instagram only allows for 30 hashtags to be used in each post; so you need to make it work.
With that in mind, here are 30 of the popular art hashtags on Instagram. (not in any specific order)
| | |
| --- | --- |
| #Hashtag | Estimated No. Posts |
| #art | 557 million posts |
| #artist | 157 million posts |
| #artwork | 85.5 million posts |
| #artoftheday | 28.5 million posts |
| #artistic | 17.7 million posts |
| #arts | 17.3 million posts |
| #artgallery | 15.7 million posts |
| #digitalart (only applies to digital art) | 40.4 million posts |
| #artists | 12.2 million posts |
| #artistsofinstagram | 8.2 million posts |
| #artistsoninstagram | 6.4 million posts |
| #artistlife | 2.7 million posts |
| #arte | 52.6 million posts |
| #instaartoftheday | 1.4 million posts |
| #artlovers | 7.7 million posts |
| #paintings | 9.2 million posts |
| #artdiscover | 271,000 posts |
| #dailyarts | 567,000 posts |
| #artistsharing | 171,000 posts |
| #artgram | 2.5 million posts |
| #originalpainting | 415,000 posts |
| #originalartworks | 86,200 posts |
| #igartist | 329,000 posts |
| #mysketchbook | 209,000 |
| #drawing | 160 million posts |
| #drawings | 17.7 million posts |
| #painting | 83.8 million posts |
| #artista | 5.6 million posts |
| #showyourwork | 417,000 posts |
| #kunst (this is German for Art) | 8.3 million posts |
To save you some time as I do not expect you to write or copy each one line by line, I have created a batch of hashtags based on the table above. All you need to do is copy and paste these popular art hashtags right into your Instagram post.
#art #artist #artwork #artoftheday #artistic #arts #artgallery #digitalart #artists #artistsofinstagram #artistsoninstagram #artistlife #arte #instaartoftheday #artlovers #paintings #artdiscover #dailyarts #artistsharing #artgram #originalpainting #originalartworks #igartist #mysketchbook #drawing #drawings #painting #artista #showyourwork #kunst 
Don't Let Your Art Get Lost Among Millions of Posts – Find Some Least Used Art Hashtags on Instagram
While it is great to use the most popular art hashtags on Instagram, most have millions of posts and millions of followers (because people follow hashtags as much as they follow accounts – more on that below). This means your posts could get lost in the mix; it is also good practice to use hashtags that are in the hundreds of thousands or less.
The reason is, you can easily have the top post if it is in a less competitive art hashtag. When you are the top post in a specific art hashtag then your posts image will become the hashtag's preview image as well!
There is also a good probability that your post will remain in the top few rows of the preview for much longer as the rotation of art within some hashtags is lower than the more popular ones.
Why use art hashtags in my Instagram posts?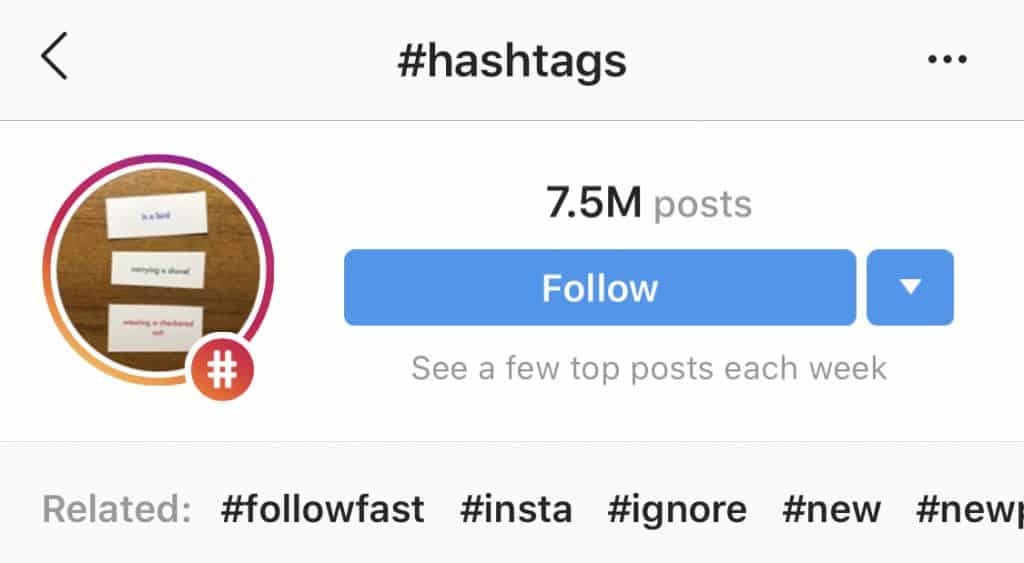 Instagram and Twitter are both social platforms that utilise hashtags (#) the most to assist with discoverability.
While Facebook allows hashtags, it never really caught on in that platform and you just do not get the rich results that you do on Instagram and Twitter.
So why use hashtags? Put simply, without using any hashtags or using too few hashtags on Instagram your art posts will get lost within the crowd.
Using hashtags allows the algorithm to work out where your post should be, who may be interested in seeing your post if they do not follow you already.
I actually follow a few artist accounts who for some reason or another choose not to use hashtags with each post.
One is a professional artist with thousands of subscribers because she is well known outside of Instagram.
Each one of her posts will get around 25 likes (this is before Instagram started hiding the like counter to subscribers).
If she had used all of the 30 hashtags about art available to her, she would have extended her reach to way more than those who already follow her.
A similar sized account who uses around 20 Hashtags, gets on average 200 likes.
Each like will garner another like and help the algorithm understand that this is a popular post and to then show it on the search bar.
When you don't use popular art hashtags on Instagram for your art posts or any posts, you are condemning your post to obscurity.
I actually did ask that artist I know why she never used hashtags and she was a bit ambivalent about it. She didn't think she need to show show off her posts too much.
I wondered why she was on Instagram to start with if she did not want to show off her posts!
People follow popular Art Hashtags on Instagram as much as they do accounts.
Use art related hashtags to target your art to a specific fan base
The other reason you should be using all 30 available art hashtags for each of your art posts on Instagram, is that people follow hashtags as much as they do individual accounts.
Personally I follow just as many popular art hashtags on Instagram as I do accounts. I am glad I do as I have found so many fantastic artists when their posts appeared on my timeline.
All because I followed a specific hashtag and they used that hashtag in their art post.
How to find popular art hashtags related to your post
Instagram has a cool feature when you start writing hashtags in your art posts.
The moment you write a hashtag, let's say #boatpainting – you will see that the app will show you how many posts there are for #boatpainting. Here you will see it is 14,800 posts (14.8k).
Then you will see below that line, all the other relevant hashtags you can use that will start expanding on your current hashtag.
In this example, you will see it suggest #boatpaintings (which has 1000+ posts) – that is a nice relevant art hashtag and is also one of those niche art hashtags that you can dominate.
Let's look at #boatpaintinguk which has less than 100 posts. It actually has only 9 posts so you could totally own this hashtag if you did lots of paintings with boats in them.
When I typed #boatpaintings which has 1000+ posts you will see the next suggested hashtags could be relevant, especially if you are selling your boat painting.
You will see #boatpaintingsforsale appears, #boatpaintingsart.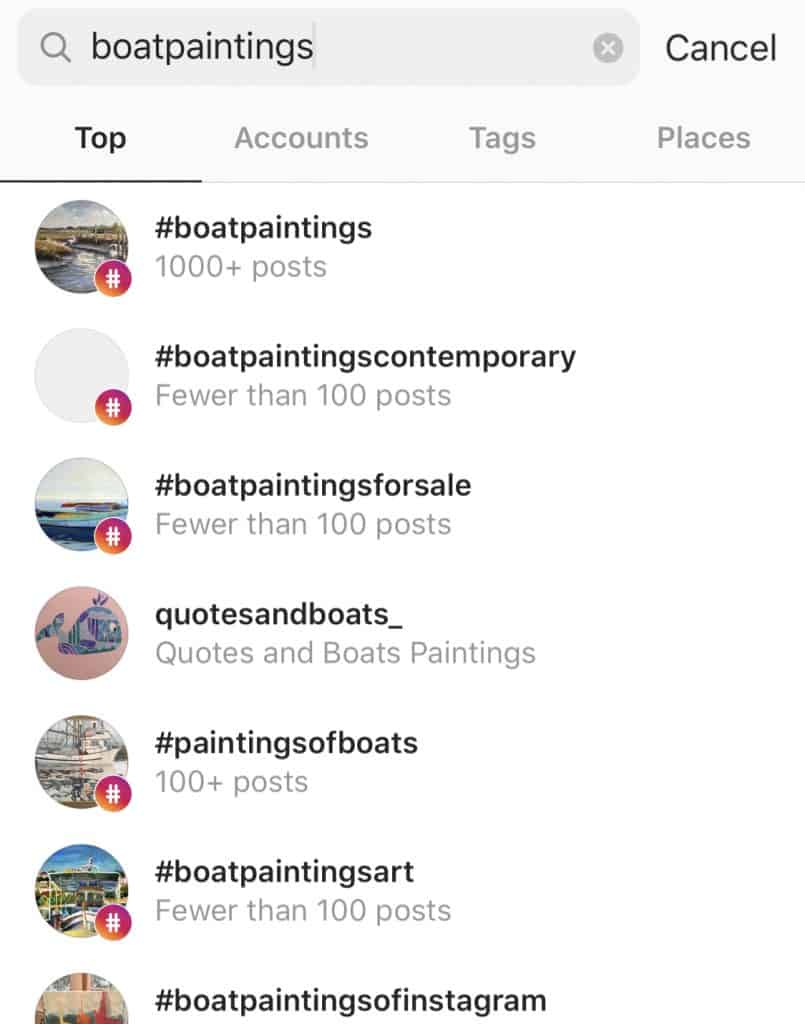 It will then offer other hashtags such as #representationalart, #paintingsofinstagram, #impastopainting, #originaloilpainting etc.
One you have exhausted the hashtags related to your art post then move on to using hashtags related to the medium you used, the genre, region and even your name or brand.
I always include #wastedtalentinc and #josephcolella as two hashtags in every one of my posts.
These help people find me and my works and also helps me find all the works I have posted – quite useful if you post a variety of photos not related to your art.
Make Your Art Hashtags Relevant to Your Art Post
Now don't just post the same hashtags for every art post. Try to tailor your hashtags as much as you can to the art work you are posting on Instagram.
If you did drawings instead of paintings then look for art drawing hashtags on Instagram and apply those.
Use the list I have provided but tweak it to your post. So if your art post is about cats, then add a relevant cat hashtag using the search method I just showed you and take out something that is less relevant to your post.
Add art hashtags to your Instagram profile bio (there's a 150 character limit)
You should add art hashtags in your Instagram bio, did you know that hashtags are clickable? We have a 150 characters to write our bio so don't waste them on emojis and useless information.
If your account is focused on a specific genre or type or art you can actually pepper your bio with the hashtags you would use for all your art posts.
This is especially useful if you want to get around the 30 hashtag limit within each post.
While emojis look cute, don't clutter your bio with these as people will start to ignore your bio and all your hard work will be wasted.
Make sure you arent using BANNED Instagram hashtags!
This is something I wasn't even aware existed but there are some hashtags that Instagram has banned!
If you wish to see a comprehensive list of banned hashtags for Instagram then check this post out.
What this means is that Instagram will let you type them in but it will be a wasted hashtag, it won't be discoverable and your post will not be seen in it.
The actual message you will see when you search the hashtag is "Recent posts from <banned hashtag> are currently hidden because the community has reported some content that may not meet Instagram's community guidelines"
Conclusion
So in summary, use art hashtags for every post – use as many of the 30 art hashtags allowable and you will guarantee to skyrocket the reach your post will have, compared to not using any or too few hashtags.
Use relevant art hashtags and try not to make up hashtags that will never be searched for by anyone. That is just as bad as not using hashtags for your art post.
Now go and add hashtags to your post if you have not, and experiment with hashtags and see which ones work for you.
If you enjoyed this article, you may also like my other Instagram related content such as How To Make Money as an artist on Instagram. Using what you just learned about hashtags can make you increase your chances of making money as an artist on Instagram.
You May Also Like
Joseph Colella is a frustrated artist with over 40 years experience making art (who moonlights as a certified Business Analyst with over 20 years of experience in tech). While he holds a Diploma in Information Technology, in true wasted talent style he spent years trying to get into various Art degrees from the Accademia di Belle Arti (Napoli), and failed to get into the Bachelor of Arts (Fine Arts) at the University of Western Sydney. His goal is to attend the Julian Ashton School of Art at The Rocks Sydney when he retires from full time work. In his spare time, he writes for the this blog, WastedTalentInc, where he shares practical advice on art, making art, and art materials. Joseph's art has been sold to collectors all over the world from the USA, Europe and Australasia. He is a trusted source for reliable art and copyright/fair use advice and is committed to helping his readers make informed decisions about making them a better artist.
He also loves all things watches (ok it's an addiction) so show him some love and visit his other website https://expertdivewatch.com