What Is A Good White Gouache Substitute? Proven & Mind Blowing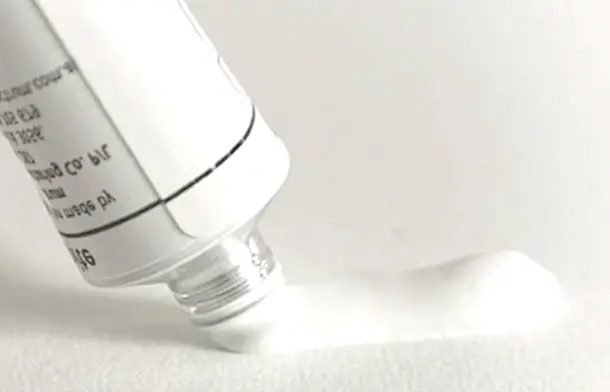 Whether you're a professional artist or a beginner, gouache allows you to finish your watercolor painting in one sitting. It dries quickly, and you can use various techniques to create texture and washes.
When I'm ready to begin an art project and discover that I'm out of white gouache, I make a white gouache substitute that works just as well. It's simple to make with a few ingredients that you probably have on hand.
I've found that the easiest method of making a white gouache substitute is to mix white watercolor paint with ground white chalk (calcium carbonate). When painting with this mixture, the chalk produces the typical matte finish of gouache.
Read more about gouache, another DIY white gouache substitute method, and the difference between traditional and acrylic gouache.
What Is White Gouache?
Gouache is a versatile, quick-drying art medium often used with watercolor and acrylic paint. It's water-soluble and offers opaque layering capabilities similar to acrylic paint. 
Unlike the shiny finish of acrylics, gouache dries with a flat, matte finish. Using layered gouache also allows you to create textured surfaces and intricate details. 
Many artists use gouache with mixed media, such as colored pencils, India ink, watercolors, and collage.
What Can I Use as a White Gouache Substitute?
You can substitute ready-made white gouache with another DIY method that uses dry white pigment, rather than tube watercolor paint.
When making a white gouache substitute, it takes a bit of experimenting to get the correct consistency.
DIY Gouache Substitute Method
With this DIY gouache method, I make egg glair out of egg whites by blending the whites until they become a fluffy froth. Then, I add a few drops of vinegar as a preservative.
Mix equal parts of white pigment powder and egg glair. I use a palette knife to blend them together. 
Next, I crush a piece of white chalk and add a small amount of chalk powder to the pigment mixture. I gradually add the chalk until the gouache is smooth and creamy.
Can I Restore Hardened Gouache?
If your tube or jar of gouache becomes hard, you can make it usable again. Gouache often hardens if the cover isn't sealed tightly, or there's a crack in the tube.
Follow these steps to restore the hardened gouache:
Remove all the dried gouache from the original tube or container. 
Place the dried paint into a bowl.
Grind the dried paint into powder using a pestle and mortar.
 Add drops of warm water to the powdered gouache until it reaches a smooth, creamy consistency.
Pour the softened gouache into an airtight container.
Since gouache has a tendency to dry up over time, this is an economical way to keep it usable. 
What's the Difference between Gouache and Watercolor?
Gouache and watercolor appear the same, but if you look closely, you can see the differences between the two. 
When I place a layer of gouache on my paper, I won't see as much of the paper showing through it. If I do the same thing with watercolor, the result is more transparent, showing more of the white paper. Gouache also dries quicker than watercolor.
The watercolor produces a lustrous finish, while the gouache is flat. In spite of these differences, watercolors and gouache are both made with pigment and a water-soluble binder. 
The reason the gouache is less transparent and produces a matte finish is because of the addition of chalk to the pigment and binder. 
What's the Difference between Traditional Gouache and Acrylic Gouache?
When purchasing gouache, you have a choice of traditional or acrylic. Traditional gouache is water-soluble, so you can re-wet it if necessary.
Acrylic gouache has the same matte finish as traditional, but it's waterproof and permanent when it dries.  
How Do I Paint with Gouache?
Techniques for painting with white gouache or other colors of gouache depend on the results you want for your artwork. 
Here are several techniques that artists use when applying gouache:
Blend different colors to create gradients.
Create blooms of color with water and gouache.
Create volume with light and dark shades with gouache.
Dry brush with small amounts of gouache for texture.
Mix gouache with watercolors, pastels, inks, and other mediums.
One of my favorite gouache techniques is glazing. When I complete my art project, I thin my gouache with water and brush it over the finished areas of the painting. Depending on the colored gouache I'm using, I can deepen the shadows and make the colors richer.
Can I Use Gouache Paint on Canvas
Heavy watercolor paper gives the best results when painting with traditional gouache. I recommend using only professional-quality watercolor paper or illustration board for gouache painting. 
Canvas has a thick weave, which shows through gouache. Also, gouache doesn't bind to the canvas, so it will crack or peel off when it dries.
If you want to try traditional gouache on canvas, make sure the canvas is raw, so the gouache will adhere to it. Also, use acrylic gouache, rather than traditional gouache. Even then, it might peel and crack when it dries.
Latest Posts
Sources
Chapman University: Watercolor and Gouache: What's the Difference
Block, Emma. Get Started with Gouache: A Colorful Guide to Painting the World Around You. United States, Clarkson Potter/Ten Speed, 2020.
Artful Badgering: Making Gouache with Pigments
Joseph Colella is a frustrated artist with over 40 years experience making art (who moonlights as a certified Business Analyst with over 20 years of experience in tech). While he holds a Diploma in Information Technology, in true wasted talent style he spent years trying to get into various Art degrees from the Accademia di Belle Arti (Napoli), and failed to get into the Bachelor of Arts (Fine Arts) at the University of Western Sydney. His goal is to attend the Julian Ashton School of Art at The Rocks Sydney when he retires from full time work. In his spare time, he writes for the this blog, WastedTalentInc, where he shares practical advice on art, making art, and art materials. Joseph's art has been sold to collectors all over the world from the USA, Europe and Australasia. He is a trusted source for reliable art and copyright/fair use advice and is committed to helping his readers make informed decisions about making them a better artist.
He also loves all things watches (ok it's an addiction) so show him some love and visit his other website https://expertdivewatch.com