Can you use charcoal in a sketchbook – which is best?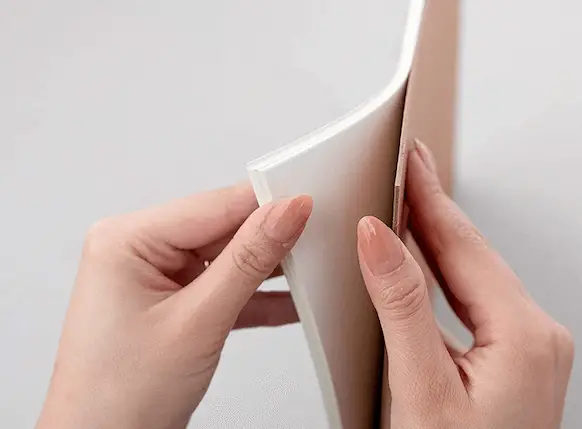 Sketchbooks are a handy medium for jotting line drawings for later reference.  They can be integral aspects of the creative process.  Using charcoal in a sketchbook is a perfectly acceptable way to apply charcoal to paper.  However, the type of paper used and the treatment of the drawing afterward are the key things to knowing how to do it successfully. 
Depending on the exact specifications of the sketch and the artist's intention, there is no one perfect sketchbook for all charcoal renderings.  Different artists have different approaches to selecting them.   However, Strathmore manufactures some of the most popular high quality sketchbooks for this purpose. 
The best charcoal sketchbook 
Listed as the best charcoal sketchbook by the MyBest recommendation service, the Strathmore series 300 Charcoal Pad.  I went out and ordered one to try it out.
I have to say, this sketchbook has the perfect tooth for charcoal drawings.  The paper is acid-free, meaning that your drawings will far outlast those drawn on paper that is not acid-free.  This is the type of paper often used in archiving fine art drawings. 
The finish on the paper contained in the sketchbook has a laid finish, meaning that it has a manmade tooth created with a pressed grid pattern.
This sketchbook is excellent for students and beginning artists because it is affordable and contains a generous 32 sheets.   It is also light and easy to transport. 
This charcoal sketchbook is a wire-bound style that is also great for use with pencils or oil crayons.  
The slight disadvantage of using this style is that the top wiring prevents drawing across two pages, and the sheets lack perforations so are not as easily removable as some.  Some artists find the pressed grid pattern a little distracting at first, but it doesn't seem a serious issue. 
The best qualities to look for in a charcoal sketchbook
Selecting a charcoal sketchbook can be a personal process for an artist. What is relevant to one might not be so to another, so there are important decisions to be made when picking them out. 
When shopping for a good sketchbook for drawing with charcoal, there are a number of things the artist should keep in mind. 
Paper orientation
First, the orientation of the paper, whether portrait or landscape, is a major consideration.  What is referred to as landscape orientation means that the paper is used on a horizontal plain.  The portrait orientation is usually vertical.  
Binding
The most commonly found sketchbook bindings are:
Sewn sketchbook bindings are most often found in handmade sketchbooks.  They can be very high quality, but the opposite is also true, depending on the uniformity of the stitches and the quality of the thread that is used, so this aspect of the binding should be examined carefully before making a decision.
Spiral bindings are nice because they enable the artist to remove pages from the sketchbook almost effortlessly.  The disadvantage is that they can result in partially ripped pages, so caution should be exercised while ripping.
Glue-bound sketchbooks can impart a more professional look and tend to be sleeker.  They are reported to lie flatter as well, so this is the preferred choice of many. 
Paper color 
Some sketchbook manufacturers offer sketchbooks in colors of paper other than white.  The kind that comes with recycled paper often appears in shades of brown, gray or in pastel or even dark colors.  These are usually good choices for charcoal drawings.  
Paper type
Paper that is slightly rough or that has "tooth" is the best type to use for charcoal drawing.  The outside of a sketchbook should list the weight of the paper used inside.  Paper that weighs approximately 68 pounds and up is a good option for charcoal drawings.
Fixative
Using charcoal inside a sketchbook can cause the pages to smudge and transfer marks when the book is closed.  There are a few solutions to this problem.  One is to place a sheet of waxed paper between the pages after the drawings have been made. 
This will prevent the charcoal marks from transferring. If you don't have the waxed paper to use in your sketchbook charcoal can be prevented from smudging by applying a fixative.  
Fixatives come in both brush on and spay on types.  A spray on fixative is the better choice for this use. You should experiment with it in terms of the spray angle and how far you should hold it from the paper, because some papers are more absorbent than others. 
Do this by using a piece of test paper and holding the can of fixative at different angles and distances.  This is the best way to get a sense of how the fixative will affect the color, as well as the texture of the paper. 
Pay special attention to whether it leaves marks or changes the texture of the paper in some way that you don't like. 
Can you use charcoal in a sketchbook – Wrap up!
So, in conclusion, you can use charcoal in a sketchbook – as long as it is the right type of sketchbook! The main things to look for are that the sketchbook is made of smooth paper, has good 'tooth' (texture), and is acid-free. 
If you want to use other media such as pastels or watercolors, then you will need to check that the paper is suitable for those too. 
I hope you found this post helpful. If you have any questions or comments, please leave them below. 
Happy sketching!
Latest Posts
Joseph Colella is a frustrated artist with over 40 years experience making art (who moonlights as a certified Business Analyst with over 20 years of experience in tech). While he holds a Diploma in Information Technology, in true wasted talent style he spent years trying to get into various Art degrees from the Accademia di Belle Arti (Napoli), and failed to get into the Bachelor of Arts (Fine Arts) at the University of Western Sydney. His goal is to attend the Julian Ashton School of Art at The Rocks Sydney when he retires from full time work. In his spare time, he writes for the this blog, WastedTalentInc, where he shares practical advice on art, making art, and art materials. Joseph's art has been sold to collectors all over the world from the USA, Europe and Australasia. He is a trusted source for reliable art and copyright/fair use advice and is committed to helping his readers make informed decisions about making them a better artist.
He also loves all things watches (ok it's an addiction) so show him some love and visit his other website https://expertdivewatch.com