Charcoal Fixative Alternative – More Money Saving Tips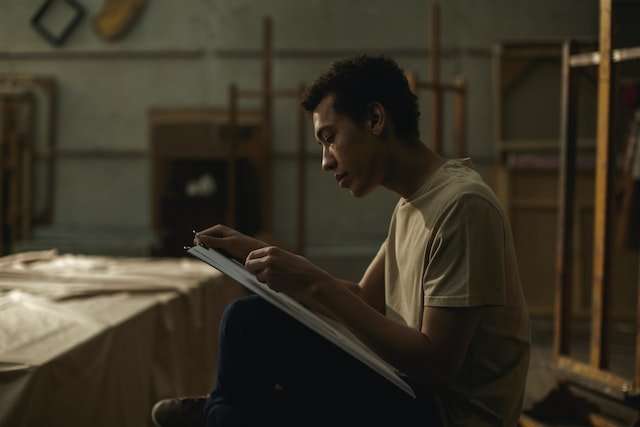 Whether you are interested in beginning to draw using charcoal or you are an experienced charcoal artist, understanding the way charcoal behaves is important. Charcoal has distinct characteristics that make it ideal for sketching and drawing, but those same qualities made it difficult to preserve. Which is why you need a charcoal fixative but what do you do when you don't have access to a commercial spray? What is the charcoal fixative alternative you can use that won't ruin your charcoal artwork?
You can make your own charcoal fixative alternative using white shellac with isopropyl alcohol (I have the ratios listed further below) and you can apply it with a spray bottle or atomizer. Alternatively, you can use framing, laminating or protective glassine sheets.
When I was younger, the students in my class were encouraged to use hairspray but we found over time that it would whiten and not be as effective. I would only suggest it as a temporary fix until you get access to a more permanent solution.
We will go further into these later in this post.
Charcoal is often used to sketch or draw preliminary outlines and shading for painting or three-dimensional art projects. One of the advantages of drawing with charcoal instead of pencil, pen, or even crayons, is charcoal's resistance to adhering to paper. This makes charcoal easily moved around a piece of paper. Artists can lift the charcoal off of the paper to lighten an area, or move it around the paper to shade and soften a drawing.
However, the same characteristics that make charcoal ideal for drawing both two- and three-dimensional objects are also what makes charcoal problematic for artists. Once completed, charcoal drawings can easily smudge by rubbing against other materials.
Using Fixatives with Charcoal
Because charcoal is a fragile art medium, finished pieces need to be protected from damage to preserve them. The most commonly used fixatives are applied using a spray bottle. Most of these fixatives are sold in an aerosol can or spray bottle. However, you can pour a fixative into an empty spray bottle to apply it.
There are high-quality artist fixatives that you can purchase from art supply shops. These fixatives can be sprayed once or in several layers depending on whether you plan to continue working on your charcoal piece or you are finished. These fixatives are made for artists, so they keep the charcoal drawing pristine without any changes in color for a very long time.
However, charcoal fixatives are expensive. This is why some charcoal artists used hairspray as an alternative fixative. Since hairspray isn't manufactured to affix charcoal to paper, it may be cheaper, but its results are less satisfactory. Hairspray will help charcoal adhere to paper, but it also can yellow over time.
Some artists prefer to find alternatives to fixatives and hairspray because these all have chemicals that can be poisonous and/or harmful to humans or animals.
Make Your Own Charcoal Fixative
You can mix your own charcoal fixative alternative using fewer ingredients than the commercial versions. This solution is still harmful to humans and animals. Mix one tablespoon of white shellac with four ounces of isopropyl alcohol in an empty spray bottle and shake or stir to mix.
Using a fine spray or atomizer spray, apply this homemade fixative to your charcoal drawing exactly as you spray commercial fixatives. Wear a mask and gloves when spraying to protect yourself. Keep children and pets away from any area where you are spraying fixatives as a precaution. Because fixatives can be sticky, cleaning the nozzle regularly using alcohol will keep it from getting clogged between uses.
This homemade recipe for fixative makes it cheaper for artists but still harmful to yourself and the environment.
Don't even bother using glue such as Mod Podge to seal your charcoal unless you wish to encase the charcoal in a permanent film of plastic.
This battery operated sprayer looks cool, I have never used one before but I will be purchasing one soon to replace the mouth operated sprayer shown above.
Non-Chemical and Safe Charcoal Fixative Alternative
There are other non-chemical charcoal fixative alternatives that you can use. Below are listed 4 that you can either purchase from an art store or online. While they are not technically a fixative, they will serve the same purpose to protect your charcoal artwork from accidental damage.
1. Glassine
Glassine is a type of paper. This material's water-, air-, and grease-resistant. Glassine is a smooth, non-abrasive material. Artists use glassine to wrap and cover charcoal drawings because it doesn't mar charcoal or paper.
Glassine is a more environmentally safe material than any form of plastic, and since it's made of wood pulp, it is pH balanced, biodegradable, and can be composted or recycled with your paper and cardboard products.
Glassine can be bought in sheets, rolls, or bags for use in protecting your fragile charcoal drawings. It is cheap and is available on Amazon and other retailers. Note: Glassine is water-resistant but not waterproof.
2. Framing
If you need to preserve a charcoal drawing for a significant length of time, you can frame it. When framing a charcoal piece, use mats to keep the drawing separate from anything that would smudge it, and that includes the glass or plexiglass in the frame. You can place mats in front of and behind the drawing to achieve this separation.
Choose a framing option that you can take apart if you plan on changing any aspect of the drawing later. You can even photocopy the drawing through the glass, keeping it pristine.
3. Carrying Case
A third option is to create a carrying case to protect the surface of your drawing. A carrying case is designed to archive high-quality materials without friction in order to preserve the surface of the paper. The carry case is designed with space built in so your drawing doesn't rub up against other materials.
You can personalize a carrying case so it's built specifically the proper size to hold your drawing securely.
4. Laminating
You can laminate your charcoal drawing. When you laminate a piece of art, your drawing is protected from smoke, dust, UV rays, and smudges. Your piece can be handled and will stay fresh, without damage, cheaply. You can take your drawing to any retail printer that laminates while you wait. Alternatively, you can purchase a small laminator and DIY it at home.
This method is also inexpensive as a charcoal fixative alternative.
Latest Posts
Joseph Colella is a frustrated artist with over 40 years experience making art (who moonlights as a certified Business Analyst with over 20 years of experience in tech). While he holds a Diploma in Information Technology, in true wasted talent style he spent years trying to get into various Art degrees from the Accademia di Belle Arti (Napoli), and failed to get into the Bachelor of Arts (Fine Arts) at the University of Western Sydney. His goal is to attend the Julian Ashton School of Art at The Rocks Sydney when he retires from full time work. In his spare time, he writes for the this blog, WastedTalentInc, where he shares practical advice on art, making art, and art materials. Joseph's art has been sold to collectors all over the world from the USA, Europe and Australasia. He is a trusted source for reliable art and copyright/fair use advice and is committed to helping his readers make informed decisions about making them a better artist.
He also loves all things watches (ok it's an addiction) so show him some love and visit his other website https://expertdivewatch.com