Best 7 Gouache Brands Reviewed (plus Buyer's Guide)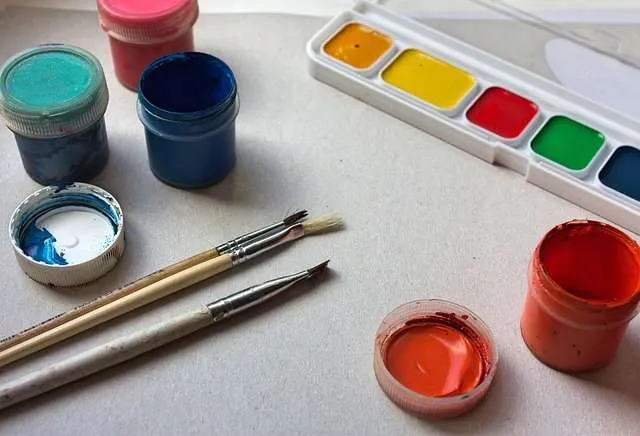 Gouache paint is a versatile paint that can be used on almost any surface. With so many different gouache brands to choose from, it can be difficult to know which one will work best for your needs.
So if you have ever asked yourself where can i buy gouache paint, then this article is just for you as it reviews 7 of the top gouache brands with pros and cons for each, where to buy them, along with a buyer's guide to help you make an informed decision about which gouache brand will suit your needs best!
The post includes reviews of some of the best gouache brands as rated by artists and casual artists such as Sennelier, Winsor & Newton, Holbein Artist Gouache Set, Arteza, Royal & Langnickel, ABEIER (HIMI), and Caran d'Ache.
While i reviewed many more brands of gouache I decided to keep the list to 7 so you will not be overloaded with information which only makes your buying decision even harder. Hopefully this shorter list will help you more.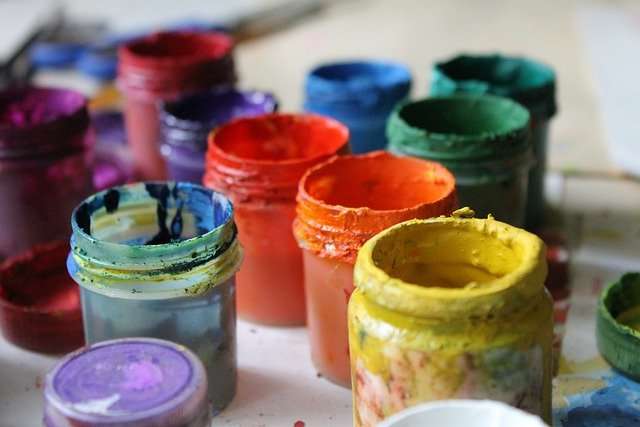 ---
Best Gouache Brands
Caran d'Ache is a quality art supplier based in Switzerland, offering art supplies at the highest level meaning their gouache offering does not disappoint with an average 4.7 out of 5 satisfaction rating. This Caran d'Ache gouache set has 15 tubs consisting of 14 colors and a White in a tube that can be used for mixing. It also comes with a quality synthetic hair sable brush.
The colors in the Caran d'Ache Gouache studio 15 are: (001) White, (010) Yellow, (240) Lemon Yellow, (060) Vermilion, (080) Carmine Lake, (090) Magenta, (140) Ultramarine, (170) Azurite blue, (180) Malachite Green, (230) Yellow Green, (210) Emerald Green, (035) Ochre, (059) Brown, (005) Gray, (009) Black.
Below are how most of the colors look, the chart is from another set that has almost the same colors.
Free Blank Caran d'Ache Gouache Color Chart
Caran d'Ache also provide a free downloadable color chart (link below) that you can use to mix your preferred combinations.
Pros 
Does not flake, chip or peel
Colors are very opaque and great for layering and painting on dark paper
If the paint dries it is easily reactivated with water
Water-based paint with a natural binder for paint adhesion and no plasticizer, water-soluble
Great for layering bright colors
High pigment concentration
Luminous colours
Good light fastness meaning it has good light resistance
Long lasting metal tin for safe carry and storage
Non toxic (but not suitable for children under 3 as there are small parts such as the cap on the white tube)
Comes with a synthetic haired brush
Cons 
Can't buy individual color pans when they finish so you will need to buy replacement tubes or bottles to refill the tubs or purchase a completely new set
The pans don't hold as much paint as a tube would
Caran d'Ache Gouache Set Unboxing video
Have a look at this unboxing video to see the contents of the set. The owner does not allow embedding of the videos in articles so you will need to view this link in the YouTube app (sorry!)
I rate Caran d'Ache as one of the best gouache brands available for the price. There are many more expensive brands out there but Caran d'Ache tick all the boxes for me.
Sale
---
Arteza is another quality art supplier, and this large set of gouache paints consisting of 60 colors is my pick if you want bang for buck.
Consisting of 60 vibrant colors in small tubes rather than tiny tubs this means you will get a longer life from your gouache paints and you will also find it easier to replaced tubes that will finish much faster than others.
The fact that you have access to 60 colors also means you will need to mix less allowing you to paint more. Having to mix less colors also means you will get a consistent color range across your artworks as you never tend to mix the exact same ratios every time you mix a new batch.
With a 4.8 rating out of 5 this edges the other gouache brands out there purely based on providing quality volume. It is not a cheap set but it's not the epitome of quality but it should be good enough for 90% of people out there looking for a large range of gouache colors at a good price.
This set is aimed at beginners and not professional artists.
Pros 
60 vibrant colors in a stackable set
It includes ten metallic colours
Colors are very opaque and great for layering and painting on dark paper
Tubes can be purchase separately when they run out
When the paint is left to dry on a paint palette it can be reactivated with water
Perfect for time poor artists who don't want to premix their colors
Paint can be applied thick or thin since you are using a tube
Non toxic, completely toxin free
Cons
Tubes are quite small
Quality control may not be the best so there have been some complaints about the quality of some batches resulting in dried up tubes or paint chipping or cracking
Arteza Gouache Color Chart
ARTEZA Gouache Paint Set, Set of 60 Colors in 12ml/0.4 US fl oz Tubes, Premium Gouache Artist Paint for Professionals & Students, Ideal for Canvas and Paper, Complete Art Supplies for Vibrant Creations
Extensive Palette with 60 Vibrant Gouache Colors: Our gouache paint sets offer a remarkable selection of 60 high-pigment colors. These gouache paint tubes enable artists to blend their own unique color mixes and bring their visions to life.
Rich and Opaque Coverage: Each gouache set in our collection delivers impressive, opaque coverage. Our professional gouache paint is formulated for excellent layering capabilities. Additionally, each tube is designed to go a long way, ensuring long-lasting use.
Safe and Viscous Formula: Arteza prioritizes safety above all. Our artist gouache paint sets are entirely toxin-free, making them safe for artists at all proficiency levels. Enjoy the versatile and viscous texture of our gouache for detailed and textured artworks.
Art Supplies Designed by Artists: Arteza is driven by the passion to create products that inspire. We understand art as an expression of the human experience and strive to make our art supplies, including these gouache paint sets, accessible to everyone.
Comprehensive Art Supplies for All: Arteza is committed to offering quality painting, drawing & art supplies for all ages and levels. Browse our extensive range of arts and crafts accessories, paint sets, drawing supplies, and more to meet all your artistic needs.
---
Winsor & Newton have been producing Designers Gouache since 1935. I have been a user of their oil paints for over 30 years and I highly rate their products overall. This designers range has better opacity than the artist range but either will be good for the average artist.
As stated by Winsor & Newton, "Designers Gouache colors are a range of opaque watercolors, mainly used by designers, illustrators and commercial artists to create vibrant illustrations in solid color."
Pros 
Designer quality gouache – highest quality
Aimed at professional artists but also great for beginners
Easy to use
High levels of pigmentation in the formulation
Gum Arabic binder 
Quality Matte finish
No flaking, peeling
Can be mixed with other types of gouache
Can be replaced with individual tubes that come in 1/2 ounce (14ml) & 1 1/4 ounce (37ml) sizes

 

Brushes like an acrylic, blends like an oil paint and washes like a watercolor
Cons 
Not always lightfast (depending on how much water you use)
There have been some complaints about quality where the pigment has separated from the binder in the tube
Color Chart
You can find yourWinsor & Newton gouache color chart here.
---
Holbein was founded in 1900 in Osaka, Japan as Holbein Art Supplies. It was modelled on german art suppliers at the time of its creation. It is one of the world's most respected makers of professional-grade gouache paints among other art supplies.
The factory is still based in Japan, producing high quality art supplies on a consistent basis.
When it comes to the Holbein artist gouache set, the rating of 4.9 out of 5 is mainly due to the superior quality of the gouache paint which only contains the finest well ground pigments.
The only concern I have is the lack of transparency regarding what type of biner they use to mix with their pigments. My research shows that they may be using an acryl-polymer binder which in fact makes this gouache dry permanent (like an acrylic) unlike other traditional gouaches using a water based binder.
If that is not an issue for you then this is a great gouache but it is quite expensive compared to other brands.
Pros 
Professional/Designer level quality pigments
Made from the finest pigments selected for high density saturation and light-fastness
Vibrant colors
Not gritty and very smooth
Cons 
Binder may be an acryl-polymer making this gouache permanent
If the above is true then this gouache can not be reactivated with water once dry making it permanent. This may be a Pro for some.
Holbein color chart
You can find the Holbein gouache color chart can be found here.
---
Royal & Langnickel has been producing art materials since the 1950s. Producing quality art supplies at an affordable price point and this extends to gouache.
A set of 24 gouache paints from Royal & Langnickel will not break the bank.
This means you would be aware that these are not designer or professional grade gouache paints but in my opinion these are still a great offering for beginner artists looking to expand on their gouache paint range.
Don't let the low price and entry level grade put you off though, these are a great quality paint and can be applied thickly or thinly and still provide a great level of opacity.
It blends well and mixes well with other gouache paints.
The only drawback can be manufacturing variance as some buyers have found the gouache can be too thinned out with binder and containing less pigment than they preferred. But they do need to remember that this is at the budget end of the range.
Pros 
Affordable price 
Lots of colors in the set
Dries matte
As opaque as more expensive brands
Great for kids to learn how to use gouache
Cons 
Manufacturing can be varied in quality
Can be streaky and runny
Not for the professional artist
Royal & Langnickel Color chart
Royal & Langnickel Gouache Color Artist Tube Paint, 21ml, 24-Pack
Model GOU21-24 - Pack of 24 Royal Artist gouache colors; 21ml tubes
Great opacity and reflective characteristics; Conforms to ASTM D-4236
Colors in this set include: burnt sienna, cerulean blue, crimson red lake, green pale, lamp black, lemon yellow, mauve, Prussian blue
Titanium White, Vermilion, Viridian, Yellow Ochre, Medium Yellow, White, Ultramarine Blue, Rose, Burnt Umber
Scarlet, cobalt blue orange red, deep green orange yellow, medium green
---
Miya HIMI is the only Chinese brand to make the list, this manufacturer of stationary and art supplies has been producing art supplies such as gouache since 2011. As one of the newest entrants in the art supplies space it is not the smallest or worst.
Miya HIMI is a premium gouache paint set with 24 eye catching and vibrant gouache colors that come in small jelly cups for ease of use, enclosed in a convenient but durable plastic case.
What I like about the HIMI gouache set is that it comes ready to go with a simple palette and 3 premium paint brushes so all you need to do is bring your water and paper and you can start working.
Pros 
Convenient case
Designer grade pigment and binder
Rich colors
Cracking and peeling resistant
Comes with palette and 3 brushes
30ml (about 1.25 ounces) per jelly cup and replacements can be purchased separately
Non toxic
Cons 
New brand, unproven over time but worth a try for the price
Brushes are of low quality
Travel case can be susceptible to some spills and needs to be carried flat once the paints are opened
Packaging
HIMI Gouache Color Chart
Sale
HIMI Gouache Paint Set, 24 Colors x 30ml/1oz with 3 Brushes & a Palette, Unique Jelly Cup Design, Non-Toxic, Guache Paint for Canvas Watercolor Paper - Perfect for Beginners, Students, Artists(Green)
【24 Vibrant Colors】- This set of gouache paint with 24 eye-catching vibrant colors. Benefit from rich color selection and excellent mixing characteristics, whether you are a beginner or a professional artist, these vivid colors can meet your needs for color, release your unlimited imagination.
【High Quality, Rich Pigments】- HIMI gouache colors are made of high-quality pigments, thick and creamy. Feature excellent coverage and great mixing characteristics. Offering opaque watercolors with matt finish. It could be rewet and reworked by water when it dries. It's perfect to paint on watercolor paper and canvas.
【Portable Gouache Paint Set】- Comes with 24 jelly cup gouache paint, a palette, and 3 premium paint brushes in a portable carrying case. The unique jelly cup design with an excellent sealing lid keeps our gouache pigments wet and creamy. The all-in-one design makes it easy to carry for both ladies and children. It is perfect for indoor, outdoor, and travel painting.
【Safety Guarantee & Non-Toxic】- Made of eco-friendly paint material conforming to ASTM D-4236 and EN71 standards. It is safe for all ages from kids to adults. Ideal as a gift for creative adults, artists, beginners, students, kids, teens, boys, and girls at Christmas, Halloween, Birthday and more festivals.
【100% Satisfaction Guarantee】- Adhering to the principle of buyer first, we provide 100% after-sales service guarantee. We're sure you'll love our HIMI Gouache Paint Set. But if you are any issues with our products, please feel free to contact us at any time and we will make it right.
---
Sennelier have been around since 1887 producing high quality artist paints using the best pigments available to them and superior quality natural gums as the binder.
Sennelier's gouache paints come in a variety of colors that are mixable with each other. They're highly colorfast, except for the few tones needed to illustrate things.
Gouaches can be applied using brushes or airbrushes on thick paper and card stock if desired, though they have been known to work well as watercolors mixed together too!
They have gouache by the tube or using a gouache starter kit.
Their paints are highly rated and very very expensive. You are also purchasing directly from the manufacturer.
---
Gouache Buyer's Guide 
You may wish to check out my guide on everything Gouache if you wish to take a deeper dive. Otherwise I have summarized some of the key aspects of Gouache paints below.
Do Gouache brands matter?
While I don't believe gouache brands matter too much when you are planning a purchase within a specific price range of between $20-60 what actually does matter is the range provided by various gouache brands. By range I am referring to Artist colors vs Professional or Designer variations of the same brand.
You will find one brand offering Artist Quality Gouache as well as Professional Quality Gouache. And this makes your job in deciding what to use even harder.
I could go into more detail myself but I believe this post has every angle covered in the best possible way.
What is good gouache? 
What qualities make a good gouache paint? The medium is all about hue and texture, so it's important for the paint to have no lumps. A high-quality paint will generally include more dry pigment and less inert white pigment.
Good gouache is well-made, high opacity colored paint. It stays wet for a very long time and absorbs into the paper easily, but it also can take a lot of scrubbing before coming up off the paper which makes it easy to control.
Why is gouache so expensive?
Gouache is a type of paint that has larger particles and more pigment. This makes it cost more because it takes longer to mix. Some types are less streaky than others which means they give better coverage than the cheaper brands.
Is gouache cheaper than acrylic? 
It all depends on the brand but overall gouache is more expensive. It has a higher pigment to binder ratio than acrylic, it also has the same properties as acrylic but it's more opaque and less water-resistant.
If you shop around you can find plenty of brands that will be within your price range.
How much to spend 
You can spend anywhere between five bucks to fifty bucks on a single tube of gouache or paint set, as this will depend on the size of the set, the size of tubes or tubs, paint quality whether it is artist quality or professional quality, and the brand that made it. 
If you're looking for an everyday gouache for quick painting or to perform studies, there's no need to spend too much. The prices start to increase when you're looking at gouache brands designed for professional level artists, as these gouache paints are usually made to higher quality using more quality pigments and binding agents. They will have better coverage and opaqueness.
If you intend of using gouache as your primary medium and something that represents your brand as an artist then it's worth investing a little bit more in a quality set of gouache paints as you will be using these for many years to come across many works of art.
So if you are just starting out, I suggest you purchase a small set of 6 colors to get the feel of the medium and not spend more than $15. If you want to explore the differences between what average quality looks and feels like against a more expensive brand then compare them against a $30 or less set. With anything over $30 for the artist who wants to use gouache as the medium that represents their art.
It's a beautiful painting medium, whichever brand you buy you will not be disappointed with how gouache behaves.
If you found this guide useful, I have more on Gouache here.
---
Latest Posts
Joseph Colella is a frustrated artist with over 40 years experience making art (who moonlights as a certified Business Analyst with over 20 years of experience in tech). While he holds a Diploma in Information Technology, in true wasted talent style he spent years trying to get into various Art degrees from the Accademia di Belle Arti (Napoli), and failed to get into the Bachelor of Arts (Fine Arts) at the University of Western Sydney. His goal is to attend the Julian Ashton School of Art at The Rocks Sydney when he retires from full time work. In his spare time, he writes for the this blog, WastedTalentInc, where he shares practical advice on art, making art, and art materials. Joseph's art has been sold to collectors all over the world from the USA, Europe and Australasia. He is a trusted source for reliable art and copyright/fair use advice and is committed to helping his readers make informed decisions about making them a better artist.
He also loves all things watches (ok it's an addiction) so show him some love and visit his other website https://expertdivewatch.com