Golden Fluid Acrylics Vs High Flow Acrylics (Quickly Answered)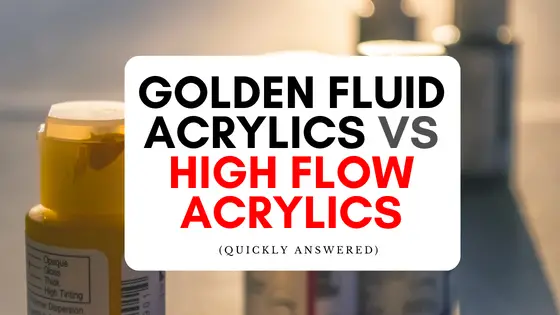 What's the difference between Golden Fluid Acrylics and High Flow Acrylics? In this post, we'll quickly answer the question of golden fluid acrylics vs high flow acrylics and also explore the potential benefits of using each. So, whether you're a beginner or an experienced artist, read on to learn more about these popular acrylic paint varieties as they both serve a different purpose.
Golden fluid acrylics vs high flow acrylics TL/DR – Fluid acrylics have a high viscosity (thinner consistency) that is perfect for fine line work and glazes while Golden High Flow Acrylics have a lower viscosity (thicker consistency) that makes the acrylic paint act more like an ink and is less opaque.
For those who want to read a little more…
Fluid acrylics
Fluid acrylics have a thinner consistency (high viscosity) compared to high flow acrylics, which makes them easier to spread and manipulate on the canvas. Fluid acrylics are used for fine brush work and glazes, think of it like a watered down acrylic paint but one that has kept its paint integrity without being watered down.
High Flow Acrylics
Golden high flow acrylics are slightly thicker than fluid acrylics and have a much lower viscosity. They have a similar consistency to ink. This makes them more manageable for artists looking to layer their paint or create texture. They also provide a richer, more vibrant color range compared to fluid acrylics due to their higher pigment concentrations. Golden's high flow acrylics are known for their fast drying time and intense colors that last longer than many other brands.
Golden is a paint brand that offers High Flow Acrylics as well as many other acrylic paint products such as GAC 100. Both acrylic products offer two distinct styles of acrylic paint.
Both are great options for artists, but it's important to understand the differences between them so you can choose the best one for your project.
Which type of paint is suitable for me?
If you are an artist who has never used acrylic paint, I would stick with a heavy body acrylic and try a high flow acrylic or fluid acrylic after you have some experience or a need for fine line work without wanting to water down your acrylic paint.
To make things easier for you I have summarized the key points of both paints in the table below. Feel free to share it.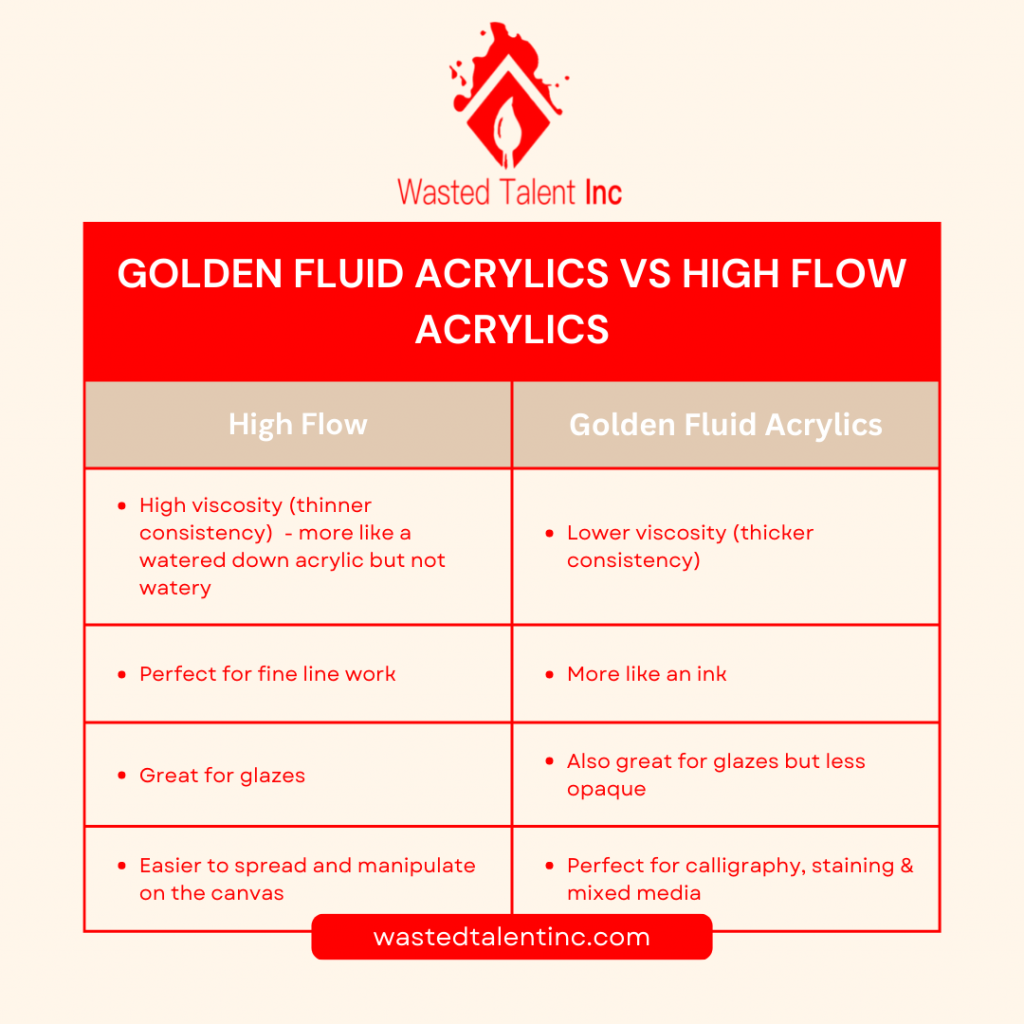 No matter which type of acrylic you choose, both fluid and high flow acrylic paints offer a quality product for artists. Fluid acrylics provide vibrant colors with a smooth finish, while high flow provides an intense color range perfect for texture and layering. Either way, golden's products and fluid acrylics are sure to meet your artistic needs.
Can you mix fluid acrylics and high flow acrylics together?
Yes, you can mix golden fluid acrylics with golden high flow acrylics. The combination of the two paints will give you an even thicker opaque coverage than either alone. With this mixture, you can create bold and vibrant hues that are close to a thin bodied acrylic paint.
Golden Fluid Acrylics Vs High Flow Acrylics – Wrap up!
No matter which golden product you decide to use, both fluid and high flow acrylics provide professional-level quality and the same vibrant color range that golden's products are known for. So whatever your project may be, golden has a paint for every artist. My tip is to buy both products and try them out as you will not waste either. I have used both types of paints in my artwork over the years.
I hope you found this post useful, if you have feel free to explore some of the other art related posts contained in the Latest Posts below.
Latest Posts
Joseph Colella is a frustrated artist with over 40 years experience making art (who moonlights as a certified Business Analyst with over 20 years of experience in tech). While he holds a Diploma in Information Technology, in true wasted talent style he spent years trying to get into various Art degrees from the Accademia di Belle Arti (Napoli), and failed to get into the Bachelor of Arts (Fine Arts) at the University of Western Sydney. His goal is to attend the Julian Ashton School of Art at The Rocks Sydney when he retires from full time work. In his spare time, he writes for the this blog, WastedTalentInc, where he shares practical advice on art, making art, and art materials. Joseph's art has been sold to collectors all over the world from the USA, Europe and Australasia. He is a trusted source for reliable art and copyright/fair use advice and is committed to helping his readers make informed decisions about making them a better artist.
He also loves all things watches (ok it's an addiction) so show him some love and visit his other website https://expertdivewatch.com