One of the best Liquitex Acrylic Paint Reviews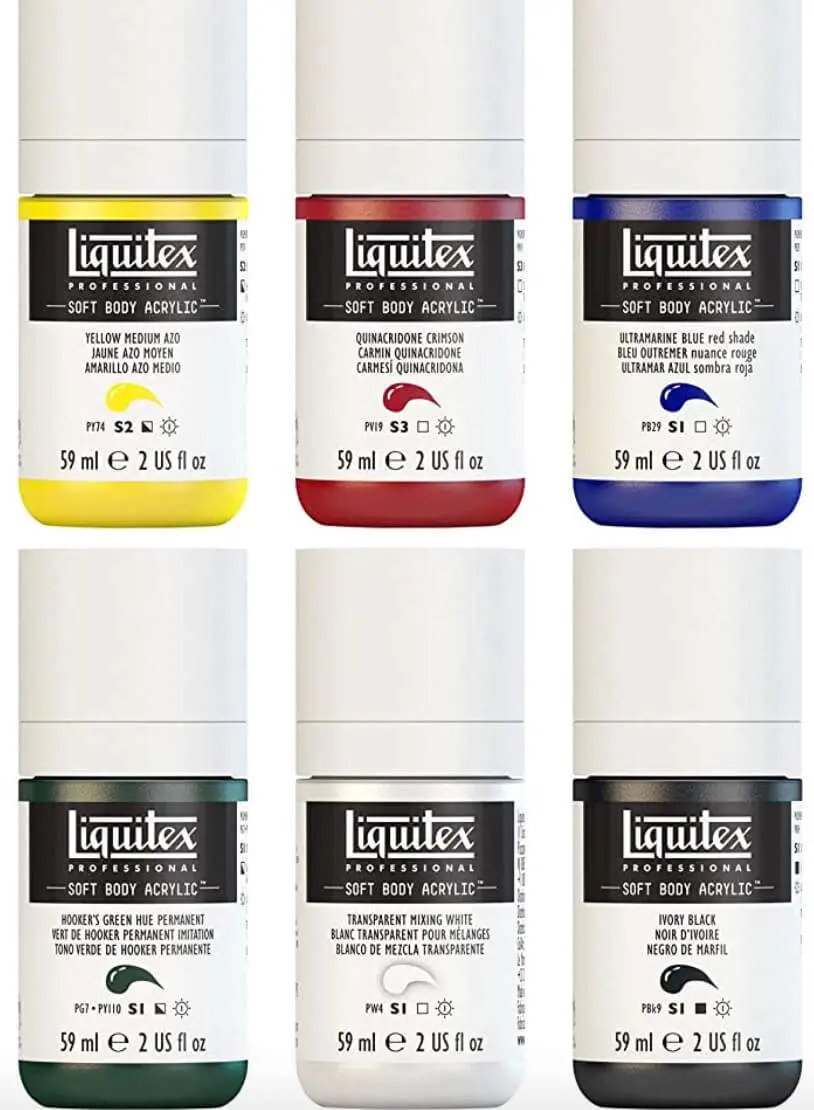 Paint is an essential tool for any artist, and it's important to know what paint will work best for your needs. When it comes to acrylic paint specifically there are more options available to you than time to read all the acrylic paint reviews. To help you save time, I have compiled one of the most comprehensive Liquitex acrylic paint reviews as I believe they are the best option.
Liquitex acrylic paints are affordable, easy to use, and produce good quality finished pieces. I've also included a liquitex acrylic paint buyer guide below that highlights the pros and cons of liquitex acrylics so you can decide if this is the right choice for you!
Let's get into it.
I will assume you already know the difference between acrylic paints and other paints such as gouache or oil paints so I will not be covering that question here.
The creators of Liquitex, Permanent Pigments Company, were established in 1933 by Henry Levison. Cincinnati-based Permanent Pigments was a modest, family-owned firm that specialized in creating oil paint.
Introducing the Liquitex Professional Heavy Body Acrylic Paint Classic Set – a refined selection designed to elevate your artistic endeavors. This carefully curated set features 12 timeless hues, each embodying the essence of subtlety and sophistication.
Liquitex's renowned Heavy Body Acrylic Paint formula offers a seamless balance between opacity and finesse.
With a velvety consistency, these paints allow for graceful blending, layering, and delicate texturing.
The richness of the pigments imparts a gentle depth to your work, adding an understated elegance that draws the viewer in.
Designed to cater to artists of all levels, this Classic Set empowers you to explore an array of artistic avenues.
Whether you're working on canvas, paper, or wood, these acrylics offer exceptional coverage, ensuring your creations possess a quiet resilience.
The pigments' enduring lightfastness ensures your artwork retains its subdued allure, unaffected by the passage of time.
Discover the artistry that resides within the Liquitex Professional Heavy Body Acrylic Paint Classic Set.
Embrace a palette that whispers inspiration, textures that hold subtle surprises, and outcomes that transcend expectations. Unleash your creativity today with a touch of refined brilliance.
With the renowned Liquitex Soft Body Acrylic Paint formula, this set invites you to explore the delicate balance between versatility and restraint.
The paints' flowing consistency lends itself to gentle transitions, layered expressions, and intricate detailing.
The pigments hold a muted depth that infuses your creations with a serene magnetism, capturing attention with understated allure.
Tailored for artists of every caliber, the Classic Set empowers you to articulate your vision across various canvases.
Whether it's paper, fabric, or more, these acrylics offer a subdued yet comprehensive coverage, enabling your artworks to radiate with a resilient tranquility.
The pigments' unwavering lightfastness ensures your compositions maintain their refined charm, defying the erosion of time.
Embark on a journey of artistry with the Liquitex Professional Soft Body Acrylic Paint Classic Set.
Embrace a palette that inspires hushed contemplation, textures that reveal subtle wonders, and outcomes that consistently transcend expectations.
Liquitex Acrylic paint Pros and Cons
Pros
+ Non-Toxic.
+ Great for brush painting.
+ Easily available online or offline stores at reasonable prices with good discounts.
+The pigments are lightfast.
+ Heavy body comes in 105 colors
+ Soft body comes in 100 colors
+ Additional tubes, tubs and bottles of colors can be purchased separately
+ Manufacturer website contains so many resources, fact sheets and help videos
Cons
– May be a bit more expensive than other paints but quality is great.
– Some of the Liquitex mediums may not be easily available in certain locations so it would be better to check before buying them online.
Liquitex acrylic paint colors 
Liquitex is known for their wide range of colors. They are also known as the most affordable high quality paint brand in USA.
PDF files available for download below
Liquitex Acrylic Soft Body booklet and Color Chart available here
Liquitex Acrylic Heavy Body booklet and Color Chart available here
---
Liquitex Acrylic Paint Buyer Guide
Is Liquitex acrylic paint good?
Liquitex acrylic paints are some of the best liquitex acrylic paints, having been used by prominent artists such as Helen Frankenthaler, Andy Warhol and mural artists like Thomas Hart Benton.
When you read all the top acrylic paint brand reviews online you will see that Liquitex acrylic paints are either on top of the list or in the top 5 of every list.
This makes it one of our best reviewed brands here at WastedTalentInc.com because we know about its quality from experience to back up what these other reviewers have said!
I first started using Liquitex acrylic paints back in 1988 when i first read about them being used by Andy Warhol and other pop artists and all I had at my disposal were cheap acrylic paints I stole from my high school.
When I convinced my dad to let me special order a box from the local art store (we didn't have Amazon back then) I was blown away by the difference in quality and how this made my fina artworks look. And nothing has changed in over 30 years.
They have been used by many artists for decades now due to their high quality pigments that offer bright color with very little translucency, making them perfect for covering over dark underpaintings! In addition to this they also provide great opacity.
What is Liquitex paint used for?
Liquitex has 2 main different types of acrylic paint – heavy body (professional) and soft bodied (which covers Fluid, Ultra-Fluid and Misted fluid which are used for spray paints).
The liquitex heavy bodied paints are made for professionals as well as advanced students.
Both can be used like any other acrylic paint, that is for painting artworks, on glass, canvas and even painting on clothing such as screen printing or brush painting and painting shoes (as long as you seal the paint afterwards).
Liquitex Professional Heavy Body paint versus Liquitex Professional Soft Body paint
Liquitex Professional Heavy Body Acrylic is a high-viscosity, oil-paint thickness paint squeezed from a tube that holds impressions and may be applied with a palette knife or brush.
Heavy Body Acrylic is known for its rich, permanent color. 
The pigments are lightfast. This means your work will have the greatest archival permanence possible – at least 50 years+ in gallery conditions – with no color shifting or fading, to stay vibrant and true.
Liquitex Professional Soft Body paint covers their Professional Soft Body Acrylic, Acrylic Gouache and Acrylic Marker range. Both Liquitex Soft Body and Acrylic Gouache are in a bottle and should be used with a brush or sponge.
The soft body versions of the paint can be used in spray atomizers or spray paint guns as they are much thinner in consistency. They can be applied with a dropper or painted like a watercolor.
In fact, don't think that the difference between Liquitex Professional Heavy Body Acrylic and Liquitex Professional Heavy Soft Acrylic is one is a watered down version of the other.
They are actually a different formula but both use the same high quality pigments and similar binders.
Is Liquitex a professional paint or is Liquitex a student grade paint?
Liquitex Professional Acrylics is a professional paint and they are available in different formulas for students, professionals and hobbyists. The formulas related to heavy body and soft body as mentioned earlier.
Are Liquitex acrylic paints toxic?
Liquitex professional acrylic colors are non-toxic, however some of the Liquitex mediums may be toxic in large quantities but in low amounts they are quite safe.
Does this mean I can paint my skin with Liquitex acrylic paint? Technically you could but I would do a spot test on your skin to ensure you don't have an allergic reaction. I would try not to paint too much skin as this is never good for skin health and can cause other issues that are specific to each person.
Do Liquitex acrylic paints take a long time to dry?
Liquitex professional acrylic paint dries very quickly compared to most other brands. From personal experience, a thin layer or Liquitex acrylic paint takes just about 20 minutes to dry.
Thicker layers can take about half a day to completely dry.
If you find this time too quick, Liquitex also have a product called Slow-Dri Medium which slows down the drying time for the acrylic paint letting you work the paint like an oil painting.
Do I need to seal Liquitex acrylic paint when dry?
Like most acrylic paints you do not actually need to seal the paint as the acrylic binders tend to harden quite well once they are fully cured (dried).
If you do want to seal an acrylic painting you should wait until it is completely dry (usually after 72 hours or more) and then apply a varnish or sealant in layers.
Now when I use acrylic paints on clothing and shoes then I do seal them. Not because the paint itself needs to but I like to add an extra layer of protection as these items tend to get a lot of use and are exposed to wear and tear.
Are Liquitex acrylic paint good for brush painting?
Yes they are great when it comes to brush painting and many artists use them on a daily basis. They spread evenly with ease and dry quickly without any bubbling or cracking of lines etc.
Are Liquitex acrylic paints easy to clean?
Yes they are very easy to clean with simple soap and warm water and dry quickly without any hassles.
Wrap up!
While most of the Liquitex acrylic paint reviews out there are very informative I hope "One of the best Liquitex Acrylic Paint Reviews" has provided that extra level of information to help you understand the pros and cons of this product. When I called this post "One of the best Liquitex Acrylic Paint Reviews" I had to make sure it lived up to the title and I hope it has.
Feel free to share this post on social media or on forums. Happy to answer any questions you may have.
Latest Posts
Joseph Colella is a frustrated artist with over 40 years experience making art (who moonlights as a certified Business Analyst with over 20 years of experience in tech). While he holds a Diploma in Information Technology, in true wasted talent style he spent years trying to get into various Art degrees from the Accademia di Belle Arti (Napoli), and failed to get into the Bachelor of Arts (Fine Arts) at the University of Western Sydney. His goal is to attend the Julian Ashton School of Art at The Rocks Sydney when he retires from full time work. In his spare time, he writes for the this blog, WastedTalentInc, where he shares practical advice on art, making art, and art materials. Joseph's art has been sold to collectors all over the world from the USA, Europe and Australasia. He is a trusted source for reliable art and copyright/fair use advice and is committed to helping his readers make informed decisions about making them a better artist.
He also loves all things watches (ok it's an addiction) so show him some love and visit his other website https://expertdivewatch.com