Have no space left in your home? Want an art studio but don't want to spend a ton of money? Converting your garage into an art studio can be an affordable way to solve your problem. But before you rush into it, find out the best way to create the perfect art studio in your garage (and save on some cash).
Below you'll find out three focus points for your garage conversion, how much it'll cost you, and if you need a permit or not.
Let's get into it! 
Can you convert your garage into an art studio?
Yes, you can convert your garage into an art studio if you keep it at one level. If you want to build a room inside of your garage, then it will up the cost substantially.
Within your garage, you'll be able to store all of your art supplies without any issue. You have overhead space as well as optional shelving that you can install. You won't have to worry about getting paint on the floor or walls, either. 
One downside is that if you have multiple cars, you might not have enough space to contain your art studio and your vehicles once you convert your garage into an art studio.
When creating a gameplan for your new garage art studio, you'll have to keep these three things in mind:
Heat + Cooling
If you're used to creating art indoors, then you're likely to have been using air conditioning/heating of some kind. Garages are not all made equal, but most of them are left unfinished. When wanting to work long hours, it can get super hot (or cold) in your garage making it uncomfortable to stay focused on work on your art.
Before you go out and spring for an air conditioner/heater solution, you're going to need to insulate your garage. Without insulating, you're not going to be able to keep that hot or cold air inside making your investment wasted.
If you have an unlimited budget, then the best way to heat and cool your garage would be to install a mini-split. The fact is though, they are pricy. The next best option would be to install a window unit if you have a window in your garage.
If you DON'T have a window in your garage, then an exhaust fan is going to be a necessity. You don't want to be breathing in paint 24/7, so it would be recommended to ventilate the fumes somehow. You can keep your garage door cracked a bit, but there is no guarantee that the fumes will flow out without an exhaust fan.
Lighting
Most garages don't have the best lighting, so you're going to want to invest in some shop lights that will illuminate your garage well enough to work.
For every square foot, you're going to want to get 50 lumens. For an average 400 sqft garage, you'll want lights that are capable of 20,000 lumens combined.
I also recommend going with 5000k color temperature, which is similar to painting in daylight. Lower color temperatures would be akin to a coffee shop, and you don't want to be painting in dim lighting.
The easiest setup would be two to three high-powered shop lights that you can hang from the ceiling. It's also recommended to get a mobile light source to account for shadows if you need to get up close and personal.
Flooring
Treating your garage floor before you start will give it that professional aesthetic that will keep you focused while working.
You have two main options, epoxy or concrete sealer. A good concrete sealer will protect your garage floor from any paint that gets spilled (which is inevitable) and doesn't cost as much as epoxy. Getting paint off concrete can be an annoying process, so it's best to prevent it from being a problem in the future.
With epoxy, you will get that professional art studio look, but you will pay for it as well. I don't recommend doing it by yourself because most of the kits you can buy at big box stores are prone to cracking after a year or two. Professional epoxy installation can be quite pricy at $3 to $12 per square foot.
You don't have to treat your garage floor, but it would make a big difference in the feel of your new art studio.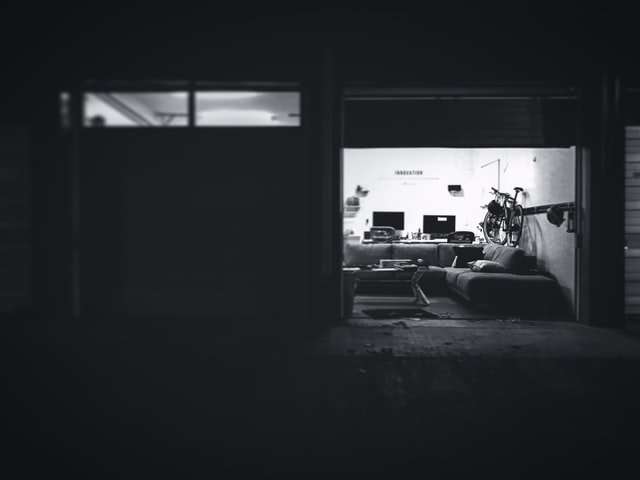 How much does it cost to convert a garage into an art studio?
The cost of converting your garage into an art studio depends on how much you want to spend.
If you're a minimalist, I would recommend moving all of your art supplies into your garage and make sure you have proper lighting. If it gets too hot for you, then you can buy a cheap fan. Add in some storage options, a work desk and you've spent under $1000 converting your garage into an art studio.
If you want to go all the way with proper lighting, air conditioning, flooring, exhaust, and storage, I would say you would need to spend between $5000-$10000. Yes, it's up there, but it's much cheaper than renting another space or adding an addition to your home.
Do you need permission to build a room in your garage?
Depending on where you live, if you change how your garage will be used you may have to apply for a permit. It's a good idea to contact your city's Zoning Department to make sure that you're operating under their guidelines.
It can cost between $1000-$1500 for the permit.
Do garage conversions add value to your home?
You'll find conflicting information on if garage conversions add or decrease the value to your property. If you have room to park your car in your driveway and on the side of the street, you may get away with adding value to your home.
The issue with converting your garage is that you lose storage space and parking space. The other problem is that the conversion must be done well for it to add value to your home. It can even decrease the value of your property if you cut corners!
I would recommend shopping around for the right contractors and invest in it as much as possible if you decide to fully convert your garage into an art studio. 
Final Thoughts
If you take your time, crafting the perfect garage studio shouldn't be an issue. No matter your budget, you'll be able to find options for any stage of your art career. If you're a beginner or intermediate artist, I would recommend spending as little as possible at first to get a feel if working in your garage is right for you.
As you progress through your art/painting journey, you'll get a better feel for what it is you want out of your art studio. Better to be safe than be left with a decked-out art studio that you never use!
Latest Posts
Sources
Photo by Harprit Bola on Unsplash
Photo by Marius Ciocirlan on Unsplash