A Little How To On Sharpening Oil Pastels – Quick Results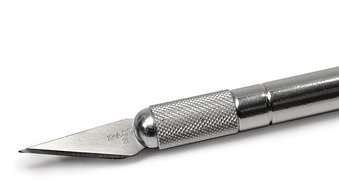 Sharpening oil pastels is an important part of the art-making process if you like making fine lines with your oil pastels, so it's essential that you know how to do it properly. Fortunately, sharpening oil pastels is a straightforward task and doesn't require any special tools (like a Kemper clay shaper tool).
Assuming you don't have access to a crayon sharpener (like a Crayola or X-Acto crayon sharpener – see below), with just a few simple household items like an X-Acto knife and sandpaper, you can easily sharpen your oil pastels and get quick results. Just remember, not apply too much pressure as you sand and cut your oil pastel at an angle or you will snap your oil pastel's end off. Keep reading for detailed steps on sharpening oil pastels.
Is there a way to sharpen oil pastels?
First, you will need to gather the materials for sharpening oil pastels. You'll need a cutting board or something similar, such as cardboard; sharp scissors or an X-Acto knife; and some fine sandpaper (at least 400 grit). I use a flat plate as I keep misplacing my cutting board.
Once you have these materials, it's time to start sharpening.
Start by slicing the oil pastel at a sharp angle on the end of your oil pastel with the scissors or X-Acto knife, making sure not to cut too deeply into the core of the pastel itself.
If you are using scissors, I suggest opening them up and using only one side like a knife blade rather than trying to cut the oil pastel ends.
Use a back-and-forth motion for this step to ensure that both sides of the pastel are shaved and sharpened evenly. Take off only a small slide at a time.
Once the angle has been sharpened, use the sandpaper to refine the sharpening of the tip a little further. Start with laying some sandpaper on a flat surface with the rough side facing up. Hold it down flat with one hand.
Pick up your oil pastel with the other hand and using light pressure and on an acute angle, start the back-and-forth motion on the sandpaper and work your way up to a firmer pressure until you have achieved the sharpness desired.
You will find you don't actually need to apply much pressure as oil pastels are quite soft.
This should be done in small increments rather than trying to sharpen it all at once. Sharpen the tip a little bit more and check. Repeat this process until you have the desired sharpness.
Remember, oil pastels are never going to be as sharp as a pastel pencil so if you want to keep making very sharp lines then maybe you should consider a different type of pastel.
Finally, use a paper towel to wipe some of the shavings off the sharpened end of the pastel and then blend it out with your finger or a soft cloth. This will help keep your sharpened pastels in good shape for longer.
Sharpening oil pastels – wrap up!
With these easy steps, you can easily sharpen your oil pastels and have them working for you again in no time! With the right materials, sharpening oil pastels is a simple process that will help keep your artwork looking incredible. Give it a try today and see the difference sharpened oil pastels make in your artwork! Just remember not to throw out the shavings as you can save these for later when you learn how to make your own oil pastels.
Latest Posts
Joseph Colella is a frustrated artist with over 40 years experience making art (who moonlights as a certified Business Analyst with over 20 years of experience in tech). While he holds a Diploma in Information Technology, in true wasted talent style he spent years trying to get into various Art degrees from the Accademia di Belle Arti (Napoli), and failed to get into the Bachelor of Arts (Fine Arts) at the University of Western Sydney. His goal is to attend the Julian Ashton School of Art at The Rocks Sydney when he retires from full time work. In his spare time, he writes for the this blog, WastedTalentInc, where he shares practical advice on art, making art, and art materials. Joseph's art has been sold to collectors all over the world from the USA, Europe and Australasia. He is a trusted source for reliable art and copyright/fair use advice and is committed to helping his readers make informed decisions about making them a better artist.
He also loves all things watches (ok it's an addiction) so show him some love and visit his other website https://expertdivewatch.com