How to make digital art – the best guide for beginners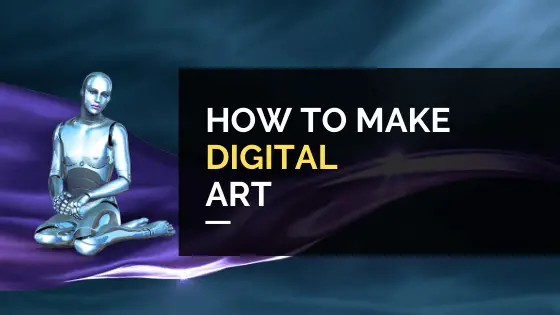 Everyone has been a beginner at digital art at some point, when I started exploring digital art it all became a little too confusing for me so this is why I have created the ultimate guide for beginners on how to make digital art. To create digital art, you will need a computer or a tablet to download digital art apps and illustration software.
Listed below are some recommended online courses from where you can learn techniques and be inspired. Keep in mind that the best way to learn is to take one step at a time.
Focus on one technique before moving on to another and learn from artists online. The possibilities of digital art to create can be overwhelming as a beginner, but remember to have fun and take your time. Baby steps!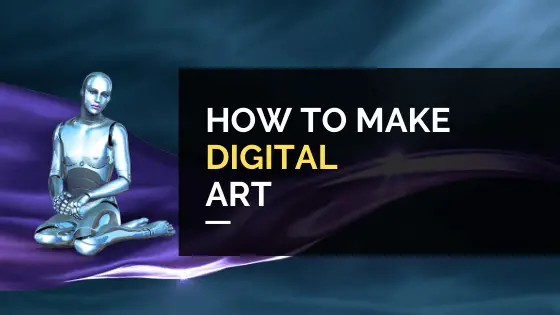 What is digital art
Digital art is the definition of art that is created or presented using digital technology. Harold Cohen designed the first example of "digital art" in the 1980s on a computer-engineered paint program. Digital art is usually generated, scanned, or drawn with a tablet computer and a mouse.
Recently digital art has become more interactive, letting an audience influence the outcome of the final image.
How do beginners make digital art
Digital art for beginners doesn't have to be that difficult. Digital art is a talent that is perfected through time and practice. There are, however, a few steps that you have to check off before you start getting familiar with digital art. Follow these basic steps:
You will need a tablet or computer to work with when creating digital art. It can be an Android or Apple tablet. I suggest you purchase a pen to go with it such as the Apple pencil, or a Digiroot Universal Stylus for Android devices. (Digiroot Stylus Link opens to Amazon to find out the price).
Choose an illustration software, program, or app on which you want to make your digital art.
Sketch and decide what you want to create.
Practice, practice, practice to get yourself familiar with the software you are using.
Watch videos, tutorials, or join courses to learn more about how to create digital art.
Create your digital art!
Remember, most importantly, is to have fun. I know that sounds cheesy, but having fun is sooo essential when wanting to learn something new. Otherwise you get bored and give up. Get some quick wins to keep you motivated.
Best online digital art tutorials
One of the best ways to learn how to make digital art is to learn from an experienced artist. That is why you want to discover different online digital art tutorials and online classes. I have searched the web for the best online digital art tutorials, and this is what I found:
Udemy offers a variety of classes depending on what you want to learn. There is a class for drawing and painting on the iPad with Procreate, a complete beginner's guide to digital, or a course for you who want to use Corel Painter.
Skillshare is also one of the best platforms for learning different digital art techniques.
SmArt School has also been recommended for its illustration-focus teaching methods and its impressive teachers.
On YouTube, you can find various talented artists sharing their skills on how they make digital art. The best part about this platform is that it is entirely free to use and learn from. I'll share a cool video at the end of this post.
Each digital art tutorial and class is specific to one technique type or digital art type, so if you know more specifically what you want to learn, the easier it gets, and the faster you will learn. These platforms listed above are just a way for you to know where to start looking.
Digital art tips
Here are some digital art tips that have been helpful to me as I have learned my way through the digital art world:
Take your time to learn your program and how to use your chosen tools
Watch tutorials and learn from other artists
Don't be afraid of using layers and the undo button
Start with a larger artboard and scale down as you finalize files to maintain image quality
Avoid using too many brushes, pencils, colors, values, etc. and keep it simple as you learn
Sketch a lot and use them to warm up before starting a new artwork
Learn shortcuts, write them down and test them out
Customize your workspace once you've learned what works for you
Have an end goal in mind and how you want to use your piece (on a mug, t-shirt, or as a print?)
Types of digital art
There are different types of digital art that you, as a beginner, should know about. With the digitalization of the world, the digital art world and its art forms are also growing. Here is a list of the most basic digital art types:
Digital Painting replicates traditional art tools like brushes and paints with digital art tools like a graphics pad, pen, and program.
Structured Drawing uses mathematically described shapes and strokes called vectors to make art. Vectors will allow you to change scales without details starting to pixelate.
3D Modelling and Sculpturing varies from photorealism to low poly artwork and is basically adding another dimension to the artwork using digital tools.
Pixel and Voxel Art were very popular in the '80s and '90s computer games where limited color palettes, visible pixels, and cubes to make art.
Isometric Art creates an impression of viewing an object from three sides simultaneously. This type of digital art was initially used for technical illustrations by engineers and architects but has become adopted by artists using different mediums.
Fine Art Photography using digital tools has opened up fontography to new possibilities. With the right program, artists can use digital tools to mimic different photographic techniques that no longer require a dark room.
PhotoBashing is combining different images using photoshop to create an illusion of a whole new photo-realistic image.
If you want to read more about different types of digital art, read here.
Digital art vs. traditional art
The digital art may be superior when it comes to accessibility, convenience, and instant shareability, but other aspects of it can have you like traditional art more. Traditional art can more easily give you the satisfaction of a hands-on experience and working with a wider variety of mediums. Since digital art is much more easily shared because of how it is stored digitally, traditional art isn't as easily reproduced. Mistakes, however, are something you must live with when creating traditional art, but in digital art, they can more easily be erased, which can increase productivity. However, this lack of forced problem-solving can be in the way of happy accidents or an artist's improving skills.
| | |
| --- | --- |
| Digital Art | Traditional Art |
| Increased Access | Hands-on Experience |
| Convenience | More difficult to reproduce |
| Instant Shareability | Increased versatility of mediums |
| Increased Productivity | Forced problem-solving |
Digital art projector
A digital art projector is a tool used to present digital art to an audience. These projectors will project images and videos from your computer, smartphone, flash drive, or from your tablet.
Unlike any other projector, a digital art projector can manipulate light, color, or enhance the edges of a digital image. In other words, you will be able to show your original colorful artwork in black & white if you wish.
Digital art tools
Just like paintbrushes and canvases are used by artists to create art, so are digital tools used to create digital art. These are the tools that you as a beginner digital artists want to choose from:
Computers are probably the most used tool to make digital art. With the computer, you can download different apps and programs that will enable you to create your art.
Drawing Tablets is an alternative to a computer and will work better for some types of digital art like Digital Painting. You will exchange the computer's mouse and instead draw with a pen on the tablet, which will allow you to draw more intricate patterns with more control.
Drawing software is the program or app that is necessary to download to the computer or tablet to create art. This is the most important digital art tool, and without it, you won't be able to start.
Colors and creating art on color-accurate monitors are key to have your vision come to life. You will be able to pick or create different colors in your chosen drawing software.
Computer memory or flash drive to store your digital art will be crucial when saving them. This is one tool that we cannot forget when creating digital art.
Digital art apps
There are many different digital art apps and computer programs to choose from when creating digital art. They have other purposes and will, in different ways, help you make whatever type of digital art you desire. Here is a list of recommended software to choose from for beginners: 
Adobe Photoshop, Affinity Photo, Krita, and Autodesk Sketchbook are great programs for Digital Painting.
Adobe Illustrator, Affinity Draw, Affinity Designer, Inkscape, and Gravit Designer are designed explicitly for structured drawing and isometric art.
Maya the industry standard, Cinema 4D, Blender, and ZBrush for 3D sculpting
PixelArt, Blender, and MagicaVoxel are good options for Pixel and Voxel art.
Photoshop, Affinity Photo, and Gimp, the free image processor, are designed for digital art like PhotoBashing.
Remember that these software programs and apps do not all come for free. You will have to pay for most of the software before downloading and starting to create your digital art. But there are some great free options out there, and sometimes you will be offered a free trial before you buy the software.
What hardware and apps do I usually use to make digital art?
My tools for creating digital art changed from the simple Wacom pad and pen and software I found using dubious means to now using an iPad pro with an Apple pencil and the Procreate app (was not free but quite cheap considering) plus some free vector drawing tools which I use to convert photos into vector diagrams that I then edit or add into Procreate images i'm working on.
I found Procreate probably the easiest to learn and use and as it is now quite popular there are tonnes of videos on YouTube on how to make digital art. And so I have included a video below which I think is useful if you wish to pursue this set up to create digital art.
How to make Digital Art – Supporting Video
In this video you are shown the entire process on how to make digital art (over 20 minutes) from start to end and using Procreate. Enjoy! I did.
Wrap Up
Once you get really good at digital art, how about learning how to sell digital art and digital products? You may also need a scanner to scan in your physical drawings and incorporate them into your digital art. I covered the best ones you can use. And finally if you heard all about NFT Crypto art, this is a great primer that may lead you on the way to also make $65 million!
I really hope you found How to make digital art an informative post and that you got a lot out of it. If you would like me to cover any additional topics please let me know via the Contact Us page or hit me up on Instagram.
Latest Posts
Joseph Colella is a frustrated artist with over 40 years experience making art (who moonlights as a certified Business Analyst with over 20 years of experience in tech). While he holds a Diploma in Information Technology, in true wasted talent style he spent years trying to get into various Art degrees from the Accademia di Belle Arti (Napoli), and failed to get into the Bachelor of Arts (Fine Arts) at the University of Western Sydney. His goal is to attend the Julian Ashton School of Art at The Rocks Sydney when he retires from full time work. In his spare time, he writes for the this blog, WastedTalentInc, where he shares practical advice on art, making art, and art materials. Joseph's art has been sold to collectors all over the world from the USA, Europe and Australasia. He is a trusted source for reliable art and copyright/fair use advice and is committed to helping his readers make informed decisions about making them a better artist.
He also loves all things watches (ok it's an addiction) so show him some love and visit his other website https://expertdivewatch.com