150 Easy Acrylic Painting Ideas for Beginners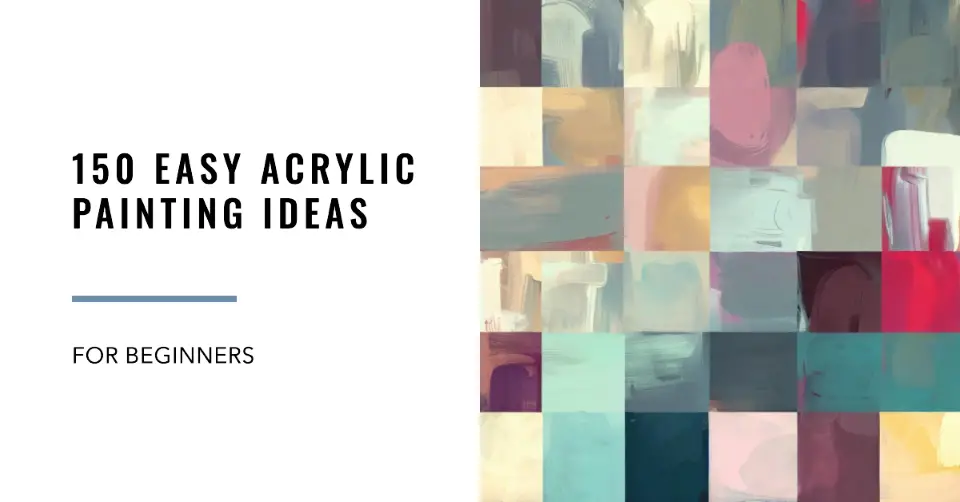 Diving into the world of acrylic painting can be both exciting and intimidating, especially if you're new to the medium. Fear not, for there are plenty of easy acrylic painting ideas for beginners to try and enjoy. These creative projects will help you gain confidence, skills, and a more solid foundation as you embark on your artistic journey.
Acrylic paints are great for beginner artists. They are fast-drying, water-resistant once dry, easy to clean, non-toxic, long-lasting, and cost-effective. Plus, you can find countless tutorials and inspiration online to guide you every step of the way.
To get started, you'll want to experiment with simple subject matter and techniques, such as color block designs, daisy paintings, or even line art.
As you work on these beginner-friendly projects, you'll find yourself becoming more comfortable with acrylic paints and discovering your own unique style. Let's first look at 5 starter ideas and then we can look at the entire list of 150 ideas after.
Starter Easy Painting Ideas
If you find my list of 150 ideas a bit too much to handle as a beginner, try one of these to start with. You may find them easier to get started with and once you are more comfortable you can try some of the listed ideas.
Abstract Art
Dive into the world of abstract art as a beginner. Abstract paintings allow your creativity to flow, using different colors and shapes. A simple color palette and a blank canvas are all you need to get started. Play around with shapes, lines, and colors to create a unique piece of art. Don't be afraid to experiment, as there is no right or wrong in abstract painting.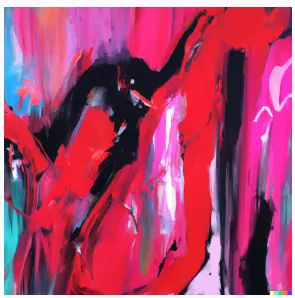 Geometric Shapes
Utilize geometric shapes to create easy canvas paintings. Choose a variety of colors and create patterns with squares, circles, triangles, or any other shapes that inspire you. This type of painting is not only enjoyable for beginners but also helps in understanding color combinations better. Stick to primary colors or try out different tones to see what works best for your artwork.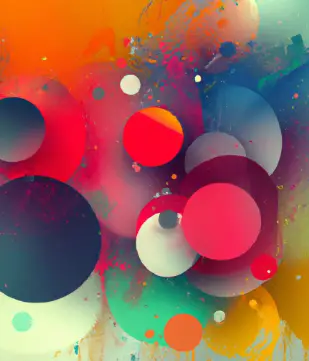 Life Paintings
Life paintings can be a great way for beginners to practice their skills. Start with simple subjects, like a fruit or a flower, to gain confidence. Focus on the form, light, and shadow in your painting. As you progress, move on to more complex subjects such as landscapes or animals. Life paintings allow you to explore a wide range of subjects and styles, making them perfect for sparking creativity.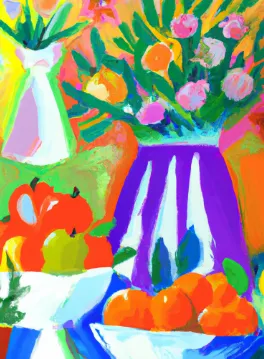 Night Sky
The night sky offers a stunning subject for easy painting ideas. With a limited color palette, beginners can enjoy painting stars, constellations, and even galaxies. Use a black canvas and some white or metallic paint to create the illusion of space. Add in cool acrylic painting ideas like shooting stars or the moon for extra visual interest.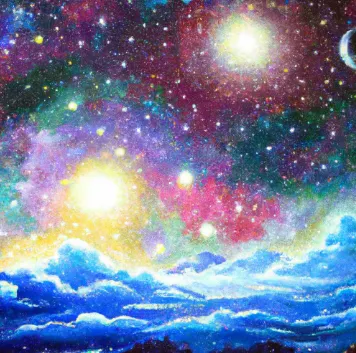 Holiday Themes
Holidays offer a variety of inspiration for simple painting ideas. Choose from popular themes like Christmas, Halloween, or Easter, and create a festive piece of art. Common holiday symbols such as snowflakes, pumpkins, or eggs, provide an easy starting point. Experiment with colors and techniques to make your painting unique and memorable.
Incorporate the following easy acrylic painting ideas into your next project for a fun and rewarding experience.
Here is a list of 150 easy acrylic painting ideas for beginners. Remember, the best way to improve is to keep practicing and having a lot of fun!
Moonlight Ocean – Paint a black background, then add white for the moon and its reflection.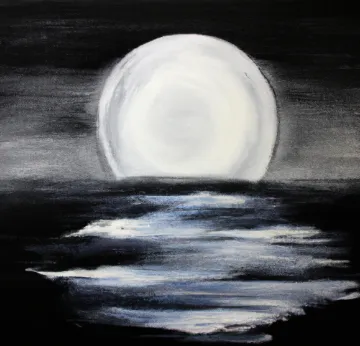 Galaxy Painting – Use blue acrylic paints and white for stars on a black canvas.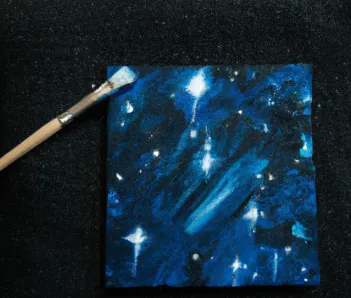 Sunset Over Water – Layer different colors to represent the sunset reflecting off the water.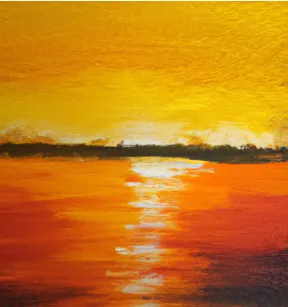 Abstract Geometric Shapes – This is an easy idea just paint simple geometric shapes.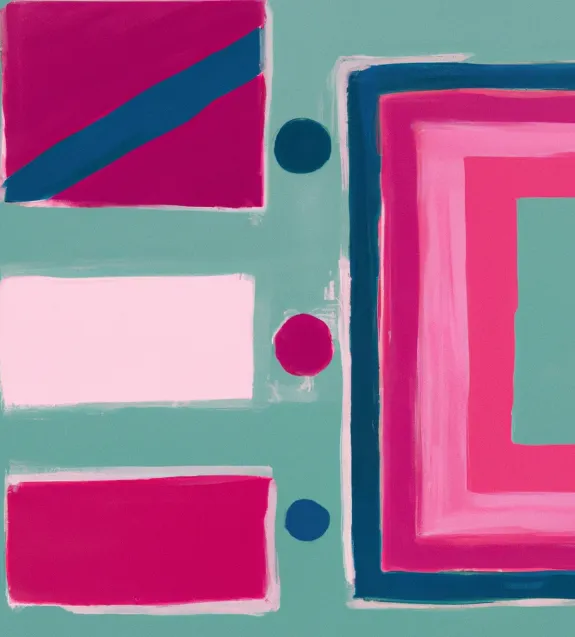 Paint Splatter – Splatter different colors on a white canvas for an abstract look.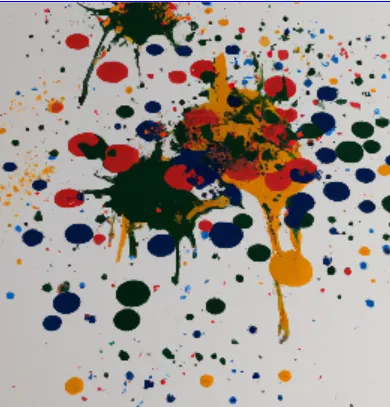 Simple Christmas Tree – Great for the holiday season, paint a simple Christmas tree on a white canvas.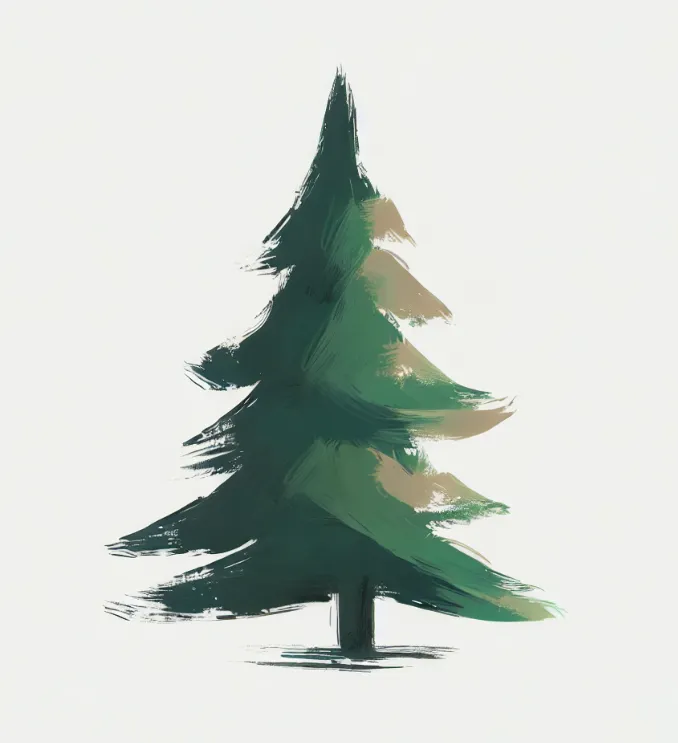 Autumn Trees – A detailed work featuring trees with leaves in autumn colors.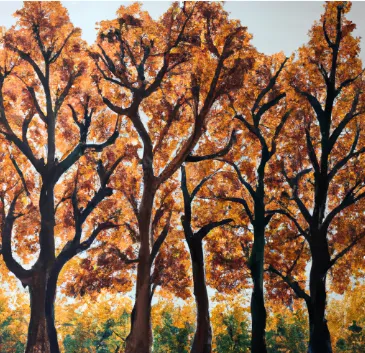 Lighthouse by the Ocean – This simple acrylic painting idea is much fun and a great idea for beginners.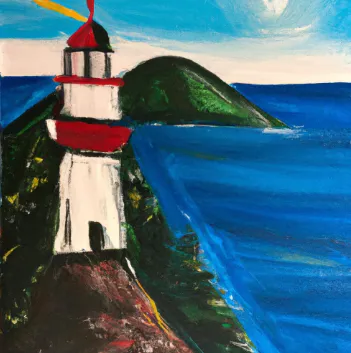 Blue Mountains – A simple and easy landscape painting idea.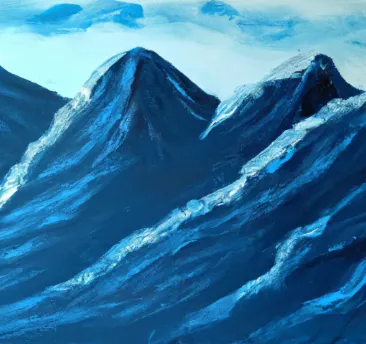 Underwater Scene – Use blue and green paints to create an underwater seascape.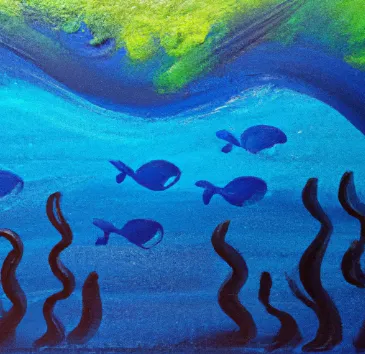 Butterflies – This fun painting idea is easy to do, with each butterfly a different color.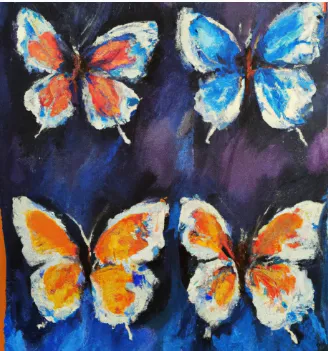 Poppy Field – Create a field of poppies using red, green, and black paint.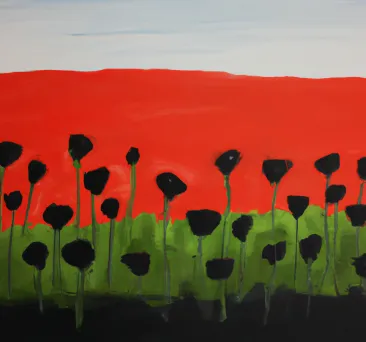 Starry Night – Recreate Van Gogh's Starry Night in an easier, simpler version.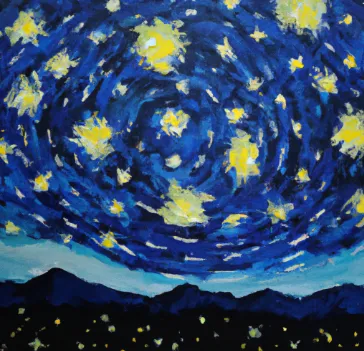 Acrylic Pour Painting – A great idea for an absolute beginner. Follow a YouTube tutorial for the best results.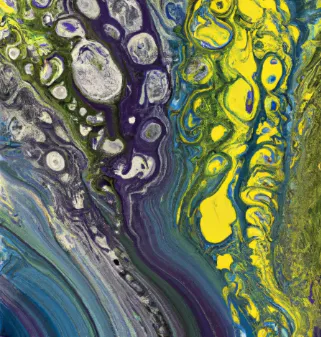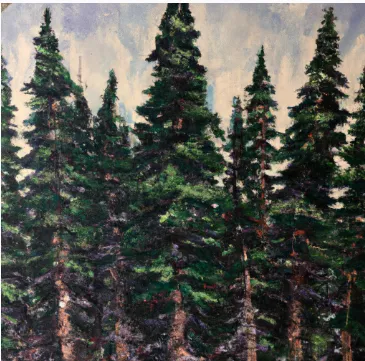 Abstract Color Blocks – Block out shapes on your canvas and fill them with color for this abstract painting idea.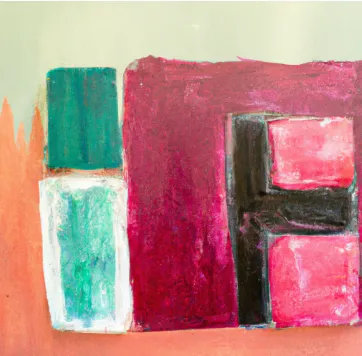 Simple Portraits – For those who want to try painting people, start with simple, abstract portraits.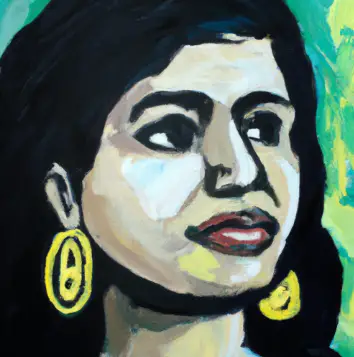 Rainbow Streaks – One of the first things an absolute beginner can try is painting rainbow streaks.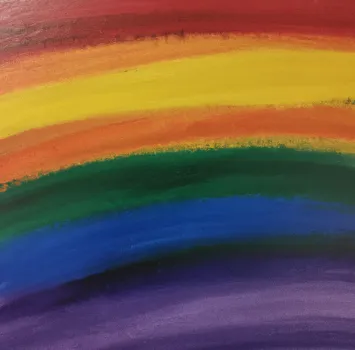 Flamingos – Paint a simple silhouette of flamingos against a colorful sunset.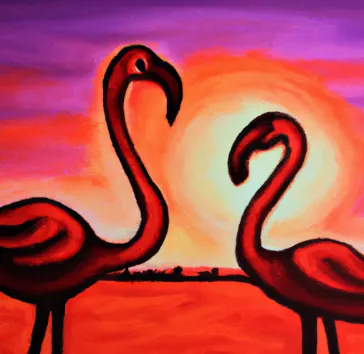 Owl Silhouette – A black silhouette of an owl on a tree branch against a moonlit sky.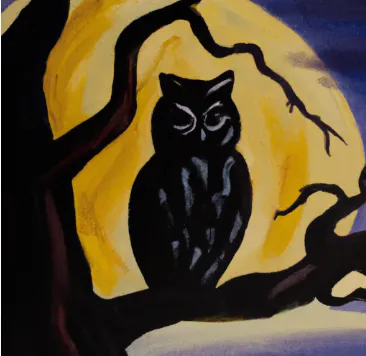 Sunflower Field – A beautiful flower painting idea using yellows and greens.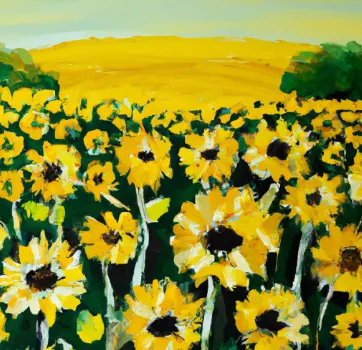 Panda Face – An easy and fun painting idea for animal lovers.
Palm Trees at Sunset – Paint palm trees against a beautiful sunset.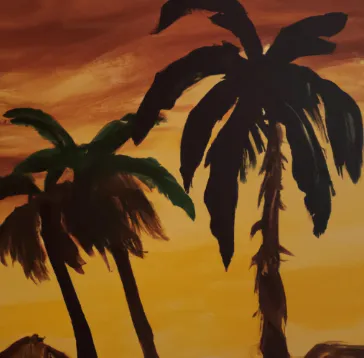 Modern Art Inspired – Create abstract work inspired by modern art movements like Cubism.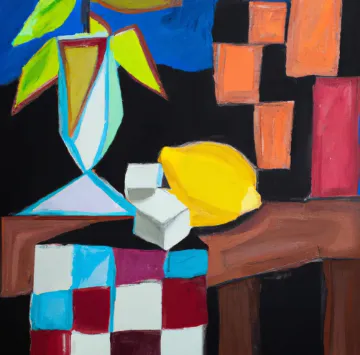 Ladybug on a Leaf – This detailed work is an easy canvas painting idea for those who love nature.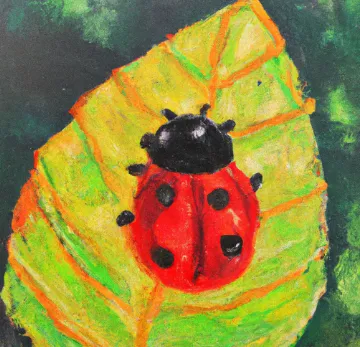 Coffee Mug – Perfect for coffee lovers! Paint a simple coffee mug on a black background.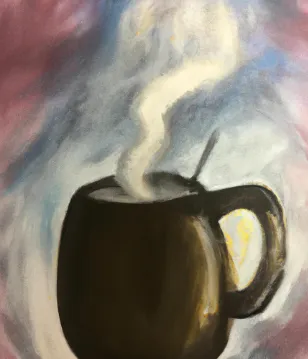 Floating Balloons – Colorful balloons against a blue sky make a fun and simple canvas painting idea.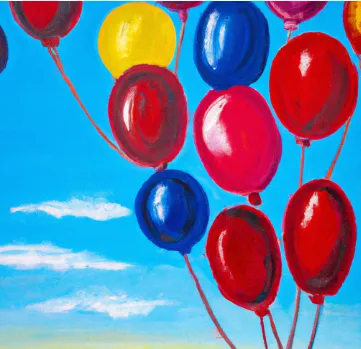 Fruit Still Life – Try your hand at still life with a simple fruit painting.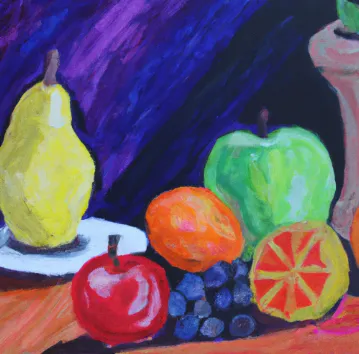 Penguin Family – This cute and easy canvas painting idea is a lot of fun to create.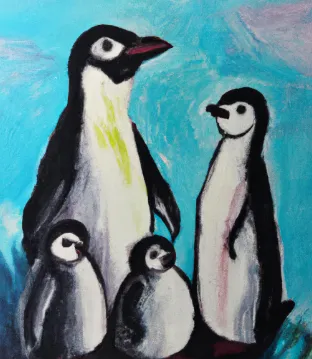 City Skyline – Choose your favorite city and paint its skyline in black on a white canvas.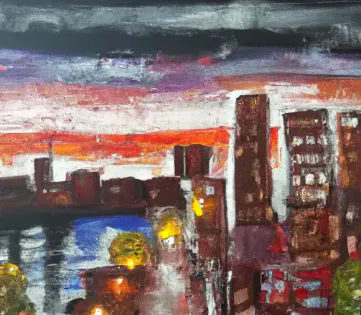 Fireflies in the Dark – Use yellow spots for fireflies on a black canvas.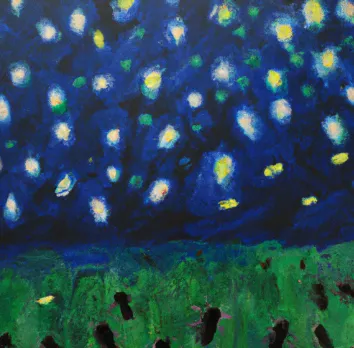 Desert Scene – Paint a simple desert landscape with cacti silhouettes.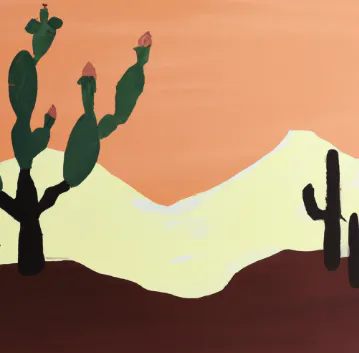 Monochromatic Shades – Pick a color and create an abstract painting with its different shades.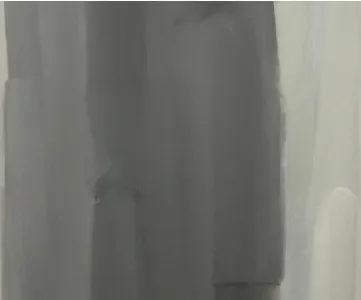 Dreamy Clouds – Use blues and whites to paint fluffy, dream-like clouds.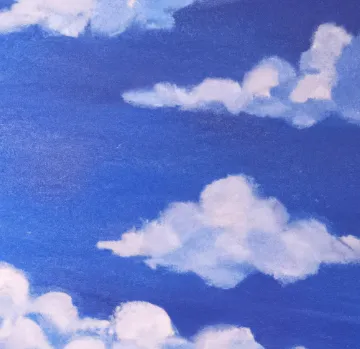 Blooming Sakura – Paint a sakura tree with blossoms falling.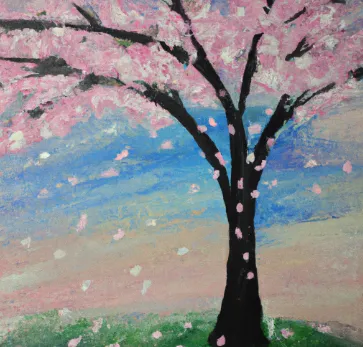 Fading Footprints on Sand – A simple beach scene with footprints fading away.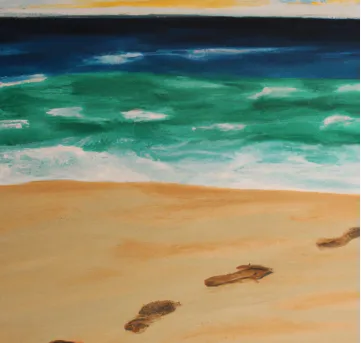 Seagulls in the Sky – A minimalist painting with seagulls flying high.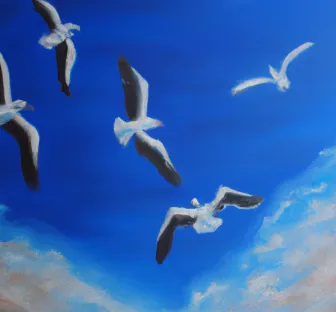 Stained Glass Effect – Use different colors to create a stained glass window effect.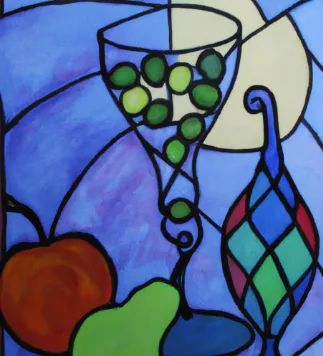 Colorful Feathers – Detailed work on different feathers with various colors.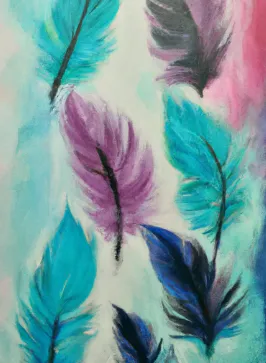 Eiffel Tower – Paint the Eiffel tower against a sunset.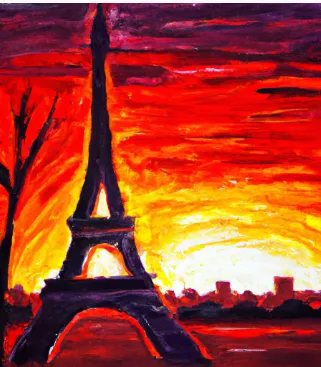 Simple Snowman – An idea perfect for the holiday season.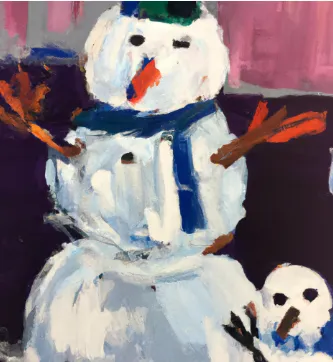 Minimalist Snowflakes – Simple and fun painting idea for winter.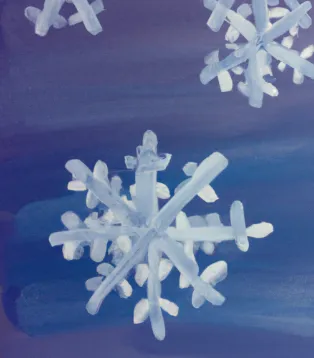 Sunrise through Trees – Sunrise seen through the silhouette of trees.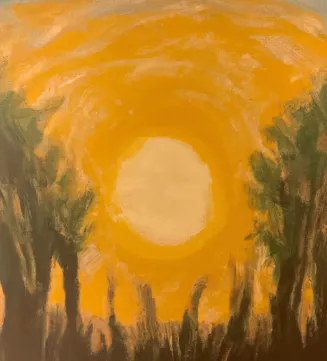 Halloween Pumpkins – A fun, thematic idea for Halloween.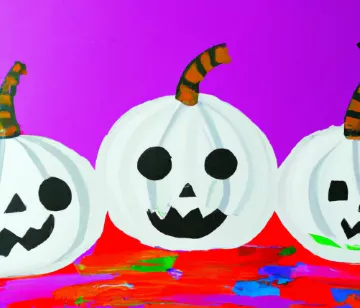 Sun and Moon – Paint a sun and moon on opposite sides of the canvas.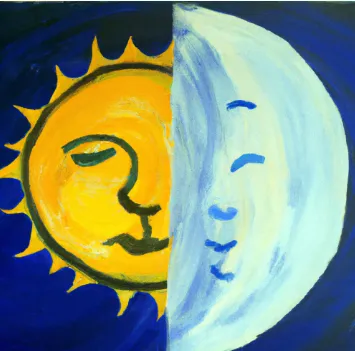 Funky Pineapples – Paint pineapples with a fun twist by using bright, non-traditional colors.
Tulip Field – A beautiful flower painting idea.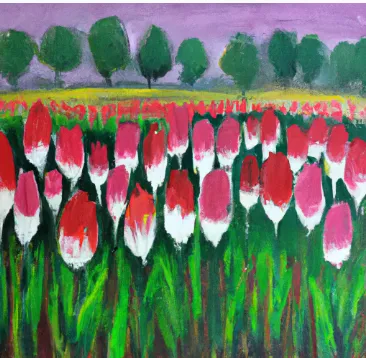 Abstract Waves – Use different shades of blue to create abstract waves.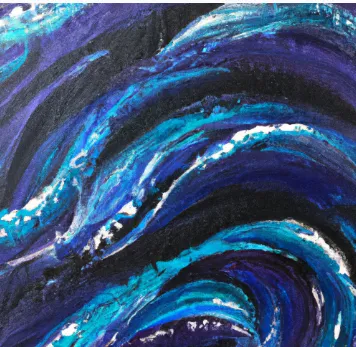 Birch Tree – Use black and white acrylic paint to create a birch tree.
Rainbow Reflections – A lake reflecting a bright rainbow.
Polar Bear on Ice – A simple, fun, and cool painting idea.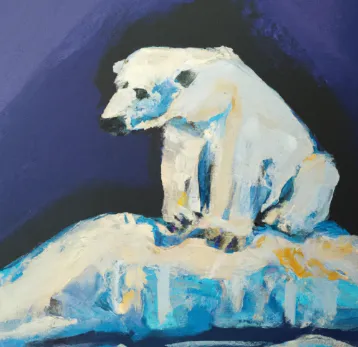 Mountain Reflection – A landscape painting of a mountain reflected in a lake.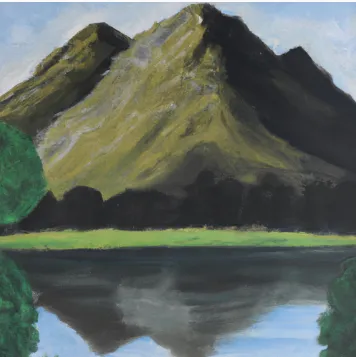 Lion Silhouette – A detailed work of a lion's silhouette against a sunset.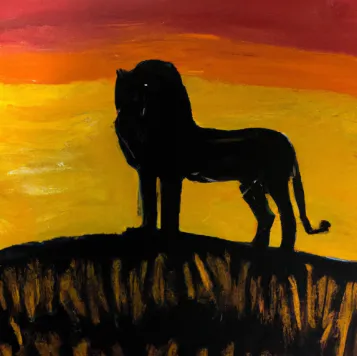 Lavender Field – Use different shades of purple to create a lavender field.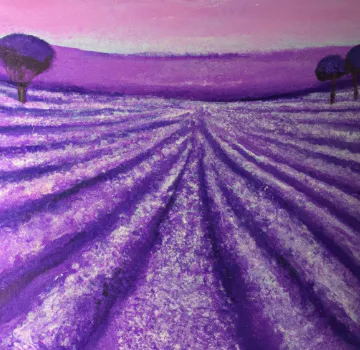 Seashell Collection – Detailed painting of different seashells.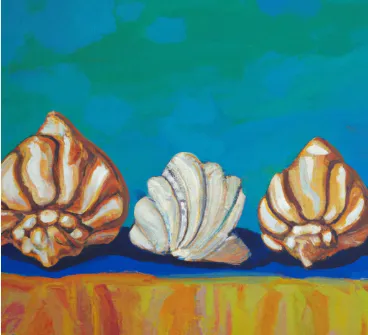 Boat at Sea – A silhouette of a boat sailing in the sea at sunset.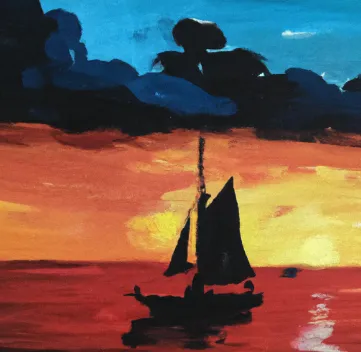 Abstract Landscape – Use blocks of colors to create an abstract landscape.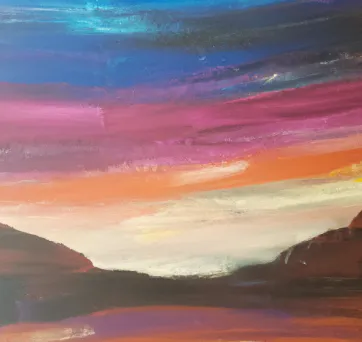 Cherry Blossoms – Paint a tree trunk with cherry blossoms on it.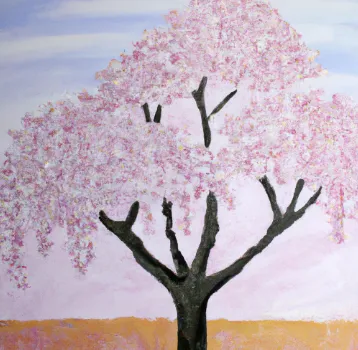 Whale Underwater – Use shades of blue to paint a whale underwater.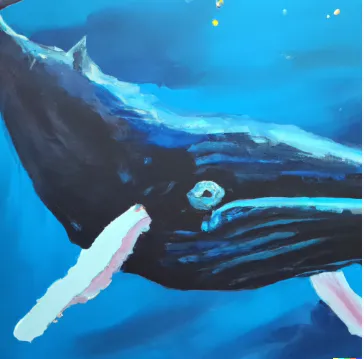 Majestic Peacock – A detailed work of a peacock and its colorful feathers.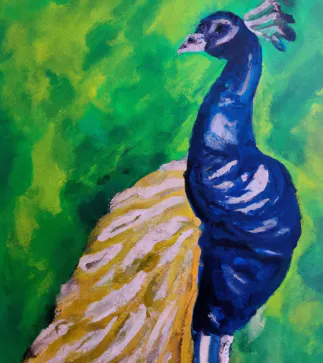 Stenciled Patterns – Use stencils to create interesting patterns and designs.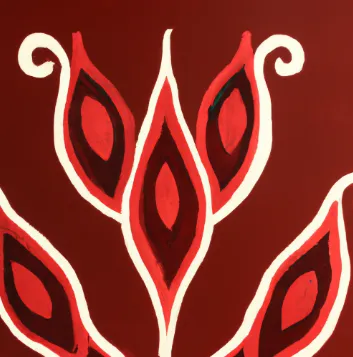 Cityscape at Night – Use black paint for buildings against a starry sky.
Pop Art Portraits – Try creating a simple Pop Art portrait in bold colors.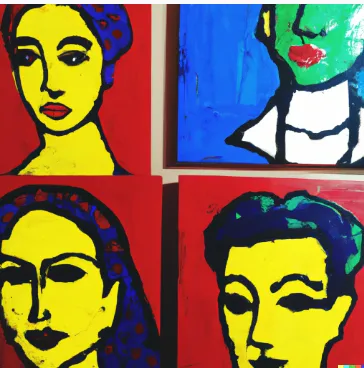 Fallen Leaves – Paint various shapes and colors of fallen autumn leaves.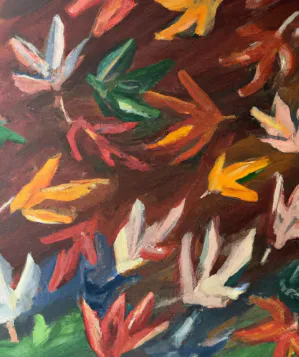 Glowing Lanterns – Paint a night sky filled with glowing lanterns.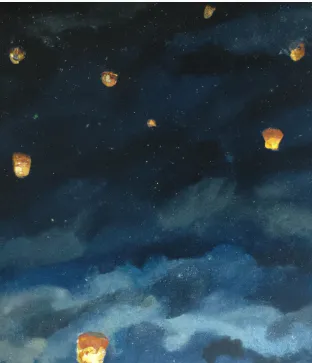 Fruit Bowl – Paint a simple still life of a bowl filled with colorful fruit.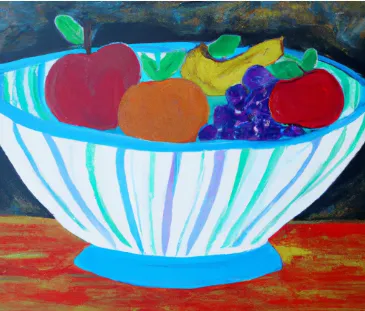 Cherry Pie – For foodies, try painting a scrumptious cherry pie.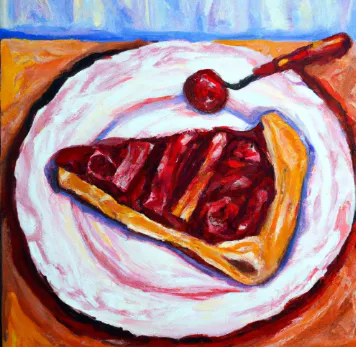 Autumn Road – A winding road surrounded by autumn trees.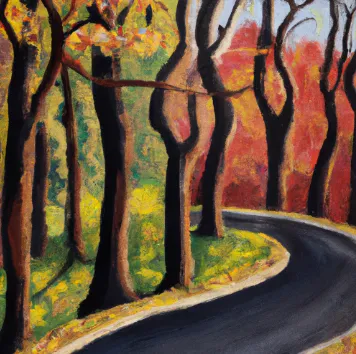 Hot Air Balloons – Bright and colorful hot air balloons against a blue sky.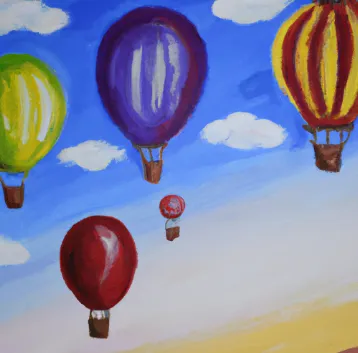 Simple Sailboat – Sailboat sailing on peaceful waters at sunset.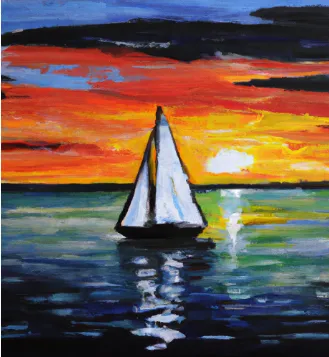 Elephant Silhouette – Silhouette of an elephant against an African sunset.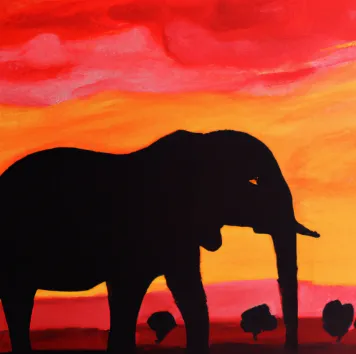 Cupcakes – Paint a collection of colorful and tempting cupcakes.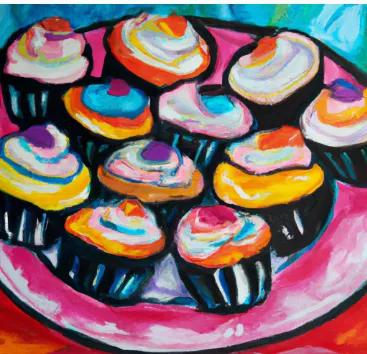 Flying Birds – Birds flying in a sunset sky.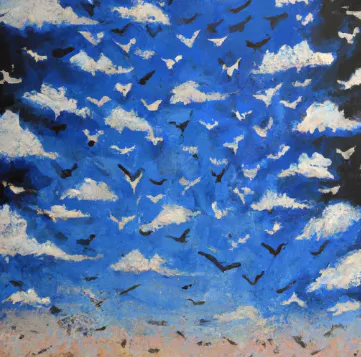 Easy Mandala – paint a simple mandala and fill it with your favorite colors.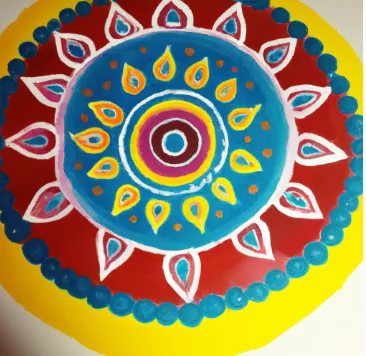 Bamboo Stalks – Paint simple bamboo stalks in shades of green.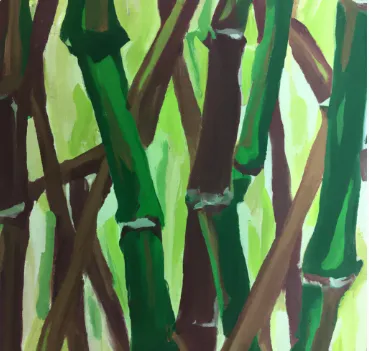 Floating Leaves – Paint autumn leaves floating on a river.
Flock of Sheep – Paint a flock of sheep grazing on a green field.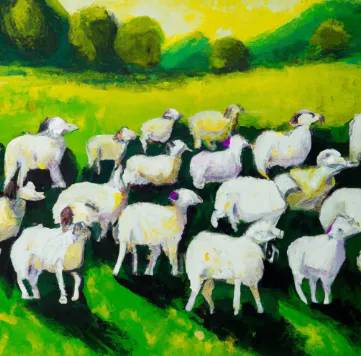 Rainbow Umbrella – A white canvas with a colorful umbrella painted on it.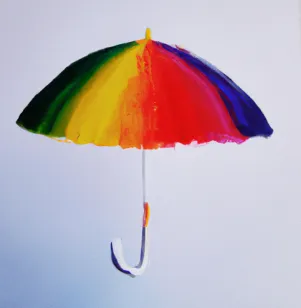 Daisy Field – A beautiful flower painting idea featuring a field of daisies.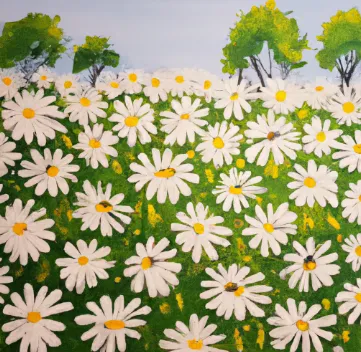 Abstract Heart – Use various colors to paint an abstract heart.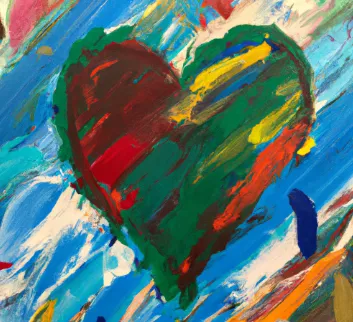 Farmhouse in Snow – A cozy farmhouse with snow all around, perfect for the holiday season.
Candy Canes – A simple Christmas tree painting with candy canes.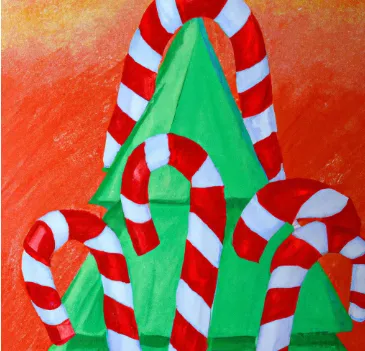 Ferris Wheel – Paint a simple yet colorful ferris wheel.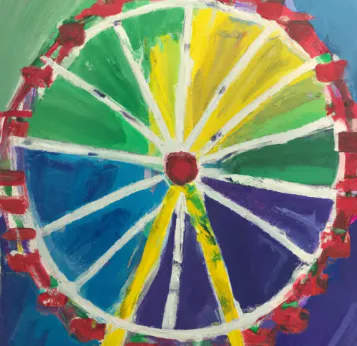 Yoga Silhouette – Paint a silhouette of someone in a yoga pose.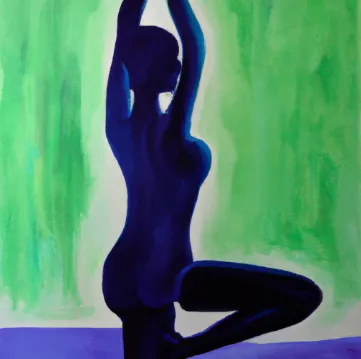 Coffee Beans – Paint a pile of coffee beans, perfect for coffee lovers.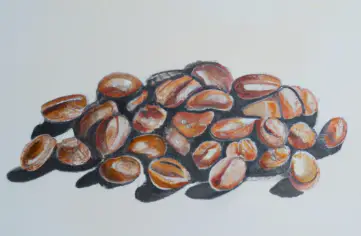 Dew Drops Fairies on a Leaf – A simple and cute painting idea.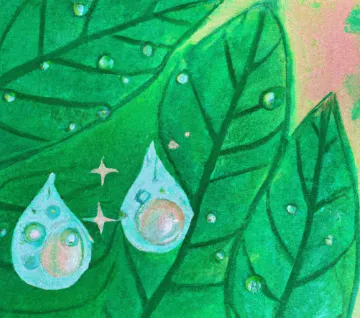 Baby Footprints – Paint baby footprints, a keepsake painting idea.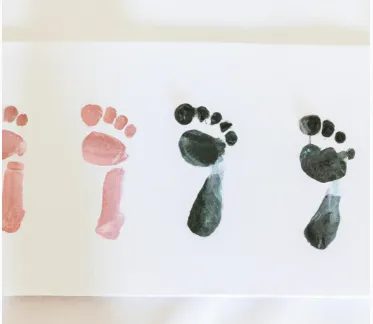 Ocean Waves – Use shades of blue and white to paint ocean waves smashing against rocks.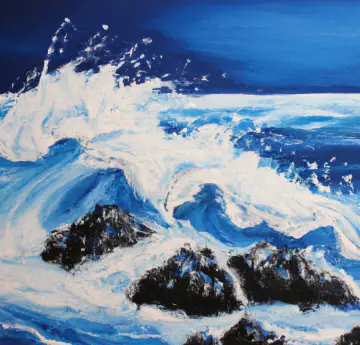 Blossoming Rose – Paint a rose bud gradually blossoming.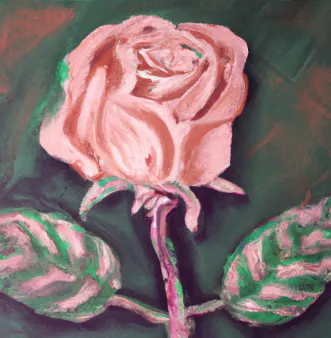 Water Lilies – Inspired by Monet's Water Lilies, paint your version of it.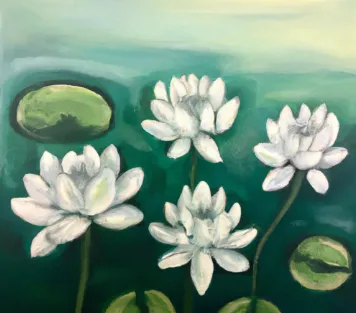 Simple Zodiac Signs – Paint the zodiac signs in a simple black and white design.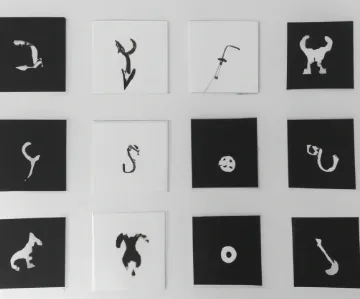 Kitten Playing – Paint a cute little kitten playing with a ball of yarn.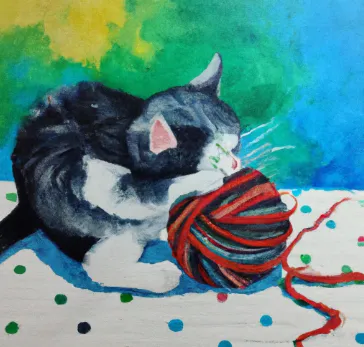 Flowers Collection – Paint a collection of different types of your favorite flowers.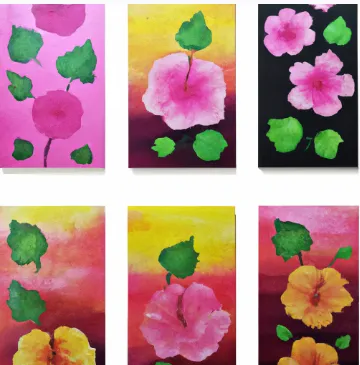 Rustic Windmill – Paint a rustic windmill in a countryside setting.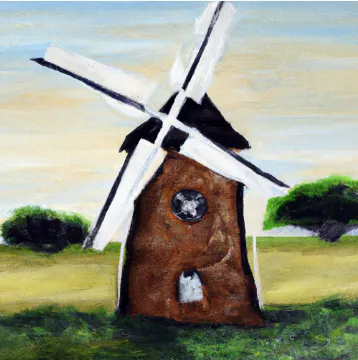 Bicycle with a Basket – Paint a bicycle with a flower-filled basket.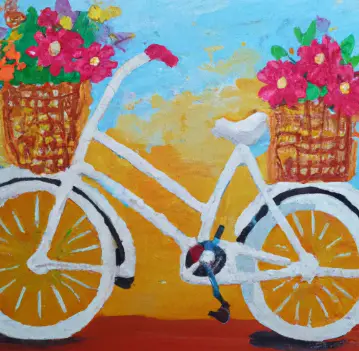 Mountain Lake – A serene mountain lake landscape painting.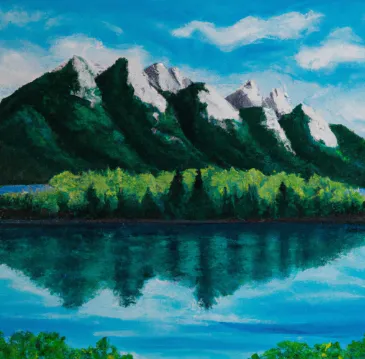 Abstract Sun – Paint an abstract version of the sun using warm colors.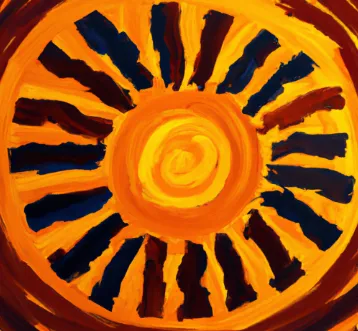 Wooden Pier – A wooden pier extending into a calm lake.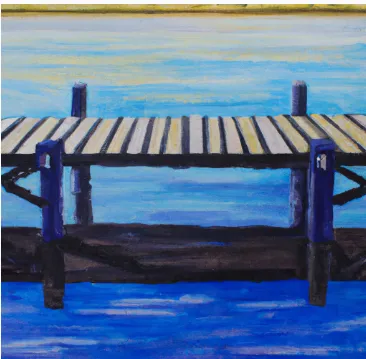 Bottle with a Message – Paint a bottle in the ocean containing a message.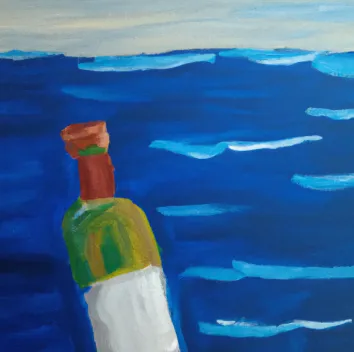 Fox at Night – A fox in the style of starry night.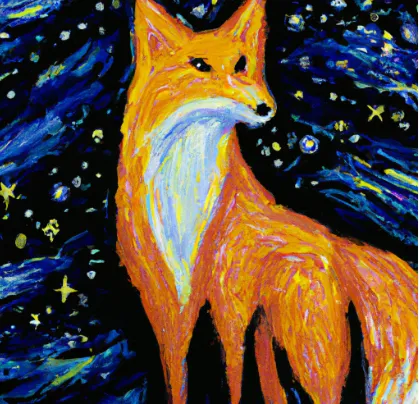 A Buddha – A traditional Buddha painting with a close up of the head.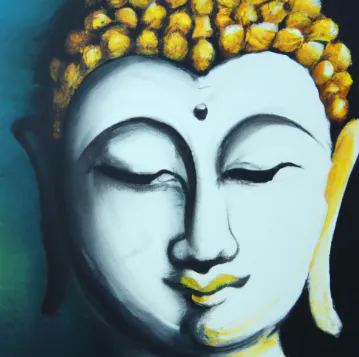 Abstract Eyes – Paint abstract and colorful representations of eyes.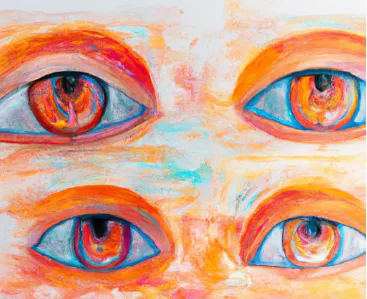 The Four Seasons – Divide your canvas into four parts and represent each season.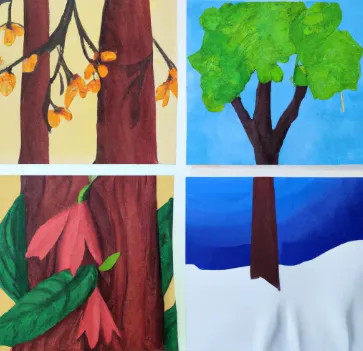 Zen Stones – Create a calming image of zen stones stacked on each other.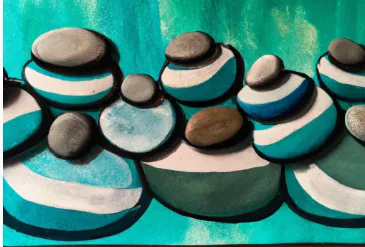 Funky Doughnuts – Paint colorful, mouth-watering doughnuts with unique toppings.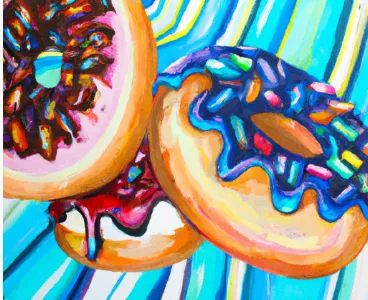 Macarons – A collection of pastel-colored macarons on a plate.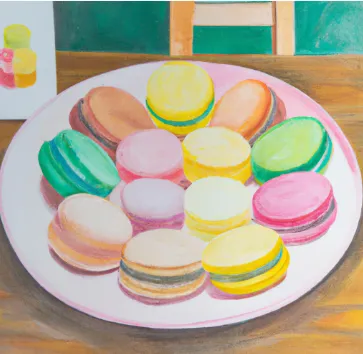 Mermaid Tail – Use glitter paint for the scales of a mermaid tail emerging from water.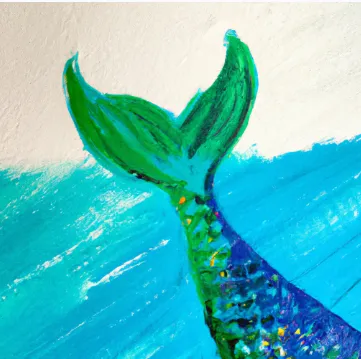 Vintage Camper – Paint a vintage camper against a forest backdrop.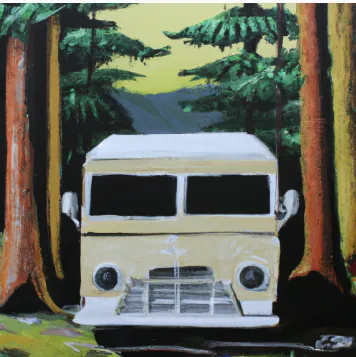 Horse Silhouette – A silhouette of a horse against a paddock background.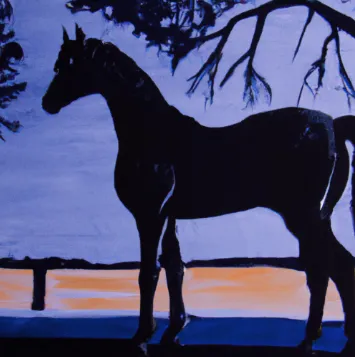 Crescent Moon – A detailed work of a crescent moon against a starry sky.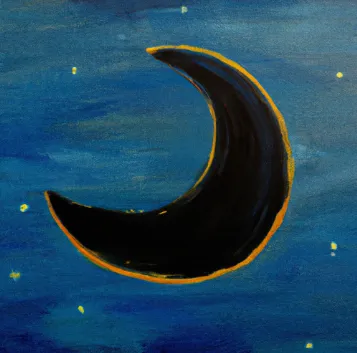 Orca in the Ocean – Paint a simple orca swimming in the ocean.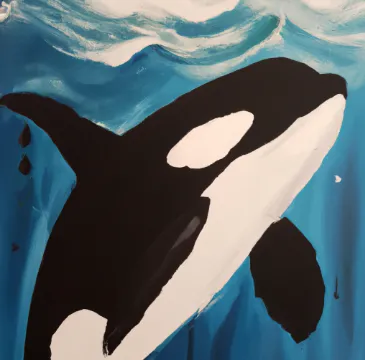 Jellyfish Dance – Use translucent paints to create a dance of jellyfish underwater.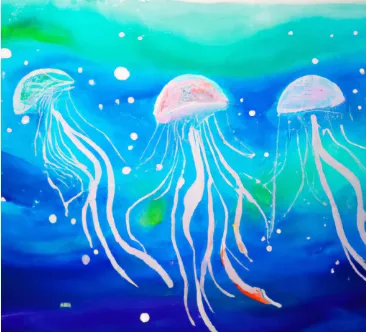 Favorite Album Cover – A personal take on your favorite album cover.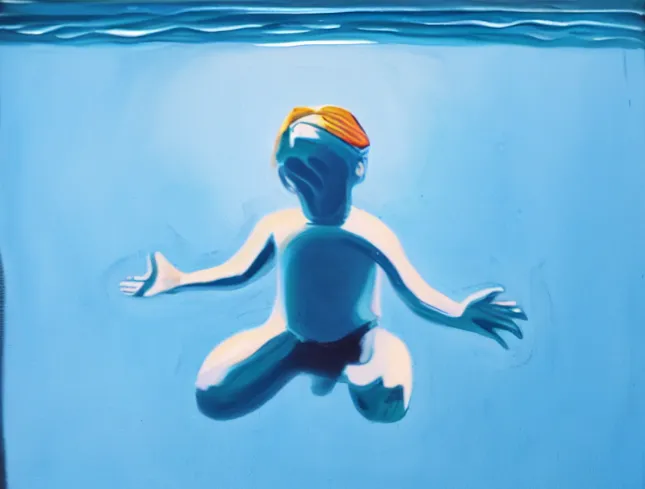 Maple Leaves – Use red and orange to paint a close-up of maple leaves.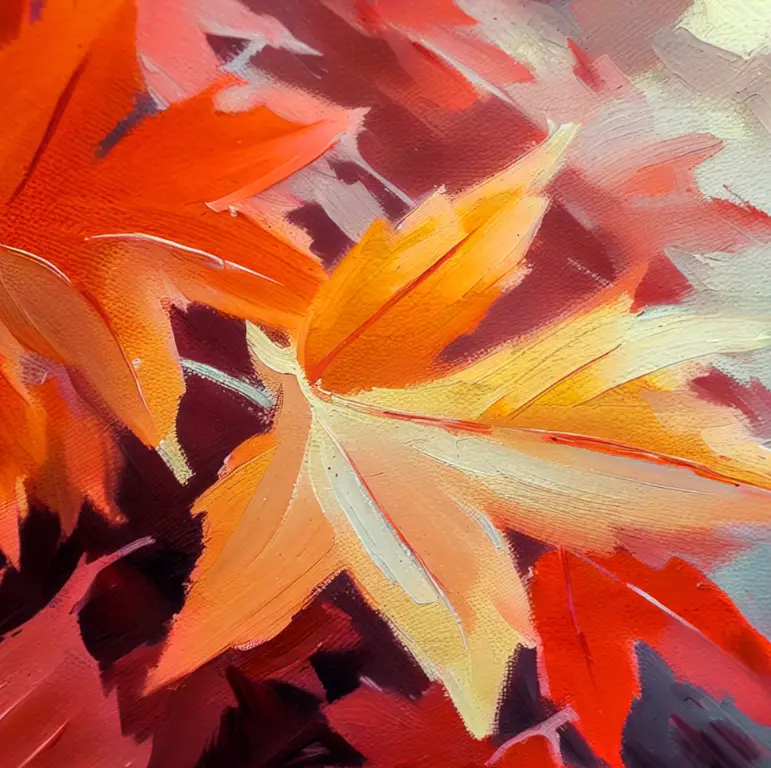 Bridge in the Woods – Paint a bridge crossing a stream in a forest.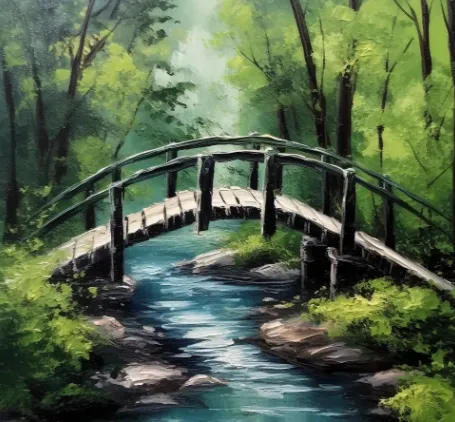 Lemons and Limes – A citrus still life featuring lemons and limes.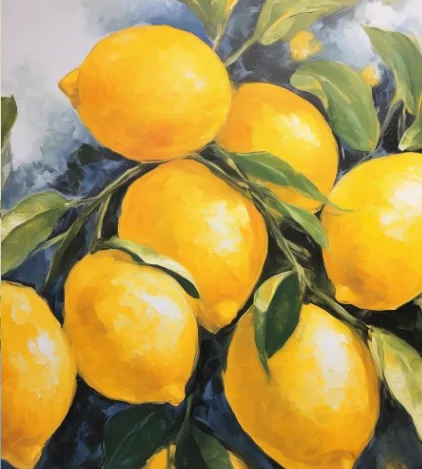 Geometric Wolf – Use geometric shapes to create an abstract representation of a wolf.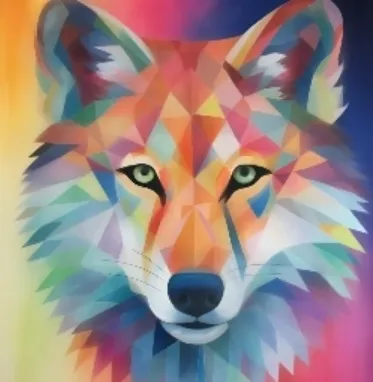 Simple Constellations – Paint simple representations of various constellations.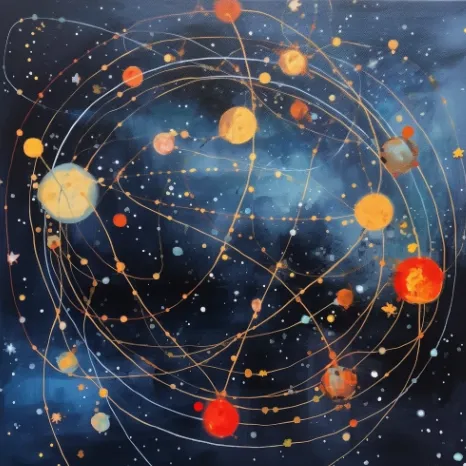 Colorful Zebras – A pair of zebras painted with bright, non-traditional colors.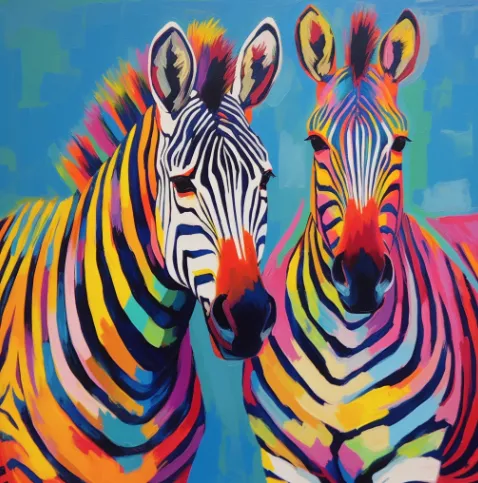 Seascape at Dusk – The setting sun reflected in a peaceful sea.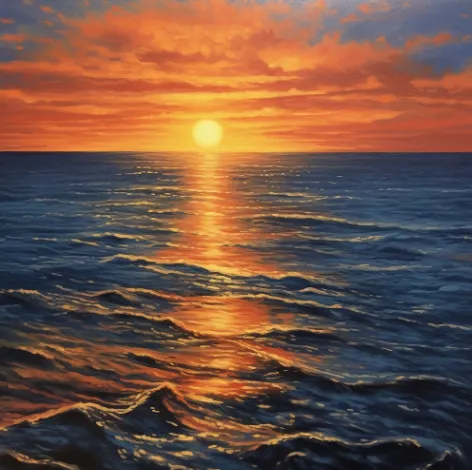 Easy Doodles – Fill your canvas with easy, colorful doodles.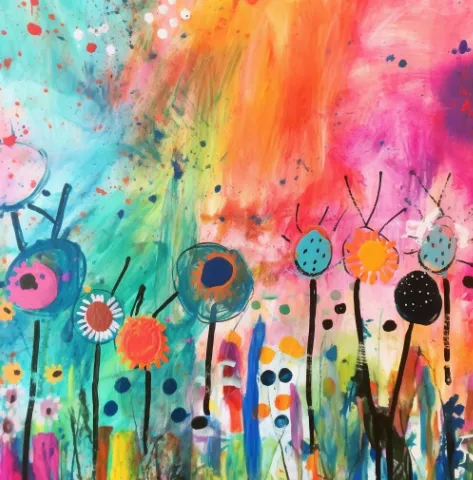 Lighthouse at Night – A lighthouse with its beam cutting through the night.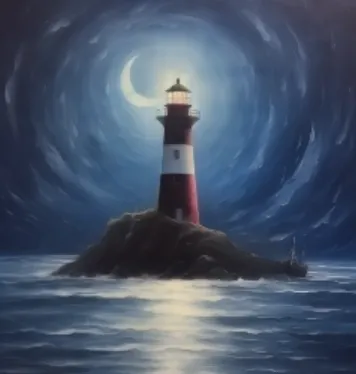 Vintage Vinyl – A vintage vinyl record player with a colorful record.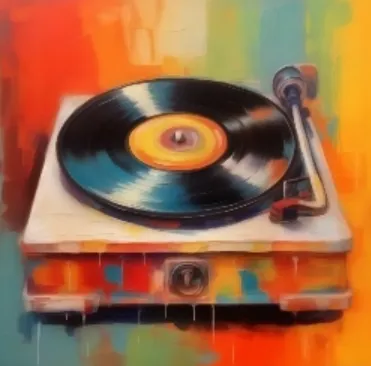 Stylized Feathers – Paint feathers using bright colors and bold patterns.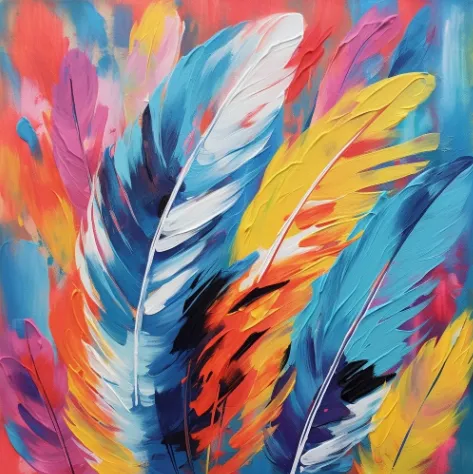 Graffiti Name – Write your name in a graffiti style.
Whimsical Tree – Paint a whimsically styled tree with colorful leaves.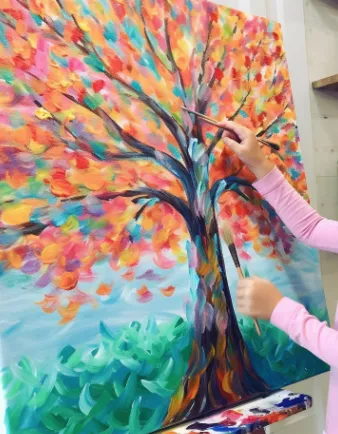 Toy Blocks – Paint toy blocks with letters to spell out a name or word.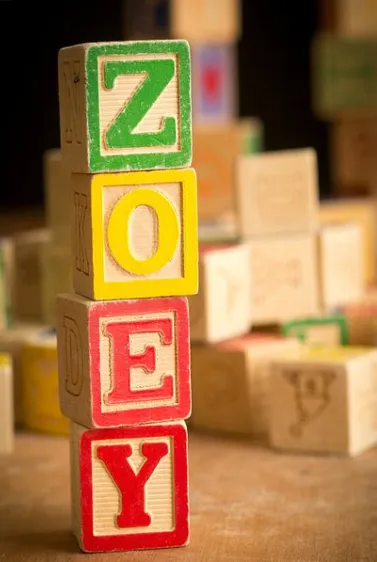 Ornate Elephant – An elephant decorated with ornate patterns.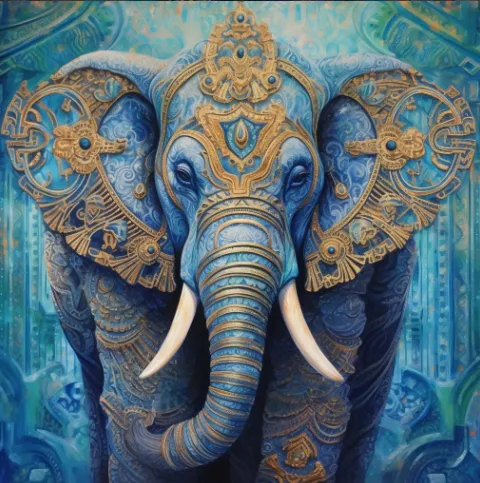 Rustic Barn – A detailed work of a rustic barn in a countryside.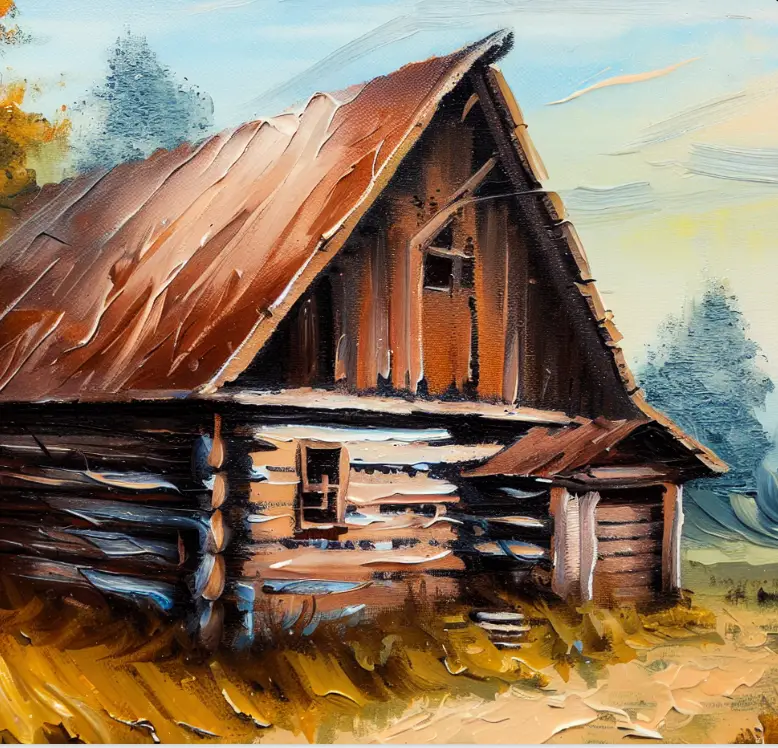 House Portrait – Paint a simple portrait of your house.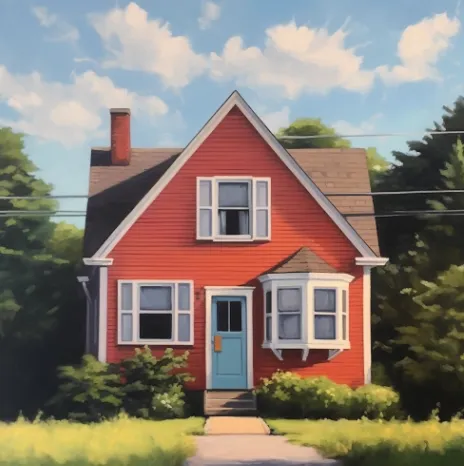 Desert Sunset – Paint the sunset over a desert with cacti silhouettes.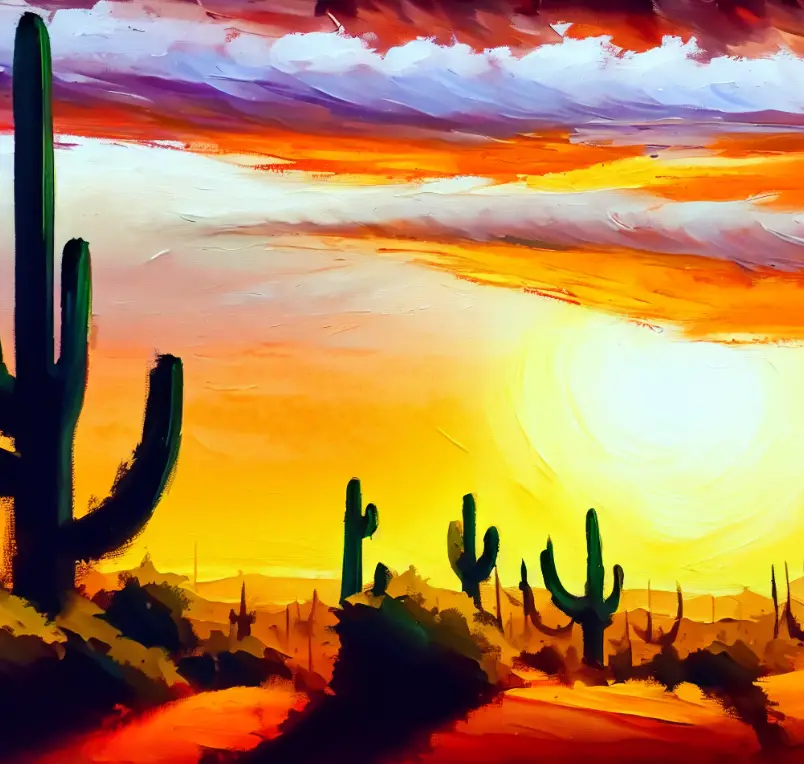 Night Sky Reflection – The night sky reflecting on a serene lake.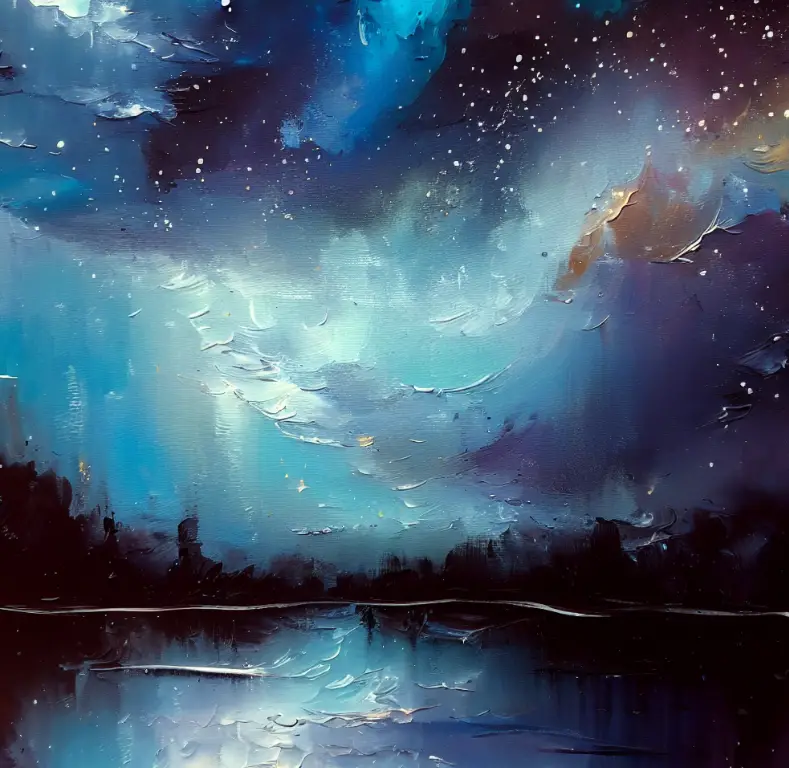 Sunset Silhouette – A silhouette of a landscape against a bright sunset.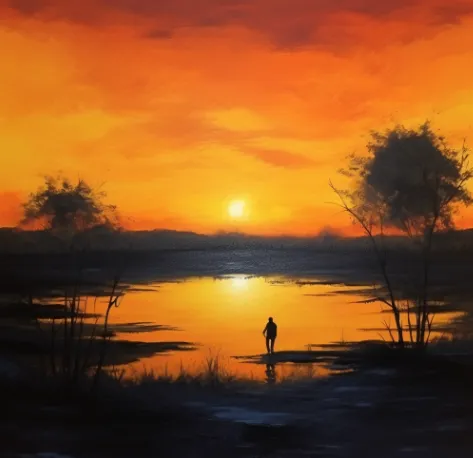 Old Vintage Car – Paint a vintage car in a rustic setting.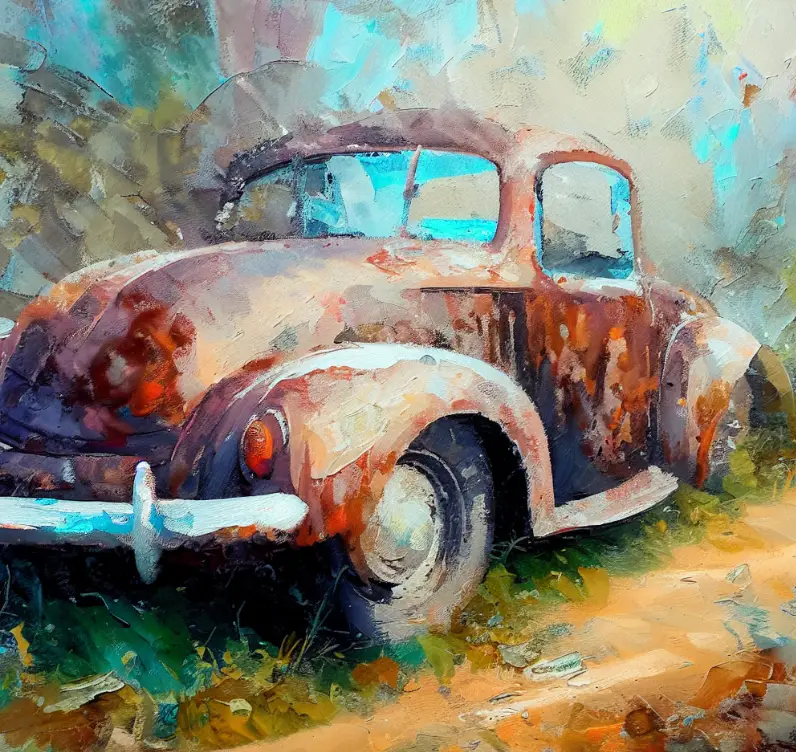 Raindrops on a Window – A detailed painting of raindrops on a window.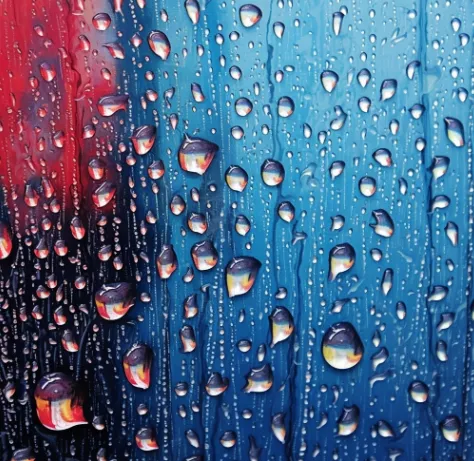 Candy Jar – A jar full of colorful candies.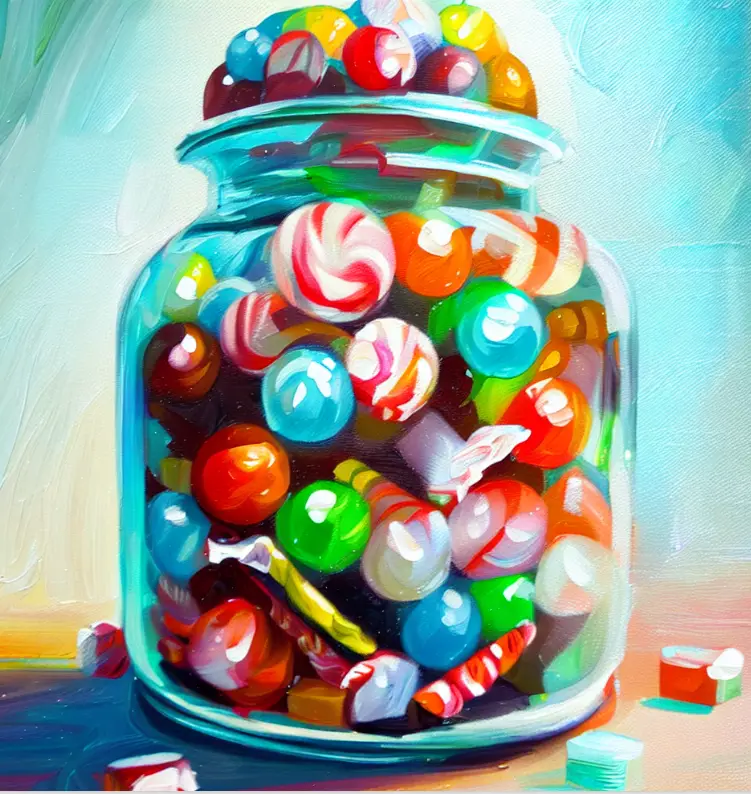 Bouquet of Roses – Paint a bouquet of roses in a vase.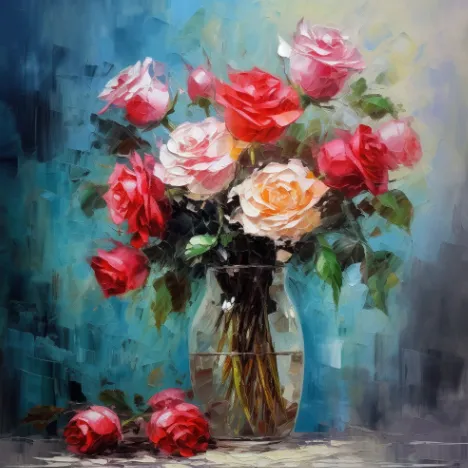 Sunflower in a Vase – A simple and bright sunflower in a vase.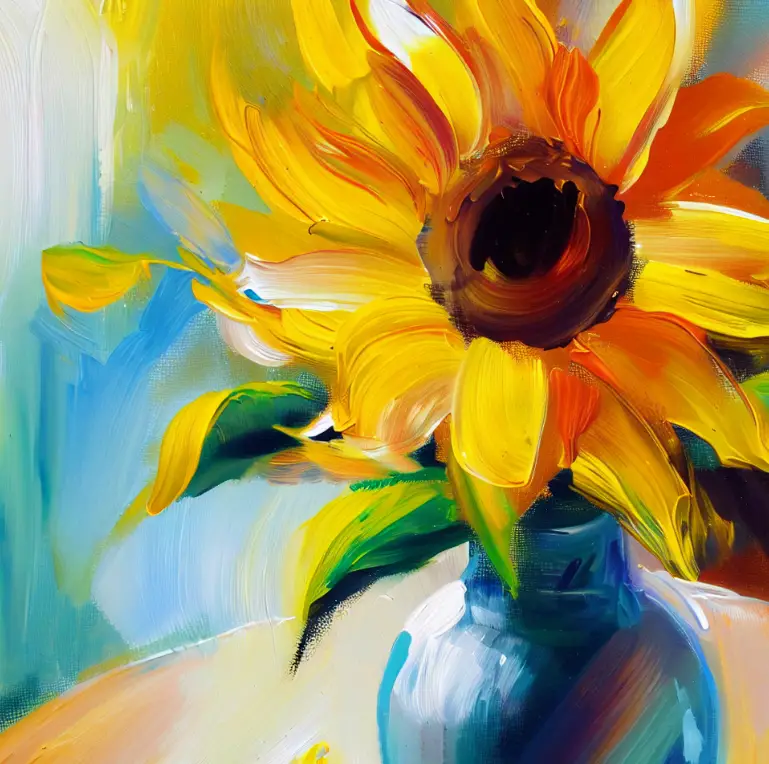 Wine Glass Reflection – Paint a wine glass with a cityscape reflection.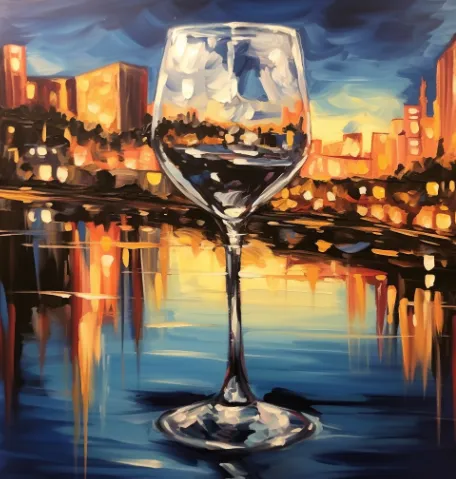 The Milky Way – Paint the Milky Way in the night sky.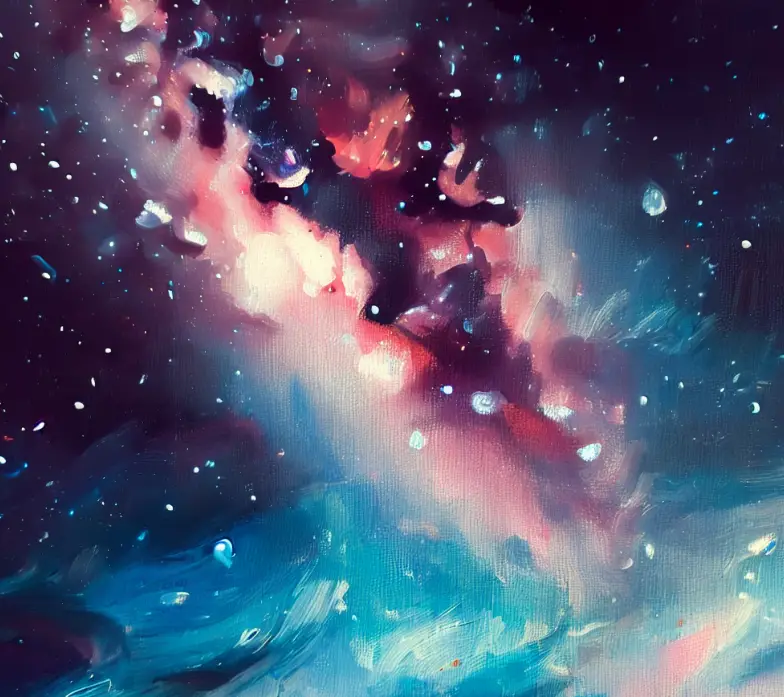 Geometric Patterns – Paint geometric patterns with contrasting colors.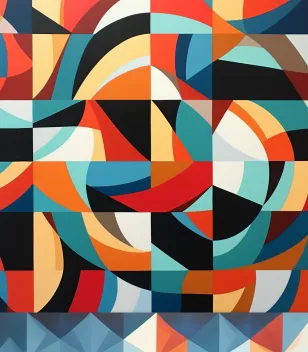 Rustic Pears – Paint a still life of pears on a rustic wooden table.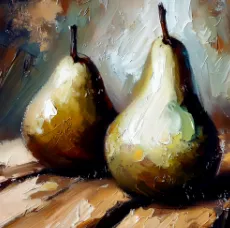 Field of Lavender – A beautiful lavender field under a clear sky.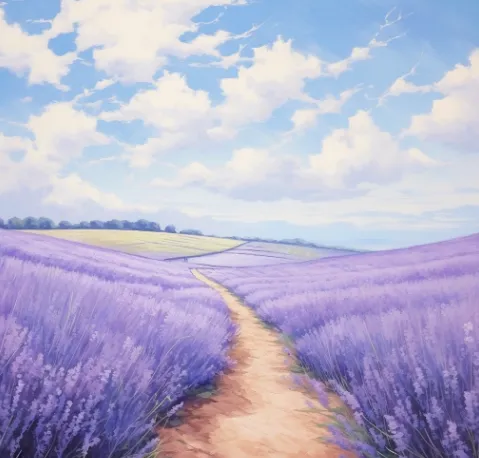 Vintage Map – Paint a vintage-style world map.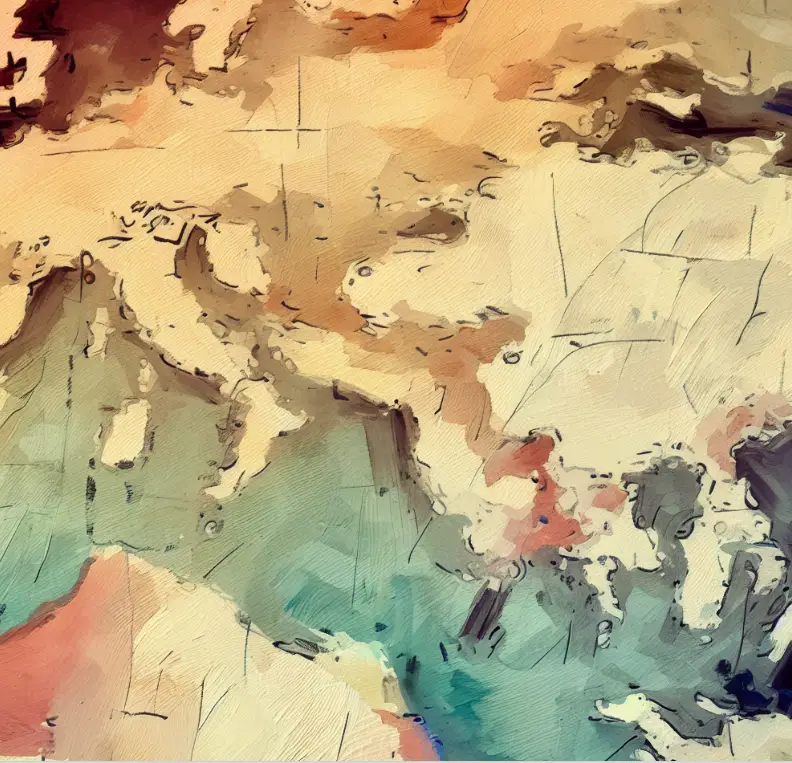 Book Spines – Paint the spines of your favorite books.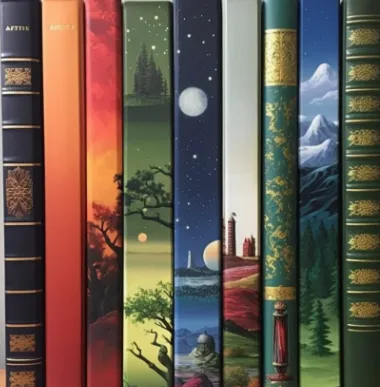 Butterfly Collection – Paint a collection of butterflies, each with different patterns.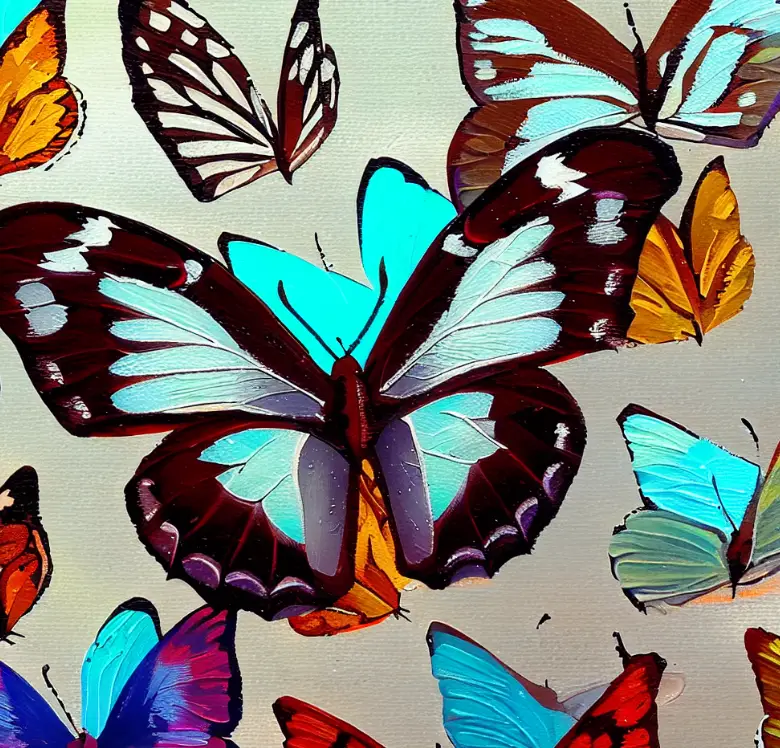 Aurora Borealis – Paint the Northern Lights in the night sky.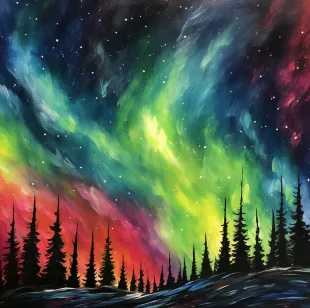 Bold Sunflowers – Paint bright and bold sunflowers.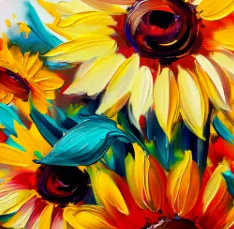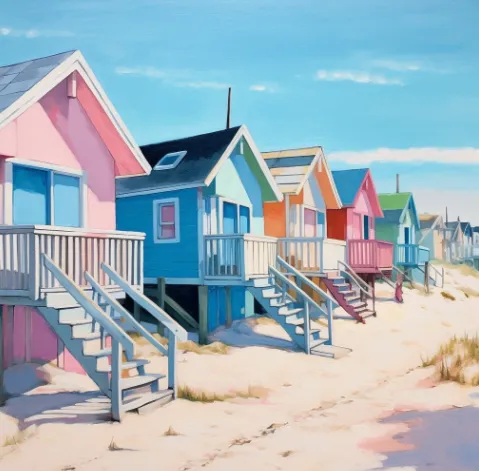 Rainbow Waterfall – A whimsical painting of a waterfall with rainbow-colored water.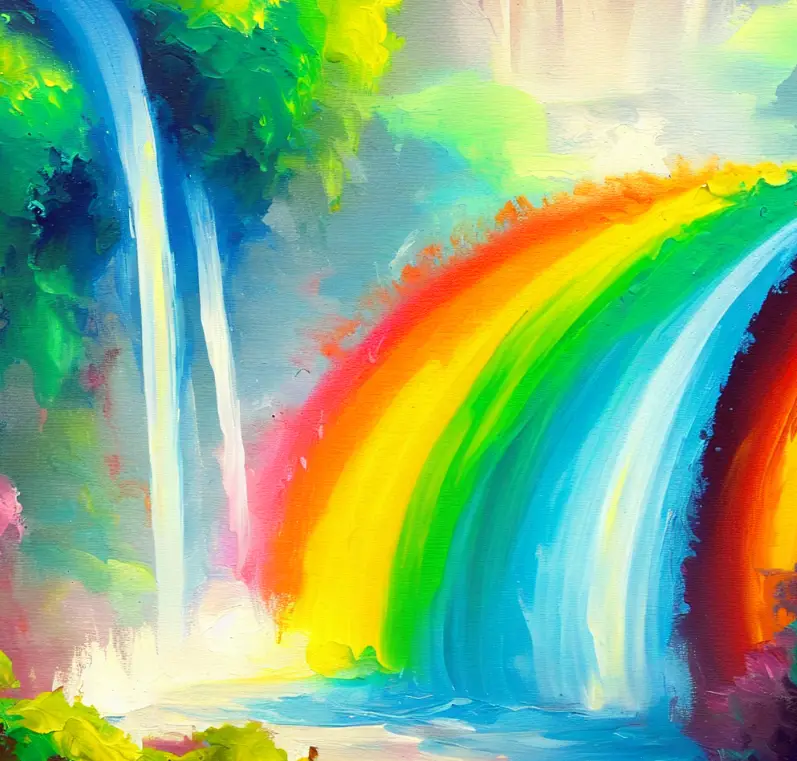 And the list can just go on and on, adding different elements, themes, and styles, from painting beach scenes, mandalas, mountain views, birds in flight, simple quotes, rainbows, abstract fluid art, botanical leaves, minimalist line art, and so much more.
Depending on your preference, you could also experiment with different paint types like craft paint or fast-drying paint, different surfaces like a large canvas or a mural print, and different techniques recommended by experienced or professional artists.
With every new painting, experiment with various techniques and watch YouTube tutorials for guidance. 
Remember, the goal is not to create a masterpiece each time, but to enjoy the process, learn new techniques, and gradually improve your skills.
Acrylic Painting Techniques
To help achieve some of the painting ideas, it's always good to know a few simple acrylic painting techniques. Here are a few simple techniques that are easy to paint.
Acrylic Pouring
Ready to explore acrylic painting techniques? Let's start with acrylic pouring. This technique creates stunning abstract art and is perfect for everyone, from beginners to seasoned artists. To begin, you'll need a few supplies:
Acrylic paints in various colors
A pouring medium to mix with your paint
A surface (canvas, wood, etc.) to pour your paint on
Cups and stir sticks for mixing your paints
Mix your paint and pouring medium in cups, creating the desired consistency.
Pour the different colors onto your surface, either one at a time or all at once.
Tip and tilt your surface to spread the paint, creating unique patterns.
Feel free to experiment with pouring methods, like dirty pour or puddle pour! A great YouTube video or acrylic painting tutorial can help guide you through the process.
Palette Knife Techniques
Palette knife techniques offer a fun, expressive way to create texture in your acrylic paintings. This method works well with thick white paint or vibrant colors. Here's how to get started:
Gather your materials, such as acrylic paints, palette knives, and a painting surface.
Load your palette knife with paint, either by dipping it into the paint or using a brush to apply it.
Apply the paint to your surface with bold strokes, creating texture and unique effects.
Metallic paints, like gold or silver, add depth and a touch of elegance to your artwork. Practice different techniques with your palette knife, and you'll undoubtedly create beautiful masterpieces.
Using Masking Tape
Masking tape is an excellent tool for acrylic painting beginners. This easy way helps you create sharp, clean lines and geometric shapes. Follow these simple steps:
Choose your desired colors and prepare your painting surface.
Apply masking tape in desired patterns, ensuring the edges are pressed firmly against the surface.
Paint over the tape with your chosen colors, let the paint dry, and then carefully remove the tape.
The result is not just visually striking but also satisfying! You might even say using masking tape is a vital skill in your artistic arsenal.
Gold Leaf Techniques
Looking to add a touch of luxury to your acrylic paintings? Gold leaf techniques can do just that! Just follow these instructions:
Gather your gold leaf sheets, adhesive, a brush, and a sealant.
Paint a thin layer of adhesive on the areas you want to apply the gold leaf.
Carefully lay the gold leaf onto the adhesive and gently smooth it down with a brush.
Once the adhesive has dried, apply sealant to protect and preserve your work.
Gold leaf can be combined with any of the techniques mentioned above, adding shimmer and beauty to your acrylic paintings. Remember, practice is key, so take the time to learn and perfect each technique.
Types of Paints and Surfaces
​While this article is specifically for acrylic painting you can also try your hand at other painting mediums to tackle some of the painting ideas I have provided.
From my own experience, you can paint the same subject matter over and over using different mediums, and you will end up with different paintings.
This is because mediums all behave differently and force you to approach painting in various ways, which means no two images will be the same. Once you have mastered acrylic paints, try some of these other mediums.
Oil Paints
Oil paints are a traditional medium for creating colorful masterpieces. They offer vibrant colors and are slow-drying, giving you time to mix and change your hues. If you're new to art, you might find using oil paints a bit challenging. Ensure proper ventilation for your workspace, as oil paints require solvents for cleaning brushes.
Watercolor Paints
Watercolor paints are perfect for beginners who want to experiment with multiple layering techniques. They are lightweight, easy to mix, and blend well, creating smooth transitions between colors.
Find high-quality watercolor paper to support your vision, and remember that practice is key to mastering this beautiful medium.
Black and White Canvases
Why not try something different with a black canvas? Black backgrounds make colors stand out, especially when you use bright or metallic paints.
On the other hand, white canvases offer a clean, fresh surface for showcasing your creativity. Both options provide opportunities for unique outcomes. So, explore your color palettes and be adventurous with your backgrounds.
Using Metallic Paints
Metallic paints add an extra dimension to your artwork. They give a touch of glamour and shine to your art, whether you use gold, silver, copper, or other metallic hues. Metallic paint works well on black and white canvases, captivating the viewer's eye.
Remember that layering your metallics over other colors can provide depth and texture to your work.
Painting on Rocks
For a fun and eco-friendly project, try painting on rocks. Acrylics work best on rocks because they're waterproof and dry quickly. Choose various rocks, clean them, and then use acrylic polymer emulsion to prime your surface. Let your creativity flow by painting your favorite designs, patterns, or anything that inspires you.
By exploring various types of paints and surfaces, you'll find the right combination to express your artistic style. Working with different materials is both rewarding and satisfying. Keep experimenting, and enjoy your journey into the world of painting.
Specific Painting Projects
Sunset Paintings
Sunset paintings are a popular choice for beginners because they are easy to do and look stunning when complete. Start with a simple step-by-step tutorial or watch a YouTube video to guide you through the process. Remember, practice makes perfect, so don't be afraid to experiment with brush strokes and color mixing to create a beautiful evening sky.
Flower Paintings
Flower paintings offer an opportunity to explore a variety of shapes, colors, and textures. These inspiring subjects can be as simple or as detailed as you want. With easy tutorials available, paint flowers such as a beginner daisy painting. Enjoy the process, and soon you'll have a vibrant garden on your canvas.
Beach Scenes
A beach scene is an easy landscape painting idea for beginners. Start by choosing a reference photo or follow a step-by-step tutorial to create a breathtaking coastal view. Focus on simple elements like the sand, water, and sky. With practice, you can incorporate more details like seashells, waves, or even people enjoying their time at the beach.
Abstract Acrylic Ideas
Abstract acrylic painting ideas are perfect for beginners who want to express themselves without the constraints of realistic subject matter. Try exploring different techniques like using palette knives or incorporating mixed media into your work. With an abstract approach, there are no rules – simply let your imagination guide you.
Mixed Media Projects
Mixed media projects allow you to combine various materials and techniques to create unique, captivating artwork. Begin by layering acrylic paint with other elements like collage, golden leaf, or even fabric. This approach lets you experiment and discover the endless possibilities of art without the pressure of perfection.
In these art projects, remember that patience and practice are key. Embrace the learning process and take your time to explore different techniques, materials, and subject matter. By doing so, you'll continue to grow as a visual artist and confidently create acrylic paintings that showcase your skills and creativity.
Tips for Beginners
Understanding Different Techniques
Welcome to the world of acrylic painting! As a beginner, it's necessary to learn different techniques to create stunning works of art. Using a palette knife can be a fun and effective way to make texture, while other techniques, like dry brushing and glazing, can produce interesting effects. Watching YouTube tutorials is a great place to start, and don't be afraid to ask experienced artists for advice.
Selecting the Right Paint
Your choice of acrylic paint can make a big difference in your painting experience. Acrylic paints come in various quality levels, from student-grade to professional-grade. As a new painter, it's a good option to start with affordable, student-grade paints while you're learning. As you become more comfortable and skilled, upgrading to professional-grade paints will allow you to achieve rich colors and consistency in your work.
Creating Your Own Workspace
Having a dedicated workspace in your own home is key to developing your skills and exploring your creative process. Make sure your painting area is well-lit and organized, with all necessary supplies within reach. Consider adding inspirational images or objects to your space, as well as resources like step-by-step guides or a color wheel. This will help make the learning experience enjoyable and efficient.
Experimenting with New Techniques
One of the best ways to grow as an artist is by trying new techniques and pushing your boundaries. Don't be afraid to experiment, and remember that even mistakes can lead to learning. Some easy ideas for beginners include rock painting or black acrylic paint silhouettes. Remember, practice makes perfect, so keep working on various techniques to become a proficient acrylic painter. Soon, you'll be creating fantastic art pieces that you can be proud of!
Easy Acrylic Painting Ideas for Beginners – Wrap up!
You've explored quite a few (150 easy acrylic painting ideas for beginners is nothing to sneeze at!) great acrylic painting ideas that you can easily try as a beginner. Tapping into these ideas, you can unlock your creativity and enjoy the benefits of this versatile medium. Remember, acrylic paints are fast-drying, water-resistant, easy to clean, non-toxic, and cost-effective.
Starting your acrylic painting journey with simple ideas like color block design, easily achievable using masking tape and a small selection of colors. This type of project not only elevates your skills but can also double as fantastic home decor. By trying out different techniques, like sky and water painting, you'll soon discover the vast array of possibilities with acrylics.
When painting a landscape, a vital tip is to begin with the sky before moving on to the water. This approach helps you achieve a more polished result by keeping your colors from mixing unintentionally. Keep in mind that using the appropriate tools and supplies will greatly impact your final masterpiece.
To find more painting inspiration, don't hesitate to search for step-by-step tutorials or courses that guide you in creating an artistic piece with just a few colors. One such idea is to paint white flowers in a blue vase; a classic composition that challenges you to experiment with shades and textures.
Remember, practice is the key to improving your painting abilities. With each new attempt, you'll gain experience and refine your technique. So don't be afraid to explore, have fun, and make the most of these easy acrylic painting ideas for beginners!
Latest Posts
Joseph Colella is a frustrated artist with over 40 years experience making art (who moonlights as a certified Business Analyst with over 20 years of experience in tech). While he holds a Diploma in Information Technology, in true wasted talent style he spent years trying to get into various Art degrees from the Accademia di Belle Arti (Napoli), and failed to get into the Bachelor of Arts (Fine Arts) at the University of Western Sydney. His goal is to attend the Julian Ashton School of Art at The Rocks Sydney when he retires from full time work. In his spare time, he writes for the this blog, WastedTalentInc, where he shares practical advice on art, making art, and art materials. Joseph's art has been sold to collectors all over the world from the USA, Europe and Australasia. He is a trusted source for reliable art and copyright/fair use advice and is committed to helping his readers make informed decisions about making them a better artist.
He also loves all things watches (ok it's an addiction) so show him some love and visit his other website https://expertdivewatch.com