Floating Medium Vs Pouring Medium – Answer Delivered A Little Differently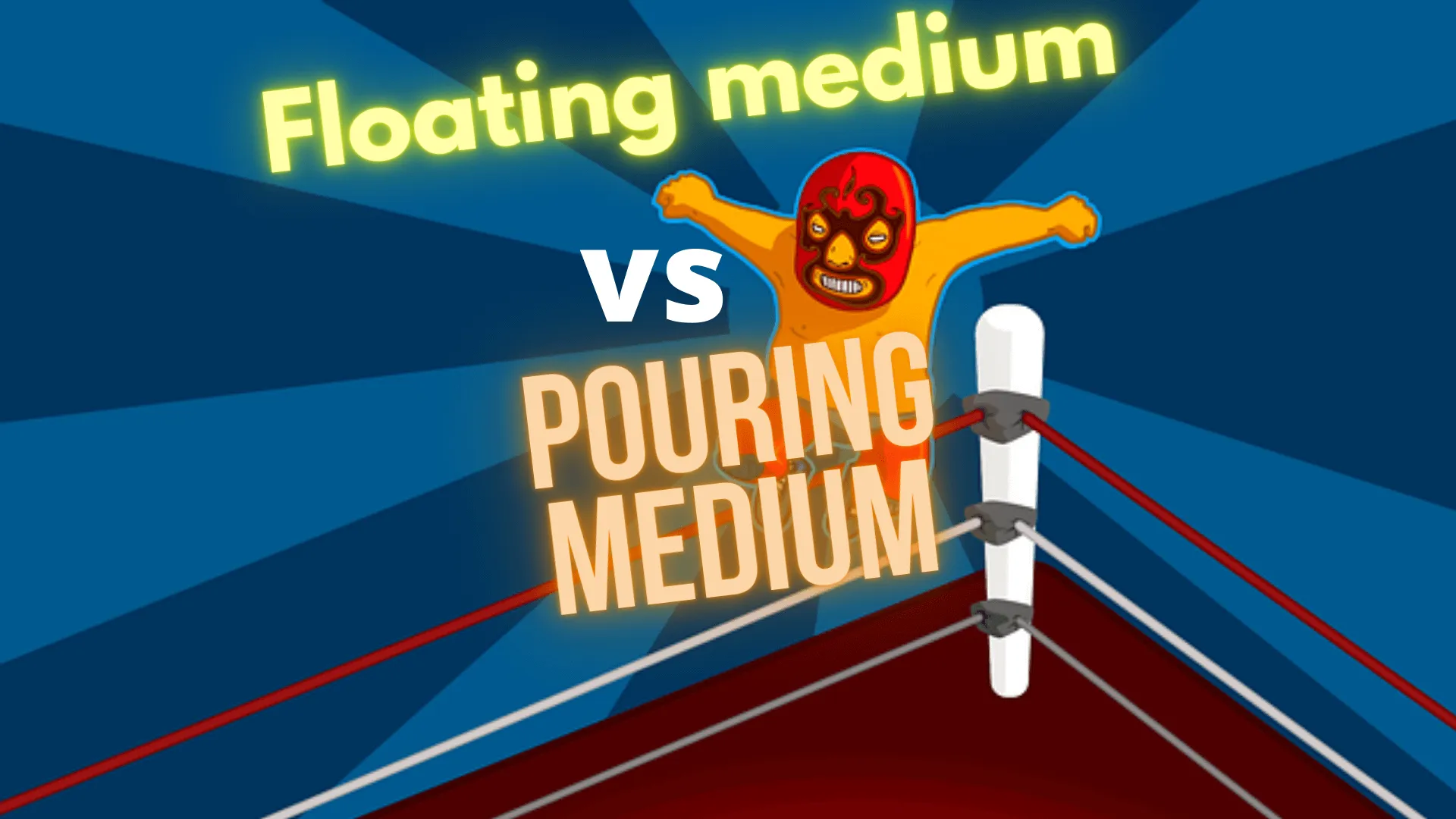 When comparing floating medium vs pouring medium we need to be aware that while the terms are used interchangeably by some artists, floating medium and pouring medium are two different types of mediums used in art paints.
Floating medium is a type of water-based paint that contains an acrylic polymer resin, allowing the pigments to remain floating on the surface, resulting in a smooth finish with no brush strokes. Usually used when painting on really rough surfaces.
Pouring medium, on the other hand, is a specially formulated mix of water-based paints and mediums, which makes the paint more fluid and easier to spread across a canvas. The result is a marbled, swirled, or tie-dye effect when the paint is poured onto a painting surface.
While floating medium is typically used for traditional painting techniques such as brush stroking, pouring medium is often used to create abstract pieces of art.
It is important to note that floating medium and pouring medium both require a certain amount of practice and skill to master, so it may be helpful to experiment with different types of paint until you find one that works best for you. Regardless of the type of paint you choose, understanding the difference between floating and pouring mediums is essential for any artist.
What is a Floating Medium used for?
Floating mediums lend themselves to more traditional painting techniques, such as brushstrokes and layering. The floating medium allows the paint to be moved around on the surface without becoming too thin or running together. This can help create intricate details or delicate blends of colors. Many artists find floating mediums helpful when creating portraits or realistic paintings.
What is a pouring medium used for?
On the other hand, pouring mediums are great for creating abstract pieces. They help the paint flow and spread across the surface in a variety of ways without becoming too watery. This allows artists to create unique, one-of-a-kind pieces that have an interesting texture and look. Pouring mediums also work well for backgrounds or larger sections of a painting where detailed control isn't as important.
Are flow mediums the same as floating or pouring mediums?
No. Although floating and pouring mediums help to control the way paint flows and spreads, flow mediums are an entirely different product. Flow mediums increase the viscosity of paints by making them less runny or transparent without interfering with the colors. They can also be used to create a glossy finish on artwork.
Are floating mediums and pouring mediums only for acrylic paints?
Not really. Although floating and pouring mediums are often used with acrylic paints, there are some versions made specifically to be used on other types of paint such as oils but to be honest I have not found any commercially made ones. When I needed a floating or pouring medium for oil paints I made them using traditional oil paint mediums and thinners and gesso.
Can you use floating mediums and pouring mediums together?
Yes. In fact, many artists choose to use floating and pouring mediums together for a more complex and layered effect. For example, a floating medium can be used first to create an even layer of paint before adding a pouring medium on top to add texture and depth.
Floating Medium Vs Pouring Medium – wrap up!
Ultimately, there is no "right" or "wrong" way to combine floating and pouring mediums. Experimentation is the key to finding a technique that works best for your artwork.
Floating and pouring mediums are both invaluable tools for any artist looking to explore different textures, effects, and colors in their work.
However, it's important to remember that each type of medium serves its own unique purpose and can be used to create unique and eye-catching results. With a bit of experimentation and practice, floating mediums and pouring mediums can be combined to create stunning works of art!
Joseph Colella is a frustrated artist with over 40 years experience making art (who moonlights as a certified Business Analyst with over 20 years of experience in tech). While he holds a Diploma in Information Technology, in true wasted talent style he spent years trying to get into various Art degrees from the Accademia di Belle Arti (Napoli), and failed to get into the Bachelor of Arts (Fine Arts) at the University of Western Sydney. His goal is to attend the Julian Ashton School of Art at The Rocks Sydney when he retires from full time work. In his spare time, he writes for the this blog, WastedTalentInc, where he shares practical advice on art, making art, and art materials. Joseph's art has been sold to collectors all over the world from the USA, Europe and Australasia. He is a trusted source for reliable art and copyright/fair use advice and is committed to helping his readers make informed decisions about making them a better artist.
He also loves all things watches (ok it's an addiction) so show him some love and visit his other website https://expertdivewatch.com