Whenever I search for the best artists to follow on Instagram I keep seeing the same list of names regurgitated over and over in different posts. The most popular artists aren't always the best artists. In this post I will be listing the best artists to follow on Instagram based on the unique work they create, their popularity based on interactions with followers and those pushing the envelope. If you want to see who the best artists are and want to see something unique, then keep reading..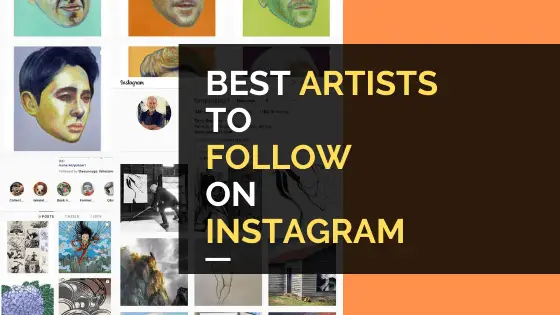 The best artists to follow on Instagram are..
Just a quick note: The process I followed to determine the best artists to follow on Instagram is based on their unique content, their social engagement, they are active and post new works regularly, have some hashtag popularity and they are not all household names. So you will not see Banksy, Andy Warhol or Salvador Dali on this list.
The artists may be emerging artists but many are already established in their local communities. The list is also not in any meaningful order. With that said, let's have a look at the best artists to follow on Instagram.
I have followed Yuko Shimizu's art for many years, ever since I was a regular Tumblr user and YukoArt was one of the first art accounts I came across. I was attracted by her fun and mostly colorful artworks depicting positive Asian action role models and her use of ink pens to illustrate her images.
Yuko is a NY based Japanese artist advancing girl power and smashing down the walls against asian stereotypes.
When you view all the artworks created by Yuko you really feel the female empowerment emanating from her drawings without having to resort to cheesy stereotypes. While most of her art is asian inspired you do not have to be asian or even a female to love her art and what it represents. From superheroes to scenes of community and family, YukoArt is one account you should have a look at and also watch her IGTV reels to see how she creates some of her works.
Strangerbot, as I always refer to him has been on Instagram for quite a while producing and uploading alternative portraits of well known characters as well as countless self portraits with a twist.
An artist from Mexico, you will see him posting new works weekly.
Not all of his artworks are portraits though, if you view his entire Instagram account, Strangerbot will show how his haunting artworks have progressed and regressed over the years.
There are lots of studies and strange images to view but all follow a consistent style. He's one to definitely look for.
I first came across Tony Smibert's work based on a recommendation from a fellow artist Wendy Hope who suggest I look to Tony's works for inspiration when I was in a creative funk.
I am glad I took her advice as I have come to love the Turner inspired landscapes of Tasmania as well as the many throwback photos that Tony uploads. Tony is a published author with books on Turner available on Amazon and in good art bookstores.
If you love Turner you will see his influence in Tony Smibert's works but don't think they are copies of Turner's. Tony's works are all original and a purchase of one of his paintings is on my bucket list.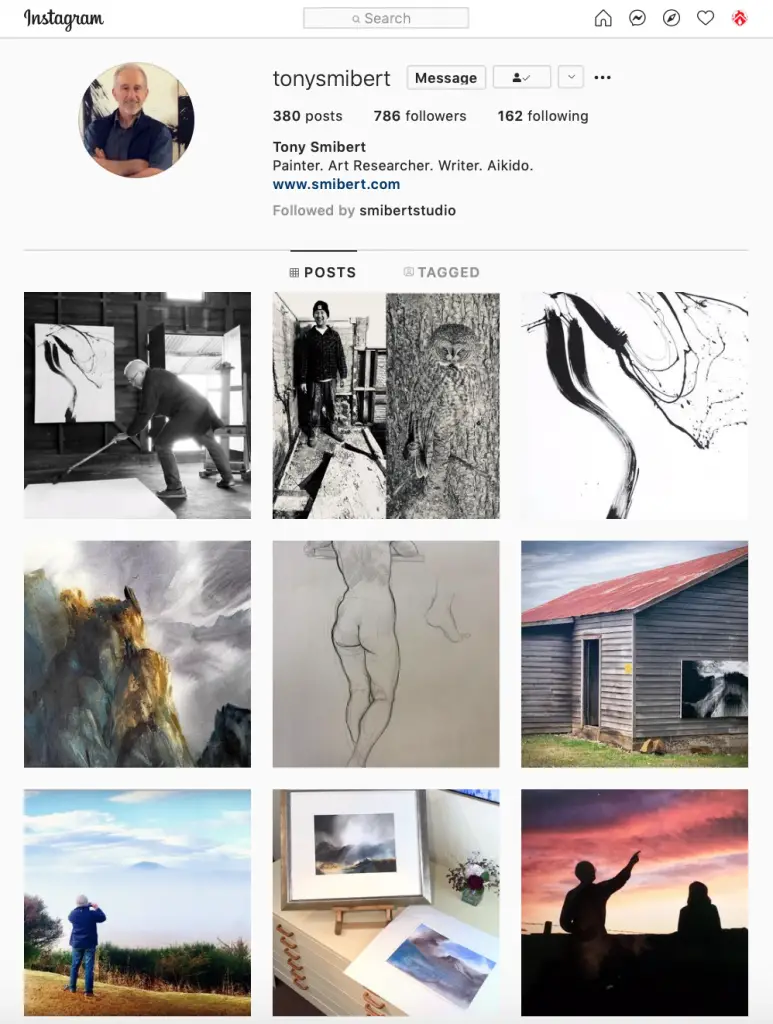 As a long time fan of Lewis Rossignol I can't promote his work enough. A quirky artist from Maine with a quirky style of illustration covering portraits of musicians, comedians, artists and actors plus the unknowns. He also regularly produces drawings using mix media, vintage photographs and random materials that really make you sit there and ask lots of questions about what you are seeing.
His drawings have been used on rap album covers, known as the artist behind Tyler, the Creator's "IGOR" cover. You should really have a look.
I have purchased a few of Lewis Rossignol's books from his Etsy store and follow his various Instagram reels where he features some very polished and high quality reels depicting his drawing process.
Just don't ask him about his tattoos.
I was attracted to Nima's portraits that resembled some of my earlier self portraits as well as Francis Bacon works of which I am also a fan.
Nima is based in Italy and is a regular face on Instagram and will interact with followers.
I love seeing what he comes up with next.
Edson is my favorite artist from Brazil. I would say that Edson is a complete artists in that he not only paints and draws and produces sculptures but he also regularly performs and posts videos of his interpretive dances on his page and reels.
These dances are my favorite and something to really watch.
Edson has a unique style with recurring themes of heart drawings and flowers embedded in unexpected places. I think you will be hearing more from Edson. I would rate Edson as one of the best artists to follow on Instagram.
Jody Graham is another Australian artist that has made my list. I was inspired by her use of charcoal and home made drawing tools which helped me loosen up my own style of drawing.
Jody uses found objects, animal bones and mechanical tools she creates to draw the most beautiful birds and animals. If you want to learn or be inspired by someone who interprets animals into art, Jody is one to watch.
Wolfgang is a German abstract expressionist who started out as a realist painter and a damn good one at that. I have watched his art progress into more abstract images as time has progressed.
Perhaps he too has become bored with the every day images we are bombarded with and wanted to break them down into basic shapes.
Roberto Currás is a Spanish artist whose style moves and changes based on his mood. From pop art inspired portraits to abstract expressionist works he produces artworks on a regular basis and is very active on Instagram.
Sue Vesely is a painter and sculptor who produces some of the most haunting and ethereal images of beautiful people engaged in various activities.. The images are of people who seems to be trapped in a moment. From floating, to sleeping to eating they seem to exist in a ghostly world where they will lock eyes with you for an instant and then proceed with their lives.
To me, this is what life after death looks like, a purgatory of sorts. The works always seem unfinished but perhaps that's just me always wanting to see more of Sue's works.
Greg is an American artist with a distinctive style of painting super realistic portraits and images of Native Americans. Some actually look like photographs.
Covering the designs and styles that depict Native Americans from various nations from this year and yesteryear, as he states, painting the history of the American West.
Dutch artist Hans van der Leeuw is also another favorite on Instagram.
Regularly posting images of portraits that will teach you how to treat light and shadows when depicting a portrait. These can be used as inspiration for not only painters and illustrators but also photographers as his paintings are always composed like a great photograph.
Speaking of photographers, Julia Brenner is the only photographer I have on my list. The Russian photographer's style is close to another photographer i follow on Instagram (Christian of 1924us) but her work is more consistent to her style and so I chose to list her here.
She's a master at framing, color and tone. I am trying to learn so much about photography from her images as I do with Christian of 1924us.
Gianna is an American artist who works in sculpture and painting, in a raw style. What I love about Gianna Dispenza's style is that her paintings feel like sculptures and vice versa. There's a certain rawness in her style that makes her artworks feel like you're looking at a Picasso and the works of Primitivist artists from the late 19th century.
Her works are a lesson in how to achieve beautiful art with minimal detail. Give her page a visit.
When I first came across Mark Powell's work it was when I saw a postcard with a portrait drawn using a ballpoint pen. Now Mark's works have taken on a grander scale with giant city maps and collages of vintage postcards that are used as the canvas for large scale portraits in ballpoint pens.
These portraits have to be seen to be appreciated.
If you're every struggling to start a drawing, feel free to draw on Mark Powell's work, pull out an old postcard and a ballpoint pen and get to work.
Bis Vika is a russian artist who is as eye catching as her artworks. With her signature platinum blonde hair she makes an appearance in almost all of her artwork photos.
Her large scale paintings capture amazing images of alien like people filled with expressions of sadness yet they also embody the look and expressions of catwalk models.
Italian artist Tonino Mattu is the master of painting images that remind me of overexposed photographs of people. They remind me of what trying to remember a dream would be like if it was ever interpreted as a painting. You would be able to describe what it was about but never fully able to fill in the details.
Working in a style that resembles screen printing with missing layers, Tonino's work is a definite must see for those who want to see the best artists to follow on Instagram.
Scott Listfield is known as the guy who paints the astronauts. Pretty simple. Scott juxtaposes his astronaut protagonist in various landscapes and cityscapes in order to deliver his message that what we have will no longer be here and all who will be left to see what remains will be a distant visitor.
Ilo Kunst is another biro/ballpoint pen artist I started to follow when I was looking at a medium that was readily accessible that could be completed quite quickly. When I came across his works I realized I didn't have what it took to excel in this medium.
With his frightening images of ballpoint faces struggling to breathe under the swirly lines of ink, while their eyes almost pop out in fear. His portraits need to be seen to be believed but be careful, they may cause a panic attack.
Najimir as I know him is a fantastic Lebanese artist who paints sad and frightening images of everyday life in a primitive style. Each work is a narrative of social events and the decay of society not only in the middle east but world wide. His artworks are so powerful that many turn them into tattoos as a constant reminder.
Wrap up
As you have seen, the best artists to follow on Instagram are not the household names with fan pages set up for them, these are working artists who are putting in the effort to consistently create unique and engaging art and who actually engage with their fan base on a regular basis while managing their social media channels.
If you found any artists that you enjoyed seeing, please show your support to them by following their account and saying hi to them in the comments. Have I missed someone you believe should be on this list? If so then send me a quick note providing a link, their name and a paragraph describing why they should be on the list.
If you enjoyed this post, feel free to share with your friends and on social media.
Latest Posts