Pennelli Acrylic Paint – The Forgotten Brand That Is No More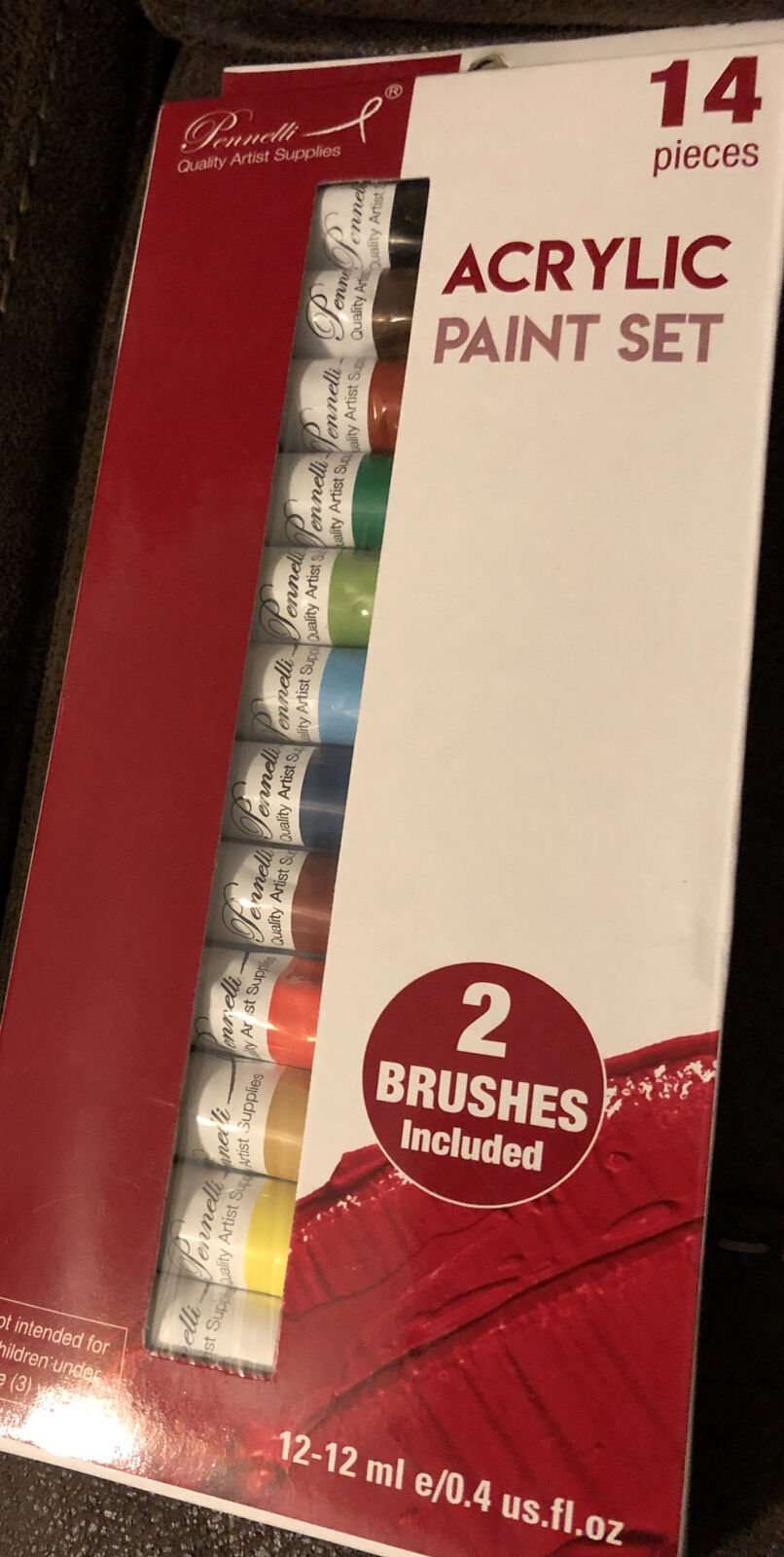 One of the common questions found online is how good is Pennelli Acrylic Paint? I used Pennelli acrylic paint quite a few years ago and found them to be quite reasonable for the price. I also owned a few of the Pennelli branded brushes.
Pennelli was a brand of acrylic paint that was popular among artists in the early 2000s. I have not been able to find the exact date that the brand ceased to exist, but its paints can still be found for sale on eBay and other online marketplaces that deal with second-hand or new old stock.
Some sources say that Pennelli was an off-brand of Da Vinci paints but there is no solid proof that this is a correct statement.
While Pennelli acrylic paint is no longer in production, the company's legacy for quality artist supplies remains. Pennelli acrylic paints were known for their reasonable quality and vibrant colors for the price, and their brushes were quite good as well.
Pennelli acrylic paints and brushes were aimed at beginner artists, children and hobbyists.
I did find better brands of acrylic paints and brushes but when I compared the price point of Pennelli acrylic paint (between $3-$6 for a set of 12 small tubes), the only other brands in this price segment were the super cheap brands from China found in dollar stores. I purchased mine from a local art store that had them marked down.
These days the price is almost double when you see how much they go for on eBay.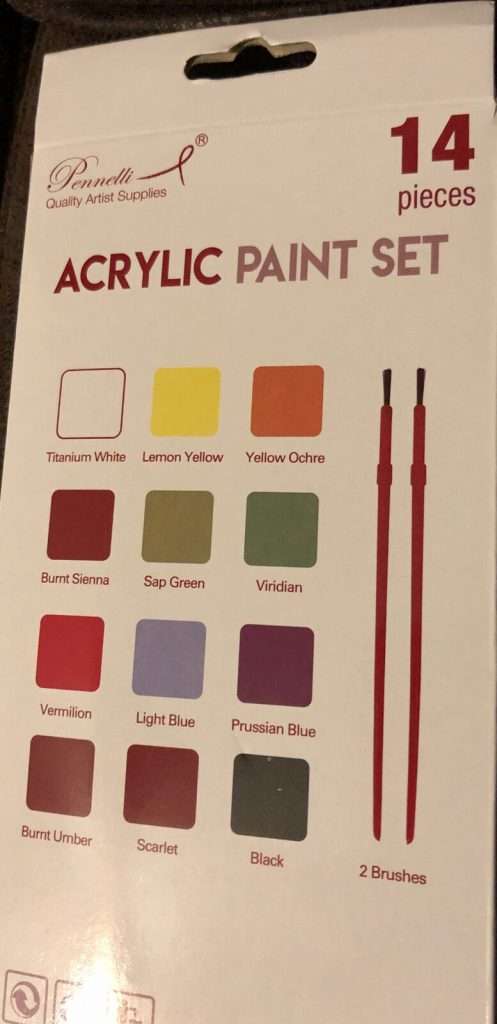 Problem with new old stock acrylic paints
There is one problem I have found purchasing new old stock of acrylic paints online, and that is that they might have dried up in the tubes.
I've tried many different brands of acrylic paint, from high end to low end, and there are definitely differences in quality and performance. But for the most part, any decent brand of acrylic paint will work well for most purposes.
What is New Old Stock?
New old stock is a term used to describe products that are no longer being manufactured, but which are still new and unused.
These products may be from discontinued lines, or from companies that have gone out of business.
Why Would Someone Sell New Old Stock?
There are a few reasons why someone might sell new old stock.
Sometimes businesses sell new old stock as a way to clear out inventory and make room for new products.
Other times, people may sell new old stock because they're passionate about a particular product and don't want it to disappear completely. Most times it's because someone has purchased a palette of stock from a liquidator and decides to sell the stock at the markets or online.
What Does This Have To Do With Pennelli Acrylic Paint?
Pennelli acrylic paint is an example of a product that is no longer being manufactured.
This brand was once sold in stores and online but is now only available through second-hand sources such as eBay.
If you're an artist who is looking for this type of paint, you may be wondering why it's so hard to find.
There are a few possible explanations.
It's possible that the company who manufactured Pennelli paint decided to discontinue the product due to low sales.
It's most likely that the company was bought out by another organization and that the new owners decided to discontinue the brand.
Whatever the reason, the end result is the same: Pennelli paint is no longer being made.
Are pennelli acrylic paints good?
Pennelli acrylic paint was a popular entry level brand of acrylic paint that was known for its quality and affordability. Pennelli acrylic paint was made from a good-quality acrylic polymer that provided excellent coverage, vibrant colors, and a smooth finish for its price.
While Pennelli acrylic paint was not the best on the market, one of the advantages of Pennelli acrylic paint was its versatility. It could be used on a variety of surfaces, including canvas, wood, paper, and more. Like most acrylics, the paint could be thinned with water or a medium to create different effects and can be used for a variety of techniques, including layering, blending, and glazing.
Pennelli acrylic paint was also known for its fast drying time, which allowed artists to work quickly and make adjustments as needed. The paint was also water-resistant when dry, making it ideal for outdoor projects or pieces that may be exposed to moisture.
Overall, Pennelli acrylic paint was a great choice for artists of all levels, on a budget who were looking for a reasonable quality acrylic paint at an affordable price.
Pennelli Acrylic Paint – wrap up
If you're an artist who is looking for a new brand of acrylic paint to try, I would no longer recommend Pennelli acrylic paint, they were good but they were not the best. Well, not to the level where I would spend a lot of time sourcing replacement or new stock.
There are lots of other reasonably priced acrylic paints within the same price range and of a similar if not better quality.
Here are some below.
Aen Art brand – On par with Pennelli in terms of quality and price range. I purchased these for my daughter and we were quite happy with the results.
Another brand also available that matches Pennelli is RAAM. Another cheap brand from China that does the job for the price.
Latest Posts
Joseph Colella is a frustrated artist with over 40 years experience making art (who moonlights as a certified Business Analyst with over 20 years of experience in tech). While he holds a Diploma in Information Technology, in true wasted talent style he spent years trying to get into various Art degrees from the Accademia di Belle Arti (Napoli), and failed to get into the Bachelor of Arts (Fine Arts) at the University of Western Sydney. His goal is to attend the Julian Ashton School of Art at The Rocks Sydney when he retires from full time work. In his spare time, he writes for the this blog, WastedTalentInc, where he shares practical advice on art, making art, and art materials. Joseph's art has been sold to collectors all over the world from the USA, Europe and Australasia. He is a trusted source for reliable art and copyright/fair use advice and is committed to helping his readers make informed decisions about making them a better artist.
He also loves all things watches (ok it's an addiction) so show him some love and visit his other website https://expertdivewatch.com