It's easy to get bored, especially when you're stuck at home or the creative juices are just not flowing. Boredom can lead to all sorts of problems like wasting time, being unproductive, but if utilized properly and coupled with technology, boredom can be used to make amazing things. Having a 3D printer can help you fight boredom and be creative. In this post, things to 3D print when bored, you will learn that you can make anything from art materials, reference sculptures, copies of famous art and you can also create original art and models to support art planning and design with a 3D printer. 
Some people use 3D printers to make random objects, while others create their own designs. Using technology can help grow your creativity and master new skills without any limitations. 
When you have a 3D printer in your house, there is simply no reason to be bored and ruin a perfectly good afternoon. 
3D printing is great for making unique items out of the ordinary. However, there are other uses beyond novelty items like jewelry and toys. Some of these include creating art, sculptures and architectural models that demonstrate how a space could be designed in practice. 
It may be easier for artists, architects and developers to understand what the finished project will look like. 
Also, if you have no knowledge about 3D printers and how to buy one then you can visit PrinterDeets as this particular website has covered a lot of good content around 3D printers and 3D printing.
It covers the rise of 3D printing as technology shifts from manufacturing to personal use. There are many uses for 3D printers: printing out food, making toys, designing unique jewelry, and even making human organs using 3D printers!
Below we'll discuss some of the things to 3D print when bored.
3D print Sculptures
There are many online resources for finding 3D printable sculptures. All you need to do is search "3D printable sculpture" or "3D printable art" and you'll find dozens of websites with free models to download and print. You can also find sculptors who sell their work on websites like Shapeways, and many of them will allow you to download their designs for free.
One great thing about 3D printing is that it allows artists to share their work with a wider audience. A talented sculptor might only be able to sell a few pieces of their work in a gallery, but with 3D printing anyone can download and print their sculptures. It is the sculptors version of selling art prints.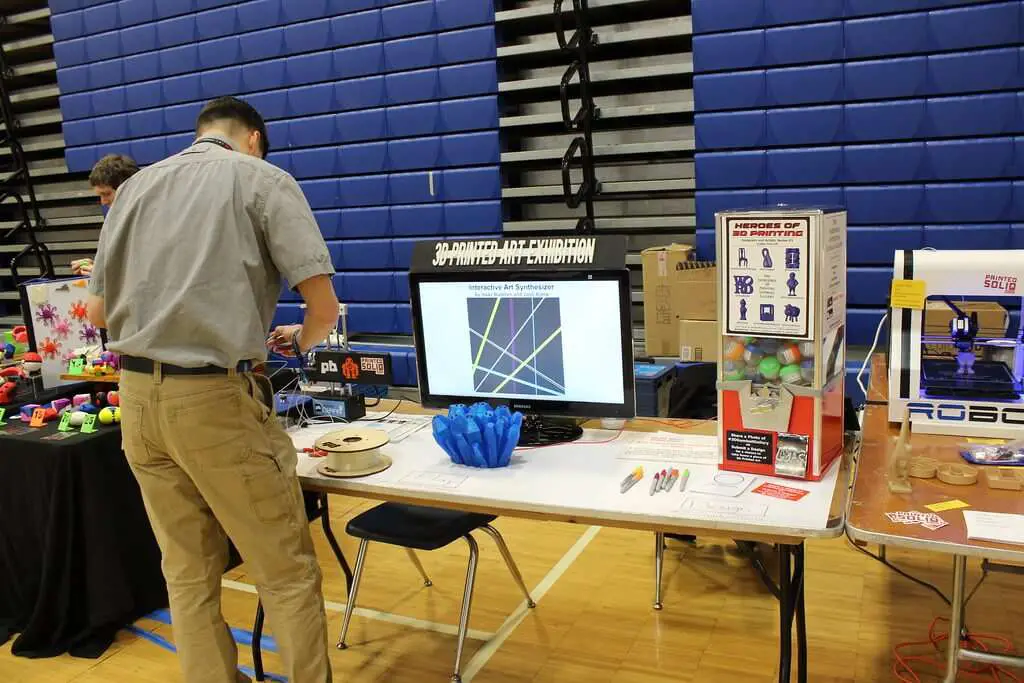 3D print life models for drawing
You can 3D print life models for drawing and painting practice. Sometimes we have a 2 dimensional mental image of a scene and we may want to build that scene in 3D so that we can paint or draw the scene as if we were painting from life. With 3D printing we can actually print a scale model of the scene and then use it as a reference for painting or drawing.
One of the best things about 3D printing is that you can print any object you can imagine. This means you can print life models for drawing and painting practice. You can find a wide variety of free life model files on websites like Thingiverse and MyMiniFactory.
3D print Still Life models
If you want to try your hand at 3D printing still lifes, there are plenty of models available on the internet. You can find everything from fruit and vegetables to bottles and vases.
3D print Artist's materials
I don't know about you but how often do you go to use a palette knife or a brush or tool to model clay and find that it is broken or you don't have it? And worse, you want to start working on it today but your local art store is out of stock!
Well, you can also 3D print art supplies.
There are many different types of filament available, so you can find the perfect material to create your masterpiece. You can also find printable stencils and models for your project on websites like Thingiverse.
3D print famous artworks
There are many websites that offer 3D models of famous artworks, such as sculptures by Michelangelo or paintings by Van Gogh. One such site links to some great ideas and resources you can find things to 3D print when bored.
Have a look at what else you can 3D print and store at home or use as a reference for your own artworks or studies. There are countless designs you can access for the below on Thingiverse so go take a look.
Case for Earbuds
There are many different ways to store your earbuds, but this 3D print earbud case is a step up from the rest. It's a sleek and compact design that keeps everything organized.
With this case, all of your earbuds will be neatly stored in one place and won't get tangled up.
Straps for Cables
In the past, people had to be very careful and spend a lot of time looking for the right cable strap. Now, 3D printing has made it possible to create one in just a few minutes.
3D printing makes it easier to create new products that were previously only available in a few stores and at high prices. It has also made it possible for small businesses to produce their own products without worrying about the production process or the cost involved.
Frame for a photo
Photo frames by 3D-printed are a fun way to personalize your home decor and display your favorite memories. The frame can be made in any size and shape you want, so you can make one that's just right for you.
Remote Holder
When we don't place remotes in the right place, finding them can become a headache, a remote holder is a device that can be printed on a 3D printer. It helps you keep your remote in one place, and also, it is also easy to find the remote.
Stationary Organizer
This stationery organizer is an innovative way to keep your desk tidy and your office supplies close at hand.
You can make a stationary organizer from a 3d printer. It is perfect for anyone who needs to keep their desk tidy and their office supplies close at hand.
Birdhouse
A birdhouse is a small structure for birds to live in. They are a popular item that people give as gifts, and it is hard to find them in stores. Some people make them from different materials like wood and metal, but with 3D printers, you can also make one using plastic.
The 3D printer creates the shape of the birdhouse by first creating a digital model of it and then printing it out in plastic. The digital model is created using CAD software.
Case for batteries
The battery case can be made using a 3D printer, which has been used to create this product. The battery case is created by first creating a digital model of the product on the computer and then converting it into 3D printable file format.
The design of this product makes it easy for people with limited dexterity to use their hands to create their perforated patterns.
Flower Pot
One of the most recent and interesting 3D printers to create flower pots. This article will discuss how this 3d printer was used to produce a flower pot.
To make a flower pot, you need to start with two identical clay pieces and then print them out on the 3D printer. After printing, the two pieces are glued together to form one piece of clay that can be molded into whatever shape you want.
Keyholder
With a 3D printer, you can now create your key holder. It is perfect for people who always misplace their keys and don't want to buy a new one.
The keyholder is designed to hold your keys in place without damaging or scratching them.
Bookmarks
Bookmarks are an excellent way to keep track of your reading progress, as well as a great gift for your friends who love reading!
3D printing machine can print out a bookmark with a 3D model of the spine and front cover of your book so that you can always know exactly where you left off!
Hair stick
The spiral hair stick is a must-have product for those looking for a unique accessory to help them stand out. It is made from high-quality plastic and has an adjustable length.
3D printed hair accessories are a great way to add some flair to your hairstyle, and they can easily be adjusted to fit any size of your head. This product can also be used as a fun party favor or an office gift.
Soap Dish
One of the most practical things to 3D print when bored is a self-mounting soap dish. It can be stuck on any surface and will hold your soap or shampoo without slipping off.
The idea for this self-mounting soap dish came from a simple need to have a place to put my soap while showering as the one I was using kept rusting or breaking. I wanted something that would be easy to install and stay put no matter what surface it was attached to.
Wrap up! Things to 3D print when bored
So next time you have some spare time and want to know what things to 3D print when bored, then I hope this post has given you some cool examples.
3D prints give us hours of entertainment, and some people spend hours just making something that looks cool. Whatever the reason, give 3D printing a try and remember it's not just for the tech nerds, it's also great for the creative types like us.
Sources
Image by Graftencom from Pixabay
"Maker Faire Nova – 3D Printed Art Exhibit" by Vicky TGAW is marked with CC BY-NC-SA 2.0.
"3D printed art" by brainfloat is marked with CC BY-NC 2.0.
Latest Posts