How Much Do Drawing Tablets Cost: Best Tablet For Artists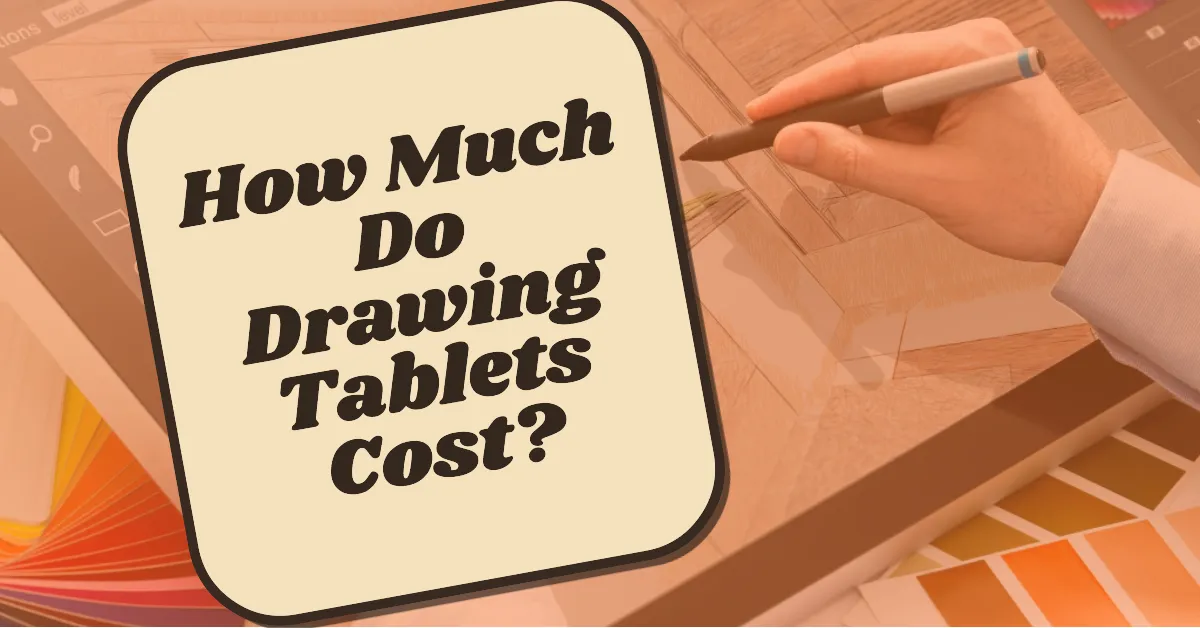 If you're wondering how much do drawing tablets cost then you should keep in mind that while the price of technology generally goes down each year there are other factors that come into play that can keep the cost of a drawing tablet the same as previous years. The cost of a drawing tablet can vary depending on its size, brand, model, and features. As I will not be comparing the latest models every year as this is not what I tend to do, here are some general price ranges that may be of interest:
Low-Cost Drawing Tablets
Choosing a drawing tablet is exciting, but can be difficult when considering budget. Luckily, there are low-cost options. You can find decent drawing tablets under $100. For example, the Huion H420 is affordable and perfect for beginners. These entry-level tablets often have basic features, so don't expect touch-screens or built-in screens. They are typically small, with fewer features and lower pressure sensitivity. They may not include a screen. However, they can help you learn the ropes!
Price range: Under $100
Good for: Beginners
Characteristics: Basic features, no built-in screens
Examples include the Wacom Intuos series. Based on current models for sale, an entry-level tablet for beginners will typically cost anywhere from $40 and up. (Source)
Mid-range Tablets
As you progress in your artistic journey, you might want a tablet with more features. Mid-range drawing tablets, costing between $100 and $1,000, offer better quality and functionality.
The Wacom Intuos Pro and XP-PEN Artist12 are popular options in this category.
They often include higher pressure sensitivity and larger active drawing areas. Investing in a mid-range tablet can greatly enhance your creative experience.
Price range: $100 to $1,000
Good for: Intermediate to advanced users
Characteristics: Larger active area, higher pressure sensitivity, more features
Examples include the Huion Kamvas series, Wacom One or the Wacom Cintiq series. These generally range from $244 and up. (Source)
High-end/Professional Tablets
For professionals and those seeking the best technology, high-cost drawing tablets are the way to go. Priced above $1,000, these premium tablets provide large screens, top-notch pressure sensitivity, and added features.
The Wacom Cintiq 16 is an example of a high-end tablet with a built-in screen. These tablets are perfect for serious artists and designers who require precision and exceptional performance for their work.
Price range: $1,000 and above
Good for: Professionals and advanced users
Characteristics: Built-in screen, large active area, premium features
These are top-of-the-line models with large, high-resolution screens, plenty of shortcut keys, the highest pressure sensitivity, and often include other high-end features. These tablets can cost anywhere from $1000 up to $3000, and sometimes more. (Source)
It's always a good idea to check the most recent prices from reliable retailers or directly from the manufacturer's website. Additionally, remember to read user reviews and ratings to make an informed decision based on your specific needs and budget and from my own experience, nothing beats actually going out and trying drawing tablets for yourself.
The best reviews can come to nothing if the stylus, pen or tablet just does not fit your needs. I wasted so much money on Wacom tablets and not because they were not good, it was that, I could not train myself to draw on the tablet while focusing on a screen above. Also, coming from a traditional art background, the iPad Pro and the Apple pencil were perfect for me and my style of drawing.
What is the best drawing tablet?
I have read all the reviews and brought in some of my experience working on drawing tablets to come up with a shortlist of drawing tablets that can be used not only for beginners but also for intermediate digital artists.
I also know professional artists who love to use the iPad Pro and Apple Pencil. So there you go, it's all about personal preference.
Below are some excellent choices to consider, from less known brands to an industry leader. If you want to know my personal preference? The Apple iPad Pro with an Apple pencil is the best option. While not the cheapest, they provide you with a lot of variety in terms of use. You can use apps such as Procreate and Adobe Photoshop without needing a high-end computer. 
Click on an image below to see the latest price.
Drawing Tablet
Image
Pros
Cons
iPad Pro with Apple Pencil
(Personal Pick)
– Easy to use
– High performance
– Compatible with Apple Pencil 2 for
advanced features
– High cost
– Requires additional purchase of Apple Pencil
– May be overkill for casual users
Wacom Intuos Pro
– Virtually no lag
– High pressure sensitivity (8,192 levels) with Pro Pen 2
– Professional-grade features
– May be too expensive for hobbyists
– Some users find Wacom's drivers can be unstable
Huion Kamvas Pro 12
– Budget-friendly
– Includes touch bar controls and express keys
– Lower color accuracy compared to high-end models
– May lack some of the premium feel of more expensive tablets
Wacom Cintiq Pro
– High-quality 4K display
– Multiple screen size options
– Industry-leading color accuracy
– Very expensive
– Might be unnecessary for beginners or casual users
Xencelabs Pen Tablet Bundle
– Comes with helpful accessories like a drawing glove and combo nibs
– Newer brand, so long-term reliability is less well-known
– Some users may not need all included accessories
The One by Wacom
– Affordable
– Easy setup
– Paper-like textured drawing surface
– Ideal for students and beginners
– Lacks some of the advanced features of pricier options
– Pressure sensitivity and color accuracy may be lower than more premium models
How Much Do Drawing Tablets Cost: Best Tablet For Artists
Key Callouts
Drawing tablets have become an essential tool for digital artists, graphic designers, and animators. They have evolved into being integrated with computers with built in screens and CPUs.
Drawing tablets are versatile devices and come in various shapes and sizes, allowing artists to create their digital drawing masterpieces by mimicking the natural feel of drawing with a pen or brush on paper. 
When considering a drawing tablet, there are several factors to keep in mind that affect its overall cost, including the tablet's size, pressure sensitivity, and whether it comes with a built-in screen. 
The available budget also determines the type of drawing tablet. While affordable entry-level options are suitable for beginners at lower price points from $40, more powerful and feature-rich tablets can fetch higher prices for professional artists costing $3000 or more.
Factors such as size, pressure sensitivity, and built-in screens can affect a tablet's cost.
Prices range from affordable entry-level tablets to high-end professional options.
There is a drawing tablet for everyone, from the cheapest drawing tablets for those on a tight budget to mid level drawing tablets for those looking for a graphic tablet at an affordable price to high end larger drawing tablets for professional work.
Most come with a stylus but some are in the form of a battery-free pen, some are rechargeable and some require no power to the stylus.
Battery life may be important for artists not chained to a desk.
Some drawing tablets run on different operating systems: Apple tablets use iPadOS, you can also get an Android tablet and others that have proprietary operating software.
Best Drawing Tablet Recommendations
Best Drawing Tablets for Professionals
When it comes to professionals, the latest iPad Pro is the top pick. It offers an incredible balance of versatility and power.
The Apple Pencil works seamlessly with the tablet, allowing creative professionals to produce their best work.
Another great option for professionals is the Wacom Intuos Pro. Known for its high quality and reliability, Wacom's pressure sensitivity and customizable controls are perfect for artists who demand precision.
Best Cheap Drawing Tablets
If you're on a really tight budget but still want a reliable drawing tablet, there are several affordable options. One of the best cheap drawing tablets is the Huion H420. It's actually so cheap I've ordered a couple for my kids. It is stupid cheap.
Its compact and lightweight design make it easy to carry around, and it comes with a decent pressure sensitivity (2,048 levels) for its price.
Another excellent budget-friendly option is Simbans PicassoTab. It's a bit more expensive than the Huion H420 but offers a standalone tablet that comes with Android OS, a 10-inch screen, and an active pen – everything you need for digital art without breaking the bank.
Best Tablets for Everyday Use
For those who want a tablet that's not just for drawing but for everyday use as well, there are some great choices. The XP-PEN Artist12 offers both a drawing tablet and a daily-use tablet experience. With a bright, full-color display and responsive stylus, it strikes the perfect balance.
On the other hand, if you're looking for something with more versatility, the Wacom Cintiq 16 is a solid choice. It features a high-quality screen, so you can comfortably switch between creative work and watching your favorite shows.
Remember, finding the right tablet for you depends on your needs and preferences. These recommendations should help point you in the right direction, but always consider your specific requirements when making your decision. 
Best Drawing Tablets for Beginners
The best drawing tablets for beginners usually share a few key features that make them perfect for those who are just starting to explore digital art. Here are some factors to consider when looking for the best drawing tablet for beginners:
Affordability
For beginners, you want a drawing tablet that doesn't break the bank. Look for options that offer a good balance between price and features, ensuring you get a quality product without spending too much. You also don't want to outlay a pile of money only to have your beginner digital artist realize that digital art is not quite for them and stop using the drawing tablet.
Size
A medium-sized drawing area is often suitable for beginners. It's large enough to provide ample workspace without being overwhelming or too cramped.
Pressure sensitivity
Pressure sensitivity allows you to control the thickness and opacity of your strokes depending on how hard you press the pen on the tablet. Most good drawing tablets offer a range of pressure levels to provide a more natural drawing experience.
Pen sensitivity and accuracy
A responsive and accurate pen is crucial for smooth and precise drawing. Look for a tablet with a pen that doesn't lag and has a good level of accuracy.
Compatibility
Ensure the drawing tablet is compatible with your computer or operating system. Some tablets may have limitations depending on the software you want to use, so check for compatibility before making a purchase.
Ease of use
Beginners often prefer drawing tablets that are easy to set up and use, with an intuitive interface that doesn't overwhelm them with complex features.
Software included
Some drawing tablets come with bundled software, which can be a plus for beginners. Having access to drawing applications and creative software without additional costs can be advantageous when starting out.
Build quality and durability
A well-built drawing tablet is more likely to last longer and withstand wear and tear, making it a better investment in the long run.
Brand reputation and customer support
Choose a drawing tablet from a reputable brand that offers good customer support, as it can be helpful to have guidance and assistance when you encounter any issues.
Extra features
While not essential, some beginners might appreciate additional features like shortcut buttons on the tablet or a pen that doesn't require charging.
Popular drawing tablet brands that are well-regarded for beginners include Wacom, Huion, XP-Pen, and Gaomon. As always, don't just take my word for it as what works for me may not work for you so always do some extra research when you have narrowed down the drawing tablet you want to get and read reviews, compare different models to find the best fit for your needs and budget as a beginner artist. If possible, if the tablet is available at a Best Buys or a similar store, go see it in person as some tablets are quite tiny and you may be disappointed.
Best Drawing Tablets for Beginners with Screen
When buying a drawing tablet with a screen (also known as a pen display or pen monitor), several important factors must be considered to ensure you get the best device for your needs. Here are some key things to look for:
Screen Size
The screen size determines the drawing area you'll have available. Larger screens offer more space to work on, but they might also be more expensive. Consider your budget and workspace before deciding on the screen size.
Resolution
A higher-resolution display provides better clarity and detail, resulting in a more enjoyable drawing experience. Look for a drawing tablet with a screen resolution of at least Full HD (1920 x 1080) or higher for sharper images.
Color Accuracy
If you intend to work with color-critical projects or digital art that requires precise color representation, opt for a drawing tablet with good color accuracy. An sRGB color gamut of 100% or higher is preferable.
Pen Pressure Sensitivity
The sensitivity of the pen is crucial for a natural drawing experience. A higher pressure sensitivity level allows for more control over line thickness and opacity. Most quality drawing tablets have at least 2048 levels of pressure sensitivity or more.
Pen Tilt Recognition
Some advanced pens can detect the tilt of the pen, enabling you to create more natural and dynamic brush strokes. While not essential for beginners, it can be a desirable feature for artists looking to explore more advanced techniques.
Pen Display Technology
Different types of pen display technologies exist, such as electromagnetic resonance (EMR) and active electrostatic (AES). Each has its pros and cons in terms of accuracy, parallax, and pen performance. Research the technology used in the tablet you're considering.
Compatibility
Ensure that the drawing tablet is compatible with your computer's operating system (Windows, macOS, etc.) and your preferred drawing software. Some tablets may have limited compatibility with certain software applications.
Connectivity Options
Most drawing tablets with screens connect to your computer via USB, HDMI, or other display ports. Some models may offer wireless connectivity. Choose the option that suits your preferences and setup.
Adjustable Stand
A tablet with an adjustable stand allows you to find a comfortable drawing angle. This is especially important for longer drawing sessions to avoid strain.
Response Time
A low response time ensures minimal lag between your pen strokes and their appearance on the screen. This is crucial for precise drawing.
Build Quality
Look for a well-built tablet from a reputable brand to ensure durability and reliability.
Additional Features
Some drawing tablets come with extra features like customizable shortcut buttons, touch functionality, or a built-in color display. Consider these additional features based on your specific needs and preferences.
Remember to read reviews, compare different models, and consider your budget carefully. Buying a drawing tablet with a screen is an investment, and choosing the right one will significantly enhance your digital art experience.
Popular Brands and Models
Wacom Tablets
Wacom is a trusted name in the world of drawing tablets. Their Wacom Cintiq series offers wonderful drawing experiences with high-resolution screens and responsive pens. For a more affordable option, the Wacom Intuos provides excellent performance. The Wacom Pro Pen is a powerful tool which offers precise control, smooth line work, and natural pressure sensitivity.
Huion Tablets
Huion offers excellent drawing tablets at lower price points. The Huion H series is a good choice for beginners, with easy-to-use features and customizable buttons.
The Huion Kamvas Pro offers more advanced features, with a larger 15.6 inch screen, superb pen pressure sensitivity, and quick-response times.
The Huion Kamvas GT-191 is a fantastic high-resolution tablet with a large work surface. There is also the Huion Inspiroy H as a great option. Any of these are a good drawing tablet and also affordable.
XP-PEN is a popular drawing tablet brand known for its affordable, yet high-quality products. The XP-PEN Artist series offers high-resolution screens, quick response times, and satisfying pen pressure capabilities. These tablets are great for beginners and experienced artists alike.
Gaomon provides a variety of drawing tablets for all skill levels. The Gaomon PD series is a standout with its quality screen and intuitive pen controls. The Gaomon S series is perfect for those looking for a smaller-sized tablet. These tablets are both durable and reliable.
Apple, Microsoft and Android Tablets
Many artists prefer using iPad Pro and Apple Pencil for a versatile, portable drawing experience. The Apple Pencil offers amazing responsiveness, pressure sensitivity, and tilt recognition.
Microsoft also have a fantastic range of tablets under the Surface brand of tablets that can double up as a laptop. I would rate these above the Android based tablets.
The Samsung Galaxy Tab S and other high-quality Android tablets are excellent options for Android users. These tablets provide ample workspace, powerful performance, and integration with many drawing apps.
Remember, the best drawing tablet fits your needs, your budget, and your artistic preferences. Explore your options and choose the one that suits your creative style.
Types of Drawing Tablets
Graphics Tablet
A graphics tablet is a handy tool to have. These tablets are designed without a screen so you can connect them to your computer. With their high pressure sensitivity levels, they can really capture the stroke of your pen on the tablet.
Some popular options include the Huion H420, which is great for beginners, and the Wacom Intuos Pro, which is ideal for Photoshop. The average cost for a graphics tablet is about $74. But remember, they do require a connection to a computer.
Pen Displays
When it comes to pen displays, you get to draw directly on the screen. This gives you the advantage of seeing exactly where your pen will make its mark. Pen displays like the Wacom Cintiq 16 provide a more natural drawing experience and are popular among professionals.
These tablets can be a bit more costly, with an average price around $850. With their touch-screen capabilities, they offer an all-in-one experience in comparison to regular graphics tablets.
Standalone Drawing Tablets
Lastly, standalone drawing tablets are devices that do not require connection to a computer. These tablets can run apps and have built-in software, allowing you to draw without needing any extra devices.
Some examples include the Simbans PicassoTab and the Apple iPad Pro, both well-loved by artists and designers. Also, the Microsoft Surface Pro 9 and Samsung Galaxy Tab S8 Ultra are powerful and packed with features, making them suitable for drawing as well.
These standalone drawing tablets come in various price ranges, but they can be quite an investment. Remember to keep your needs in mind and consider your budget when choosing a tablet.
By understanding the differences in types of drawing tablets, you can make an informed decision on which one is best for your artistic talents and goals. Happy drawing!
Factors Affecting the Cost
Tablet Size
This differs from the actual screen size because not all drawing tablets have a screen, not all drawing tablets have an active area that goes right to the edge. I had an early model Wacom that was the size of a 15″ laptop but with a very small active area compared to its size.
Screen Size
One aspect that affects the price of a drawing tablet is the screen size. Usually, larger tablets with bigger screens cost more. Smaller screen sizes can be budget-friendly, but a larger screen might be necessary for detailed work and enhanced comfort. When choosing a drawing tablet, consider the space in which you will use it and the level of detail you need for your projects.
Pressure Levels / Pressure Sensitivity for Better Lines
Pressure sensitivity levels also influence the cost of drawing tablets. Ranging from 300 to 3,000 levels, most good tablets will have varying levels of pressure sensitivity. Higher pressure sensitivity allows for more precise control and a natural drawing experience.
These tablets usually have a higher price tag, but if you desire smoother lines and a high level of control, investing in a tablet with more pressure levels is beneficial.
Active Area
Another factor that impacts the cost is the active area of the tablet. The active area is where your stylus interacts with the tablet's surface. Larger active areas often cost more, but they provide more room for intricate drawings and movements.
When selecting your tablet, consider how much space you want for drawing and whether a larger active area is worth the potential increase in price.
Shortcut Keys
Some drawing tablets come with built-in shortcut keys, allowing you to access frequently used tools or commands quickly. Tablets with more shortcut keys tend to be more expensive. However, these keys can save time and increase productivity, making them a worthwhile investment for serious artists.
Build Quality
The build quality of a drawing tablet can also affect its price. Higher-quality tablets often use durable materials and components, ensuring a longer lifespan and better performance. While these tablets may be more expensive, investing in a well-built tablet can save you from having to replace it prematurely.
Screen Resolution
Finally, screen resolution plays a role in determining the cost of a drawing tablet. Higher resolution screens display crisper and cleaner images, which is vital for detailed work.
Tablets with higher resolutions typically cost more, but they can make a noticeable difference in your artwork's appearance. Consider the level of detail you need and whether a high-resolution screen is necessary for your work.
Is it worth investing in a drawing tablet?
As I mentioned earlier, using a drawing tablet is very subjective. It looks cool but for many artists like me, they feel un-natural and it's why I prefer an iPad Pro.
But are they worth the investment if you really want one? Investing in a drawing tablet can be a worthwhile decision, but whether it is worth it depends on your specific needs, interests, and circumstances. Here are some factors to consider when deciding whether to invest in a drawing tablet:
Artistic Aspirations – If you have a keen interest in digital art or graphic design and want to explore and develop your creative skills, a drawing tablet can be a valuable tool. It allows you to work with various digital art software and provides a more natural drawing experience compared to using a mouse.
Traditional Art vs. Digital Art – If you primarily enjoy traditional art mediums like painting, sketching, or using physical tools, a drawing tablet may not be essential. However, even for traditional artists, a drawing tablet can be a useful addition to experiment with digital techniques or create digital versions of their work.
Career or Professional Use – For those pursuing a career in digital art, animation, graphic design, or related fields, a drawing tablet is almost a necessity. It enables you to work efficiently and produce high-quality digital artwork, which is often demanded in professional settings.
Flexibility and Convenience – Drawing tablets offer the advantage of flexibility and convenience. You can easily correct mistakes, experiment with different styles and techniques, and have access to a wide range of digital art tools.
Learning Curve – If you're a beginner, there might be a learning curve to get used to drawing on a tablet screen compared to traditional pen and paper. However, with practice, many artists find it becomes second nature.
Budget Considerations – Drawing tablets vary in price, so consider your budget and how much you're willing to invest in this tool. There are affordable options for beginners and more advanced, expensive tablets with additional features.
Portability – Some drawing tablets are more portable than others, allowing you to draw on the go. If portability is essential to you, consider a tablet that suits your lifestyle.
Digital Art Software – Access to digital art software, which often comes with drawing tablets or can be purchased separately, opens up a vast array of creative possibilities.
If you have a passion for art and want to explore digital art or if you're pursuing a career in a related field, a drawing tablet can be a valuable and worthwhile investment.
It offers unique advantages and opens up new creative opportunities. But if you are primarily interested in traditional art and don't see yourself using digital mediums extensively, it might not be the right thing to get.
What are the alternatives to a drawing tablet?
If you don't have access to a drawing tablet or prefer not to invest in one, there are several alternative options for creating digital art. While drawing tablets offer a more direct and precise drawing experience, these alternatives can still be effective tools for digital art creation:
Graphics Tablet (Pen Tablet) – A graphics tablet is a more affordable alternative to a drawing tablet with a screen. It consists of a flat, pressure-sensitive pad (without a display) and a stylus (pen) that allows you to draw on the pad while seeing the results on your computer screen. It's a great option for those who want the benefits of pen pressure sensitivity without the cost of a display-integrated tablet.
Touchscreen Laptops and 2-in-1 Devices – Some laptops and 2-in-1 devices come with touchscreens that support digital pen input. While these screens may not offer the same level of pressure sensitivity as dedicated drawing tablets, they can still be used for digital sketching and basic artwork.
Graphics Software with Mouse – Although it may not be as intuitive or precise as using a pen, digital art software can still be used with a regular mouse. Many graphic design and drawing applications have tools that allow you to create art using a mouse, even if it requires more effort and patience.
Tablet Stylus for Smartphones or Tablets – If you have a touchscreen smartphone or tablet, you can use a stylus designed for that device to draw and create digital art. Some styluses are pressure-sensitive and can provide a more precise drawing experience compared to using your finger.
Optical Tracing – You can create traditional artwork on paper, scan it, and then trace over it digitally using software like Adobe Illustrator or Inkscape. This method allows you to retain the authenticity of your hand-drawn artwork while digitizing it.
Graphics Tablets with Screens on the Side – Some external secondary screens can be attached to your main computer monitor and function as a graphics tablet. These devices offer a drawing surface and pen input, allowing you to draw directly on the screen while seeing the results on your main monitor.
Digital Art Apps for Mobile Devices – There are numerous drawing and digital art apps available for smartphones and tablets. While these may not offer the same level of functionality as full-fledged drawing tablets, they can still be fun and useful for creating art on the go.
While these alternatives can provide a means for digital art creation, they may not match the seamless and precise experience of a dedicated drawing tablet.
Investing in a quality drawing tablet can significantly enhance your creativity and productivity if you find yourself regularly engaged in digital art. However, these alternative methods can be a great starting point or a way to experiment with digital art without a significant financial commitment.
Quick Recap
Remember, prices for drawing tablets can vary greatly, but finding the right one for you doesn't have to be difficult. When considering your budget, remember that a decent non-screen tablet might cost around $50, while a high-quality screened tablet can be closer to $850. Be mindful that factors such as size and extra features affect the price, and your needs as an artist should guide your choice.
For versatile drawing options, you can look into well-known tablets like the Apple iPad Pro, Microsoft Surface Pro 9, and Samsung Galaxy Tab S8 Ultra.
These devices offer powerful drawing capabilities and other useful functions, making them great multipurpose tools that will do most of what you need. They are more general tools than a specialized and dedicated drawing tablet.
In the world of dedicated drawing tablets, well-established brands like Wacom offer high-quality options, such as the Wacom Cintiq Pro 32 with its impressive 4K resolution (3840 x 2160 pixels) and advanced pen technology.
Before making a purchase, think about the specific features that will benefit your art style and workflow. For instance, the size of the tablet, whether it has a screen or not, and the pen's sensitivity are all key aspects to examine.
This way, you'll be able to find a tablet that's within your price range and meets your creative needs.
Remember, a drawing tablet is a worthwhile investment in your artistic journey. Give yourself time to adjust and grow comfortable with your new tool. Soon enough, you'll wonder how you ever created without it.
How Much Do Drawing Tablets Cost – Before You Go
I hope you enjoyed How Much Do Drawing Tablets Cost: Best Tablet For Artists, but before you go, would you be interested in some of my other digital art articles? Whether you're a seasoned digital artist or just starting your creative journey, these articles cover exciting topics that will pique your interest.
We've got you covered! Unlock the secrets to success in the digital art realm and unleash your artistic potential. So, why wait? Click the links above and embark on an enchanting journey into the world of digital art with Wasted Talent Inc.!
Joseph Colella is a frustrated artist with over 40 years experience making art (who moonlights as a certified Business Analyst with over 20 years of experience in tech). While he holds a Diploma in Information Technology, in true wasted talent style he spent years trying to get into various Art degrees from the Accademia di Belle Arti (Napoli), and failed to get into the Bachelor of Arts (Fine Arts) at the University of Western Sydney. His goal is to attend the Julian Ashton School of Art at The Rocks Sydney when he retires from full time work. In his spare time, he writes for the this blog, WastedTalentInc, where he shares practical advice on art, making art, and art materials. Joseph's art has been sold to collectors all over the world from the USA, Europe and Australasia. He is a trusted source for reliable art and copyright/fair use advice and is committed to helping his readers make informed decisions about making them a better artist.
He also loves all things watches (ok it's an addiction) so show him some love and visit his other website https://expertdivewatch.com