If you're in a creative mood and want to get down to arty business straight away, pastels are one of the best art mediums out there.
Many art products require some sort of preparation before you start the creative process but pastels are ready to use at any point. They allow you to apply pigment straight to your canvas in no time.
Pastels are also easily portable. Even if you feel a creative spark coming on when you're out and about, you can take the pastels from your pocket and begin. Pair this with the range of colors available and you have endless creative possibilities.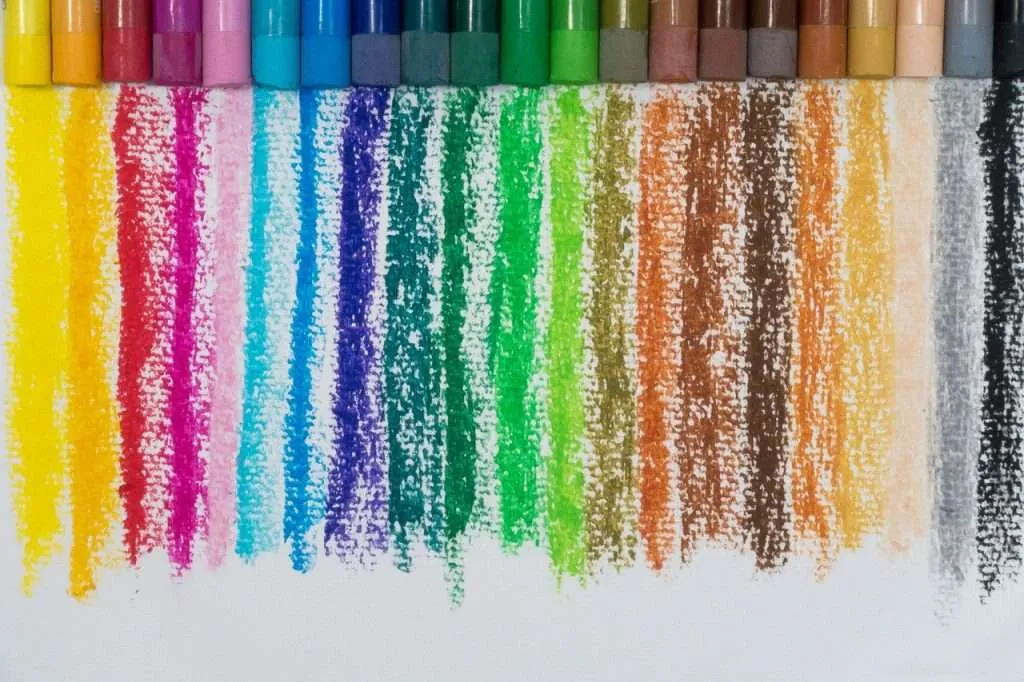 Remember that even the greatest artists, past and present, are nothing without their tools. When it comes to oil pastels, they come in two types: artist grade and student grade. So, whether you're an advanced artist or just beginning, there are pastels to suit your experience and style. 
While many artists chose to ignore student oil pastels, some are exceptionally firm. At affordable prices, they are great for filling large areas with color. Artist grade pastels are often softer, richer, and best for more detailed paintings.
Today, we are going to guide you through the top 5 oil pastels on the market. We will be looking at student grade and artist grade for you to build up or add to your collection.
---
Best Oil Pastels
Sakura Cray-Pas Oil Pastels are one of the best products on the market. This pack contains 50 non-toxic sticks with a range of different shades. Each color is rich in pigments so you can create unique and distinct art. Included is a color chart which is very useful for beginners. 
The color chart shows the pigments as they are when applied to paper or canvas so novices can be sure that they are using the right pastel for their creation. One of the best aspects of Sakura Cray-Pas Oil Pastels is that they can also be bought individually.
This is very handy when you run out of certain colors (some usually run out long before others). The option to buy a single stick will save you the hassle of buying a new set every time.
Inexpensive but varied, this oil pastel set is ideal for all levels of artists. The colors blend well if your desired color isn't already one of the 50 sticks.
Once applied, the pastels provide a pleasing tight texture to help you achieve a full coverage. The outlook is smooth with an opaque touch too. 
Pros
Ideal for beginners – The color chart that is included will help less experienced artists learn how to mix and use the right colors
Non-toxic – Makes these oil pastels suitable and safe for younger users
Inexpensive – Whether it's the full set or individual sticks, these are perfect for artists on a budget
Cons
Could be a wider range of colors – 50 pastel sticks sounds like a lot but for some colors, you will have to blend the pastes together 
Sale
SAKURA Cray-Pas Expressionist Oil Pastel Set – Soft Oil Pastels for Artists – 50 Sticks
The Original Oil Pastels: Sakura color pastels are the standard by which all other pastels are measured
Expressionist Range for Painterly Effects: This oil pastels set creates beautiful effects on paper, cardboard, canvas, and wood
Extremely Smooth Application and Blending: Oil pastel art supplies apply smoothly, build texture, and blend well
Non-Toxic: This artist set meets non-toxicity standards; safe for use
Premium-Quality Pastels: In 1925, Sakura invented oil pastels; Sakura continues to produce innovative, quality products
---
Here, we have a set of oil pastels that are more suited to experienced pastel artists. Somewhat more expensive than our previous entry, the Sennelier Oil Pastel Assorted Set contains some of the highest quality, top-of-the-range oil pastels on the market.
Sennelier were supposedly Pablo Picasso's favorite pastels. If you want to find higher praise than that, you may be searching for quite a while.
One reason he may have loved these oil pastels so much was their creamy, thick, almost lipstick-like quality. This makes them a little difficult to control for beginners but experienced artists can produce intricate pieces of high-quality art with these pastels.
The sheer quality of Sennelier Oil Pastels is evident in the end product. Once you see a piece of art that has been created with these pastels, you will notice a similar effect to actual oil paints. And when you judge two of the same colors together, you can create a spectrum of varying, beautiful shades.
Pros
Perfect for experienced hands – If you have been painting for a long time, you will find it hard to come across better quality oil pastels
Ideal base layer – These act as a superb base layer for all kinds of paintings
Creamy flow – Have a thick, almost lipstick-like texture that accentuates certain pieces of art
Cons
Hard to use for beginners – The thicker texture could become a little messy for untrained hands
Duller colors – Without knowing how to mix colors properly, some have found the color choices to be a little dull
Sale
---
There is a rich and highly respectable history behind Pentel. For over 70 years, this company has produced some high-quality art supplies. And this trend continues with their oil pastel set.
Pentel tends to focus on art supplies for students and this means their prices are extremely affordable and respectable. The retail price for 50 of these pastel sticks is exceptionally low and perfect for those wanting to get to grips with the world of oil pastels.
Not only is the quantity impressive but the quality is too. The pigments may not be as rich as high-end brands but they do allow you to produce perfect strokes on canvas or paper. Along with the excellent blend and binder that these pastel sticks deliver, you could easily take your art to the next level.
Due to their ease of use and cheaper price tag, Pentel Arts Oil Pastels are great for children to use. While you can't buy any of these individually, young artists can learn a lot by using these cheaper sticks before moving onto more expensive models down the line. 
Pros
Wonderfully affordable – Have a much cheaper retail price compared to other brands
Perfect for students and children – Their cheaper price tag is welcomed by those on a budget, such as students, as well as the ease of use these offer
Exceptional blend and stroke – High-quality blend and stroke is produced by these pastels to help artists create their best art with ease 
Cons
Individual sticks are not available – If you run out of a certain color, you will have to buy that shade from another brand or a whole set again 
---
So, we've seen some pastel sets that are perfect for students and others that are best for experienced artists. But what about those in between? Well, this is where Caran D'ache Neopastels come into play.
These fall between student and artist grade pastels. Great for those who are on a journey of working with oil pastels as their main painting medium, Caran D'ache oil pastels will certainly help you take your art game to new heights.
One of the main factors that stand out with these pastels is their consistency. Each pastel delivers a creamy and soft texture which makes for easy blending when required. Due to their softness, the pastels are vividly rich in pigments and can produce vibrant results when desired.
Inside the pack, you are treated to a color chart that gives you a detailed explanation and visual guide to mixing colors. Everything from the pastel's names to their pigment and lightfastness is included in this chart. Perfect for a self-taught beginner.
Not the cheapest but certainly not that expensive, students love Caran D'ache Neopastels. With an overall rating of 4.7/5 online, most people agree on the excellent quality these pastels offer. And if you run out of a color or two, you can buy each one separately.
Pros
Smooth and creamy texture – These pastels are perfect for blending to create unique colors in your artwork
Extensive color chart guide – Provides basic but well-needed information on the different color options 
Can buy sticks individually – Very affordable pastel sticks in the set are available to buy separately so you never have to run out of your favorite colors
Cons
Some shades become too dry – This makes them a little hard to work with and blend
---
Last but not least is the highly popular Mungyo Gallery Soft Oil Pastels Set. If you have been around the world of oil pastels for any amount of time, you have probably come across Mungyo Gallery.
These offer similar quality to that of Sennelier's oil pastels but are more affordable. Unsurprisingly, this is one of the reasons why Mungyo Gallery oil pastels are often preferred.
As well as their friendly price, these oil pastels have a supremely smooth and buttery texture that sticks to the canvas with ease. While the number of pastel sticks in the set is limited to 48, we were highly impressed by the consistency they delivered. Combined with a compact and smooth coverage, there is very little not to like about this set.
The stand-out feature of these pastels is their highlighting ability. Due to their rich, vibrant pigments, your art will shine bright like never before. For ease of use, Mungyo Gallery Soft Oil Pastels are some of the best out there.
With incredible composition and a consistent texture, these are the perfect choice for a complete beginner or those in the early stages of their oil pastel work.
Pros
Simple and very easy to use – These pastels are some of the best to use for beginners, even those who have never used an oil pastel before
Value for money – Although these have a lower price tag, the quality is not compromised making this set a great investment
Easy to work with highlights – Due to their soft and high levels of pigment, Mungyo Gallery oil pastels are some of the best when highlighting
Cons
No color chart included – Makes it somewhat harder to understand what pastels are best when creating a piece of art, especially for beginners
Individual purchase not available – If you run out of a color, you will have to buy individual pastel sticks from other brands or buy the same set again 
Mungyo Gallery Soft Oil Pastels Set of 48 – Assorted Colors
Mungyo Gallery Artists' Oil Pastels are of professional quality, with outstanding smooth touch and consistent colors.
Their intense colors and high covering power are ideal for techniques such as impasto and scraping.
Smoothness and low-residue allow neat and accurate works.
Mungyo Gallery Artist' Oil Pastels, meeting the requirements of professional artist, will be your best choice.
---
Best Oil Pastels Buyer's Guide
Before you go ahead and purchase a new set of oil pastels, there are a few factors you should consider first.
Oil pastels are unlike most other art mediums so understanding how they work and their effects is critical. 
Continue reading to find out some of the most important features and aspects of oil pastels so you can buy the best pastel sticks for your art. 
The grades
As with other art supplies, oil pastels come in two separate grades:
Artist grade
Student grade
Which one is better for you depends on your skillset and experience. Understanding each one will help you figure out where you may be on your oil pastel journey.
Artist grade – Artist grade oil pastels tend to have better quality in both pigments and performance. In just about every aspect, artist-grade oil pastels come out on top. These pastels are also resistant to oxidation as they contain more oil than wax in their composition. This means that your art will keep its colors for longer than lesser quality pastels.
Examples of artist grade oil pastels include:
Holbein Artist
Sennelier
Caran D'ache Neopastels
Sakura Cray-Pas
Student grade – These oil pastels generally have lesser pigments and contain more wax and less oil in their composition. Because of this, student grade oil pastels are more affordable, making them more accessible to those on a budget such as young artists and students.
Nevertheless, not all student grade pastels compromise their quality. Brands such as Mungyo Gallery and Van Gogh offer top-quality student grade oil pastels at affordable prices.
Consistency
One artist may love the consistency of an oil pastel while the next loathes it. In other words, consistency is a matter of personal preference. If you want a strong, vibrant, and luminous look, then pastels with a creamy texture will work best for you.
If you're looking for a pastel that is more child-friendly and better for outlines, then harder pastels may suit you best. Trial and error is the way most artists find their favored pastels.
Pigment
The pigment is an important aspect of oil pastels. You need to understand the lightfastness of the pastels first, however.
Lightfastness is the amount of light that may affect the pigments of oil pastels. Different colors reflect and absorb light differently from others.
Some pastel sets come with color charts that give you all of this information. These charts can be hugely beneficial for young artists so if you're starting off, we recommend finding a set with a color chart to help you on your way.
A set or individual pastel sticks
As we mentioned in our product guide above, buying a set of pastels that also offers individual sticks is highly recommended. Doing this will save you a lot of money and time, especially when working on large pieces of art that require a lot of coloring.
If you need to replace the same color time and time again, you will want to be able to purchase it individually. If not, you may have to buy a different brand that doesn't sit so well with your existing pastel set or spend more on another full set.
However, if you're a beginner who is working on smaller projects, we suggest buying a set. This will give you the best options and smaller artworks shouldn't see you go through colors too quickly. 
---
Frequently Asked Questions 
What is the difference between oil pastels and soft pastels?
If you want vibrant, colorful pieces of art, oil pastels are the go-to choice. These are perfect for paintings of flowers or sunset scenes as they can produce wonderful intense hues. 
Using oil pastels is generally quite easy because they allow you to mix with ease and experiment more. You can play more freely with different textures as well as work on your scratching technique.
You can add layer upon layer due to their wax-like consistency or you can scratch back to the original surface if you desired. Just ensure you use primed, textured paper when working with oil pastels to ensure they stick to the surface and the colors don't fade.
On the other hand, soft pastels are ideal for creating delicate hues. Made from Gum Arabic, pigment, and white chalk, soft pastels are easy to brush off. Their matte finish is preferred by many artists, especially for projects that may require several days, weeks, or even months to complete.
Soft pastels do not dry out and the color will not alter after being applied. This is why beginners love to use soft pastels as they find them easy to use. Out of their soft, medium, and hard strengths, beginners find the medium is the most advantageous for easy blending. 
The right pastel medium for you needs to be decided by you. Just experiment with certain mediums to find out which one suits your style of art best. Don't forget, other mediums include pencil pastels and hard pastels too.
The good news is that you can have a lot of fun trying out these mediums. You may find that you like more than one which opens up more creative possibilities in the future.