What Is A Vanity Gallery? – Popular Vanity Gallery List Here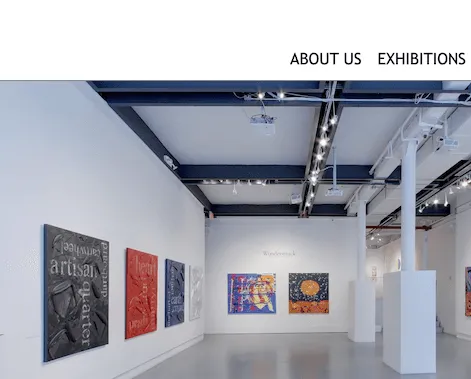 There is a big difference between a vanity art gallery and an authentic traditional art gallery. Legitimate traditional galleries make their profits from the sales of art.  Vanity galleries make their profit from upfront fees that are paid by artists to show in them. In this post I will cover what a vanity gallery is compared to other galleries and I have put together a small vanity gallery list just for you.
What are the different kinds of art galleries?
Apart from the vanity galleries that we are discussing today, there are other more reputable gallery types.
Commercial
Most galleries are commercial art galleries. This is a legitimate type of art gallery in which an artist's work is sold and the gallery takes a percentage of the sale as its commission.
Mega-galleries
Mega-galleries are also legitimate art galleries, but are larger and may have branches in several places.
Exhibition spaces
Exhibition spaces are not technically galleries, but spaces that an  artist rents in which they can create their own exhibitions.  Rent is charged for the space, and the artist is responsible for all aspects of the exhibit.
Co-ops, Collectives  or artist-run galleries
Co-ops, otherwise known as collectives or artist-run galleries, have the potential to be successful and can gain  reputations as a commercial art gallery.  While some may ask for a fee, the fee is not a guarantee of an exhibition but is usually used to cover costs as the expenses are spread among exhibiting artists.
What is a vanity gallery? 
These are the types of galleries in which the artist is required to pay a fee for representation, either for rental of the gallery space, exhibit expenses, advertising, or all of the above. This fee represents the artist's privilege of getting a show.  
Representation by a traditional gallery entails an artist who usually works very hard, submitting portfolios of the types of galleries that exhibit work similar to that which is submitted. The process can be a painstaking one,  not unlike being a writer submitting his or her work to a traditional publishing house.
Being granted an exhibit for a fee by a vanity gallery can be tempting, but  these types of galleries tend to  accept any artist who agrees to pay the required fee. Even the worst artists can get shows in them.
Are vanity galleries worth it?
Representation in a vanity gallery does not speak to the quality of the work, nor do these kinds of galleries respect or add to the artist's reputation.  They exist to take money from artists who might not otherwise be able to get their work into legitimate art galleries.  Exhibiting work in a vanity gallery can, in fact, sully the reputation of a legitimate artist. 
Since vanity galleries make their money from fees paid by the artists, they rarely put forth meaningful promotional efforts for the artists who show in them. 
Whereas traditional art gallery owners or curators know a good deal about art and have real relationships with the arts community in general, those who manage vanity galleries do not necessarily know anything about art.  Art is secondary to the artist who contributes their money to the cause. 
Respected art publications will publish news about current exhibitions at legitimate art galleries, but it is rare to see any news at all written about an art show at a vanity gallery. 
Is there a vanity gallery list?
Because of the nature of the vanity gallery, there is not a single comprehensive vanity gallery list.  This is because many of them are fly-by-night operations that may close with little or no notice and open in a different location. 
Many vanity art galleries resemble scam operations where burgeoning artists who are unfamiliar with the business of art are targeted, both for their money and their vulnerability. 
However, they are not necessarily illegal, because they explain their terms thoroughly and the artist is given a choice about whether or not to do business with them. 
Sadly, however, they can end up costing the artist a lot of money and seldom generate a profit. 
Here is a small vanity gallery list of the more well known ones that I have put together thanks to submissions from my readers (in no order of importance) – contact me to add to the list and I will verify your submission.
How can you show your work without using a vanity gallery?
The best way to get into a legitimate gallery is to create high quality artwork.  Before submitting the work to a gallery, it is best to familiarize oneself with the work that is generally shown there.  It might be a good idea to attend art events at a gallery where you're interested in showing.
For instance, go to a lecture or art opening and introduce yourself to the gallery's manager. 
A follow-up visit shortly thereafter is a good idea as well, where you could let the gallery manager know that you are interested in showing there.  During this conversation, ask the best way to submit your art.  Some galleries prefer digital photographs. Others want to see the work in person. 
 If you both feel that your work is a good match, follow the directive of the gallery manager and submit your work.  An artist should never have to pay a fee to show his or her work at a legitimate gallery. 
It is important, however, to respect submission guidelines and to read any contracts carefully, making note of the amount of commission the gallery expects. 
Sources
https://theartedge.faso.com/blog/65797/vanity-galleries-a-cruel-history
http://www.spacial-anomaly.com/why-artists-should-avoid-vanity-galleries/
https://www.format.com/magazine/resources/art/how-to-get-your-work-in-an-art-gallery
Latest Posts
Joseph Colella is a frustrated artist with over 40 years experience making art (who moonlights as a certified Business Analyst with over 20 years of experience in tech). While he holds a Diploma in Information Technology, in true wasted talent style he spent years trying to get into various Art degrees from the Accademia di Belle Arti (Napoli), and failed to get into the Bachelor of Arts (Fine Arts) at the University of Western Sydney. His goal is to attend the Julian Ashton School of Art at The Rocks Sydney when he retires from full time work. In his spare time, he writes for the this blog, WastedTalentInc, where he shares practical advice on art, making art, and art materials. Joseph's art has been sold to collectors all over the world from the USA, Europe and Australasia. He is a trusted source for reliable art and copyright/fair use advice and is committed to helping his readers make informed decisions about making them a better artist.
He also loves all things watches (ok it's an addiction) so show him some love and visit his other website https://expertdivewatch.com