Cheaper Alternatives To Copic Markers You Will Love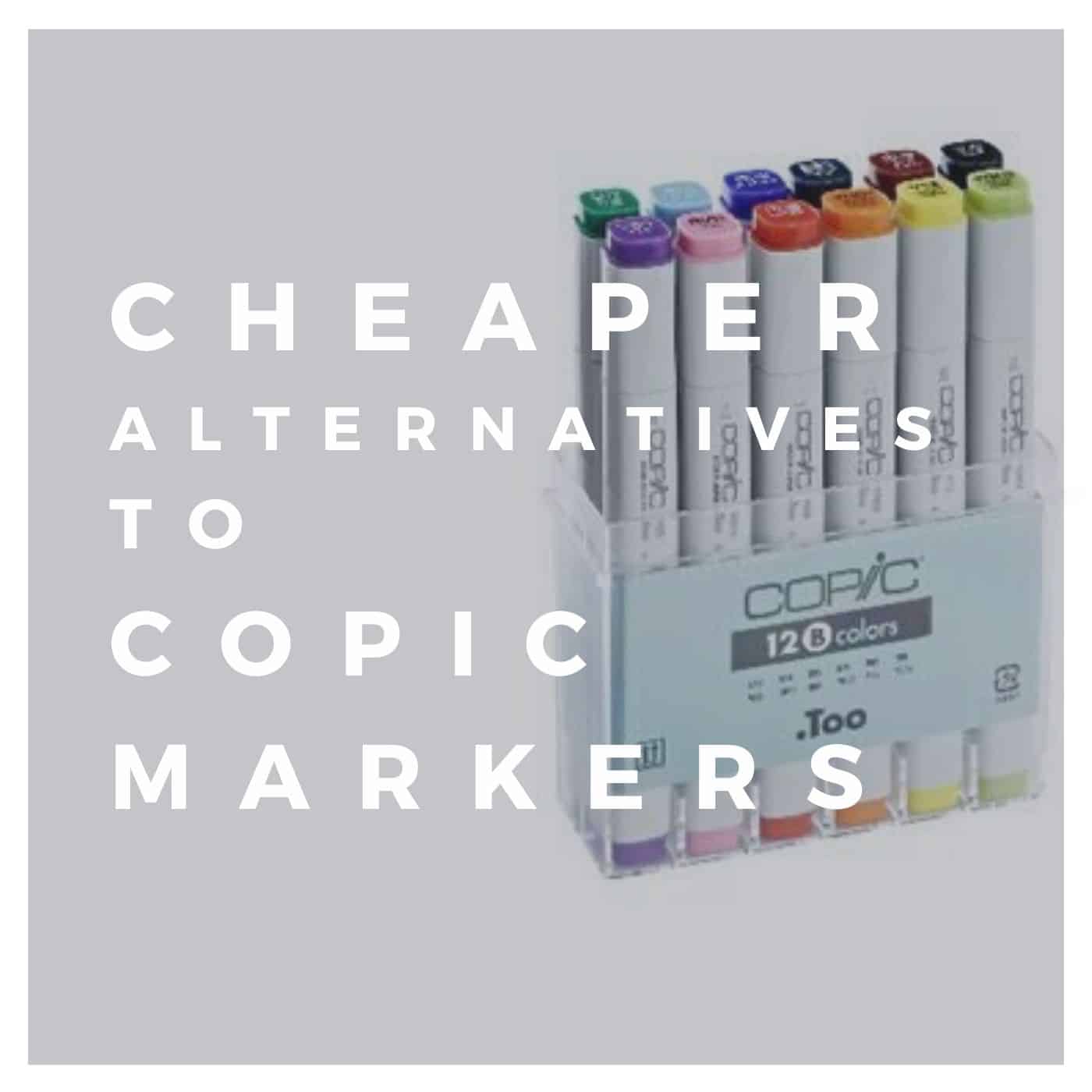 Since 1987, the COPIC MARKERS from the "Too Corporation" have been an industry standard for graphic design markers. However, there are some people whose budget does not stretch far enough to buy these markers, and they seek cheaper alternatives to Copic markers.
In this article, I am going to be taking a quick look at some of these alternative brands citing Pros and Cons for each and listing where you can purchase them.
---
Promarkers / Winsor & Newton
These markers originally made by Letraset, as were Tria Markers and Flexmarker brands.
In June 2012, the company was acquired by Colart and moved from the UK to France and became part of Colmart's subsidiary Winsor & Newton.
The Promarker range is alcohol-based and is available in 148 colors.
They have twin tips (you get a fine point and a broad chisel nib). Promarkers are waterproof, but they can be blended before the inks dry.
The manufacturers suggest that Winsor & Newton Bleedproof Paper (75g) is used with these markers, as it is formulated to stop bleeding.
If this paper is not available use cardstock or heavy-duty papers.
Users of these pens seem quite happy. Perhaps the biggest complaint was connected with the time the markers last rather than the performance.
PROS
· Smoother ink than Copic
CONS
· The small fine nib is hard and does not blend
· No refills
· Poor on layering
These products are available normally through The Winsor & Newton website and Amazon – As an Amazon associate I earn from qualifying purchases
---
Ohuhu Alcohol Marker
Another in the line of cheaper alternatives to Copic markers are Ohuhu alcohol markers. These markers are distributed from Ohuhu in Union City, USA.
The same company sells a wide variety of products on Amazon, not just markers.
This range made me wonder if they were just distributors and not manufacturers.
However, on their website, they talk about "their factory," so I am possibly over suspicious.
Ohuhu alcohol-based markers are double-tipped with a small pointed tip, and a larger chisel-shaped one for wide coloring areas.
The set comes with 120 colors and one blender pen.
The ink is alcohol-based, so it will dry instantly, thus reducing the chances of smudging.
Not so long ago, Ohuhu rebranded and made their pens slightly longer and increased the width of the chisel nib.
Customer service is quite good. One artist received a set where two or three pens were dry, so they sent a completely new set of 100 to compensate which in my eyes is a fantastic customer experience!
PROS
· Cheaper alternative to Copic markers
· Colour coded tops to pens.
CONS
· The small fine nib is hard and does not blend
· No refills
· Poor on layering
Markers are available on the company's website https://www.ohuhu.com/ or on Amazon. As an Amazon Associate I earn from qualifying purchases.
---
Marvy Le Plume Cartoon Designer
Marvy Le Plume (Uchida) is a brand owned by Japanese company Uchida Yoko Global Ltd.
The Le plume series of pens come in a variety of nib sizes and shapes.
They also offer both alcohol-based pens and watercolor based pens.
They are more expensive than the Ohuhu but far less than the Copic.
There are 60 colors in the Le Plume alcohol-based "Cartoon Designer" range. The marketing is aimed at comic designers and artists mainly.
Uchida has other ranges of pens more suitable for architectural drawing.
The range also comes with a marker featuring translucent white for adding highlights.
PROS
· Colour Coded tops
· Cheaper alternative to Copic markers
CONS
· No refills
You can see the full range at MARVY LE PLUME WEBSITE (UCHIDA) Pens are quite reasonable in price.
Alternatively, there's always Amazon – As an Amazon Associate I earn from qualifying purchases.
---
Arrtx 80
These alcohol-based markers are substantially cheaper than Copic. They come packed in a great canvas bag.
They look good, but how do they work compared to Copic.
Pricewise (based on various online sources) they generally work out at about 50 cents per marker, and if you compare that to Copic Ciao, which works out at $2.53 per marker, they are obviously in a different price league.
When looking at cheaper alternatives to Copic markers, these are up there.
If you consider the difference in price, that was a pretty minor difference.
I was watching a professional artist using the Arrtx, and after completing the work she was fairly happy with the Arrtx apart from a freak spraying that took place when coloring.
PROS
· The caps on the Arrtx are fairly close to the ink color
· Great carry case included
CONS
· No Refills
You can buy these on Amazon – As an Amazon Associate I earn from qualifying purchases.
Check out the Arrtx FACEBOOK PAGE.
---
Caliart Alcohol Markers
Caliart has a choice of 100 colors. All fitted with dual tips, one for line drawing, and the other for filling.
They feature alcohol-based ink, and each pen is designed to draw at least 1000 feet.
I have not tried doing that, but it seems a pretty confident statement.
The set also contains a colorless marker that is used for blending colors.
A BIG problem with the Caliart and all those brands that do not sell refills is that since they do not sell individual pens, if one goes dry then you have to buy a completely new set to replace the one color.
Now, this takes away a lot of the benefit of the cheaper price if you are a professional that needs a full range of colors.
Just like the Ohuhu, Caliart sells for under 70 cents a pen, although you cannot buy individual pens, unfortunately.
Both brands are at the budget end of the market, and I think it is fair to say that these are not brands for the true professional (unless they are short of money).
There are just too many little annoying errors with these cheaper brands.
PROS
· They are a budget set of pens
· They come in a nice bag
CONS
· Cannot buy single colors so cannot replace individual pens
· Cannot buy refills
· They are kind of unpredictable
Remember that Caliart markers (and all the other alcohol-based markers) will bleed if you use ordinary paper.
While I cannot find a website fo Caliart, you can buy them through Amazon. As an Amazon Associate I earn from qualifying purchases.
Conclusion
There is no doubt that there are alternatives to Copic, but whether for a professional graphic artist, these alternatives are good enough is questionable.
Professionals buy Copic because they offer a full range of colors, and when they eventually dry up, they can be replenished with a refill bottle.
Similarly, nibs can be replaced.
A good set of Copic will last a lifetime.
Of course, that set is going to cost you a lot of money at first, far more than these alternatives will.
But, when you realize that when one single pen runs out that you cannot refill it, cannot replace it singly, and are forced to buy a new set, this price advantage becomes a little less obvious.
I hope that helps you in your search to find good cheaper alternatives to Copic markers.
---
If you wish to see what Copic markers are available on Amazon, feel free to click the links below to find a suitable range of Copic markers – please note as an Amazon Associate I earn from qualifying purchases.
Copic Premium Artist Markers – 72 color Set A – Intermediate Level
Copic Marker C72A Classic 72 Color Marker Sketch Set; Preferred for Architectural Design, Product Rendering, and Other Forms of Industrial Design; Packaged in a Clear Plastic Case
Copic Classic Markers 36-Piece Basic Set
Copic Markers 6-Piece Sketch Set, Skin Tones I
Copic Marker SB12 12-Piece Sketch Basic Set
Copic Classic Markers 36-Piece Basic Set
More articles on Copic Markers
All Copic Markers Skin Tones Numbers; from Whites to Browns to Black
Why are Copic Markers So Expensive?
Other Posts You May Like
Joseph Colella is a frustrated artist with over 40 years experience making art (who moonlights as a certified Business Analyst with over 20 years of experience in tech). While he holds a Diploma in Information Technology, in true wasted talent style he spent years trying to get into various Art degrees from the Accademia di Belle Arti (Napoli), and failed to get into the Bachelor of Arts (Fine Arts) at the University of Western Sydney. His goal is to attend the Julian Ashton School of Art at The Rocks Sydney when he retires from full time work. In his spare time, he writes for the this blog, WastedTalentInc, where he shares practical advice on art, making art, and art materials. Joseph's art has been sold to collectors all over the world from the USA, Europe and Australasia. He is a trusted source for reliable art and copyright/fair use advice and is committed to helping his readers make informed decisions about making them a better artist.
He also loves all things watches (ok it's an addiction) so show him some love and visit his other website https://expertdivewatch.com