Why Are Copic Markers So Expensive? Are they well made? Find out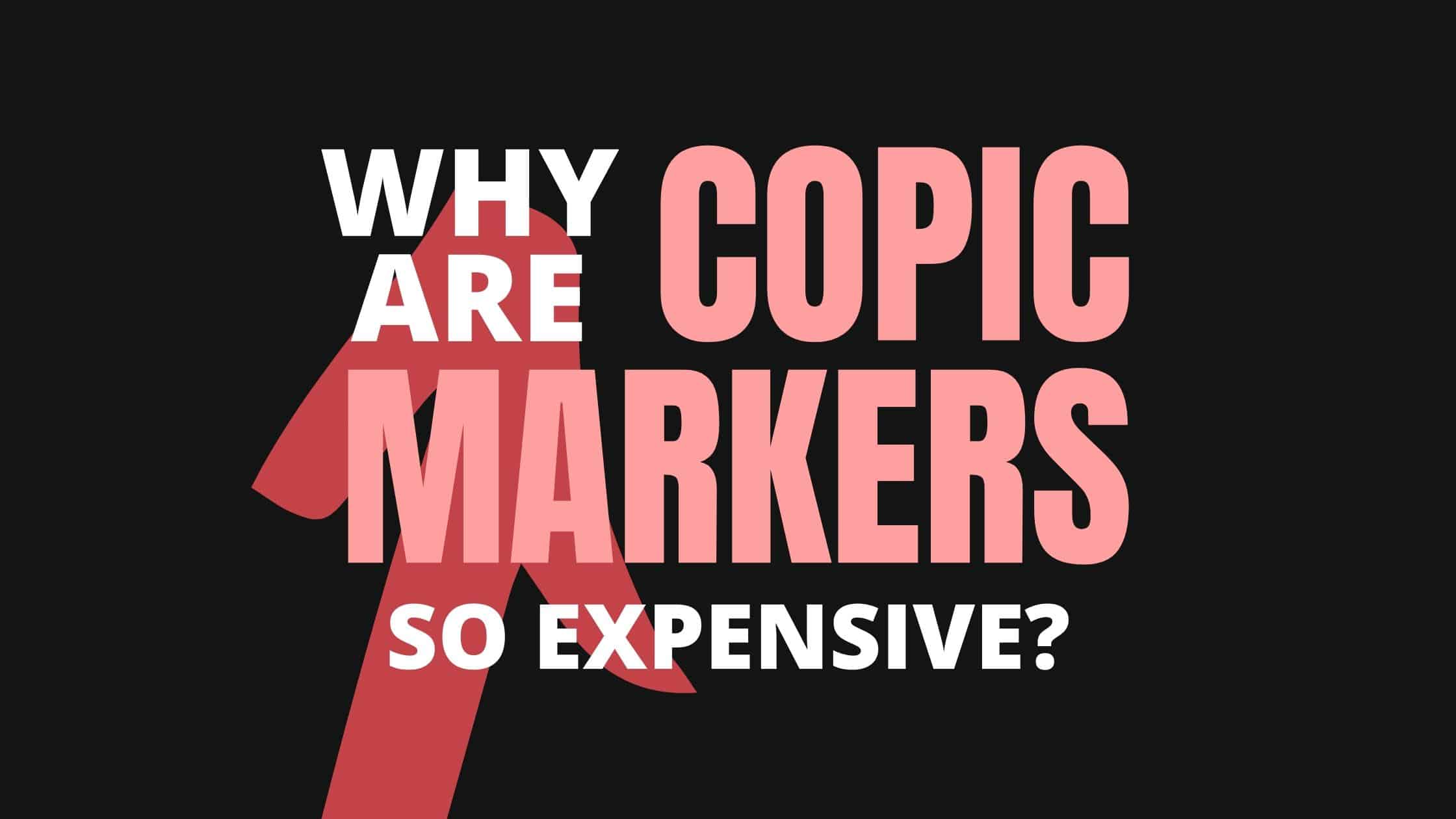 Why are Copic markers so expensive? That's the question I asked myself when I first started using high end markers for some of my artworks.
I came across Copic, which was a brand of markers that were about 5 times more expensive than the next most expensive brand.
I ended up purchasing a single marker in black to find out what made Copic markers so expensive. I have to say I was blown away and convinced they were worth every single cent.
So in this post, I will go through the key reasons as to why Copic markers are so expensive:
Copic offers 358 colour variants that utilize a fast-drying alcohol-based ink, that is gentle on the paper.
There is a matching bottle of ink for every single colour of marker
You can buy replacement nibs
They are fast drying
Copic colors can be blended (with some skill)
Read on for the details and then you can then decide if they are the marker for you.
Before we do, let's go back to when Copic markers were created…
Way back in 1987, the Too Corporation (known as Izumiya), in Japan, introduced Copic Markers as a tool to be utilized in design and fine artwork.
The company (established in 1919) was already known for art and design equipment.
Before the Copic range, the company had already introduced Speedry Markers as a joint venture with the Magic Marker Corporation of the USA.
Speedry Markers were the first-ever markers created for designers.
Within two years of introduction, Copic Markers had added 71 colours to the classic range.
A further 72 colours were introduced by 1991, and in 1992 they introduced opaque white.
That year was also when the company changed its name to the"Too Corporation."
Since then, the company has continued to add new products and colours almost annually.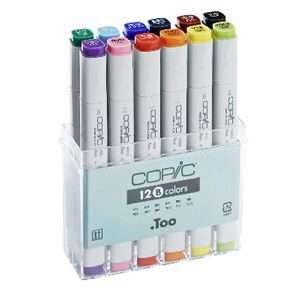 What's so good about Copic markers?
Having seen how the company developed, we will now look at why this range of markers became so popular.
Copic Markers are considered to be the ultimate marker and are widely used by top professionals, especially in the Japanese Manga and Anime industry.
They are also used extensively in fashion design, architectural drawings and automotive design.
No marker would make this kind of global impact unless there were something extraordinary about them. So what is so special about Copic Markers?
They are convenient, always ready for immediate use.
Copic offers 358 colour variants that utilize a fast-drying alcohol-based ink, that is gentle on the paper.
The markers also come with a top-quality brush nib. Unusually, Copic Markers are refillable; there is a matching bottle of ink for every single colour of marker.
It is also possible to buy replacement nibs.
So once a professional has invested in a set of these markers, handled with care, they should last a whole career.
This quality is how they can justify the higher price that these markers attract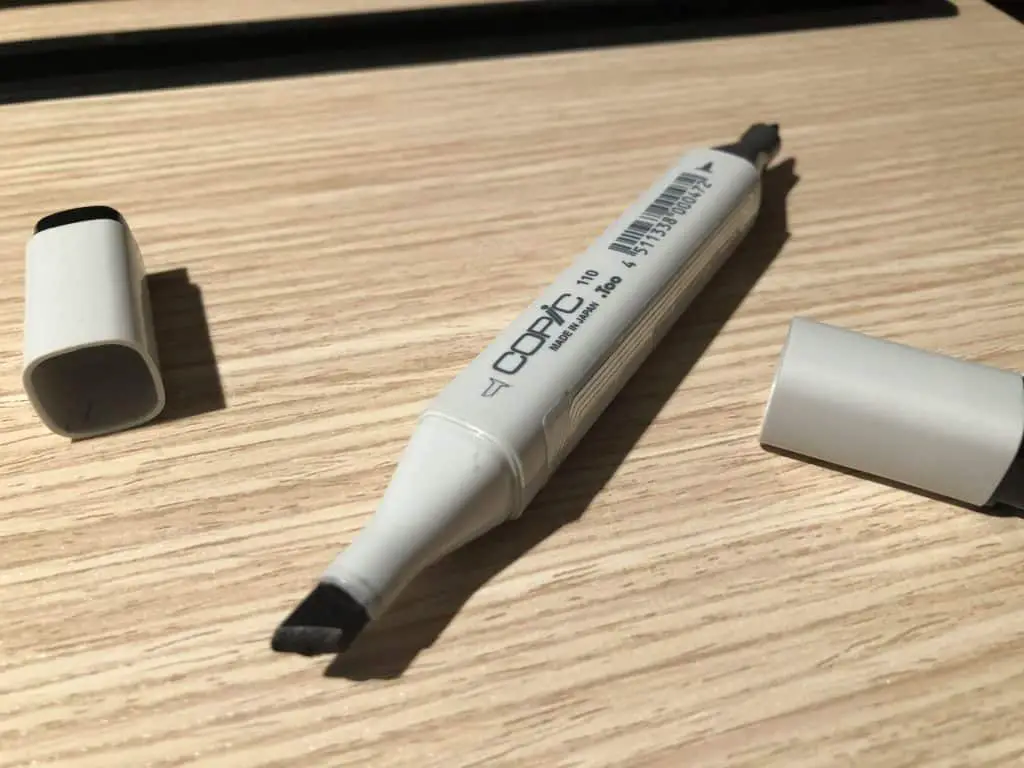 Do Copic markers fade?
Since I have been describing a top of the range marker and praising its superiority over alternative products, you are going to assume that I will say "No, of course, they do not!" Well, you would be wrong.
Copic Markers will fade over time.
There is also nothing you can do to stop this.
No fixatives, no UV light filters, no glass will stop them fading. They are not designed that way. This actually freaked me out as I had planned on making lots of original art works to sell using Copics.
But it's not all bad. Read on..
You are probably quite shocked at this as I was, but STOP FOR A MOMENT!
If we go back to what these markers are used for, permanence is not a requisite. Markers were never designed to be used in permanent works of art.
I can think of a whole long list of artists who use markers, and they all have one thing in common.
They do not sell the original they sell high-quality digital prints.
On completing the artwork, they digitize at very high quality a master copy, and then they sell reproductions of that master copy.
The Copic Marker is simply a tool for creating the original.
Who uses these markers?
They are used by fashion designers, comic book artists, automobile designers, architects and in none of these cases does it matter if over a year or so the work starts to fade away.
By then they will have been digitized, used and discarded.
So, in reality, if you are using Copic Markers in the way, they were intended, then who cares if they fade?
Should Copic markers be stored horizontally?
Copic state that it does not matter which way you store the markers as long as there is an adequate supply of ink inside a pen; however, they recommend that they are stored flat.
Do Copic markers last long?
How long does a Copic Marker last?
When several professionals were asked, the general response was "If treated correctly and not left with caps off, they will last as long as any brand of the marker.
The exact time will depend on how much you use them".
Of course, the great thing about Copic is that you can refill them, which is not the case with most brands. And that was another reason that freaked me out!
Do Copic markers bleed?
If you use Copic Markers on ordinary paper, they will bleed.
However, professionals will use special paper for the markers or Canson sketch paper.
A good watercolour paper also works well with Copic.
I hope this short article has provided you with the answers you were looking for.
When investing in a top-class, product like Copic, that you will continue with for life, it is essential to research the product.
I believe that I have answered the most common questions, and all that is left is for me to wish you success with your design work using Copic Markers.
---
If you wish to see what Copic markers are available on Amazon, feel free to click the links below to find a suitable range of Copic markers – please note as an Amazon Associate I earn from qualifying purchases.
Copic Markers 6-Piece Sketch Set, Skin Tones I
Copic Marker SB12 12-Piece Sketch Basic Set
Copic Classic Markers 36-Piece Basic Set
Other Posts You May Like
Joseph Colella is a frustrated artist with over 40 years experience making art (who moonlights as a certified Business Analyst with over 20 years of experience in tech). While he holds a Diploma in Information Technology, in true wasted talent style he spent years trying to get into various Art degrees from the Accademia di Belle Arti (Napoli), and failed to get into the Bachelor of Arts (Fine Arts) at the University of Western Sydney. His goal is to attend the Julian Ashton School of Art at The Rocks Sydney when he retires from full time work. In his spare time, he writes for the this blog, WastedTalentInc, where he shares practical advice on art, making art, and art materials. Joseph's art has been sold to collectors all over the world from the USA, Europe and Australasia. He is a trusted source for reliable art and copyright/fair use advice and is committed to helping his readers make informed decisions about making them a better artist.
He also loves all things watches (ok it's an addiction) so show him some love and visit his other website https://expertdivewatch.com