A Full Guide To The Best Paper For Dip Pens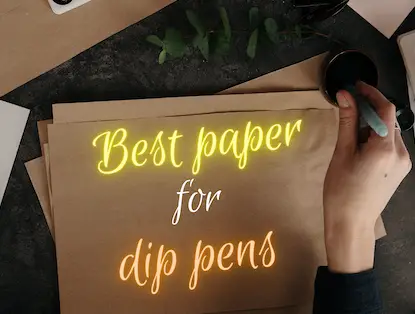 Paper comes in a wide variety. Only some paper is suitable for calligraphy or art using dip pens. A range of paper elements can impact how well your dip pen performs. Understanding weight, texture, and type can help you make the best choice when selecting paper for dip pen projects. So what is the best paper for dip pens? Let's dive right into it and then discuss why as we look at dip pen paper 101 through to common problems with dip pen papers.
What's the best paper for dip pens projects? 
The best paper for dip pens needs to be smooth, or the dip pen nibs will scratch and rip any rough papers that have 'tooth' or rough fibers. When we need to find the best paper for dip pens, no matter what brand it is the paper needs to be smooth.
Printer paper: Best for practicing lines and testing new inks. 
Smooth Bristol Paper: Smooth surface. Best for work with ink, pencil, marker, and airbrush. 
Vellum Bristol Paper: Medium surface, rougher than Bristol. Best if you want to combine pen and ink line work with watercolor, graphite, charcoal, colored pencil, crayons, or pastels that do best with a little more texture.
Cold Press Paper: Watercolor paper best suited for watercolor with pen and ink linework. The texture is similar to vellum bristol, but will be more forgiving with your watercolor brush work. 
Journals with 160 GSM (98 lb) Paper Weight: If you want to practice dip pen journaling, look for journals with dot grid or square pages with 160 GSM (98 lb) or higher paper weight. This will prevent bleed through so you can use both sides of the paper. Just remember to write slowly, as the pages will be smooth and prone to smudging without care. 
Smooth Bristol Paper
Bristol Vellum Paper
160GSM 98 lb Journal
Dip Pen Paper 101 
Nearly every kind of paper you can buy will list two key factors that are useful to understand when working with ink: texture and weight. Understanding these different factors and how they come into play in different kinds of art and writing paper can help you pick the right paper for your dip pen projects, whether you are practicing calligraphy or painting a masterpiece. 
What is paper weight? 
You'll typically find paper weight described by GSM (grams per square meter) or lbs. In both cases, the heavier the paper, the thicker it is likely to be. For most art paper, GSM is more common outside of the USA whilst pounds (lb) is more common within the USA. Be mindful of this when ordering your supplies outside of the USA. 
What's a good paper weight for dip pens? 
You will want to stay above 60 GSM for calligraphy. Printer paper typically falls between 90-100 GSM. If you plan to work in a journal and are keen to avoid bleed-through, aim for 160 GSM or higher. Paper weight isn't the only consideration for dip pens, however. Paper texture matters for dip pens.
Smooth versus rough paper? 
For dip pen drawings, you should always reach for smooth paper. The smoother the surface, the weaker the tooth. In paper, tooth refers to texture. A weaker tooth means fewer paper fibers pulled or scrapped away by the nib. They are also less likely to bleed, resulting in crisper, cleaner lines. 
Ink nibs will scratch and pull at the fibers of poor quality or roughly textured paper. This can leave fibers stuck in your nib, resulting in a mess of ink splatters on your page or a clogged pen. 
Plate versus vellum paper?
You may see paper described as plate or vellum. Plate is smooth and flat, while vellum has a medium texture and a slight roughness. You can still use it with a dip pen, but you won't get quite as much precision out of it. 
Can you use watercolor paper for dip pens? 
If you want to do a watercolor painting with pen and ink, you can also use watercolor paper. Watercolor comes in three distinct textures. Rough watercolor paper is not suitable for dip pens.
Cold press watercolor paper will be similar to vellum, with a bit of texture but still smooth enough to do fine line work.
Hot press watercolor papers are similar to plate Bristol. They will have a smooth surface and allow the pen to leave consistent lines in its wake, but they will also reveal every brush stroke using ink washes or watercolor.
For most ink and watercolor paintings, cold press is the best-suited paper. 
Common paper problems for dip pen paper
Fuzzy Lines: Ink lines should be crisp and clean. Your paper is likely bleeding if your lines look a little haggard around the edges. Invest in a higher GSM or smoother paper.
Smudging: Check your grip and hand position to ensure you aren't dragging your skin over freshly laid lines. Slow down, particularly if you are not used to smooth paper. 
Tearing: Your paper surface is likely rough, and your pen nib is catching. 
Bleed Through: The ink will bleed through with lower-weight paper. Not a problem if nobody will ever see the far side. Unfortunate if you plan to use the backside for anything. 
Pilling: Similar to tearing, this is the process of roughening up the fibers. This is caused by the nib catching the fibers on rough paper and will make your art look fuzzy. 
Latest Posts
Joseph Colella is a frustrated artist with over 40 years experience making art (who moonlights as a certified Business Analyst with over 20 years of experience in tech). While he holds a Diploma in Information Technology, in true wasted talent style he spent years trying to get into various Art degrees from the Accademia di Belle Arti (Napoli), and failed to get into the Bachelor of Arts (Fine Arts) at the University of Western Sydney. His goal is to attend the Julian Ashton School of Art at The Rocks Sydney when he retires from full time work. In his spare time, he writes for the this blog, WastedTalentInc, where he shares practical advice on art, making art, and art materials. Joseph's art has been sold to collectors all over the world from the USA, Europe and Australasia. He is a trusted source for reliable art and copyright/fair use advice and is committed to helping his readers make informed decisions about making them a better artist.
He also loves all things watches (ok it's an addiction) so show him some love and visit his other website https://expertdivewatch.com