Turpenoid Vs Gamsol – One Gives Better Results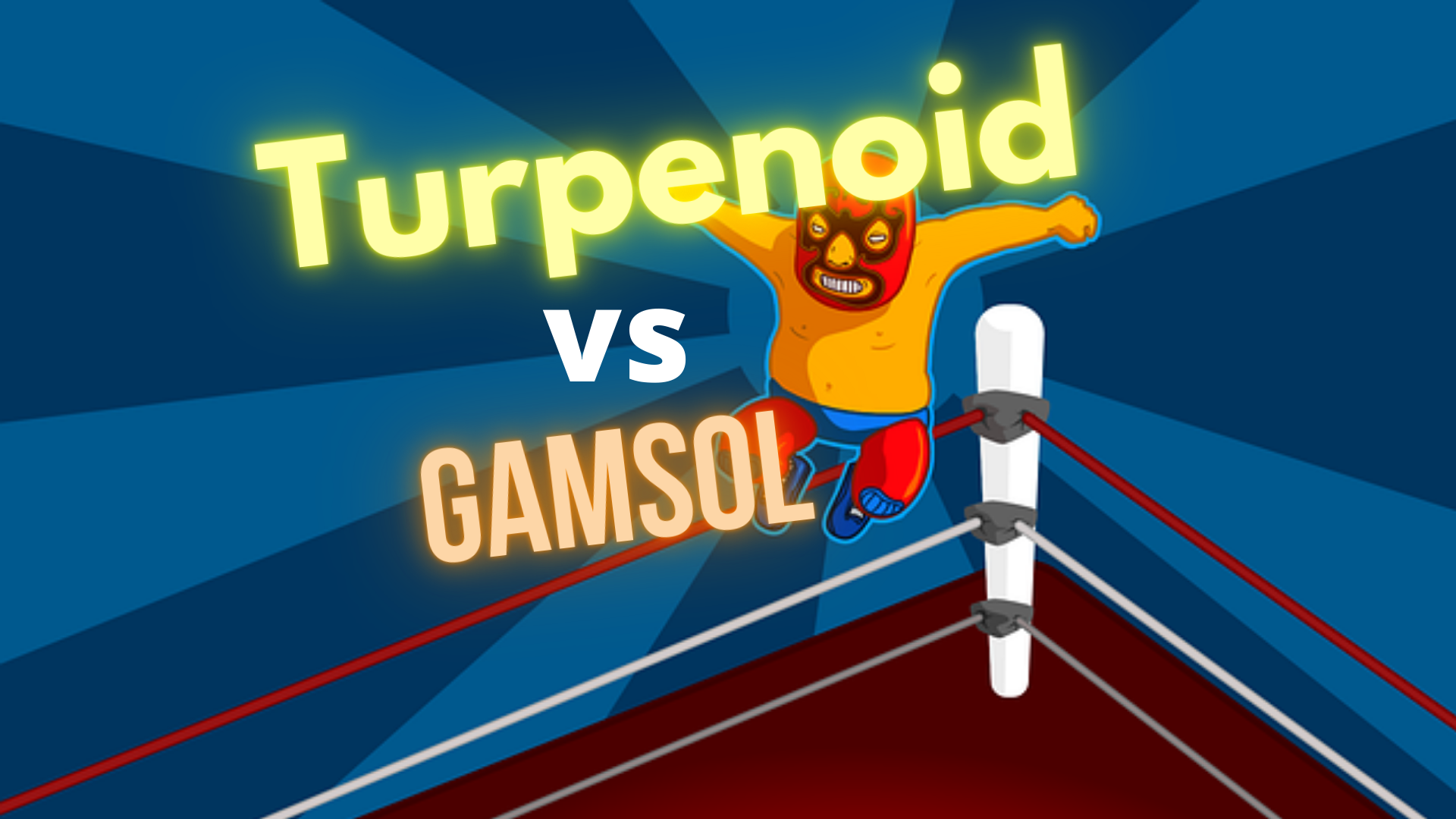 There are a few different types of solvents that artists use to thin their paints and make them easier to work with. In this blog post, we're going head to head with Turpenoid vs Gamsol to see which one gives better results. Both Turpenoid and Gamsol are solvents that are great for thinning oil paints, but there are some key differences between them that you should know about before you decide which one is right for you. So, without further ado, let's dive into Turpenoid vs Gamsol and you can then decide if the extra cost of Gamsol is worth it!
Turpenoid vs Gamsol
The following characteristic describes the similarities between Turpenoid and Gamsol:
The following characteristics describe the differences between Turpenoid and Gamsol:
Gamsol
Further information Gamsol can be obtained from the Gamblin Safety Data Sheet here.
Turpenoid
Further information on Turpenoid can be obtained from the Weber Fact Sheet here.
So, which one should you use? If you are just starting out with oil painting, then Turpenoid is a great choice because it is less expensive.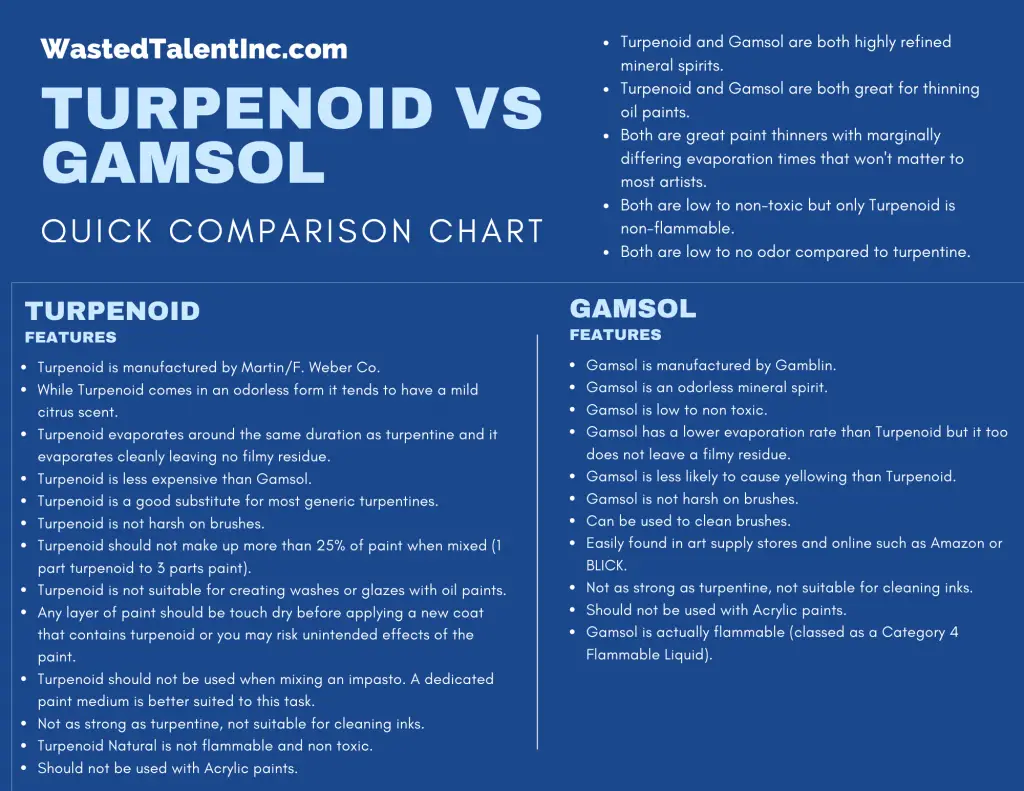 What can I use instead of Turpenoid?
When I was a younger artist still living at home, I would usually paint with oil paints in my bedroom and I would use a turpentine to not only thin my oil paints but also clean up my oil paint brushes. This practice made my bedroom one toxic-smelling place (and it wasn't because of my socks!).
My mom would complain every day that I was doing damage to my lungs and she forced me to look for alternatives to turps. I tried a few things and since I could never find Turpenoid in my local art store (Amazon hadn't been invented yet) I came up with the followng chemicals that I could use instead of turpenoid:
Gamsol
This was recommended to me by an artist friend and it is a great turpentine alternative. It's made by the Gamblin company and you can find it at most art stores. It's more expensive than turpentine but, in my opinion, it's worth it!
Gamsol is less smelly than turpentine and it evaporates more quickly. It also doesn't damage your brushes as much.
Turpentine
Turpentine is a petroleum product and it's very smelly. It's also flammable, so you have to be careful when using it. Turpentine is less expensive than Gamsol but it works just as well in my opinion.
It takes longer to evaporate and it's not as gentle on your brushes.
Mineral Spirits
Mineral spirits are also a great turpentine alternative. You can find them at most hardware stores. They're less smelly than turpentine and they evaporate more quickly.
I've found that mineral spirits work just as well as turpentine for cleaning my brushes and they don't damage the bristles.
Oil of Spike Lavender
Oil of spike lavender is another great turpentine alternative. It's made from the spike lavender plant and it has a very strong scent. You can find it at most health food stores.
I really like oil of spike lavender because it's less toxic smelling than turpentine (it has a herb mixed with camphor sort of smell) and it evaporates more quickly. Plus, it doesn't damage the bristles of my brushes.
Oil of Spike Lavender contains no petroleum and no turpentine.
Because Mineral Spirits and Oil of Spike Lavender had some form of smell that annoyed my wife then Gamsol won out.
Turpenoid vs Gamsol – Wrap up!
It really doesn't matter which solvent you use as long as it does the job. Personally, I like Gamsol because I have a bit more experience with it than Turpenoid and I like real odorless versus low odor.
Both turpenoid and gamsol are equally great at being a solvent. If you're looking for something that is non toxic and non-flammable and easy on your skin then I would choose Turpenoid.
But, if you can't find it or afford it then turpentine or oil of spike lavender will work just as well.
I hope you enjoyed reading Turpenoid vs Gamsol and if you feel you got value out of it, feel free to share it on social media or with your artist friends.
Latest Posts
Joseph Colella is a frustrated artist with over 40 years experience making art (who moonlights as a certified Business Analyst with over 20 years of experience in tech). While he holds a Diploma in Information Technology, in true wasted talent style he spent years trying to get into various Art degrees from the Accademia di Belle Arti (Napoli), and failed to get into the Bachelor of Arts (Fine Arts) at the University of Western Sydney. His goal is to attend the Julian Ashton School of Art at The Rocks Sydney when he retires from full time work. In his spare time, he writes for the this blog, WastedTalentInc, where he shares practical advice on art, making art, and art materials. Joseph's art has been sold to collectors all over the world from the USA, Europe and Australasia. He is a trusted source for reliable art and copyright/fair use advice and is committed to helping his readers make informed decisions about making them a better artist.
He also loves all things watches (ok it's an addiction) so show him some love and visit his other website https://expertdivewatch.com