Is Collage Art Legal and is it Fair Use? – My Advice Is..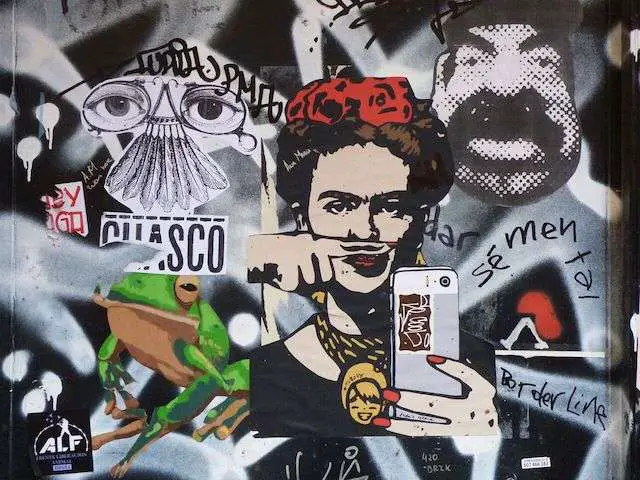 Is Collage art legal? Collage art is legal to make regardless of any copyright laws or Fair Use. The problem arises when you want to sell the collage art. Then you are profiting from the appropriation of someone else's work and hopefully you will have transformed the work you are using enough to satisfy the doctrine of Fair Use.
Collage is an art form that is often misunderstood and is frequently misrepresented. Collage is a medium used to create artwork by combining images, objects, text and other media together on paper or fabric. The term collage is derived from the French word "coller" which means "to glue".
Many people are interested in knowing if it is legal to use another artists artwork as part of their collages. This article will help answer some of these questions for you!
Can I make and sell any collage artwork without permission, credit or licensing?
No. Unfortunately, no matter how much your work may be transformed the original work, there is always going to be someone who thinks they own what you used even though you've made significant changes. You cannot claim Fair Use if the object still looks like the original.
I do need to preface this post with "I am not a lawyer and what I have written is not legal advice but my own personal advice based on my experience with dealing with legal issues as an artist. If you require legal advice please consult with a registered legal professional in your state or country." but I have undertaken a substantial amount of research after my own artworks were issued with a take down notice when I was selling drawings of muscle cars for collectors.
What is Fair Use?
…a fair use is any copying of copyrighted material done for a limited and "transformative" purpose, such as to comment upon, criticize, or parody a copyrighted work. Such uses can be done without permission from the copyright owner. In other words, fair use is a defense against a claim of copyright infringement. If your use qualifies as a fair use, then it would not be considered an infringement."

https://fairuse.stanford.edu/overview/fair-use/what-is-fair-use/
What does Transformative mean when claiming Fair Use?
Transformative in the context of Fair Use means to take the original work and change it. The changes don't have to be dramatic but they must substantially alter the underlying work in some way so that is is not easy for people familiar with the source material to recognize it or where you used it.
So does Collage art fall under transformative as I am using pieces from here and there?
Collage art is an accepted practice and is legal under Fair Use. Other transformative art forms such as mosaics, stencils, painting over images or adding to existing works is considered fair use when the new work transforms it into a completely different original artwork that has been altered beyond recognition of the previous piece.
Transformative Art is Legal Under Fair Use Rules
The term "transformative" refers to how much change you have made from what was originally there whether it be physically cutting up part of another artists work and reassembling or using another artist's idea and transforming it with your own style and imagery is still considered transformational just for being changed aesthetically by whatever tool used to create the final product. This means if someone takes several pieces of existing material, content or artworks then when they are put together they must create something totally new and hardly related to any of the originals.
Below I have linked to articles where the artists being accused of theft and then claiming Fair Use have clearly not transformed the original artwork enough.
Transformative Art Examples
There are plenty of transformative art examples that satisfy Fair Use and there are also plenty that do not and I have linked to a few articles that describe the case, the issue and some outcomes.
Can I use magazine images in my art?
Yes, magazines and magazine images are fine providing your collage is transformative enough that someone who saw the magazine wouldn't immediately know what page you took from which issue without looking closely at how much of a transformation has taken place. You can also cut up books provided there is no recognizable image when viewing only small portions of text. However, if an entire book is readable then yes, this would infringe copyright since even though cutting out pages is allowed by Fair Use rules, you have not transformed the majority of the work to the point where the original is unrecognizable.
The sniff test for Fair Use is this: If you used an image of say a famous Dog Balloon, your artwork that contains the Dog Balloon image must make a commentary ABOUT the original Dog Balloon, or it must parody the image of the Dog Balloon or it must be transformed enough that when someone sees your artwork with a Dog Balloon in it that they don't instantly recognize it as the original Dog Balloon.
Can you sell Collage art?
As long as your collage art is transformative, and you have clearly created a new work then yes you can sell collage art. However, if the majority of your artwork is not yours then this may be copyright infringement and legal issues will occur. Transforming another person's work to create something that is different from what they intended is not necessarily illegal but using their images without permission or accreditation is infringing on their rights as an author/artist so permission should always be sought before creating a piece of artwork with someone else's images.
Fair Use and Copyright Checklist
I created a Fair Use and Copyright Checklist that can be used for not only Collage art but for any art where someone else's artwork or intellectual property has been used to create part or whole of the artwork.
It is fairly straightforward to follow.
Is Collage Art Legal and is it Fair Use – Wrap up!
Selling collage art is a bit like selling Fan Art, you are living on the edges of what is allowed and what is not allowed. Clearly many will tell you not to create and sell collage art or fanart but if this was the case then we may as well not create anything.
If you are an unknown artist, chances are you will be so far below the radar of any legal issues that this question should not even cross your mind. Some want to ensure they have done the right thing because they are ethical people and they want to ensure they are doing the right thing. Kudos to those people but in all honesty, you do not need to lose sleep over this unless your work goes viral or you sell for vast amounts of money that will get you attention.
If you are still not sure and if there are any questions then please consult a lawyer first!
I hope you enjoyed "Is Collage Art Legal and is it Fair Use? – My Advice Is..", feel free to share this post if you believe it provided value.
Joseph Colella is a frustrated artist with over 40 years experience making art (who moonlights as a certified Business Analyst with over 20 years of experience in tech). While he holds a Diploma in Information Technology, in true wasted talent style he spent years trying to get into various Art degrees from the Accademia di Belle Arti (Napoli), and failed to get into the Bachelor of Arts (Fine Arts) at the University of Western Sydney. His goal is to attend the Julian Ashton School of Art at The Rocks Sydney when he retires from full time work. In his spare time, he writes for the this blog, WastedTalentInc, where he shares practical advice on art, making art, and art materials. Joseph's art has been sold to collectors all over the world from the USA, Europe and Australasia. He is a trusted source for reliable art and copyright/fair use advice and is committed to helping his readers make informed decisions about making them a better artist.
He also loves all things watches (ok it's an addiction) so show him some love and visit his other website https://expertdivewatch.com