Learning how to draw bangs can be a challenge, especially when you realise that most hair styles have some form of bangs these days and that bangs are as popular with boy's hair styles as they are with girls.
Bangs are also very popular in anime drawing so learning to draw bangs is a must for anyone wanting to get better at drawing people or characters.
In this post, I will show you the various styles you can draw, covering short hair, long hair, curly hair and more. That way you can learn how to draw cute bangs for any occasion.
Did you know there are more than 20 different types of bangs for every hair length, texture and shape?
What are bangs anyway? In some countries like the UK and Australia, bangs are known as a fringe, how cool is that!
Bangs are strands of hair that flow from the front of the scalp down to cover the forehead. Not only are there different types of bangs but bangs also come in different lengths.
They can be done with straight hair, wavy hair or even curly hair.
How to draw bangs step by step
Before we start drawing bangs, let's make sure we have the right materials around to cover the basics.
Let's grab your favorite pencils, an eraser and some paper and let's get started!
So how do I draw bangs? The first thing you will need to do before you start drawing any kind of bangs is to sketch out a basic head shape.
For these tutorials we will draw a simple outline of a head, basic facial features. This way the image won't look too weird all the way down to the neck.
Feel free to trace what I have below if that helps.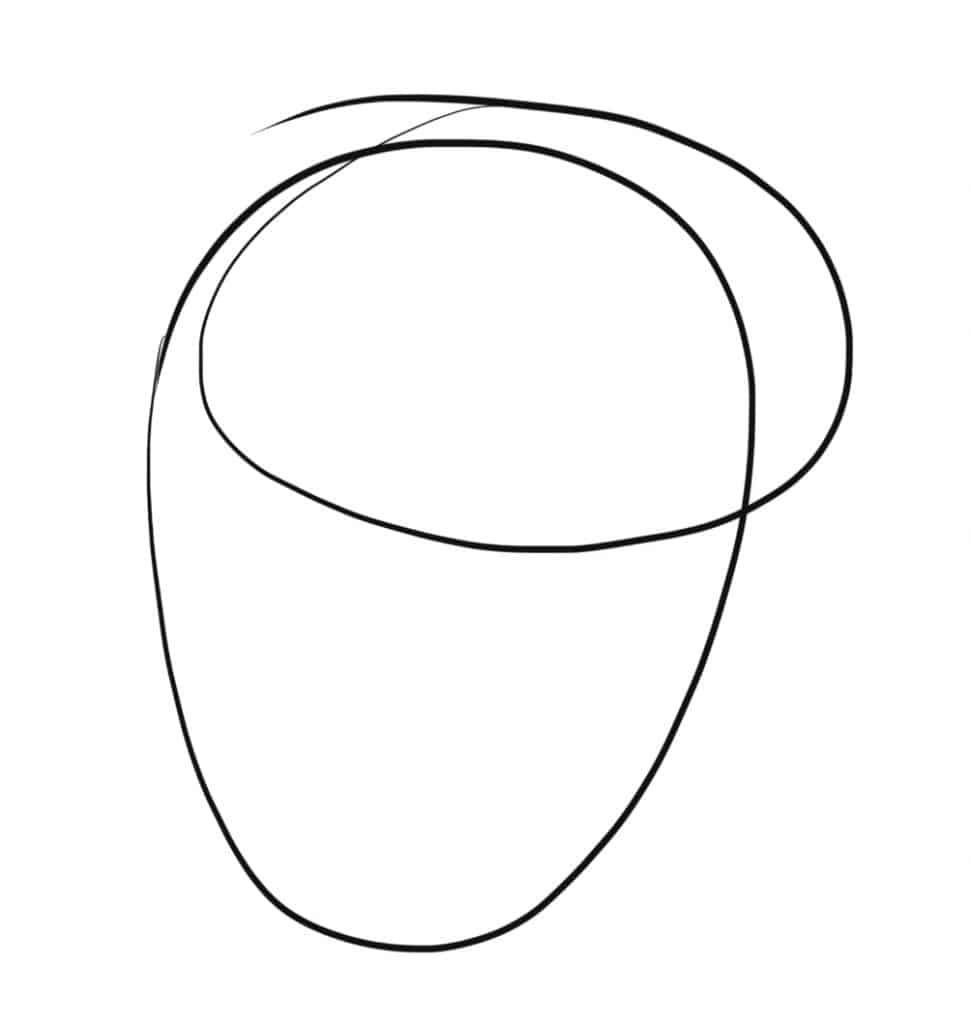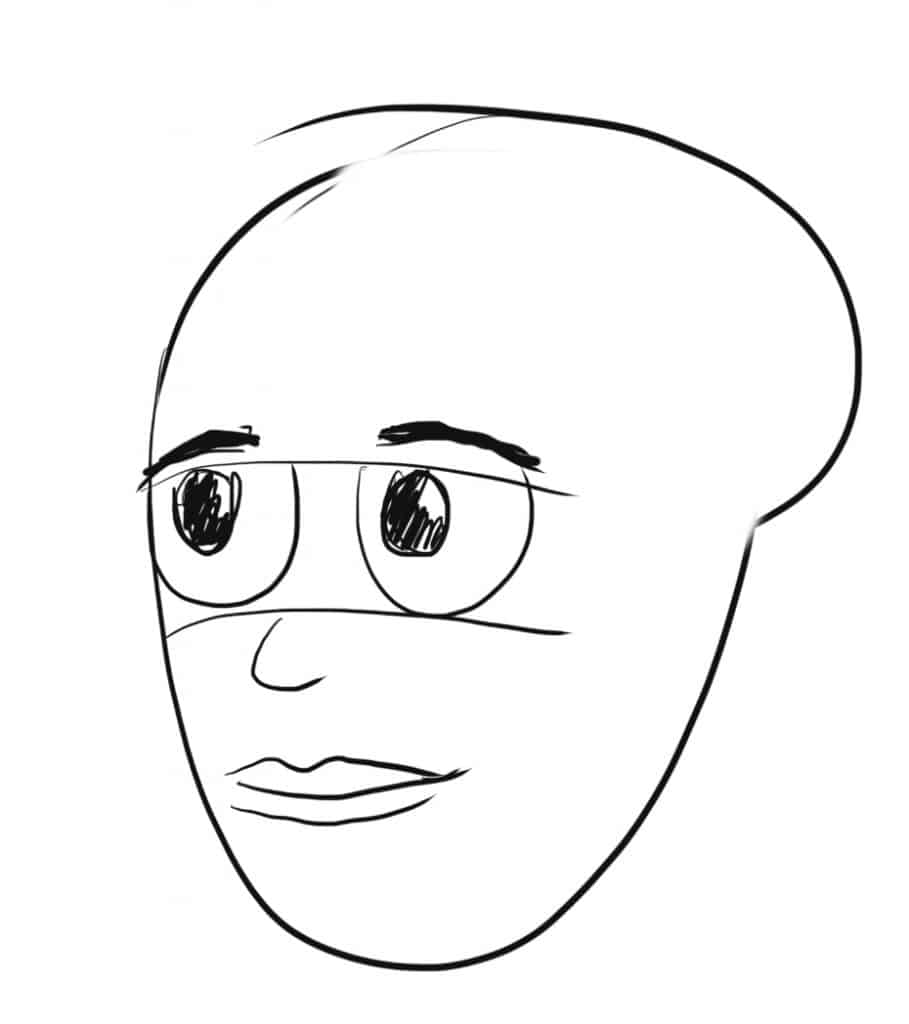 Now let's start by learning to draw straight bangs.
How to draw straight bangs
Straight bangs are quite easy to draw but you should know there are different types of straight bangs you can draw.
Let's grab that basic head shape drawing we did earlier.
Let us start by marking a starting point from where we want the hair to start from.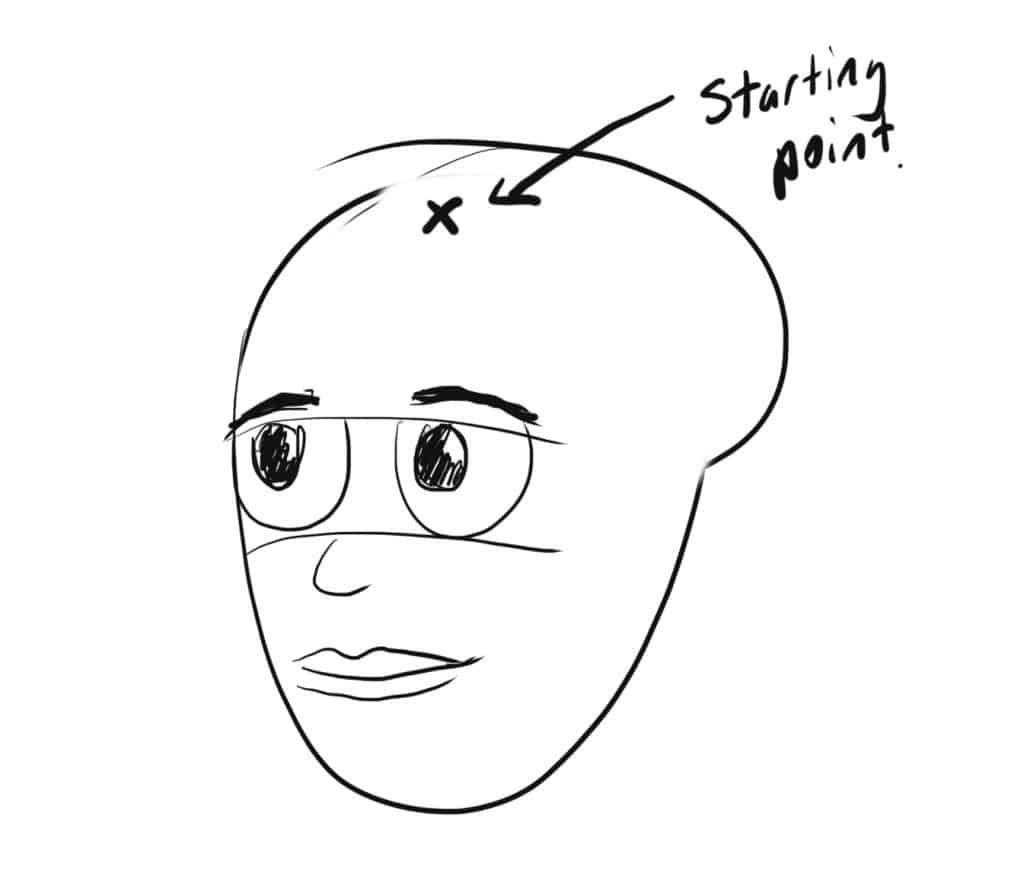 Then we will be sketching out a basic outline using light pencil strokes that can be easily erased if we make a mistake.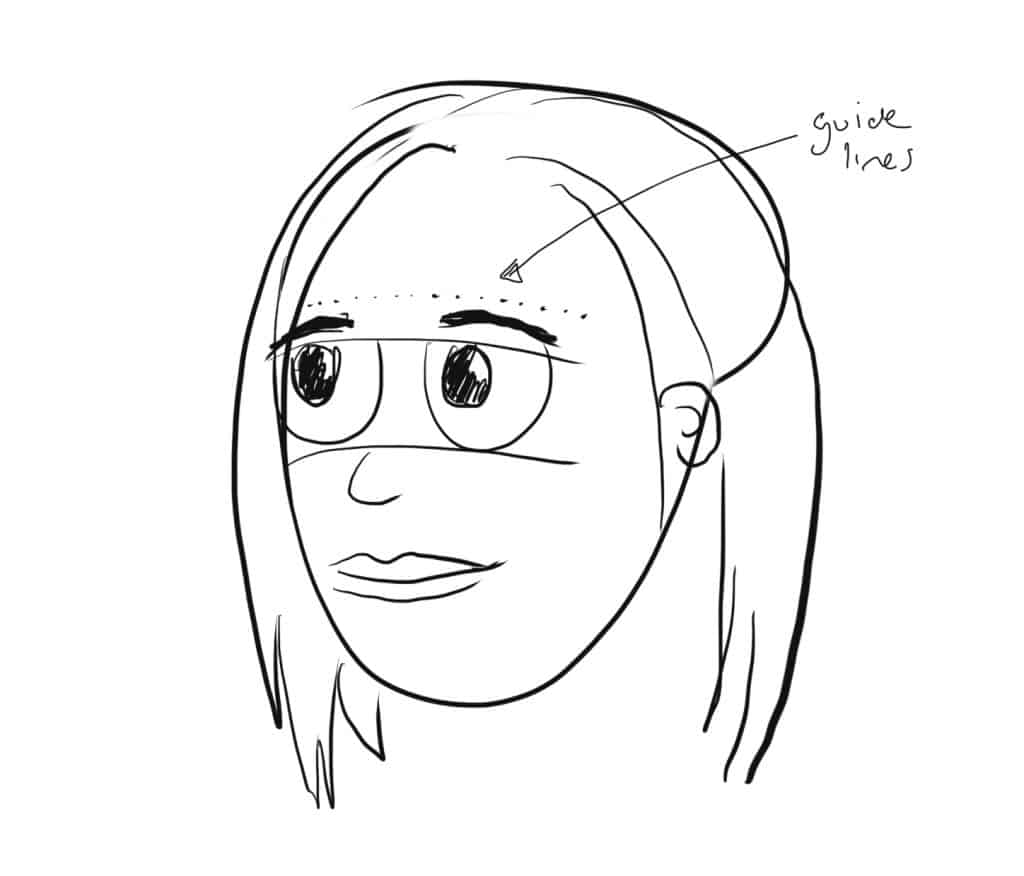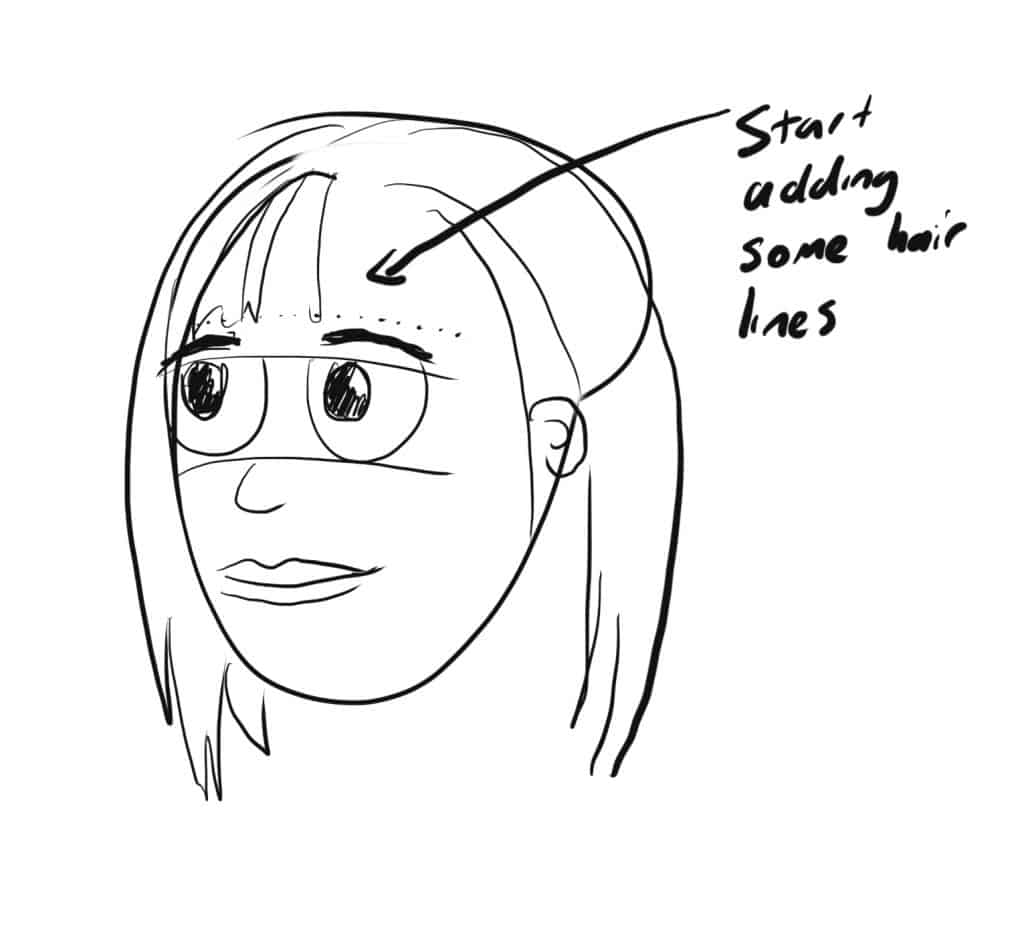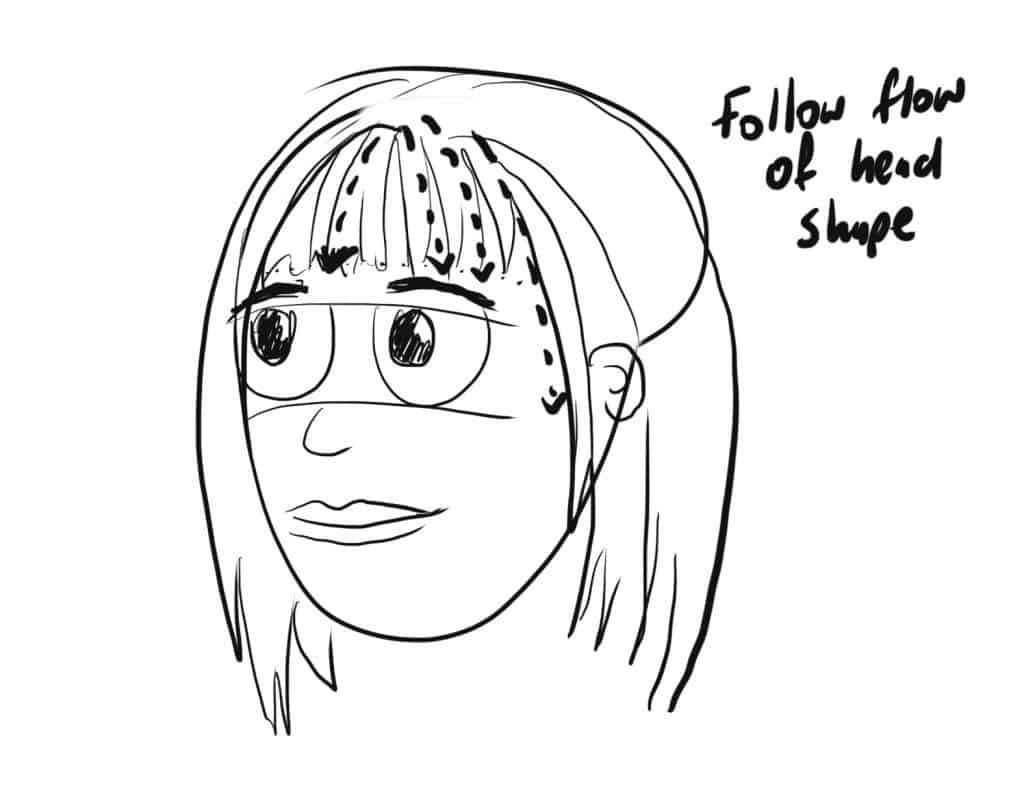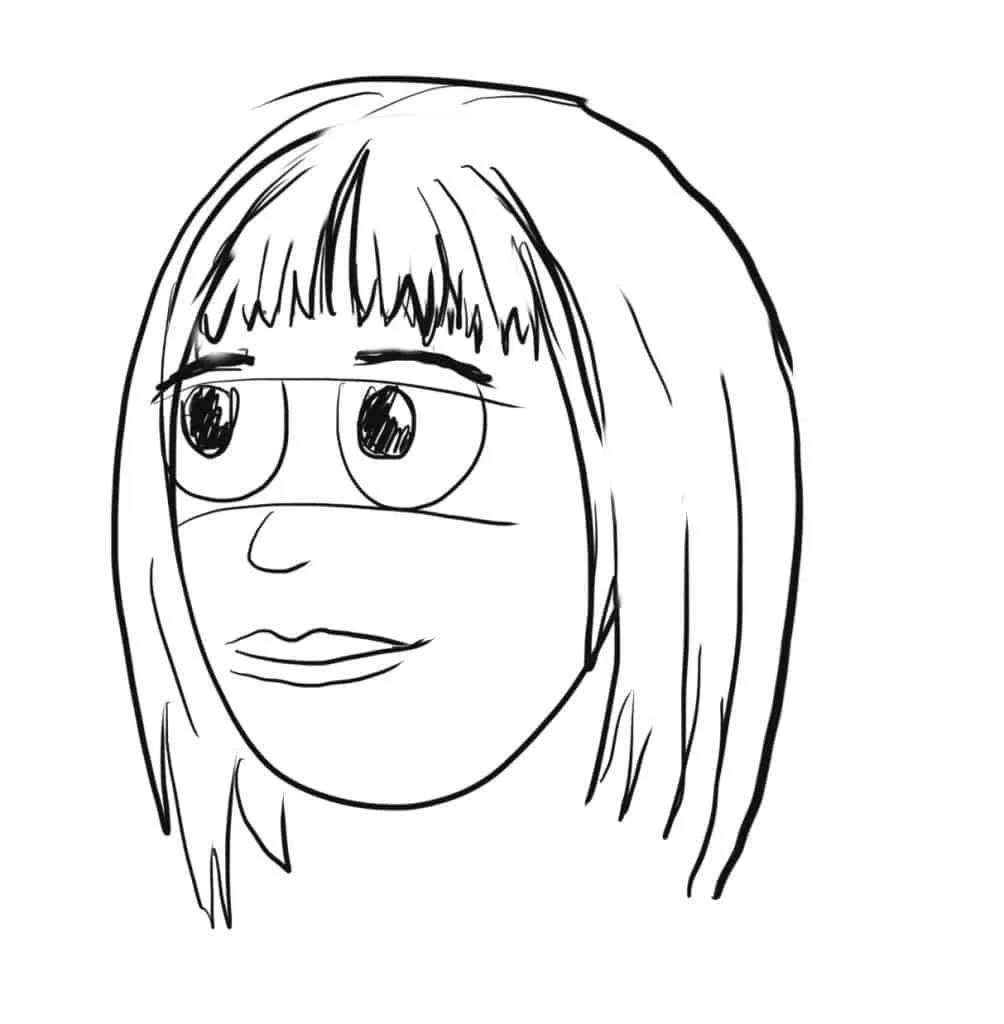 Now that you have learned to draw straight bangs, let's give drawing blunt bangs a try.
Blunt Bangs
In this section you will learn how to draw simple Blunt bangs that cut straight across the forehead and have no layers.
They usually stop just above the eyebrows, grazing them with some whispers of hair going over the eyebrows.
Again, we will grab that basic head shape we drew earlier. Using light pencil strokes let's start making some light outlines.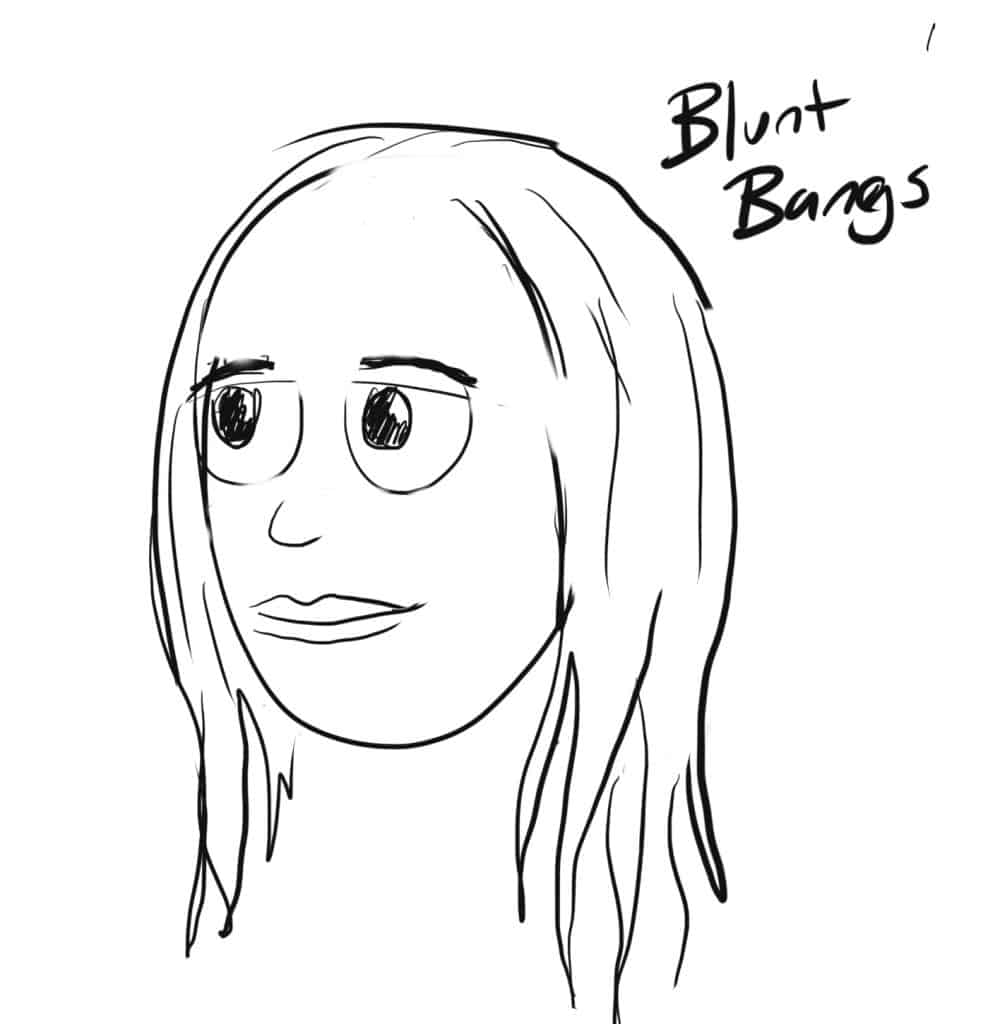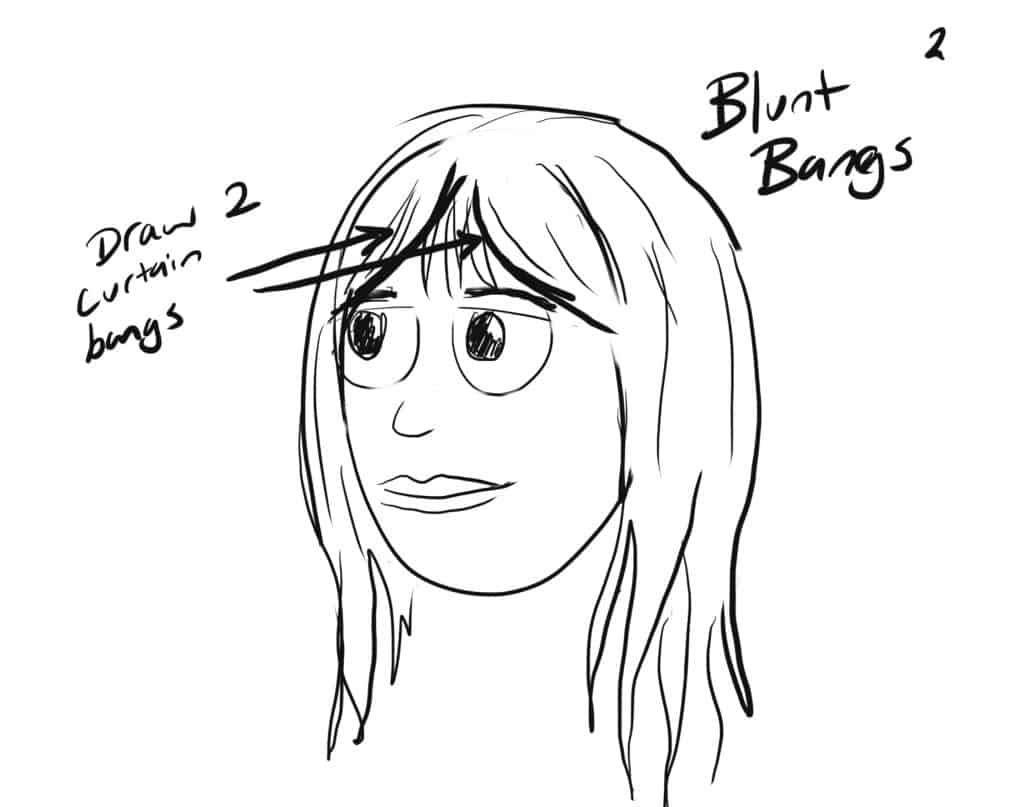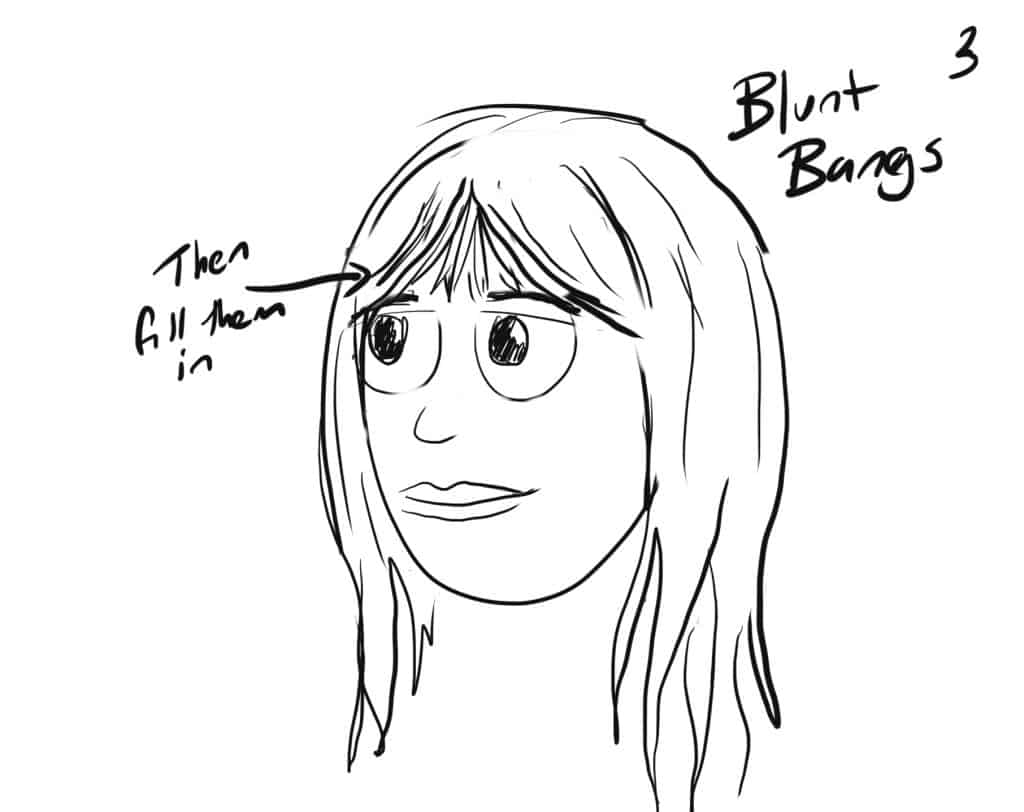 You have mastered blunt bangs so birkin bangs should be easy for you.
Birkin Bangs
We will also learn how to draw Birkin bangs, these bangs are named after the 1960's model Jane Birkin.
These are similar to Blunt bangs but these ones go over the eyebrows but stop just above the top eyelids.
We are also going to draw Curtain bangs, these are long bangs that are parted down the middle and very popular among drawn characters, especially in anime.
Let us start with the basic head shape.
Birkin bangs follow the exact same process as Blunt bangs but the hair goes over the eye brows like this.
They are also slightly more spaced out. Have a look at the sample bangs next to the number 1 in a circle.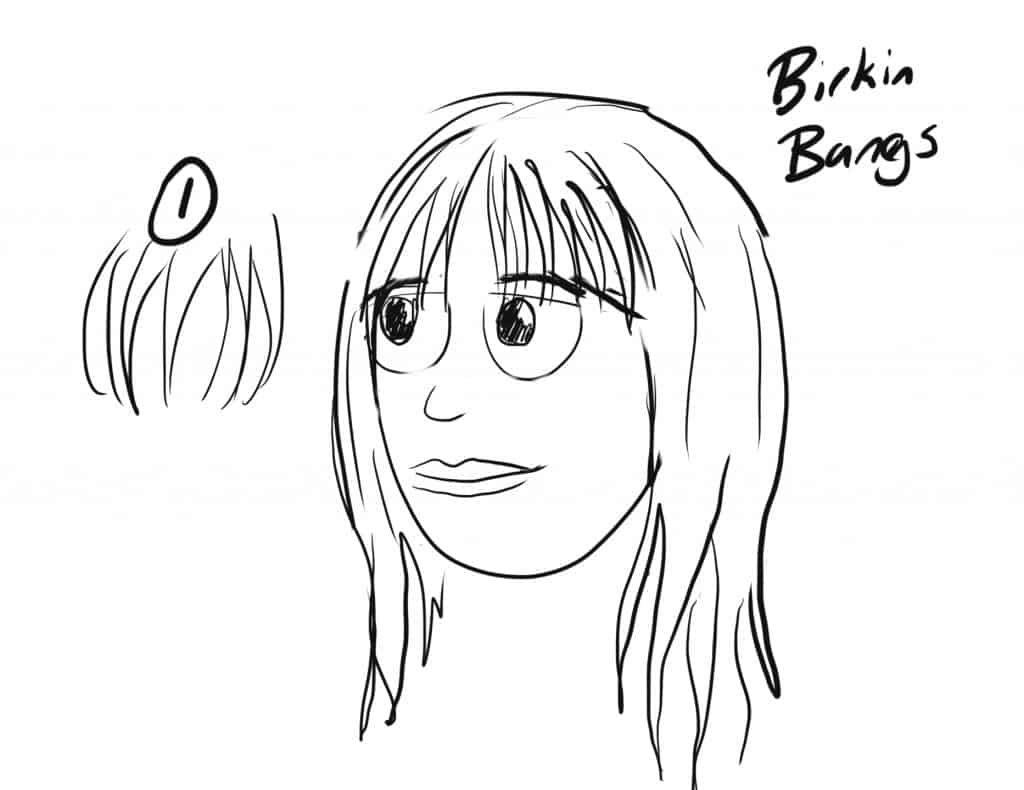 How to draw short hair with bangs
Short bangs are really easy to draw and can be drawn as individual strands or blocks of hair with small sections. Let's show you how now.
Ok, time to grab that bald head we drew before.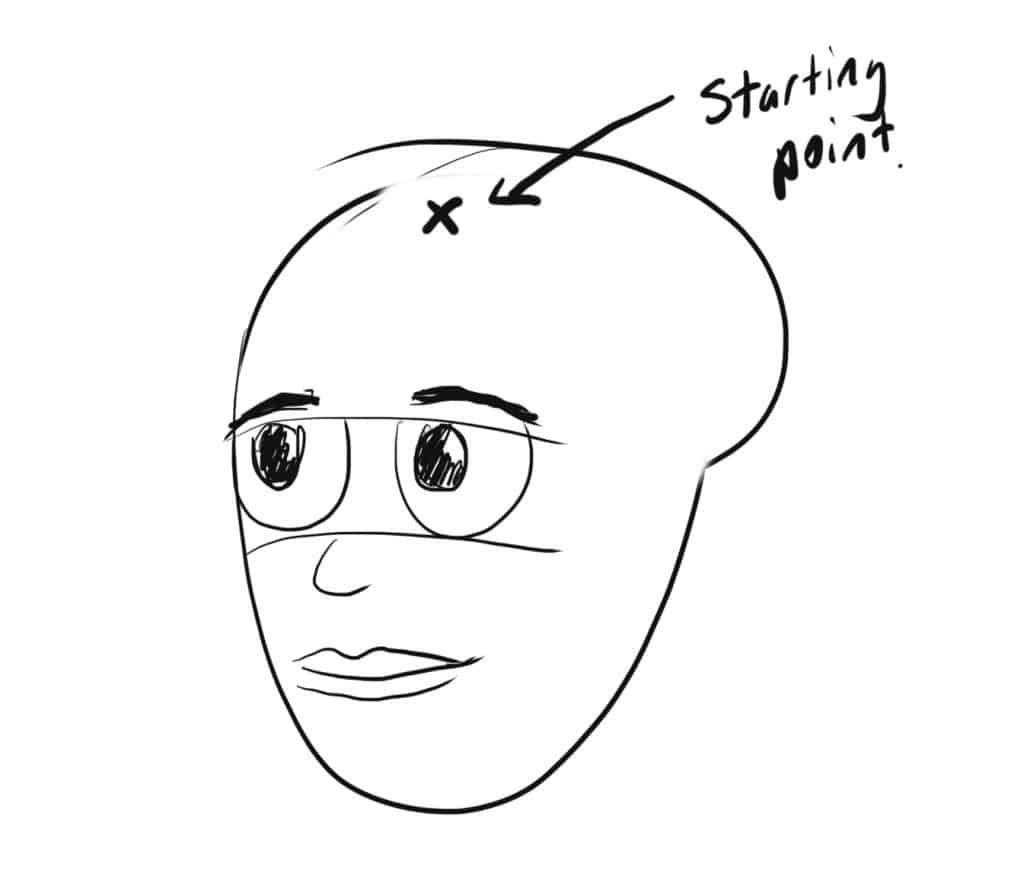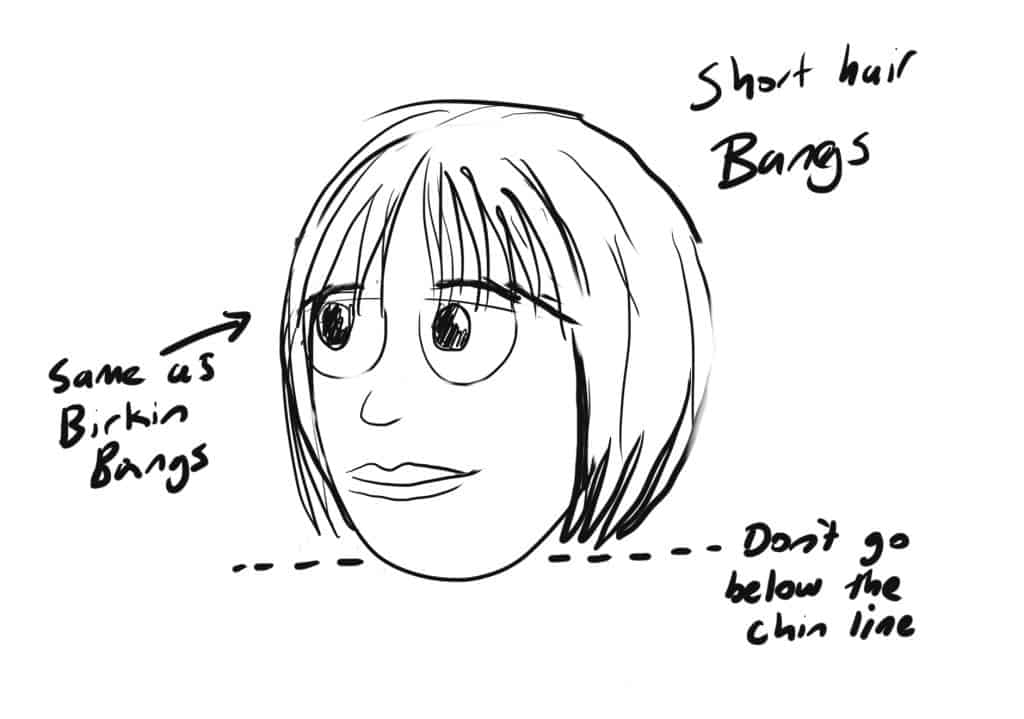 Now short hair bangs follow the same process as straight hair bangs or Birkin bangs but this time you do not want the hair to go below the chin line – have a look at the dotted line in the image.
The bangs will be the same as straight hair bangs or Birkin bangs. What changes is the length of the rest of the hair.
So easy right!
How to draw Side Bangs or Side Swept Bangs
Side bangs or Side swept bangs are also very popular in asian cartoon characters for both boys and girls. They look great and are super easy to draw.
Let's bring out our bald friend drawing again.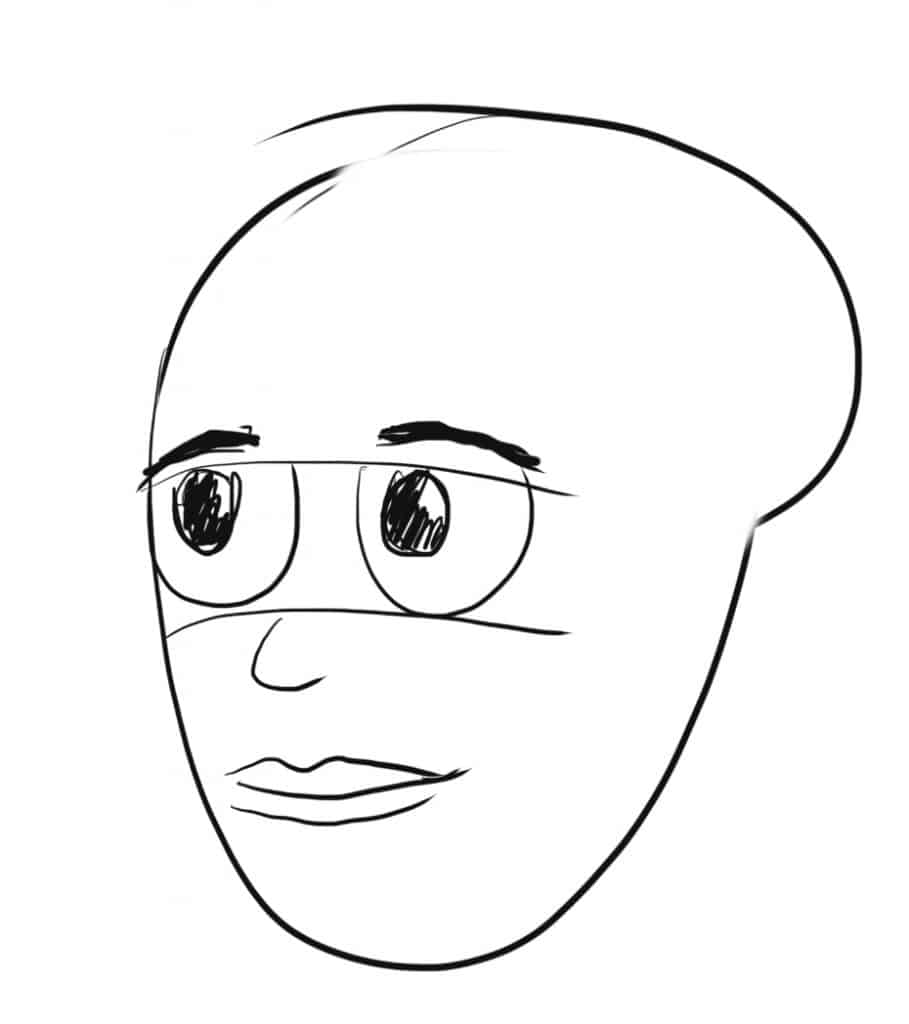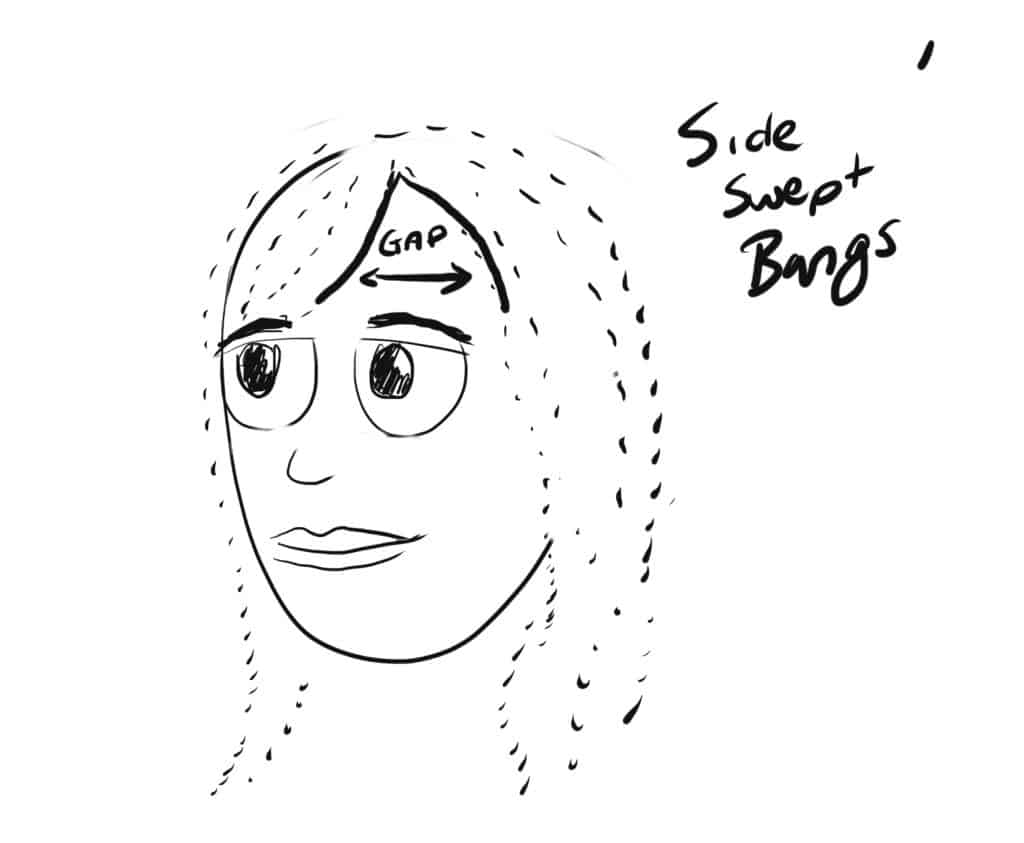 Side bangs or Side swept bangs are similar to Blunt bangs, so we will follow the same process but stop where the gap is shown in the drawing above.
We want to add a small gap on the forehead and make the rest of the hair a little more free flowing.
When we draw the side bangs, we want to either pick a side and make the bangs all go on one side or make most of it go on one side with a little on the other. See below.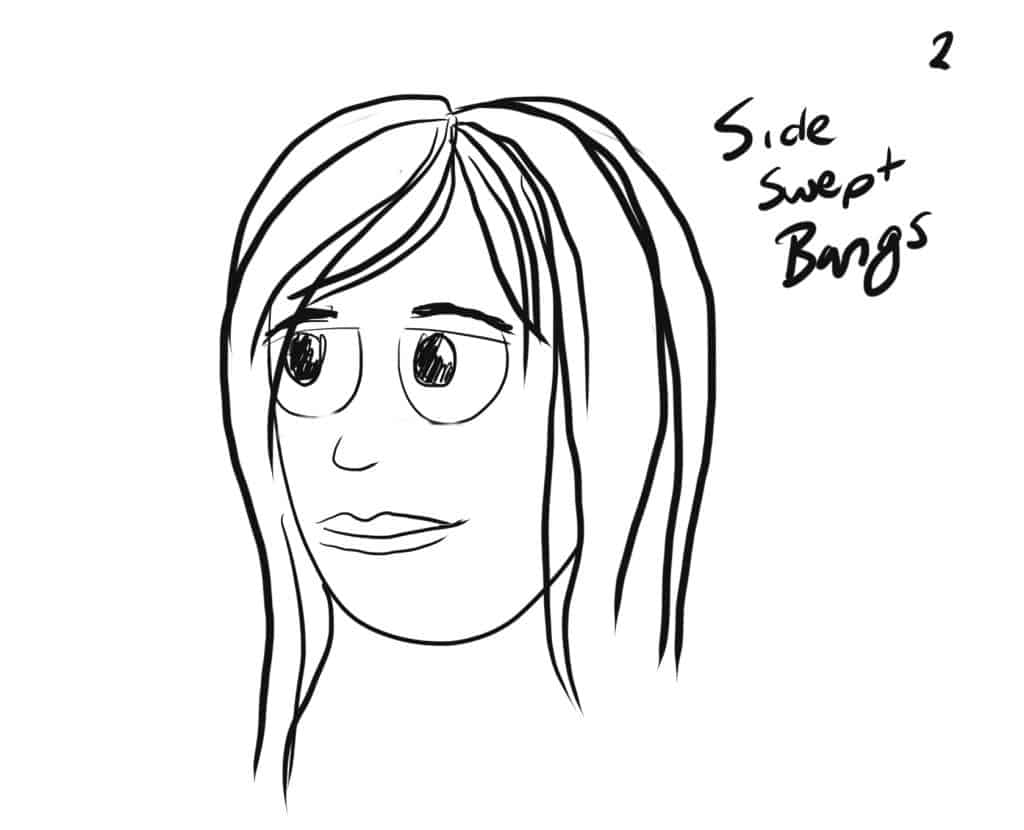 How to draw curly bangs
Curl bangs are very similar to draw to other types of bangs but the only thing that makes them a little harder is making sure they curl the same way as the rest of the hair.
It can get easy to make the curls go the wrong way or make them bigger than the rest of the curls.
Starting with the basic head shape, let's start drawing some curly hair outlines. We have to decide if we want tight curls or loose curls.
These are a little easier to fix if we make a mistake, we just draw more curls over the mistake like I have.
Feel free to use a combination of curl types but keep them around the same size.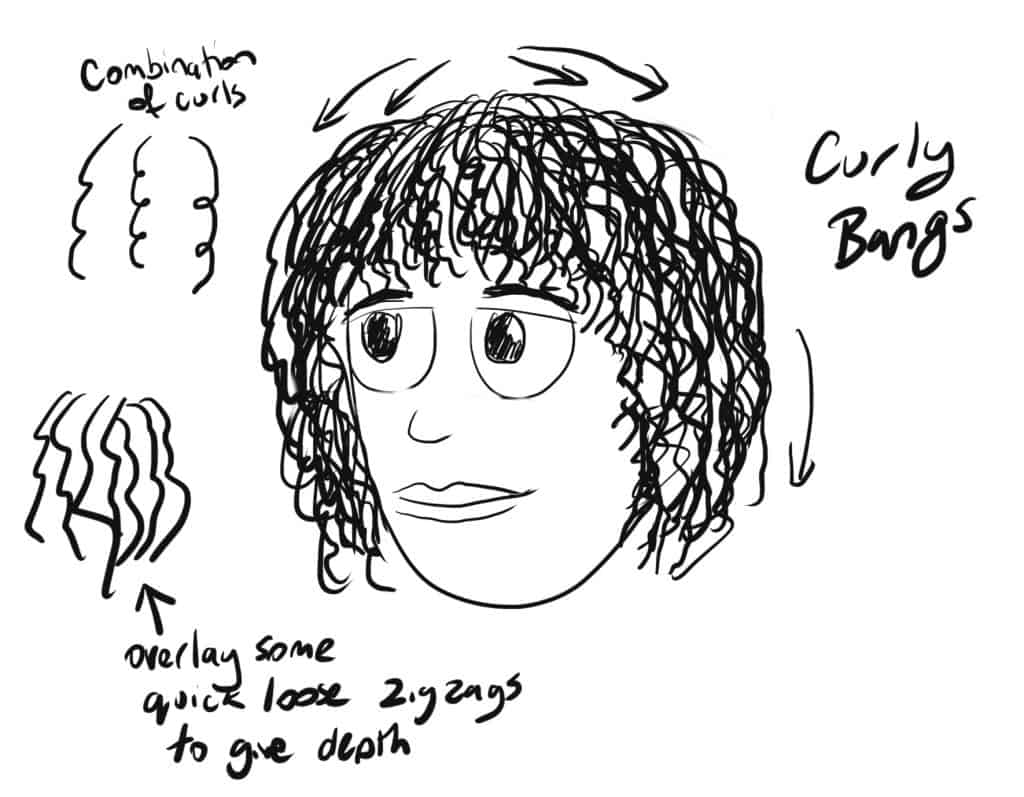 Whatever we choose to draw, we need to be consistent. We should not mix tight curls with loose curls.
How to draw bangs on a girl
Girls are lucky, you can draw all sorts of bangs on a girl. All of the styles we covered above can be used when drawing bangs on a girl.
When it comes to drawing bangs on a boy, it's a different story. Let's see what we can do here.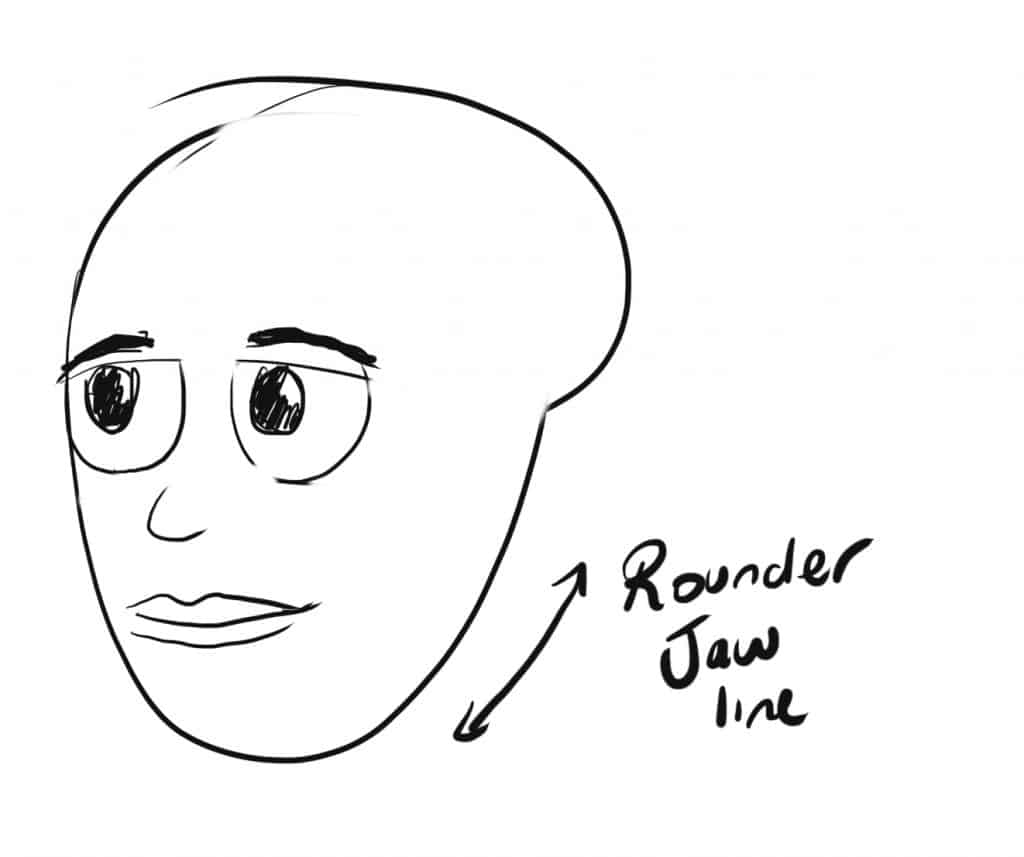 The earlier head drawing was based on a girl, she had a longer and more narrow chin and jaw line and a slightly narrower head. You will see below the difference for a boy's jaw line compared to the girl's jaw line.
How to draw bangs on a boy
Boys can also get the bang treatment and you should learn how to draw bangs on a boy. This is true especially if you are into anime or like to draw cool modern characters with amazing flowing hair.
The only difference is that boys don't usually look as good with the full range of bang styles. What you will usually find in drawings of boys with bangs is that they will usually have side swept bangs or a combination of style like a side swept Birkin bang.
The rest of his hair will either be shoulder length or short at the side and back with a shorter bang at the front.
Just remember to make your basic head shape a little more boxier with a more chiselled jaw line. Have a look at the example below.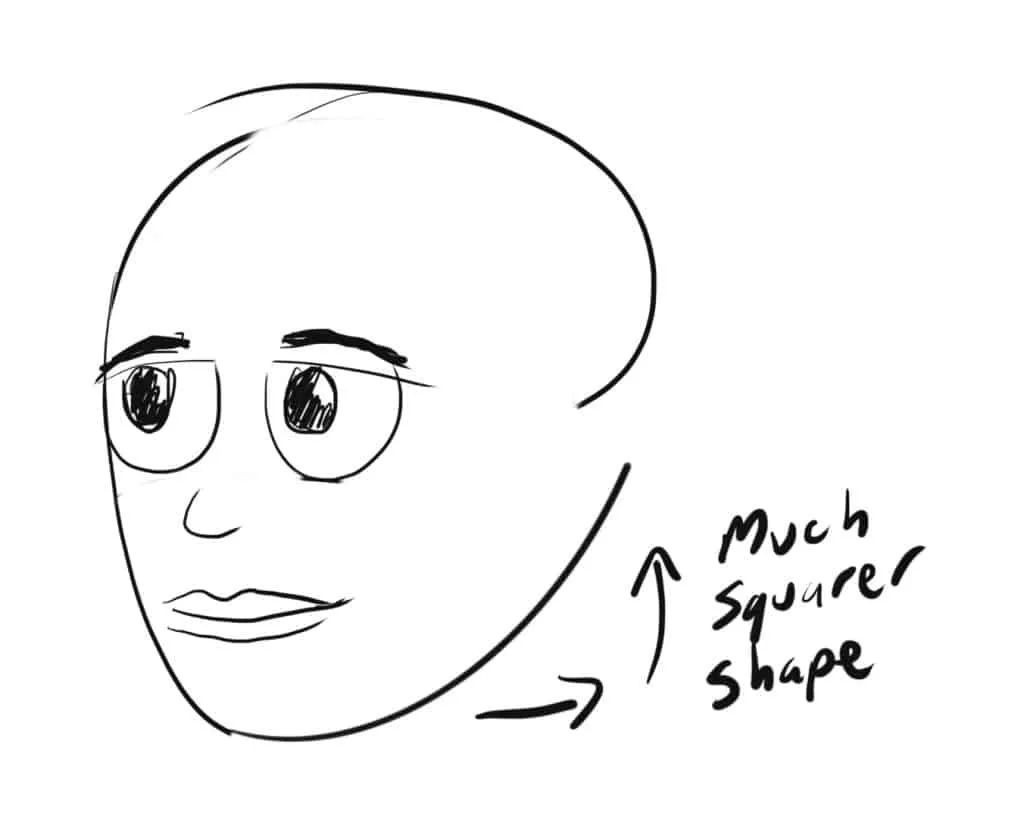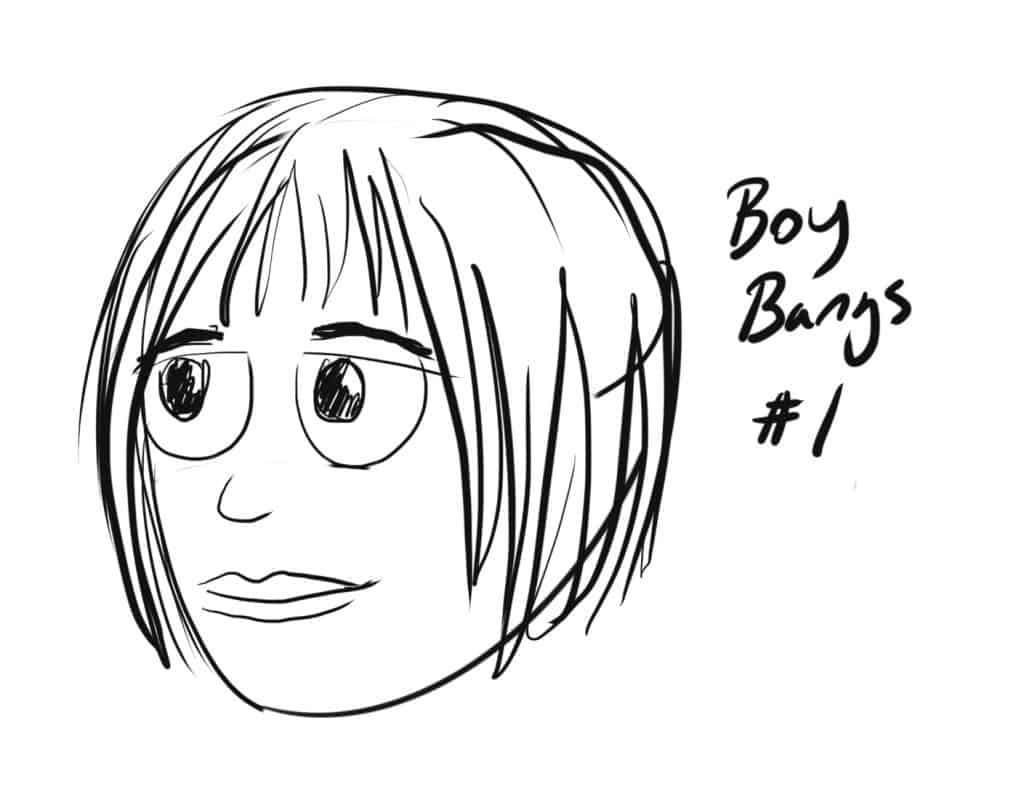 If the boy you are drawing has long straight or wavy hair, then you can draw all sorts of bangs.
There are no rules these days, draw whatever style of bangs you like on a boy.
How to draw bangs anime
Anime bangs are based on the Hime cut (Princess cut) and are very popular today. According to wiki it "..is a hairstyle consisting of straight, usually cheek-length sidelocks and frontal fringe.".
The great thing about anime is that the characters cross the line between boy and girl and usually contain features of both.
So when you are drawing bangs on anime characters, any style will work as long as it fits into the overall look of the anime character.
Let us give drawing anime bangs a try now.
You will need to know that Anime bangs tend to frame the face in a box like below. The bangs are usually straight lines in all directions.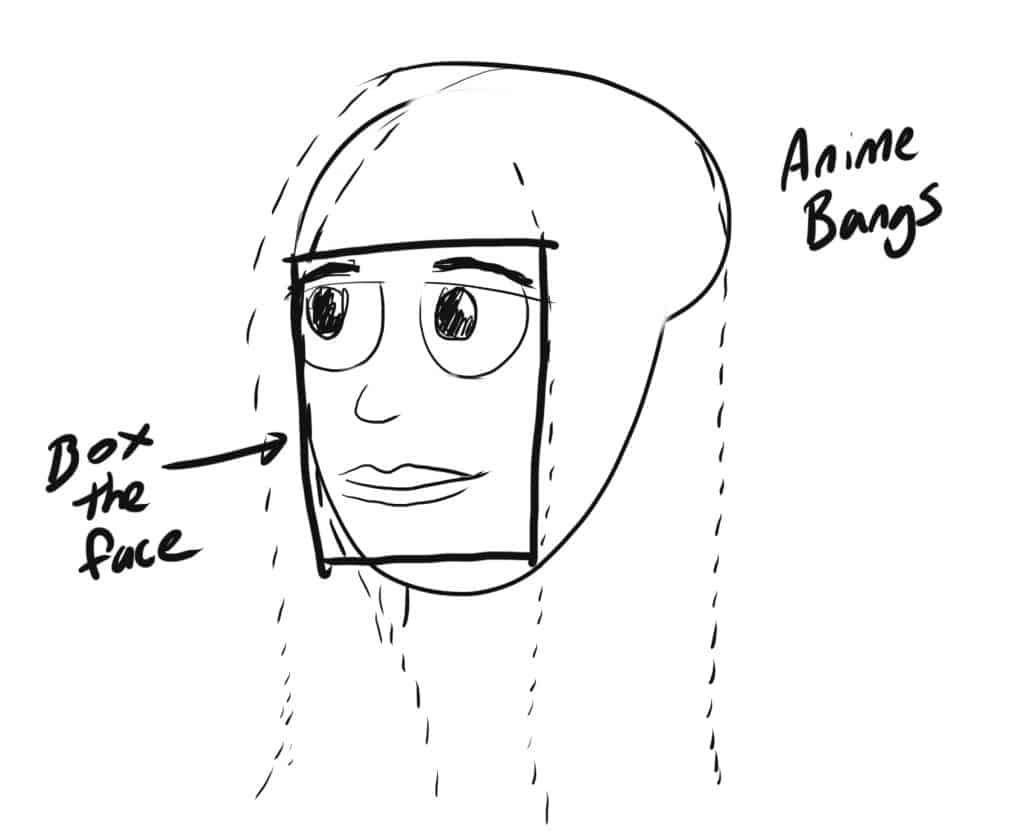 Now that you can see the box outline, draw a straight hair style with straight bangs. You will also see that Anime bangs don't show too much detail in the hair.
That is, you do not need to draw individual hairs as anime bangs and hairstyles are mostly an outline with some shading and a few lines here and there.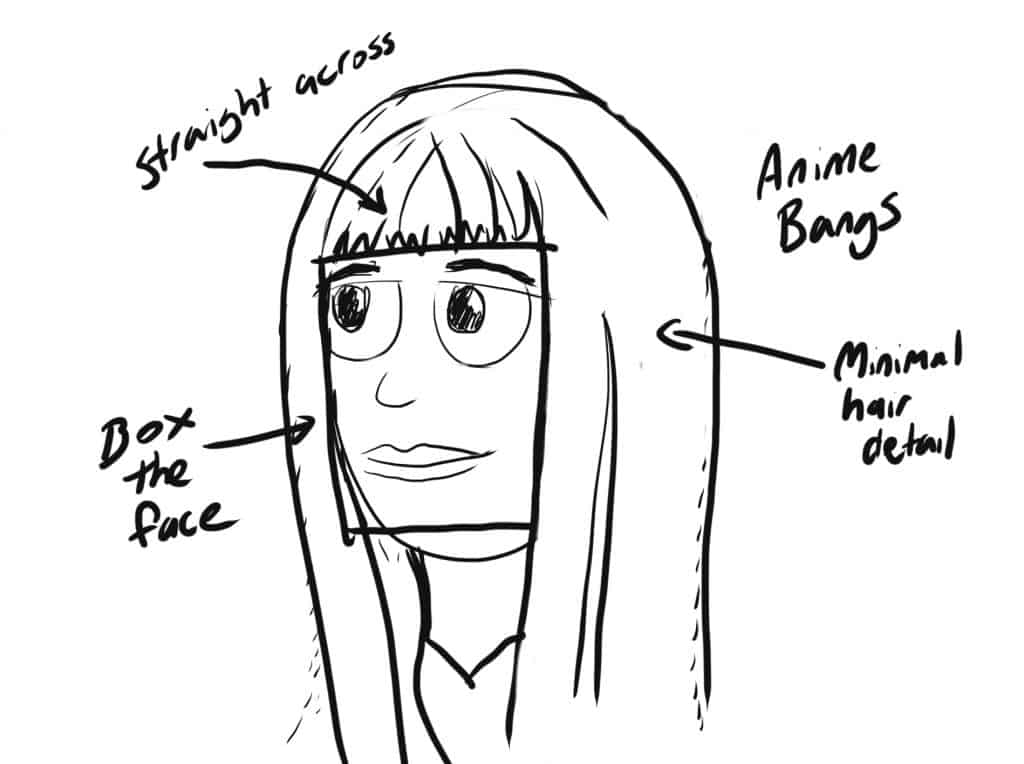 Below is something close to what anime bangs look like in a non anime cartoon drawing.
Conclusion
I hope you enjoyed this post How to draw bangs and I hope you learned a new skill that you can apply to your drawings. Who knew that there were so many types and varieties of bangs you could draw!
I have other How To draw type posts if you are interested in learning more.
If you wish to learn how to draw something else, feel free to get in contact with me using our Contact Us form or DM me on Instagram. By for now!
#HowToDrawBangs #HowToDrawBangsAnime #HowToDrawBluntBangs #DrawBangs #HowToDrawAnything
Actually the process of making or drawing bangs in Procreate is exactly the same way as you would with a pencil on paper. The images in this post were made using Procreate. All you need to do is select the type of pencil or pen you wish to use from the brush set and follow this tutorial.
Drawing braided hair is much easier than you think. There are lots of tutorials online and on youtube but I found they made the process of drawing braids really complicated. That is why I went ahead and created my own tutorial on How to Draw Braids. My process makes it so easy, if you can draw rectangles then you can draw braids using my steps.
M
Drawing different hair is actually easier than you think. I know drawing straight hair is the easiest so if you start from there it's not that hard to draw different hair like wavy hair, or curly hair or short hair. All you need to do is not overthink how to draw the hair and start playing around with the various ways hair can go. Relax, grab a pencil and start experimenting with drawing wavy scribbles or just drawing lots of messy curls. I can show you how to draw realistic braids or different types of bangs such as bangs on curly hair, wavy hair and even short hair like on a boy.
More Posts you may like