What Paint Is Best For PVC? Pro Tips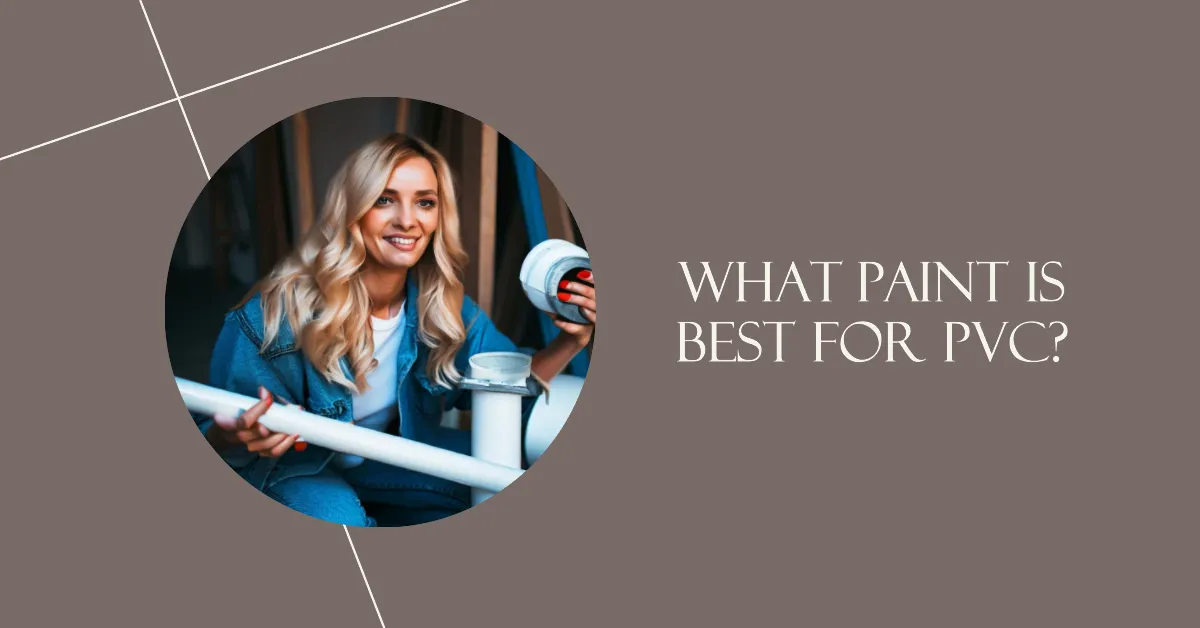 PVC is a very common material used in construction and other businesses and industries around the world. It is a very versatile plastic material and is the world's 3rd most used synthetic polymer. The full name of the material is polyvinyl chloride, and it is used most commonly for things like downpipes but I have also used it as a surface for some of my artworks.
It is closely related to another common material, uPVC, which is unplasticized polyvinyl chloride. It is used for things like doors and windows, and can be painted by professionals like Revamp Spray or homeowners using solvent-based uPVC paint and uPVC sprayers. Painting uPVC helps to increase the value of properties and protects the material from weathering and wear and tear.
Can you paint PVC?
PVC is notoriously difficult to paint, as most spray paint or usual paints will struggle to adhere to the surface. This includes most water-based and acrylic-based paints. However, there are some specifically formulated paints designed for PVC that will work on exterior PVC surfaces.
What paints can you use to paint PVC?
Due to the molecular makeup of PVC pipes, most paints will just bead up and roll off of the PVC pipe. This is because of the paint's molecular inability of the paint to adhere to the surface.
So if you're looking to paint PVC downpipes or to paint plastic fascias & soffits, you will need to make sure that you use a kind of paint specifically made for the material. The paints designed for PVC are mostly spray paints, and are epoxy based paints, and once the PVC pipe surface has been prepared correctly.
It is important to note that epoxy based paints designed for PVC pipe surfaces can be incredibly harmful to humans if ingested or inhaled. To ensure your safety, you should be careful and make sure that you apply spray paint whilst wearing the adequate safety equipment.
How do you paint PVC pipe?
You can use spray paint to paint PVC as soon as you've chosen the right pipe and your favourite color. You simply need to follow these instructions to get your PVC pipe looking brand new or to get it matching your new decor.
1. Gather your materials
In order to get started painting PVC, you will need the following pieces of equipment:
Safety gloves
Acetone
PVC pipe or PVC surface
Saw
Tarp
Sandpaper (at least 220 grit)
Spray paint
2. Use safety tools to keep you safe from spray paint fumes
In order to ensure your own safety and wellbeing when spray painting, you should make sure to have gloves, a well-ventilated mask, and protective eyewear with you before you begin painting.
3. Prepare your work area
You will then need to organize your workspace. To do so, lay down a tarp or cloth to collect any dust and extra paint, and make sure that you keep the windows open to keep the place well ventilated. This will help to blow away any fumes as you work.
4. Cut and measure your PVC pipe
Once your area is prepared, you should measure out your PVC pipe and cut it to the length that you need for whatever project that you wish to do. You can do this using the saw to measure a precise length of your PVC.
5. Sand the exterior PVC surfaces
As with most DIY jobs, you will need to prime your PVC pipe in order for the paint to adhere. This involves using high-grit sandpaper to create a uniform PVC surface to help the paint adhere. Sand the surface by placing the sandpaper in your palm and rubbing it up and down the surface of the PVC pipe.
6. Treat the PVC pipe with acetone
Acetone is a chemical which will make the PVC pipe more porous, allowing plastic specific paints to better adhere to the material. It will also help to clean the pvc and remove any dust and debris on the pipe, creating an even smoother finish and uniform surface for you to later use plastic spray paint on.
To use the acetone to prime PVC pipe, simply douse a cloth in acetone and gently wipe the exterior PVC material.
7. Apply specific paints to the PVC
Using long, slow strokes of plastic spray paint, cover the PVC surface in multiple coats of paint. Be sure to allow each coat of paint to dry for between 20 to 30 minutes before beginning the next coat.
The more coats of spray paint you use on the PVC, the deeper the color will be. Keep painting your material until you reach the desired color.
Things to consider when painting plastic
If you are painting PVC or uPVC for outdoor use, be aware that you will eventually need to repaint the material. Often, darker colors like dark grey and anthracite grey will fade quicker than other paints, so it may be worth opting for a lighter color that will fade slower, allowing more time in between coats.
You may also want to consider using a gloss finish or another finishing product on your PVC to provide your paint job with a specialised and unique finish that matches the exterior of your home.
You should also remember that your PVC will air dry quicker on a low humidity day, so if you want to time your DIY job, the ideal weather is a dry but humid afternoon where you can safely leave the materials outside to finish drying.
Those looking to paint PVC pipe surfaces should consider using a consumer favourite paint such as Krylon Fusion or Kolorbond paint.
Latest Posts
Joseph Colella is a frustrated artist with over 40 years experience making art (who moonlights as a certified Business Analyst with over 20 years of experience in tech). While he holds a Diploma in Information Technology, in true wasted talent style he spent years trying to get into various Art degrees from the Accademia di Belle Arti (Napoli), and failed to get into the Bachelor of Arts (Fine Arts) at the University of Western Sydney. His goal is to attend the Julian Ashton School of Art at The Rocks Sydney when he retires from full time work. In his spare time, he writes for the this blog, WastedTalentInc, where he shares practical advice on art, making art, and art materials. Joseph's art has been sold to collectors all over the world from the USA, Europe and Australasia. He is a trusted source for reliable art and copyright/fair use advice and is committed to helping his readers make informed decisions about making them a better artist.
He also loves all things watches (ok it's an addiction) so show him some love and visit his other website https://expertdivewatch.com