How To Get Your Art Noticed on Instagram – 10x Your Instagram Growth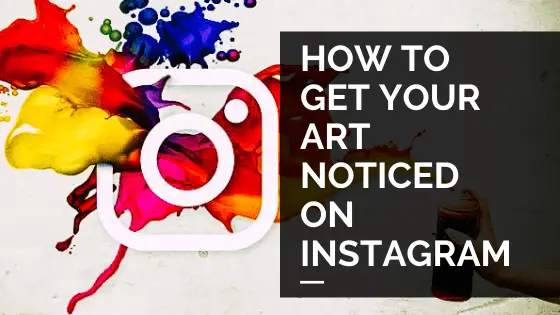 10x your Instagram growth with these 10 tips. Your Instagram profile needs to do more than just impress your peers. It needs to attract buyers because more collectors are now using this platform to look for new art. Moreover, if you want to learn how to get your art noticed on Instagram, you need to make the most out of every tool this social media platform offers.
My experience building social media profiles for others has provided me with the knowledge to do just that. I have a fair idea what the Instagram algorithm wants and I know what art buyers are looking for. Today, i'll be sharing that information with you.
From choosing the right profile picture to how and when you should post, we'll be covering everything. So here are my top ten tips on how to get your art noticed on Instagram.
Ten Tips on How To Get Your Art Noticed On Instagram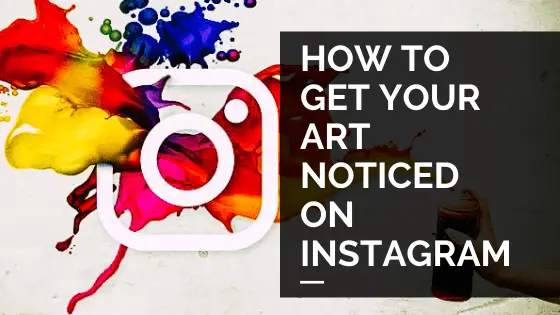 1. Set Up Your Profile
When a potential buyer comes to your page, they should have access to all your essential information. Make sure your username, profile photo, and bio are all reflective of you, your art and art style.
Unless your art is based on being vegan or painting mom's, leave "Vegan mom" out of your artist biography.
You can choose to go in one of two directions with your username. The first is using your real name. This is a great option if you are your brand.
However, if you're just starting out and haven't carved out your space in the art community, you may want to use a keyword like "artist" or "painter." These terms serve as a direct introduction to your business. For example, you can choose "*your name* paints" or "*your name* draws." e.g. JoeCDraws.
As you can see from my own bio, I chose a brand name – WastedTalentInc. Feel free to follow me.
The next step is uploading a profile picture. The most important thing to remember here is that it is tiny, and viewers can't zoom in. Therefore, choose a close-up image of you or your art or create a logo.
Either way, it must be reflective of your business. For example, if you want people to notice your landscape paintings, a picture of an adorable bunny won't help.
Lastly, set up your bio. Since Instagram lets you add a link here, you should make the most out of it and include a link to your website. This will help because it lets potential buyers know that you mean business and that art isn't just a pastime for you.
Add a personal touch to the bio by giving a brief description of yourself.
2. Switch To A Business Account
The next step on how to get your art noticed on Instagram requires more than just putting out good content. There are hundreds of thousands of talented artists on the platform, but only some of them get noticed. If you want to become one of the few, you'll need access to Instagram's business features and insights.
Luckily for you, switching to a business account is easy. Open your settings, tap account, click on "Switch to Professional," and then choose business.
Once you're done, you'll gain critical insights into your followers and who is engaging with your profile. Using this information, you can plan what to put in your next post and when to publish it. 
The critical insights Instagram offers you as a business account are:
Accounts Reached, what content they interacted with. Split by followers and non-followers.
Content Interactions – top stories and posts, how many impressions each received. How many profile visits you sent to your website and email button taps. This lets you see if your posts or call to actions are working.
Audience details – who followed, unfollowed, where they are from, age ranges, gender, active times (to help you work out when is the best time to post your art on Instagram).
3. Share Your Account
When you're trying to figure out how to get your art noticed on Instagram, it's easy to forget that you don't have to limit yourself to this specific platform. In fact, sharing your Instagram account on other pages like Facebook and Twitter can help you grow exponentially.
Art customers who follow you on these other social media platforms might not know you have an Instagram account. And even if they do, they might not have made an effort to follow you there.
By sharing your account with the world, you will direct all of these people to your Instagram and grow there.
Moreover, you can also add your Instagram username on your business card and website description. If you've given a potential buyer your card, they should be able to view your work without having to go through the trouble of asking you for your Instagram.
While you're at it, send your Instagram profile to your email followers too.
The easiest way to get traffic on your Instagram page is by telling people who are already interested in your work that it exists.
4. Beautify Your Feed
You also need to find ways to engage people who aren't already interested in your work. One way to do so is beautifying your feed.
If they stumble onto your Instagram, make them want to explore it. Your feed needs to be a piece of art by itself, while each individual post is an extension of it.
Take aesthetically pleasing pictures of your art and post them in a way that each new piece compliments the last.
We talked to a professional photographer, and they had two tips: use editing softwares and a decent camera.
There are several types of editing apps, and you can choose whichever one you're most comfortable with. But if you don't already use one, try one of the following:
Try to establish a theme or pattern for your feed. For instance, if you're using VSCO, apply the same filter to all of your posts.
Most smartphones have high-quality cameras. So unless you want to, you don't need to invest in an expensive DSLR camera to get your art noticed. As long as you are taking your pictures in good lighting and the image reflects the quality of your work, buyers will notice you.
Pro Tip: Use white backgrounds for your photos. Yellow tones can distort the colors of your art. Fixing this damage in an editing app will take a lot of time and effort.
Here's a video that goes into a little more detail.
5. Post Consistently
While all social media platforms require consistency, each one is different. For example, if you want to be noticed on Twitter, you need to make at least eight posts a day. Conversely, the only regularity Facebook needs is in your contributions to its advertisements section.
The trick to figuring out how to get noticed on Instagram is understanding how it functions. Its users want regular and different content.
Hence two to three posts a day are the sweet spot for Instagram. But you can also get away with just one new image every day.
Alternatively, you can create a schedule where you only post once a week and share stories twice a week. If you choose to employ this strategy, make sure your followers know and that you stick to it.
When you're putting up several posts a day, make sure they're not the same type of content. Mix it up, and you'll retain your followers' attention.
6. Engage With Your Followers
Engagement is a vital part of growing a business on Instagram. But we're not just talking about getting likes, comments, and shares on your posts; we're also talking about you replying to those comments.
If you expect your followers to engage with you, you have to engage back. Answer any questions they've left in the comment section or sent to you in your messages. Give tips on how they can improve their art. And most importantly, treat them like your friends.
Sometimes you may not have the energy to have a detailed discussion, and that's okay. Sweet and short responses like a simple "thank you" can be enough.
7. Give Back
Giving back to your followers presents you in a positive light and can do wonders for your Instagram page. The two activities we've described below will attract followers specifically interested in your art niche.
Giveaway
Giving back to your followers through a giveaway sends a strong message. It lets people know that you appreciate your fanbase and want to reward them for supporting you.
Activities like these attract new people and strengthen your ties with your existing followers.
Generally, you should have these three requirements for participants:
Follow you.
Like the post.
Comment and tag a friend.
Each of the points outlined above increases engagement which helps you beat the Instagram algorithm and reach potential buyers.
You can pick any item for the giveaway, but remember to include your art so that only people interested in your product participate.
Free Online Classes
Another way to give back to your followers is by hosting free online classes. You can use the Instagram Live feature and interact directly with the viewers.
If you can publicize these classes smartly, you'll attract potential followers. This activity has an exclusive benefit: your audience will only include people who are interested in your art. It won't be just anybody.
This group of aspiring artists is your target audience.
8. Use Hashtags
When you're learning how to get your art noticed on Instagram, you mustn't underestimate the power of hashtags. I have a post that covers this exact topic in detail of when to use art hashtags and which ones to use.
Hashtags are the gateway to leveling up your feed because they're how buyers look for artists. Since all Instagram artists in one niche tend to use the same keywords and phrases in their posts, hashtags have become the easiest way to find new art and artists.
Therefore, it's safe to say that choosing the right hashtag can lead an art collector to your account.
You can add up to thirty hashtags per post, and several artists make the most of this by going up to the limit. However, this tends to crowd the caption area and isn't recommended. Instead, try to use around ten.
Additionally, include your hashtags a few lines below your main caption. Fill them with a hyphen if necessary. It keeps your posts clean.
9. Collaborate With Other Artists
Instagram helps people from across the globe share their art. This means that you probably aren't the only artist working in your niche. For instance, several people invest time and effort into writing comics.
Similarly, hundreds of artists aim to spread important messages through their work—for example, feminists and climate change activists. Banksy does street art and rebels against institutions, but he isn't the only one.
While it is easy to dub people with similar interests to yours as your competition, it isn't smart. This is because you can very easily get their followers to follow you.
If you come across someone with the same target audience as yours, reach out and ask to collaborate with them.
You can work on a piece of art together or take control of each other's Instagram for a day. Whichever specific activity you choose, the core idea is to get their followers to follow you.
You already know that they're interested in your art niche. All you have to do is prove that you're as, if not more, talented than the artist you're collaborating with.
New people will notice your account, and your business will grow.
10. Learn From Your Peers
There are two roads to success: trial and error or learning from your peers.
You can spend a few weeks trying out different hashtags and try to figure out which combination gets you the highest reach. Alternatively, you can go to a successful artists' page and look at the ones they're using.
The latter isn't just easier; it also removes a lot of the guesswork associated with establishing a profile on Instagram.
Moreover, they're likely to help you get noticed since these combinations are tried and tested.
The same logic applies to things like the best time to make a post or what theme to use.
Think of these artists as teachers. They've already gone through the growing phase where they had to figure out what works and what doesn't. Their experience will help you figure out how to get your art noticed on Instagram.
However, there is a thin line between learning from your peers and stealing from them. It's okay to take inspiration from someone else's feed, but as soon as you start replicating it, you're crossing the line.
The Common Mistakes
Giving Up Too Early
Some uber-talented artists have aesthetic feeds, hashtags, regular collaborations, and engage with their followers but still haven't been noticed on Instagram. Moreover, their follower count hasn't gone up, and they haven't been contacted by buyers.
But that's okay because growth takes time. It's important you understand that.
If you're doing everything right and still can't see the results of your hard work, you need to be patient.
The biggest mistake aspiring artists make is giving up. They stop putting in an effort, don't stick to their schedule, and end up losing the following they do have.
If you do the same, you'll never make it big. You will come in the way of your own success because there is no definitive timeline on when you're going to be noticed.
It could take a few months or even a year and a half. But as long as you keep trying, you will eventually get there.
However, it will never happen if you get impatient and give up.
Lastly, remember that it isn't the number of followers you have on Instagram that matters, it's the number of engaged followers you have. Those will be the buyers. So whatever you do, do not buy fake followers!
Buying Fake Followers
Typically, people who give up on organic growth turn to buying fake followers and giving the impression of success. If you're tempted to do the same, ask yourself what your ultimate goal is.
Do you want to get noticed on Instagram? Or do you want people to think you're popular? The latter will make you feel better, but it won't make you any money.
It also won't attract buyers because the lack of engagement on your posts will make it very obvious that your followers aren't real.
In addition to these harms, you won't be as motivated to put in the work anymore. By buying fake followers, you shift your goal from carving out space for your art to "looking successful."
You have limited money and resources. Once you start buying success, you won't be able to stop. After followers, you'll turn to likes. Then you'll try to buy comments.
Eventually, you won't have time to make your art and will lose your appreciation for it.
Wrap Up
It's easy to draw a pretty tree, put it up on Instagram, and call it a day. But is that really the best way to go about establishing yourself?
Your Instagram account is an extension of you. It is your online presence and your brand. Therefore, buyers will judge you based on the quality of your feed and the pictures you post on it.
In the world of social media, no one will come to your studio to look at your work. They're not going to ask you questions about your process either. Instead, they will look at your page and base their decision solely on what they see there.
If they're interested, they'll reach out and ask for details, but more often than not, they'll have already made their decision by then.
Hence, it is more important than ever to level up your Instagram page.
Set up your profile in a way that attracts buyers. Choose an attractive picture and a catchy username. Both must represent you and your work.
Buyers should want to open your profile by just looking at it.
Once they make it to your account, your feed should intrigue them. Whether you do this by a catchy bio or aesthetics is up to you.
You need to hold their hand each step of the way without them knowing it. Only then will your art get noticed on Instagram.
I hope you have found "how to get your art noticed on Instagram" useful, if you have any questions or would like further advice, don't be afraid to hit me up on Instagram or via the Contact Us page.
Latest Posts
Joseph Colella is a frustrated artist with over 40 years experience making art (who moonlights as a certified Business Analyst with over 20 years of experience in tech). While he holds a Diploma in Information Technology, in true wasted talent style he spent years trying to get into various Art degrees from the Accademia di Belle Arti (Napoli), and failed to get into the Bachelor of Arts (Fine Arts) at the University of Western Sydney. His goal is to attend the Julian Ashton School of Art at The Rocks Sydney when he retires from full time work. In his spare time, he writes for the this blog, WastedTalentInc, where he shares practical advice on art, making art, and art materials. Joseph's art has been sold to collectors all over the world from the USA, Europe and Australasia. He is a trusted source for reliable art and copyright/fair use advice and is committed to helping his readers make informed decisions about making them a better artist.
He also loves all things watches (ok it's an addiction) so show him some love and visit his other website https://expertdivewatch.com