Derwent Metallic Pencils Review – Honest Review
Derwent Metallic Pencils are a new addition to Derwent's range of pencils and they come in a range of metallic colours. Derwent is one of the most popular brands for artists and designers, so it comes as no surprise that these pencils have been designed to be perfect for anyone who wants to add some extra shine or shimmer to their creations. Read on for our full Derwent metallic pencils review, including an overview of what we liked and didn't like about Derwent Metallic Pencils not to mention a video review from Derwent Brand ambassador Mirela Duta!
TL;DR Summary:
Derwent Metallic Pencils are a high-quality addition to the art supply market. Made in Great Britain with high-quality pigments, these pencils allow artists to produce detailed artwork with a metallic finish, which is particularly impressive on darker surfaces. The pencils come in various metallic hues, including gold, silver, copper, and bronze.
However, these pencils do have their drawbacks. They can produce strong wax buildup that causes smudging if mishandled. They are softer than most pencils and thus wear down quicker if used heavily. Also, the metallic effect may not always provide the desired outcome.
Despite these issues, the Derwent Metallic Pencils are generally well-regarded, though they are a bit on the pricier side and come in a more limited color palette compared to other manufacturers.
Derwent Metallic Pencils Review Summary:
What are Metallic Color pencils?
Metallic color pencils are a type of colored pencil which have been made from wax and contain small amounts of metal powder that are used to produce vivid, striking metallic effects, particularly on dark paper.
They add brilliant definition and highlights to your work.
Derwent Metallic Pencils come in the same shape as other Derwent colouring pencils- round, hexagonal, with a triangular shaped tip to add more precise detail when drawing.
They are non-soluble, which causes the color to glisten and sparkle on the page.
Pros
Cons
Derwent Metallic Pencils Color Chart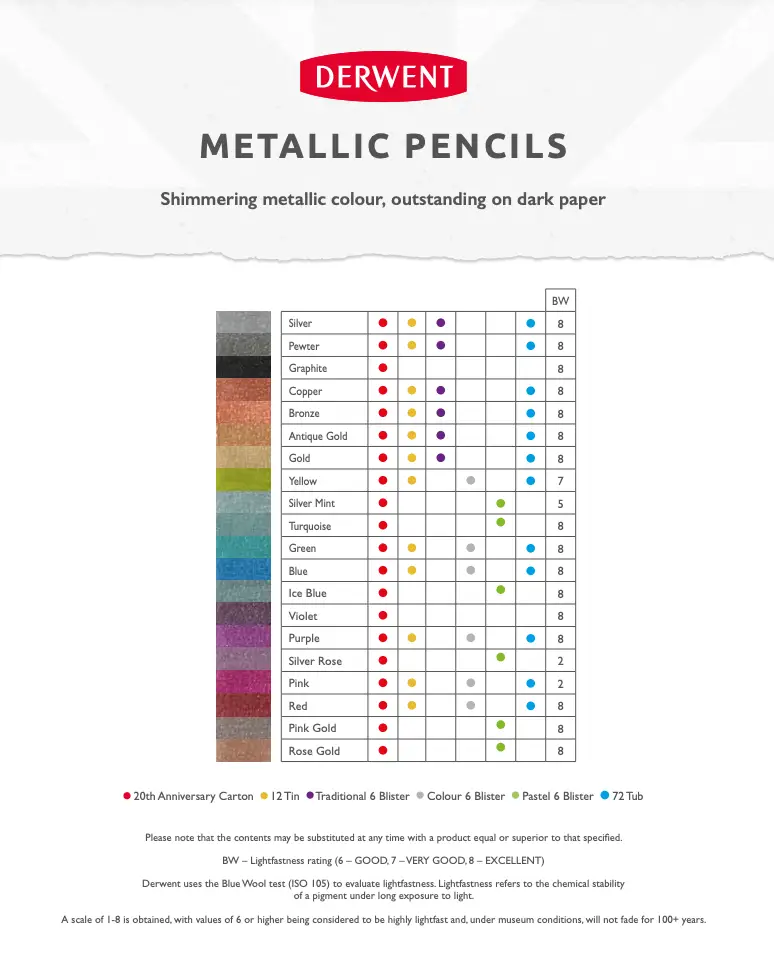 Are Derwent metallic pencils wax based?
Yes, Derwent metallic pencils are a wax-based pencil. Derwent Metallic Color Pencils have a high concentration of pigment which yields strong, vibrant color.
Are Derwent metallic pencils water soluble?
No, these specific Derwent Metallic pencils are not water soluble but some Derwent Metallic Pencils are water soluble.
Below I have listed the water soluble metallic pencils.
Alternatively, if you don't need metallic pencils you can also look at Derwent Watercolor Pencils. These can be wet with a brush and water and give a nice watercolor effect.
Do Derwent metallic pencils come pre-sharpened?
Yes, Derwents metallic colouring pencil is already sharpened and ready to use!
How do you sharpen the Derwent metallic pencil?
To get even more precise detail with your drawing or sketching project try using an electric sharpener for superior results.
What is the best paper surface to draw on when using Derwent metallic colored pencils?
Try using smooth Bristol board paper for better application of colors as well as less breakage while coloring in large areas or doing detailed tasks.
How do you use Derwent metallic pencils?
To get the best results from Derwents Metallic Colored Pencils it is advised that they are used on dark paper or on another background colour such as black. This will help to bring out the full depth and intensity of each colour in turn.
It's also important to remember not too press too hard on your surface when using Derwents because if you do then some of your detail may be lost through over saturation!
If Derwent pencils are used correctly then they can give you the perfect end result that you desire.
Derwent Brand Ambassador Video
Watch Derwent's brand ambassador Mirela Duta review the Derwent Metallic Pencil range.
Hints and Tips Derwent Metallic pencils
Alternatives to Derwent metallic pencils
There are a variety of alternatives to Derwent Metallic Pencils that you could use instead, such as:
– Chironal metallic pencils
– Faber Castell Metallic Colored EcoPencils
Many artists choose Derwents because they offer great value for money and provide high quality results. If you're looking for metallic effects in your artwork then Derwent is definitely the best brand on the market!
The tips below should help make using these gorgeous drawing tools even easier: Remember not too press too hard when shading with Derwents or some detail will be lost through saturation and use Derwents on dark paper or other colours; this helps bring out the shimmer and metallic colors out more.
Other Derwent Metallic Pencils
Derwent Metallic 20th Anniversary Set (20)
Derwent is a well-known brand in the art supplies industry, and they offer a variety of pencil sets, including metallic pencils. Metallic pencils are often used to add shimmer and shine to artwork, adding an extra dimension to your creations. They can be used for various techniques, such as blending, layering, and highlighting.
When considering any art supply set, including metallic pencils, there are a few factors to consider:
Quality of Pigment: The quality of the metallic pigment is crucial. High-quality metallic pencils should have vibrant and reflective colors that can add a genuine metallic sheen to your artwork.
Blendability and Layering: Good metallic pencils should be easy to blend and layer. This allows for smooth transitions between colors and the creation of different effects.
Lightfastness: Lightfastness refers to how resistant the colors are to fading over time when exposed to light. High lightfastness ensures that your artwork remains vibrant for years.
Texture and Application: The texture of the pencils and how they feel on the paper can influence your artistic experience. Pencils that apply smoothly and evenly can make your creative process more enjoyable.
Color Range: A variety of metallic colors in the set can offer you more options and flexibility in your artwork.
Packaging and Presentation: The packaging and presentation of the set can also be important, especially if you're looking for a gift or a collector's item.
Latest Posts
Joseph Colella is a frustrated artist with over 40 years experience making art (who moonlights as a certified Business Analyst with over 20 years of experience in tech). While he holds a Diploma in Information Technology, in true wasted talent style he spent years trying to get into various Art degrees from the Accademia di Belle Arti (Napoli), and failed to get into the Bachelor of Arts (Fine Arts) at the University of Western Sydney. His goal is to attend the Julian Ashton School of Art at The Rocks Sydney when he retires from full time work. In his spare time, he writes for the this blog, WastedTalentInc, where he shares practical advice on art, making art, and art materials. Joseph's art has been sold to collectors all over the world from the USA, Europe and Australasia. He is a trusted source for reliable art and copyright/fair use advice and is committed to helping his readers make informed decisions about making them a better artist.
He also loves all things watches (ok it's an addiction) so show him some love and visit his other website https://expertdivewatch.com